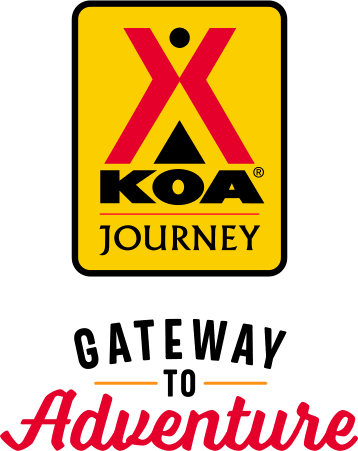 KOA Journey Campgrounds
KOA Journey campgrounds are the perfect oases after a day on the road. Whether it's along the way or a quick getaway, they've got you covered. Located near the highways and byways of North America with long Pull-thru RV Sites, they deliver convenience to the traveling camper. Pull in, ease back and take a load off.
KOA Journeys Feature:
Pull-through RV Sites with 50-amp service
Premium Tent Sites
Well lit after hours check-in service
Directions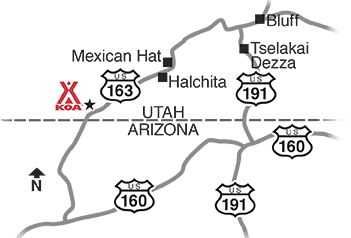 Conveniently located off US Hwy 163 at MM 2. From the north: 18 mi S of Mexican Hat, UT. From the south: 22 mi N of Kayenta, AZ.  GPS: N37.017002, W110.153417
Get Google Directions
Jun 07, 2021
Nice stop. The hookups are placed poorly, so make sure to bring extensions if your hoses are short
Jun 07, 2021
Location is breath-taking & the bathhouse was spotless & very well maintained. Campsites were too close, with precious little space between sites. Unfortunately the WiFi never worked at all during my 2-day stay. Showers and Wi-Fi are fundamental to me for that price. Otherwise, I could have stayed in a nearby state park for less than half the cost. Raymond is an exceptional campground manager!
Jun 06, 2021
Great location, nice showers, but fire pits are in bad location.
Jun 06, 2021
Friendly staff, nice store, playground and dog park. The manager drove around in the evening to check on campers for any issues and the evening sunsets were fantastic.
Jun 06, 2021
Stunning views which can make an atheist believe in higher being. Nice small playground for small kids
Jun 06, 2021
Only stayed one night but appreciated the friendly greeting at check in and the clean facilities.
Jun 05, 2021
Good.stay, clean bathrooms, excellent view. Recommend two nights to see the area.
Jun 05, 2021
Great Place to stay , the scenery around the campground is unbelievable , The GM his name is Doc , was just a great help and made you feel comfortable to stay there. Can't wait to return next year.
Jun 05, 2021
This was my second time at this KOA. I had an emergency situation arise during my first stay, and the manager of this campsite was exceedingly kind and understanding. I will stay here any and every time I'm in the area.
Jun 05, 2021
It was all about the sunset here - with the monuments in the background it was spectacular.
Jun 05, 2021
Very nice people, nice big grassy play area for kids (in the desert), and decent size spaces. The view of Monument Valley is beautiful. My only complaint is the power hookups are located at the front of the site so if your connection is at the back of your rig you have to move into the road to connect. Not much forethought there.
Jun 04, 2021
The bathrooms were super clean!
Jun 04, 2021
Great location! Would be great if the site expanded to include cabins.
Jun 04, 2021
So quiet, loved it. Raymond was very helpful in suggesting sights to see.
Jun 04, 2021
We had a site with a view of monument valley. The staff was very nice The only problem we had was the wind There was a dust storm both days we were there. It was calm in the morning but windy and dusty in the afternoon I would stay here again no road noise they also have a medic on duty and someone to help if you have a problem with your rv or camper
Jun 04, 2021
Manger was GREAT
Jun 03, 2021
All that I needed
Jun 03, 2021
Beautiful surroundings, clean showers, staff helpful, but not very friendly. Shade trees still immature to do any good.
Jun 03, 2021
Doc is the camp manager and is very knowledgeable about the area and helpful if you need anything. Camp is clean and in the middle of nowhere which makes WiFi non existent but fiber optic lines are coming soon. Lots to see, and very quiet. Free roaming sheep thru the campground and Doc rounds them up and out on his golf cart. Great staff.
Jun 03, 2021
We had a repair issue as well as a minor injury. Ray was extremely helpful and I can't thank him enough for his assistance. Having an EMS and RV tech on hand saved the day for us. Laundry and restrooms very nice and clean.
Jun 03, 2021
Sunset was outrageous. Camp director first rate. Facility spotless. Even the quarter machine in laundry worked!
Jun 02, 2021
The KOA was clean and maintained well. The only negative was Monument Valley was closed, NO internet and NO TV. Manager was great contacting DB Truck & Trailer in Monticello when our Big slide wouldn't go back in. They were professional and got it done. 435-459-0038 Two hours away but great THANKS Manager keep assuring me they could do it. Had to wait an extra day but we weren't going anywhere.
Jun 02, 2021
Showers and restrooms set a new "golden standard"! Excellent location, enough parking space yet not congested. Easy check-in/check-out, has a playground for children. Friendly and caring host! Thanks!
Jun 02, 2021
Beautiful scenery and very clean. Friendly staff. Very enjoyable stay.
Jun 01, 2021
Lovely stay - great views - loved the camp dog - all hook ups worked great - clean sites - nice staff - only downside was lack of wifi for work ( we had none with Verizon hotspot, limited Sprint service and the KOA one did not work either- but what am I doing working when I am in Monument Valley anyway?
Jun 01, 2021
Even though Monument Valley is closed on Navaho Nation land, there is still plenty to see. We drove through Valley of the Gods, absolutely incredible!
Jun 01, 2021
Valley of the Gods is incredible! Staff very friendly at JOA.
Jun 01, 2021
Excellent customer service. The same woman helped me every time. Sorry I do not know her name. She was friendly and efficient. Very nice person.
Jun 01, 2021
Obviously new. In time, it will be more beautiful as the trees grow.
Jun 01, 2021
This is a wonderful location in the midst of Monument Valley. We were here last year and came back again in spite of Navajo Nation being closed. This has been a very hard time for the people of this area, and we are grateful to experience Monument Valley from our fronort do. The staff are great to work with, especially when I realized I hadn't finalized our online reservation! We will be back!
Jun 01, 2021
It was rather pricey for what was available in the area or at the campground.
Jun 01, 2021
We had an excellent view of the mountains. so we sat in the back of our RV with the doors open and just watched the sun set, It was fantastic. One of the most memorable events of our one month tour of the SW. Thanks
May 31, 2021
Exceptionally helpful staff (Mitzi) and beautiful views from a very nice campground overlooking Monument Valley.
May 30, 2021
This is a great location, it is remote with minimal internet and cell service but that only adds to the charm of the park. Absolutely wonderful sunrises and sunsets on the monuments! Great personnel managing the site!
May 30, 2021
This new KOA may not have all the bells and whistles of other KOAs but it has the best views. It is also supper clean bathrooms and the laundry facilitities are top notch (they actually dry your clothes). While there we also did the horseback riding tours and the tribal tours that can come to pick you up at the KOA. Both were great.
May 28, 2021
Nice clean restroom / shower Great views
May 28, 2021
Beautiful views!! Clean bathroom/showers. Staff very friendly and helpful! The tour company they recommended was great, loved it!!
May 27, 2021
Amenities were clean and easily accessible. The views from the campsite were unparalleled!
May 27, 2021
The camp is very young with young trees. Once they mature it will be a lovely place. Liked the dog park. The people that work there are very nice and very accommodating. Unfortunately we were there 2 days when they were having a very severe dust storms. Spend most our time in the RV. This of course was not their fault.
Jun 21, 2021
Stayed here the past 2 nights. Monument Valley is a spectacular place to visit. There isn't a bad view in the entire campground. If you've never been and you camp then I recommend this KOA.
- Marcel Cartier on Google
Jun 16, 2021
Beautiful location. Friendly staff, roomy and relatively level sites.
- Travis Coleman on Google
Jun 05, 2021
Although the Hugesnet wifi was down, camp host was wonderful as well as location. By all means rent one of their jeeps for 4 hours to tour the rough road thru Valley of the Gods.
- Alex Fane on Google