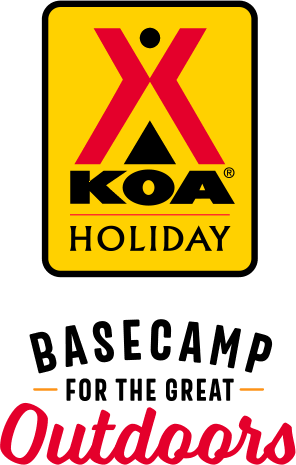 KOA Holiday Campgrounds
Whether you're exploring the local area or hanging out at the campground, KOA Holidays are an ideal place to relax and play. There's plenty to do, with amenities and services to make your stay memorable. Plus, you'll enjoy the outdoor experience with upgraded RV Sites with KOA Patio® and Deluxe Cabins with full baths for camping in comfort. Bring your family, bring your friends, or bring the whole group – there's plenty of ways to stay and explore.
KOA Holidays Feature:
RV Sites with a KOA Patio®
Deluxe Cabins with full baths
Premium Tent Sites
Group meeting facilities
Directions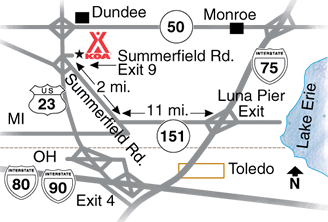 9 miles north of OH/MI line on US 23 at Exit 9 Summerfield Road NE corner. From 75 take Luna Pier Exit 6 West approximately 11 miles, then a right on Summerfield for about 2 miles.
Get Google Directions
Aug 22, 2020
Many pluses for the premium pull thru camp site that we used. Easy setup, concrete patio and furniture,etc. Minuses: camp site right next to dumpsters. They came empty them Monday and we smelled garbage rest of the day. Fire pit is so deep that it is hard to see the fire. Lots of dust from vehicles and camp work atv's. We will camp there again, but choose a different site.
Aug 22, 2020
Employees very friendly. Sites are getting tight for bigger rigs. Only complaint is cable service wish they had an alternative source
Aug 22, 2020
Too dusty and dirty for a campground.
Aug 21, 2020
Cabins and sites are way too close together. Deluxe Cabin had sticky stuff on top of fridge and in drawers, spiderwebs on celling fan. Half the lightbulbs didnt work. Sliding bathroom door was noisy and didnt shut/lock. Queen bed was very noisy and uncomfortable. The bathrooms/shower were all really old and gross. Our 3rd Koa and least favorite. Will not be back
Aug 21, 2020
It was a wonderful time. My son went fishing and one of the lifeguards helped him get the fish off! So sweet! We also had a smidge of trouble with our camper and the grounds people were willing to assist. The activities were great and the water in the lake was so refreshing.
Aug 20, 2020
it was better because your security left us alone
Aug 19, 2020
From our grandkids' perspective, the stay was awesome. The staff was polite and very professional. The campground, bathrooms, play areas and swimming lake were clean. From our adult perspective, there was way too much dope smoking, especially near or with kids in tents/campers. We know its legal now, but, we almost thought we were at a Grateful Dead concert.
Aug 18, 2020
The loft really needs to be updated and renovated. It was very dirty to them point of not being able to be cleaned. The fridge wasn't full size where as people with smaller accommodations had full fridges. Bathroom flooring suspect for mold underneath. Needs tlc badly. Pictures need posted online to avoid trickery upon arrival and we were not told bathrooms and such were underneath. Otherwise ni
Aug 18, 2020
Had a awesome time the staff was great like that there was so much stuff was going on definitely be coming again I even had couple of friends came out to camp for their first time and wants to go again to Toby,Jay and the whole staff I like to say Thank You
Aug 18, 2020
It's a mud hole, very nice people at desk, gave me a site that was so unleavened that the jacks wouldn't level. Old and run down, very small sites, and had to pay a fee for resort, that's a real joke.
Aug 18, 2020
Staff was very kind. Clean restrooms Will be back next year for sure.
Aug 17, 2020
Had fun been c oming there for over 20 years.
Aug 17, 2020
It was not a great stay. Cabin got changed and I called to make sure I got the one I request because I am allergic to cigarette smoke. All 5 cabins around me smoked. Inappropriate party and thing around my children. Staff was not helpful or kind/inviting. Few thing we expected from the website we did not see. Cabin was not clean.
Aug 17, 2020
We love your campground we come every year!
Aug 17, 2020
Joined a group of friends who were camping and had a great time!!
Aug 17, 2020
Sites are to close together. Our site had a wooden patio which was a trip hazard! Everyone parking where ever they wanted and picnic tables needs updated!
Aug 17, 2020
Small sites. With trees in the site couldnt park on site. Bought golf cart unaware we couldnt have it.. Was told ok to park on site. One worker gave us a hard time.. To expensive for the site
Aug 17, 2020
Pond and activities were great, but the sites are incredibly small with little or no grass, making for a very messy and uncomfortable stay.
Aug 17, 2020
This was our first time camping and we enjoyed every minute of it. All of the activities that were planned were perfect and the lake was amazing. Very kid friendly and the store had what we forgot at home. The snack bar was an added treat when by the water. We will definitely return!
Aug 17, 2020
We have been here 4 times already this season. And we have never been disappointed.
Aug 17, 2020
Great well keep up nice swimming pond had a great time
Aug 17, 2020
We had a great weekend. Tons of activities for the kids and an awesome swimming pond. Our site was a little small but with it being full Hook up made up for the size.
Aug 17, 2020
Had a great time love this place.
Aug 17, 2020
Nice job taking care of the bathrooms etc...store pretty crowded at times, with check in. Hard to control Social Social distancing.
Aug 17, 2020
Grandkids had a blast! Lots of fun memories made!
Aug 17, 2020
stayed Aug they 9th to 11th in deluxe cabin then stayed 11th-12th is rustic cabin both very nice loved it!.Very clean and fun to stay here..
Aug 17, 2020
So crowded with multiple vehicles on every site it was almost impossible to get up and down streets Sites very narrow and all dirt.
Aug 17, 2020
It was unfortunate we couldn't check in till 3 on Friday because shortly after it rain for the rest of the night. Saturday was beautiful we enjoyed the water and all the activities at the camp. Sunday we packed up and it rained during. Overall we had a great family time, kids loved it regardless of the bad weather.
Aug 16, 2020
We had an amazing time!! Start to finish! Clean an friendly environment! And Jason a worker you have was outstanding! He helped us so much! 2 woman an 3 children! Helped us for d things an have us helpful information!
Aug 16, 2020
When booking it wasn't clear my cabin was in a shared building. You can hear and feel everything that happens in the other cabin you're sharing a wall with. Shower wouldn't drain. Mattresses were terrible uncomfortable even for a cabin
Aug 15, 2020
I always enjoy my time with family at this campground �ϋ�I enjoy the staff , their friendly and always making sure everything is going well during the stay �Toby the Mgr is Awesome � takes time to visit the campers and when their is a problem he resolved it quickly , I've been coming for at least 25 yrs now and my plan is to continue �for as long as I'm able �hope the ice cream
Aug 15, 2020
Our site was nothing but dirt. Sites were tiny. The entire campground seemed very dirty and outdated. Some cool features but overall needs updated.
Aug 15, 2020
Amenities were great but could be cleaner. Very dusty and garbage dumpsters overloaded was a negative. All staff were friendly and helpful.
Aug 14, 2020
It was clean and peaceful
Aug 14, 2020
Garbage dumpsters and cans were overflowing everywhere. Put put was very dirty.
Aug 13, 2020
Our stay would've been much better if the unleashed pit bull from the cabin next door wasn't constantly wandering over to our site with my son. Overall, this has a ton of kid things but not great enough to bring us back.
Apr 21, 2021
Stephen the park Manager was Awesome at answering 🤔questions and I had alot😉. Also the head of Cleaning crew🧚🧹🧽🚿🛁🛏️ 🧽and I had a great connection she was awesome too🤘.... I am a bit OCD and the 2 cabins 🏕️🏡we had were even up to my standards. 😊Witch says alot we enjoyed every minute we were there!😁 Thank you to every crew member there. You are all very special🤗... We stayed from Friday 4/16/21till yesterday Sunday 4/20/21 because of snow🌬️🌨️❄️.......🥰🥰🥰🥰 The Kelley Family!
- ube on Google
Apr 18, 2021
Every single employee went above and beyond for all of us. Super friendly, super clean! Excellent place to stay!! Numerous things for kids to do.
- Amanda Michael on Google