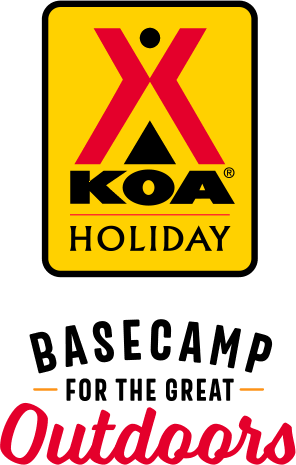 KOA Holiday Campgrounds
Whether you're exploring the local area or hanging out at the campground, KOA Holidays are an ideal place to relax and play. There's plenty to do, with amenities and services to make your stay memorable. Plus, you'll enjoy the outdoor experience with upgraded RV Sites with KOA Patio® and Deluxe Cabins with full baths for camping in comfort. Bring your family, bring your friends, or bring the whole group – there's plenty of ways to stay and explore.
KOA Holidays Feature:
RV Sites with a KOA Patio®
Deluxe Cabins with full baths
Premium Tent Sites
Group meeting facilities
Directions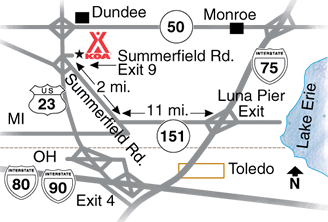 9 miles north of OH/MI line on US 23 at Exit 9 Summerfield Road NE corner. From 75 take Luna Pier Exit 6 West approximately 11 miles, then a right on Summerfield for about 2 miles.
Get Google Directions
Aug 25, 2020
Would of been superb if the air conditioner worked in cabin 22, also think you should put down some gravel so the site & belongings won't be covered in dust from traffic and gulf carts zooming by. The younger crew doing the activities we're spectacular!! Also Katie at the desk deserves recognition she was phenomenal.
Aug 25, 2020
We were in the dirt !! And campers to close Together a fire pit was right under the neighbors slide ! Lots of good activity for kids but that's it
Aug 25, 2020
Excellent campground! The friendly staff, clean, and updated campground was a refreshing, great escape! Everyone in our party had something to do, whether it was swimming, fishing, or playing corn hole- thank you!
Aug 25, 2020
Everything was wonderful! I have to say that I was disappointed that there were no activities on Sunday since that is a weekend day. My kiddos were disappointed they were unable to do to the tie dye and other activities. We stayed Saturday and Sunday nights. Check in wasn't till 3, and tie dye was at noon. My Kids were not able to participate because of that reason. Besides that- it was great!
Aug 25, 2020
Very pleased with the site given and the staff was awesome.. I would definitely camp here again
Aug 24, 2020
Been going to this KOA since 2009. Have had the same delux cabin the last 4-5 years. Repairs do't get done, all kitchen ware was removed without notice to me, cushions were removed on outside chairs making them very uncomfortable. All that missing, but not cut in the cost. Neighbors had a dog in theirs and didn't clean up after it. Dogs are not supposed to be in cabins. Won't be back next year.
Aug 24, 2020
It's a nice comfortable place to stay at, friendly people, for the most part clean bathrooms but I do know it's hard to keep clean with that many people. Staff is very courteous and nice. I like that they have this one will separate fishing pond and the side. It's a very fun place.
Aug 24, 2020
We absolutely love this camp ground!!! We will be heading back in two weeks and again for Halloween weekends!!! Can't say enough how much fun we have and always look forward to coming back
Aug 24, 2020
Site 36 was a great disappointment. Tree roots made it impossible to use the site effectively putting our door on the road. Choking dust kept us inside.
Aug 24, 2020
Office sent us down the wrong isle to enter the pull-thru correctly. Went back around and corrected.
Aug 24, 2020
WiFi did not work very well had to use my own data on my phone. Everything else was great. Staff that we did interact with was nice and friendly.
Aug 24, 2020
my fiance and i loved it. we actually tagged you in our post on facebook when we announced our engagement. we look forward to coming back again soon. great times and memories were made this past weekend for sure.
Aug 24, 2020
Love staying here. Atmosphere is always great. Always something new with neighbors after night falls.
Aug 24, 2020
We had a very nice day the amenities was fantastic for the children. All of the employees were very friendly and helpful.
Aug 24, 2020
We love the campground, especially since it is so close to home for us. The property is well maintained and the staff are all pleasant and wonderful. The amenities make the campground really great for families.
Aug 24, 2020
Fantastic place. Our first ever camping trip and we were very delighted with the area and amenities. Already want to go back!
Aug 24, 2020
It was okay. The events weren't very well organized and our campsite was very small and under no shade. We were promised the opposite when we booked. Not worth the price. The kids had fun though.
Aug 24, 2020
Always a great time. love the shaded sites
Aug 24, 2020
Things we loved: all the activities! My kids had so much fun! Stuff for every age group and interest! Bathrooms were clean Things we didn't love: small sites. Our site was near a streetlight and we were in a tent. It was awful. Full light. We ended covering our tent with blankets and a tarp to try to get some sleep.
Aug 24, 2020
Very accommodating, friendly neighbors.
Aug 24, 2020
Everyone was very nice and the beach/lake was beautiful! The bathrooms were not very clean and they ran out of a lot of things.( Popcorn for the movie, paint for the activities and very limited amount of shirt choices for the tie-dye activity.)
Aug 23, 2020
Y'all need to invest in WiFi infrastructure. Otherwise, nice.
Aug 23, 2020
My daughter and I were badly bitten up by bugs that I can only assume were in the cabin as the bites occurred overnight (K15). Had to go to urgent care to get serious to treat the bites
Aug 23, 2020
It was awesome time for grandkids and felt save
Aug 23, 2020
Very relaxing with many opportunities to stay busy! Quiet. Clean. Well managed! Staff were courteous and customer friendly.
Aug 22, 2020
Many pluses for the premium pull thru camp site that we used. Easy setup, concrete patio and furniture,etc. Minuses: camp site right next to dumpsters. They came empty them Monday and we smelled garbage rest of the day. Fire pit is so deep that it is hard to see the fire. Lots of dust from vehicles and camp work atv's. We will camp there again, but choose a different site.
Aug 22, 2020
Employees very friendly. Sites are getting tight for bigger rigs. Only complaint is cable service wish they had an alternative source
Aug 22, 2020
Too dusty and dirty for a campground.
Aug 21, 2020
Cabins and sites are way too close together. Deluxe Cabin had sticky stuff on top of fridge and in drawers, spiderwebs on celling fan. Half the lightbulbs didnt work. Sliding bathroom door was noisy and didnt shut/lock. Queen bed was very noisy and uncomfortable. The bathrooms/shower were all really old and gross. Our 3rd Koa and least favorite. Will not be back
Aug 21, 2020
It was a wonderful time. My son went fishing and one of the lifeguards helped him get the fish off! So sweet! We also had a smidge of trouble with our camper and the grounds people were willing to assist. The activities were great and the water in the lake was so refreshing.
Aug 20, 2020
it was better because your security left us alone
Aug 19, 2020
From our grandkids' perspective, the stay was awesome. The staff was polite and very professional. The campground, bathrooms, play areas and swimming lake were clean. From our adult perspective, there was way too much dope smoking, especially near or with kids in tents/campers. We know its legal now, but, we almost thought we were at a Grateful Dead concert.
Aug 18, 2020
The loft really needs to be updated and renovated. It was very dirty to them point of not being able to be cleaned. The fridge wasn't full size where as people with smaller accommodations had full fridges. Bathroom flooring suspect for mold underneath. Needs tlc badly. Pictures need posted online to avoid trickery upon arrival and we were not told bathrooms and such were underneath. Otherwise ni
Apr 21, 2021
Stephen the park Manager was Awesome at answering 🤔questions and I had alot😉. Also the head of Cleaning crew🧚🧹🧽🚿🛁🛏️ 🧽and I had a great connection she was awesome too🤘.... I am a bit OCD and the 2 cabins 🏕️🏡we had were even up to my standards. 😊Witch says alot we enjoyed every minute we were there!😁 Thank you to every crew member there. You are all very special🤗... We stayed from Friday 4/16/21till yesterday Sunday 4/20/21 because of snow🌬️🌨️❄️.......🥰🥰🥰🥰 The Kelley Family!
- ube on Google
Apr 18, 2021
Every single employee went above and beyond for all of us. Super friendly, super clean! Excellent place to stay!! Numerous things for kids to do.
- Amanda Michael on Google