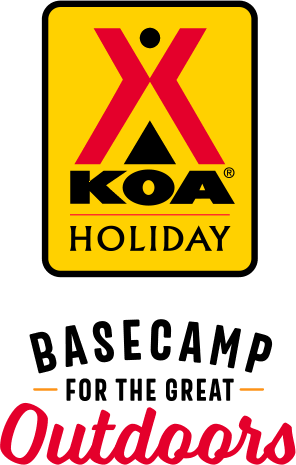 KOA Holiday Campgrounds
Whether you're exploring the local area or hanging out at the campground, KOA Holidays are an ideal place to relax and play. There's plenty to do, with amenities and services to make your stay memorable. Plus, you'll enjoy the outdoor experience with upgraded RV Sites with KOA Patio® and Deluxe Cabins with full baths for camping in comfort. Bring your family, bring your friends, or bring the whole group – there's plenty of ways to stay and explore.
KOA Holidays Feature:
RV Sites with a KOA Patio®
Deluxe Cabins with full baths
Premium Tent Sites
Group meeting facilities
Directions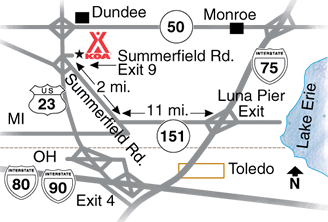 9 miles north of OH/MI line on US 23 at Exit 9 Summerfield Road NE corner. From 75 take Luna Pier Exit 6 West approximately 11 miles, then a right on Summerfield for about 2 miles.
Get Google Directions
Sep 02, 2020
We enjoyed our stay at this campground. Staff was nice and very helpful.There was just a little too much dirt not enough of grass. Sand was flying everywhere. All in all I would recommend this camp ground.
Sep 01, 2020
Love this campground. Very friendly staff. Very clean. Plenty of activities for the kids.
Sep 01, 2020
I enjoyed our time at your campground for the most part. I felt that the campsites were overpriced and the misc fees for everything was frustrating. With the added $10 just to pick out my site and an extra $5 for an additional car on our site just put it over the top. Wish there was more for the family at no addtional cost. Putt putt was nice, but hard to play in the dark.
Aug 31, 2020
We had a great time!!!
Aug 31, 2020
The campsite was not adequate for the size of our camper. The young lady at the check in desk was rude and charged us for 4 pets when we told her we only had 2. There was a pit bull off leash that attacked my dog as we walked by it's campsite. Overall very dissatisfied with our stay and will not be visiting again.
Aug 31, 2020
The activities they do for the kids daily is amazing. However our cabin was not super clean and our shower would not drain. There is a major bee problem. My husband rented bikes for him and my son and some of them were broken.
Aug 31, 2020
Great for families and kids
Aug 31, 2020
The site me was on was a little small. But that was okay we have the opportunity to look at others and planning to go back
Aug 31, 2020
My family and I love coming here because there are always fun activities going on shout out to the best manager toby thanks again for a wonderful weekend
Aug 31, 2020
only problem was too many bigger kids (mostly boys) playing in the little kid playground. climbing on top of equipment, intimidating my 3 year old. someone should be keeping a closer eye on that area.
Aug 31, 2020
The demographic of campers has changed for the worse since my last visit 5-6 years ago. Overall, more trash was left on playgrounds, the smell of marijuana was prevalent in areas, and cigarette smoking with widespread by parents at the children's events and on the playground. It seems overall facilities are more run down, including dog park (trash was overflowing with a pile of bags around it.
Aug 31, 2020
Great just couldn't use my golf cart but have a great time
Aug 29, 2020
With Covid I believe that you are doing a good job of providing a camping experience. We enjoyed ourselves. Courteous staff especially Bob on the phone. Hoping to be able to return in the future.
Aug 29, 2020
Everything was great. My only complaint was that there was garbage and food left over from the previous rental. A nice young man came the next day and cleaned it out. I would just suggest checking the fire pits for trash and debris. Thanks.
Aug 29, 2020
Over the years they've pretty much stopped maintaining the grounds. Very uneven sites. Also the swim pond has become unusable due to algae swimmers itch. Just not as well taken care of as it was before new owners/management came in
Aug 28, 2020
It was wonderful.
Aug 28, 2020
Staff was friendly. Lots of things to do with the children. The cabin we stayed in was very nice. We enjoyed the swimming beach area!
Aug 28, 2020
It was a nice place, was clean. A little closer to the highway than I thought, you could hear traffic the whole time. The "lake" water is definitely dyed blue, but it was nice. Lots of beach to share. The water slide, definitely for kids. We did not have any utensils or dishware like the reservation said we would. Good amount of space. The stove top was bad. Overall good stay
Aug 28, 2020
Had a delux rv site, it was great. Everybody was great, the activities kept the kids busy. Going to visit again.
Aug 28, 2020
Rented a deluxe cabin for three days with our grandsons. Swimming, fishing and campfires were great. The cabin floor was filthy. Couldn't walk barefoot or with socks on. We will come again next year and i will bring my own mop.
Aug 28, 2020
Too many people at campsites and too loud. Water pressure awful No cable 3 channels
Aug 28, 2020
This was our first time camping with our family. Great first experience to the camping world. There were plenty activities for everyone.
Aug 28, 2020
Internet not good out by 170 could not use our projector we bought just for night camping.
Aug 28, 2020
We had a great time! Only down side was the cabin we were in was right next to road for the beach, cars constantly going past the cabin and it was really hard to cook on the grill with cars kicking up dust all over our food. Also our TV was not working properly, told the office and they never sent anyone until we said something again. Replaced with a MUCH smaller one with a messed up screen.
Aug 28, 2020
Security officers are a joke.
Aug 28, 2020
Just an overnight stay so didn't leave the park. Park was clean and seemed well managed. Would definately stay again
Aug 28, 2020
The cabin was dirty not horrible but food on the side of the fridge and smears on microwave.. Trash in counter hair in bathroom and toilet. Finger prints on mirror. Also it said to clean and sweep before we leave. Thankfully I brought cleaner otherwise I would have had to clean with water. Does someone clean after me? During the covid time I would just think a little more time would be focused on
Aug 28, 2020
it was right off the highway & convenient. Arrived a few minutes before 10pm. There was no map with my name on it outside. The people inside could clearly see I was standing at the door trying to figure out what to do and made me wait for a while. We got to our spot & electric was so far away we could not plug-in. The next site over did not have sewer. Spots near us were run down. Old wood boards
Aug 28, 2020
Very tight spot to park in. Great place for families
Aug 27, 2020
The roads were so dusty it made hanging out outside unenjoyable. We were told they had the stuff to treat them for dust but for whatever reason it wasn't used. We used to love staying here as it is close to home but this time made us not want to go back.
Aug 27, 2020
Super family friendly and user friendly. Very clean and pleasant
Aug 27, 2020
Been tent camping here for 20 years. We tried a cabin this time. It was great! Staff is always really nice and everything was really clean.
Aug 27, 2020
At first I thought the sites were small and just not sure about this place but I ended up loving the place the site was big enough the man made lake was awesome along with the water slide and the fishing pond! We will be back here for sure. You have a great place here and the activities for the kids I thought was great! Love it here!
Aug 25, 2020
With the US in the state it is right now it was so nice to be able to get away. The facilities were clean, as usual. They are taken so many steps to keep everyone safe. I recommend this location to all of my friends and always will
Aug 25, 2020
great time; we were a huge group on several adjoining sites and all had the best time, staff was friendly and took care that we had all we needed, safety, cleanliness, etc. thanks to everyone
Apr 21, 2021
Stephen the park Manager was Awesome at answering 🤔questions and I had alot😉. Also the head of Cleaning crew🧚🧹🧽🚿🛁🛏️ 🧽and I had a great connection she was awesome too🤘.... I am a bit OCD and the 2 cabins 🏕️🏡we had were even up to my standards. 😊Witch says alot we enjoyed every minute we were there!😁 Thank you to every crew member there. You are all very special🤗... We stayed from Friday 4/16/21till yesterday Sunday 4/20/21 because of snow🌬️🌨️❄️.......🥰🥰🥰🥰 The Kelley Family!
- ube on Google
Apr 18, 2021
Every single employee went above and beyond for all of us. Super friendly, super clean! Excellent place to stay!! Numerous things for kids to do.
- Amanda Michael on Google