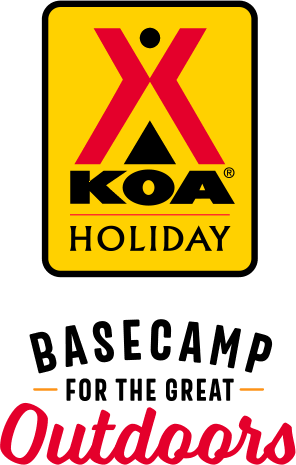 KOA Holiday Campgrounds
Whether you're exploring the local area or hanging out at the campground, KOA Holidays are an ideal place to relax and play. There's plenty to do, with amenities and services to make your stay memorable. Plus, you'll enjoy the outdoor experience with upgraded RV Sites with KOA Patio® and Deluxe Cabins with full baths for camping in comfort. Bring your family, bring your friends, or bring the whole group – there's plenty of ways to stay and explore.
KOA Holidays Feature:
RV Sites with a KOA Patio®
Deluxe Cabins with full baths
Premium Tent Sites
Group meeting facilities
Directions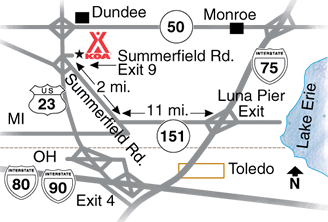 9 miles north of OH/MI line on US 23 at Exit 9 Summerfield Road NE corner. From 75 take Luna Pier Exit 6 West approximately 11 miles, then a right on Summerfield for about 2 miles.
Get Google Directions
Sep 14, 2020
very relaxing few days! Staff was very pleasant and helpful!
Sep 14, 2020
Great campground...super people, great facilities and supplies. Considering the site we had and threat of the pull through transient sites, their is not enough room. RVs were to close together. Wooden patios were great but not convenient to our door. The fire pits were to far away in the front of each site and we would need to move our chairs. RVers had to be careful to not run over them.
Sep 14, 2020
Had one of the premier sites, was disappointed we faced a barn! Employees were friendly, park is geared toward families with lots of children. Many people cutting through sites. Site itself was level and enjoyed the patio but the fire pit was filled with garbage that we had to clean out before using and the gas grill was rusted and gross looking. Wasn't worth the upcharge we paid for the site.
Sep 14, 2020
What a beautiful campsite, definitely made for families, and people that want to stay active. The staff was friendly and very accommodating.
Sep 10, 2020
We were so glad that we had a site in the back of the campground as it was not as busy as the front. Many activities for the kids to do. The campsite did not have much grass, a lot of dirt and dust.
Sep 09, 2020
It is a nice campground with a lot to do, however, the deluxe cabins are overpriced. At $300 per night, I expect the wifi to work, the door to open and shut properly, and the grill to work. Also, no notice was given that the toaster or any cooking utensils were removed. L222 cabin the door and steps are dangerous. A few of us fell because the door opens to the outside and no room to go but steps.
Sep 09, 2020
I figured out why there are no pictures of the loft on your website, first it was dirty not clean mildew on the bathroom floor and shower area and the loft smelled of mildew, we shut the air-conditioning off open windows and one of the back windows was no screen, the patio was uneven with nails sticking out the bee's were terrible and all you could hear all hours was slamming of the shower doors
Sep 09, 2020
Wonderful weekend as always stayed on our favorite site lots of fishing will be back in October
Sep 09, 2020
We love KOA we have been coming here for over 40 years..
Sep 09, 2020
Campground has no paved roads or sites and many potholes. Very rough road and full or water. A muddy mess. Our "pull through" site was small and difficult to get into, I had to pull in, back up and then go around the park and come into the site from another direction due to size and obstructions. And to make matter worse it was very expensive. There are plenty of toys for kids though.
Sep 09, 2020
Great time! Loved the playground and the water slide. I live within a 20 mile radius and they invited us to come a day early for free. Wonderful!!
Sep 09, 2020
Great place to camp! Tons of fun activities!
Sep 08, 2020
We had a nice stay, but our neighbors were really loud. They played their music loudly and yelled a lot.
Sep 08, 2020
We had a bee problem with bees and your staff helped us with it. Me and my great granddaughter both were stung. Great staff! We appreciated all that they did. They came back and checked on us.
Sep 08, 2020
There were a large amount of Hornets that were pretty bothersome. Also the site seemed pretty small this time, I think due to the camper next to us had slideputs that seemed to cramp our site a bit.
Sep 08, 2020
Wasn't the greatest it was packed but given it was a holiday weekend I understand that but our camp site had a very horrible bee problem. Another camper next to us had a dog (pit bull) that was loose not on a leash kept coming to our campsite pooping and we had to clean it up. On the other side of us they played music real load and was drunk every night load and fighting. Was a little disappoint
Sep 08, 2020
We had a fantastic time camping at your campground. Wasps were a problem but you took care of us with this problem. However they were terrible everywhere in the state. Wonderful beach, playground, and fishing pond. We will definitely return.
Sep 08, 2020
Our stay was okay, upon checking in there was a hidden fee for our pet so we had to pay $5 every night were there I wasn't too happy with that because when I booked my reservation we paid in full and the reservation did ask if I had a pet. Are site had very bad bee infestation. The water had a very bad smell to it. Our site had a wooden deck that wasn't even became a tripping hazard for my child.
Sep 08, 2020
We had a great time. Park could be kept up a bit better. Items in the Store need to be priced. I did spend money in there but I would've probably spent a lot more if items were priced.
Sep 08, 2020
Labor Day weekend-Lots of fun activities. Very clean facilities. Snack Shack offers lots of yummy, affordable food options. Only complaint is that I booked a site in person and when I arrived I was given another site. I'm assuming this was done because we are tent campers and the person that was given our site had an RV. We were given a smaller site so we did not have room for our screen tent.
Sep 08, 2020
We love staying here. It's our home away from home. But this place needs some updating. The putt putt is run down and boring. At night we barely seen any security which meant loud music until all times of the night. It needs a little pickup. Just some updating to make it more appealing
Sep 08, 2020
We had a good time there
Sep 08, 2020
I enjoyed the campgrounds itself however i don't think the planning as to where they place campers is the best idea. We had a tent site with water and electricity and the second night they had 2 very large RVS placed right next to us.. no let me rephrase that on top of us where we had to completely remove our tent and find a new location. We ended up leaving early with no refund due to over crowd
Sep 08, 2020
We had a great time the kids loved all the activities all weekend long!
Sep 08, 2020
I enjoy my time there just if the weather was a little better..
Sep 08, 2020
The staff was incredibly friendly to all. From the cleaning staff to game host. They did such a great job! Only suggestion maybe is to have like a wagon that you can pull people to take them to activity. Like the movie or dance party.
Sep 08, 2020
This was our family's first time at a KOA. We don't have a camper so we stayed in one of your kabins. We had such a great time! The facilities were clean and well kept, the people friendly and there was lots to do. We went to the zoo, which is closer than I thought. We took advantage of the paddle boats and the putt-putt golf. We will definitely visit again! Thanks for a great weekend!
Sep 08, 2020
Had a great time! A bit of a mix up in which site we booked but not the campgrounds fault. Everything worked out � Wood bundles could be a bit bigger for the price and slide was a bit dirty this time.
Sep 05, 2020
They charged for pets. I've stayed at many KOAs and have never been charged. There was no consistency in sites. They were all over the place and it was dirty.
Sep 04, 2020
We've been camping for 25 years & never have been packed in like this ever before. Maybe it was just a crazy aug wknd. Very loud & crowded. Lots of kid friendly activities.
Sep 04, 2020
Very relaxing
Sep 04, 2020
Booked a cabin near friends, verified days ahead and was moved to a cabin further away with zero explanation. The cabin I originally rented, I saw no one there the entire time.Cabin, 219 was not clean. The floors had the kids feet charcoal black in mins., the coffee pot had grounds in it from days gone by, ceiling fans could not be used due to months of build up. For 150 a night shouldn't happen.
Sep 04, 2020
We stayed in a cabin, it was great i wish they could've kept the dishes inside. I understand that were going through a pandemic. They still have activities swimming, boats, fishing, water slide, Nd biking. I would definitely be back.
Apr 18, 2021
Every single employee went above and beyond for all of us. Super friendly, super clean! Excellent place to stay!! Numerous things for kids to do.
- Amanda Michael on Google