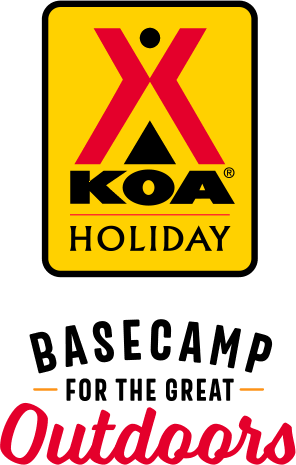 KOA Holiday Campgrounds
Whether you're exploring the local area or hanging out at the campground, KOA Holidays are an ideal place to relax and play. There's plenty to do, with amenities and services to make your stay memorable. Plus, you'll enjoy the outdoor experience with upgraded RV Sites with KOA Patio® and Deluxe Cabins with full baths for camping in comfort. Bring your family, bring your friends, or bring the whole group – there's plenty of ways to stay and explore.
KOA Holidays Feature:
RV Sites with a KOA Patio®
Deluxe Cabins with full baths
Premium Tent Sites
Group meeting facilities
Directions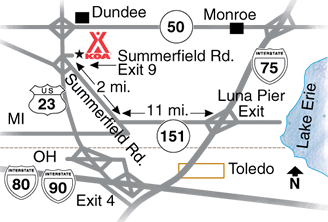 9 miles north of OH/MI line on US 23 at Exit 9 Summerfield Road NE corner. From 75 take Luna Pier Exit 6 West approximately 11 miles, then a right on Summerfield for about 2 miles.
Get Google Directions
Aug 09, 2021
The staff and the Entertainment were outstanding. A number of us were complaining about the beds in the cabin.
Aug 09, 2021
Loved it, wish we had more time to stay.
Aug 09, 2021
Friendly and helpful staff, very crowded on the weekend. Glad we arrived on a Tuesday night, had a few days before it was packed. Hidden blessing, I accidentally reserved two lots, tight spaces, close neighbors. The extra lot was nice.
Aug 09, 2021
We were treated with exceptional service
Aug 09, 2021
The kids had a fantastic time. Only improvement would be the arcade. Games were kind of outdated and stole some quarters. Camp sites were a little small and since the fire pits were movable lots of ash everywhere. But all in all we enjoyed it and plan on coming back next year!
Aug 09, 2021
It was wonderful!
Aug 09, 2021
20 members of our cross country team stayed for the weekend and had an activity filled time! We played volleyball, swam, ran, played Ultimate frisbee and more. Perfect cross country camp.
Aug 09, 2021
Great stay. We love the rustic cabins and the kids love the swimming lake and water slide. Only issue is not enforcing the 11 pm quite time. Our neighbors were outside and loud at 3 am two nights in a row.
Aug 09, 2021
Having security monitor and enforce quiet hour, was up all night due to someone laud music. When I called the help number it said it was disconnected so that may need to be fixed also.
Aug 08, 2021
Absolutely wonderful. Staff was awesome and friendly. My family had the best time. 100% will be back...very soon!!
Aug 08, 2021
Excellent location.
Aug 07, 2021
Nice clean facility. Great activities for the kids.
Aug 07, 2021
Another great stay!! We will be back. Shout out to Mollie&Sara super friendly especially with kids during activities, always has a great smile and was very helpful. The twin boys(one named Tyler)went above and beyond for people. I was amazed by all they do for people to make sure they are safe and having a great family time! They make sure everyone is following the waterslide rules! Thanksforyourh
Aug 07, 2021
The site was nice with a nice patio and furniture. The bushes needed trim, the old grill needed moved out and the number system seemed odd. People used our site as a walkway like no one was at that site. We never had that happen at any other KOA campground. The noise was terrible on Friday night. It lasted until 12:30 or 1 when quite time was suppose to be at 11.
Aug 07, 2021
The campground is nice, staff are friendly and accommodating. My family had a wonderful stay. The campground was very easy to get to, no small or backroads to navigate from where I was coming from. If I had anything bad to say, you do get some road noise. However that is to be expected being so close to a major highway. Overall a great experience and it is close to many attractions and sites.
Aug 07, 2021
Had a first GREAT time can't wait for the 2nd adventure�
Aug 07, 2021
We had a great time like always. I am impressed with the friendliness of all the staff
Aug 06, 2021
This is our Happy place. For the past 7 years minus 2020 because of Covid we have rented a cabin. We have 4 families that gather for the First week of August and Rain or Shine we always have the best time. Always clean with friendly staff and plenty for our kids and teens to do. We will see you next year.
Aug 06, 2021
We played hard, we loved how much space there was to spread out especially in the swimming lake. We found the local food delicious especially Jett's & Bob's Country Store. The staff pointed us to Sterling State Park on Lake Erie which did not disappoint! We day tripped to Detroit for the Henry Ford museum which we only did the museum of innovation which filled the day.
Aug 06, 2021
It was fine.
Aug 06, 2021
Had a wonderful time with my family ! Will defiantly be back next year
Aug 06, 2021
Over the years I have learned to ask staff for assistance if there is a concern. I did this twice during our stay, the staff was very accommodating! The kids enjoyed the swimming pond (very clean) and water slide.
Aug 06, 2021
Great place for the kids, and good place for the adults to relax.
Aug 06, 2021
Do not understand why this KOA charges $5 a day for a pet when several other KOAs that we have stayed at do NOT charge. Also, why are we charged a "resort fee" ? We feel this KOA tries to squeeze as much money out of its guests as possible.
Aug 06, 2021
It was very dry and dusty. RV site was very tight with neighbors and all dirt, no grass.. Our site fire pit was filled with old wood. There was grease from a skillet which my dog loved to roll in in our site at check in.
Aug 06, 2021
We come here at least once a year. Clean and smiles on all the staff.
Aug 05, 2021
We stay as often as we can.. we all love it.. this weekend was probably thee best camping vacation our family has had, it was my birthday, and koa had a dance and music night, wet wagon ride. Just very fun. I always enjoy our time at koa
Aug 04, 2021
Our family had a wonderful time. The site were clean and there was so much for everyone to do///including our teenagers! They have requested to come back for the Halloween weekends.
Aug 03, 2021
Had 2 cabins rented and there was no silverware/plates/cups like you advertise. The mattress on the bed needs to be THROWN AWAY. No one should have to sleep on those. The one pan that we had was still dirty and we had to sweep it out before we brought our stuff in. Grill was filthy also.
Aug 03, 2021
Cabins were not equipped like advertised..Bed mattress was HORRIBLE (needs to be replaced). Grill was filthy. As for our campsite, it was okay. Sites are extremely close together. Liked the activities for the kids. Store was well stocked and staff was friendly.
Aug 03, 2021
Our granddaughters loved it and the rest of the family enjoyed it! Staff very pleasant and friendly. We will definitely be back!
Aug 03, 2021
This was my 3 kids & my very first time staying at any KOA & my 2 younger kids first time camping. We stayed in K24 the little cabin and it was PERFECT! I grew up camping going to a campgrounds my parents grew up going to and this place made me feel right at home. We cannot wait to come back! The lake was bath water temp my kids didn't want to leave! The waterslide was a fun addition!
Aug 03, 2021
All of the staff is nice and willing to help. We camped during a busy weekend and they had plenty of staff to keep all of the amenities up and running smoothly. The only negative would be training. A guy that assisted us at the registration charged us $15 for an extra vehicle when we did not have one. We tried getting it corrected but we're unable too.
Aug 02, 2021
Very crowded. Very dirty bathrooms.
Aug 02, 2021
Kids loved it.. Will definaly be coming back.
Aug 02, 2021
Very nice- very clean- lots of things to do. Very well organized and the staff was very friendly. Will be back to stay again.
Aug 02, 2021
I choose a spot and when I arrived it was switched but my stay was free. I was upset my spot was changed but my stay was pleasant.
Aug 02, 2021
We've always camped at koa's and would have to say that this one in Petersburg MI is the best by far.
Aug 02, 2021
We enjoy our time at KOA fun activities for kiddos and the water is a great bonus
Aug 02, 2021
Brought friends for the first time and they all loved it!!!
Sep 13, 2021
Alot of fun stuff to do
- Teisha keister on Google
Sep 11, 2021
Very nice clean place for camping
- Faygo Guy on Google
Sep 04, 2021
This Is the best campground hands down! So many activities for the kids and great store with everything you need. The snack shack is great too, but the staff is amazing! Toby and Stephen go above and beyond to always make us happy campers. We love all of them!
- Tony Cromwell on Google