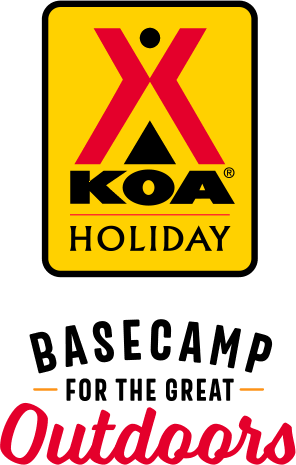 KOA Holiday Campgrounds
Whether you're exploring the local area or hanging out at the campground, KOA Holidays are an ideal place to relax and play. There's plenty to do, with amenities and services to make your stay memorable. Plus, you'll enjoy the outdoor experience with upgraded RV Sites with KOA Patio® and Deluxe Cabins with full baths for camping in comfort. Bring your family, bring your friends, or bring the whole group – there's plenty of ways to stay and explore.
KOA Holidays Feature:
RV Sites with a KOA Patio®
Deluxe Cabins with full baths
Premium Tent Sites
Group meeting facilities
Directions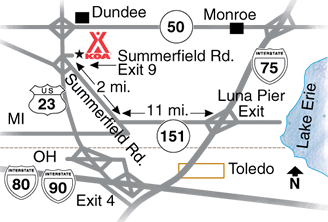 9 miles north of OH/MI line on US 23 at Exit 9 Summerfield Road NE corner. From 75 take Luna Pier Exit 6 West approximately 11 miles, then a right on Summerfield for about 2 miles.
Get Google Directions
Aug 16, 2021
My family had so much fun this past weekend here for our reunion. Had a great time with the grandkids and they had fun too.
Aug 16, 2021
They had many activities planned for kids. The site was kind of small but we weren't in it very much as we were off playing most of the day. Very friendly staff
Aug 16, 2021
Not much you can do for heavy rains, but gravel in the low areas would help
Aug 16, 2021
I found some things not enjoyable. The water temperature was impossible to regulate to warm. It was either extremely cold or hot. Secondly, the broom was broken, so the floor had not been swept. The microwave oven didn't work and the gas grill was out of propane. I think that for the price we paid for the cabin these things should have been checked and in working order. Not sure if I'd come
Aug 16, 2021
sucked cuz of rain
Aug 16, 2021
the shoers need some serious work... I also bought a few items from the store and they were expired.
Aug 16, 2021
As always we had a blast and we always come back
Aug 16, 2021
The staff is wonderful. It POURED down rain and they came around to check on everyone. The activities were fun and the kids enjoyed them. However, I did not like the amount of intoxicated people and the drugs. We smelt weed at 9am while playing golf. Not something I want my kids having to smell especially first thing in the morning.
Aug 16, 2021
My 7 yr, 5 yr, and 18 month old kids had a blast between the swimming lake, waterside, and playground! We will return for sure.
Aug 16, 2021
Very clean, family oriented and loved all the activities throughout the day. Had a great time and very relaxing.
Aug 16, 2021
Flooded sites, limited store inventory, wood quality poor and price high.
Aug 16, 2021
Lots of fun activities for the kids. Enjoyed the water slide and swimming pond. Staff were very friendly and eager to help.
Aug 16, 2021
Will never come here again. We rented 7 bikes. The little boy working it was rude. 4 of the bikes had something go wrong. He laughed like it was funny. Management was supposed to come over to our site, never showed up. We were told we can't play corn hole due to the sound of the bags hitting the board was too loud, meanwhile people are yelling and blasting music? Never again.
Aug 16, 2021
I couldn't even stay there because there was so much water everywhere and it was packed with people i couldn't even back my trailer in. It was just a waste of money and driving time.
Aug 15, 2021
Other than having no power the first day we got there we had a great time
Aug 14, 2021
The staff was accommodating in that all electricity was out and they allowed us to use our generator. The sites were scattered and unkept. We left a day early.
Aug 14, 2021
The campground had a great deal of trash on the site. The sites were sandy and dirty. Appeared to have a great # of staff so not sure why campground not in better condition. Attempted to put our 40' coach in a site that was filled with tree roots and not level. This is the worse KOA campground we have visited.
Aug 14, 2021
Rented the loft, very noisy and loud, would not recommend renting the loft. Not peaceful at all. The gas grill did not ot work for 2 days, on our final day they fixed and it worked by lighting it with lighter. They charged me on my account for the lighter to start the grill without permission. Not the greatest thing to do. Not very happy with the stay.
Aug 14, 2021
Enjoyed the cabin with ac. My grandkids loved everything. No waiting on waterslide! Recommend alternate wood for fires. Everyone was sold green pine that wouldn't burn with lighter fluid. Others used gas.
Aug 14, 2021
Awesome and the young people working there were fabulous very polite and considerate everyone was friendly and helpful and the pancake lady was excellent great pancakes sorry that we lost power and couldn't do everything we still had a fun two days thank you
Aug 13, 2021
Had my husbands birthday party there. We swam beaches are clean water is beautiful. Need to clean bathrooms a little more often and fill hand soap dispensers. Other than that i love it there.
Aug 13, 2021
we picked the wrong days to camp because it was when the storm took out the electric but we didnt know at the time when we put down our deposit that the weather would be bad and knock elec. out but the kids still had fun swimming and on the playground and people in the office were so very helpful.and we will camp there agine and hope for nice weather.next time. thankyou
Aug 13, 2021
We stayed in a rustic tent campsite. Area was very clean. We came on the day of the storm that blew through in the afternoon so power was out for the majority of our stay. My son and friends did get to enjoy the swimming lake but not much else unfortunately because the unexpected power outage. They really enjoy the lake though.
Aug 12, 2021
This place is dump. There is no evidence of any ongoing maintenance or upkeep. The sites are trashy. Nothing is done about campers that looks like they've set up homeless encampments. The so called "Premium Sites" were uneven and unmowed. I was afraid to leave our rig after dark! We got out of there first thing in the morning and would NEVER go back there. Does KOA enforce standards?
Aug 12, 2021
Loved the cabin we stayed in. Very nice set up.
Aug 12, 2021
We had a very relaxing time. The staff was very friendly.
Aug 12, 2021
The cabin was dirty! The top bunk had the previous campers snack wrappers and garbage on the side of the mattress. The shower has not seen a deep cleaning in months as there was a dirty residue all over the walls. The sink in the kitchenette area had buildup all over the knobs/faucet. It was rather disgusting to say the least. The mini-golf course was aged and run down, needs some TLC.
Aug 12, 2021
The KOA was not well maintained. Weeds and tall grass around the campground. The sites were not gravel or paved and were unlevel.
Aug 12, 2021
The shower water was ridiculously hot.
Aug 11, 2021
The staff was rude, yelling out of carts at you when driving by ! Not helpful. Made the stay not so great
Aug 11, 2021
Excellent time! All of the employees are super nice and very accommodating. We can't wait to book for next summer!
Aug 11, 2021
The initial checking in was a disaster. Staff wasn't certain on the amenities of the cabins. My cabin wasn't stocked with what it should have been. Not to mention not very clean. My feet where black within minutes of walking on floor! The bbq grill was so filthy, didn't want to use it. An Older gentlemen who I believe was either manager/ owner was very dismissive!
Aug 11, 2021
Sites too close together; way too noisy; restrooms were not the cleanest; grill at our site was dirty as was the utensil there; too many carts; too may fires for the weather; maintenance was only "ok"; would not recommed this KOA. Over priced for little.
Aug 11, 2021
We come every year for my granddaughter's birthday per her request (except last year/Covid) we always have a great time!!!
Aug 11, 2021
I come to KOA a lot and I spend a lot of money but up until this last visit I'm not sure if I will return! Some of the staff was pretty rude including a manager! The cabin we had smelt like a bar the smell of smoke and liquor inside the cabin ! Spent 70$ in wood that didn't burn or stay lit! I'm so upset on this times visit extremely disappointed. It's a shame because we love koa !
Aug 10, 2021
Great staff. Great activities. Great time shared by all
Aug 10, 2021
We enjoyed the amenities and activities very much. We are tent campers, and stayed in the electric only tent area, and had an issue with the knob on the drinking water, which was fixed in less than 24 hours, with a work around in 1 hour, so that was great. The tent sites are very small and some odd shaped, especially 173 and some not very level and tree roots all over. Will probably come again.
Aug 10, 2021
Always a great time with my family and friends. �
Aug 09, 2021
The "deluxe cabin" was a rundown trailer with inadequate air conditioning. However, the swimming hole was top notch and we spent most of our time enjoying that. If we return, I will pay closer attention to what I am booking in terms of lodging.
Aug 09, 2021
You have a very nice facility and very nice staff. We had only a couple issues. Bed very noisy and very uncomfortable. Little water pressure and no hot water in the kitchen. We understand about business trying to survive but also feel that we paid a lot of money for some basics. Also, we had internet on Friday and none for the rest of the weekend. Again we understand that these are different time.
Sep 13, 2021
Alot of fun stuff to do
- Teisha keister on Google
Sep 11, 2021
Very nice clean place for camping
- Faygo Guy on Google
Sep 04, 2021
This Is the best campground hands down! So many activities for the kids and great store with everything you need. The snack shack is great too, but the staff is amazing! Toby and Stephen go above and beyond to always make us happy campers. We love all of them!
- Tony Cromwell on Google