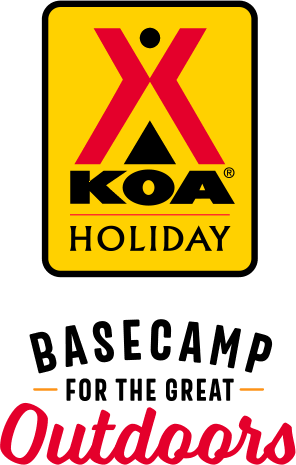 KOA Holiday Campgrounds
Whether you're exploring the local area or hanging out at the campground, KOA Holidays are an ideal place to relax and play. There's plenty to do, with amenities and services to make your stay memorable. Plus, you'll enjoy the outdoor experience with upgraded RV Sites with KOA Patio® and Deluxe Cabins with full baths for camping in comfort. Bring your family, bring your friends, or bring the whole group – there's plenty of ways to stay and explore.
KOA Holidays Feature:
RV Sites with a KOA Patio®
Deluxe Cabins with full baths
Premium Tent Sites
Group meeting facilities
Directions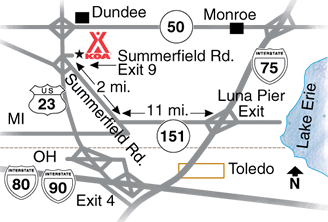 9 miles north of OH/MI line on US 23 at Exit 9 Summerfield Road NE corner. From 75 take Luna Pier Exit 6 West approximately 11 miles, then a right on Summerfield for about 2 miles.
Get Google Directions
Sep 28, 2020
Told there was no space on the phone but booked online? Very full for Halloween celebration (in sept?). Very crowded even kids on a playground. Very few masks. Why are political signs (either party) allowed at KOA's? Maybe ok for family looking for inexpensive weekend fun. (Post pandemic)
Sep 27, 2020
The people are very nice and friendly but the cabin (217) is in dire need of a updates.
Sep 26, 2020
Very pleasant camping
Sep 26, 2020
Check in was very abrupt. What's your name your site 62 here's the map The site water was a shared (4) pipe requiring 35 ft of hose. And the faucets were so low to the ground that filter barely fit! Tight fit backing in with trees and car across street I had requested to be near the dog park we were as far away as they could put us They did have a large amount of kid amusements
Sep 26, 2020
Camping was a little tight.
Sep 25, 2020
Good place' very friendly staff. The only drawback would be the US23 road noise
Sep 23, 2020
We have stayed at Taylor Beach and liked their dumping service where for $15.00 they would come to your site with a van to empty your camper. They also have hand sanitizer at their dumping station. KOA golfing needs an upgrade. Water smell was great than in the past. Other than that we had a great stay.
Sep 23, 2020
We stayed in the deluxe cabin and it was absolutely awesome. We all had a great time. We love this campground and will definitely be coming back.
Sep 22, 2020
We had a great time.
Sep 22, 2020
The gentleman that booked my stay and I interacted numerous times before my arrival and during my stay. I have never had such a wonderful experience. His kindness, caring, professional, insightful and all out amazing attitude absolutely made this stay the best one, yet! Thank you! The employees that are around the grounds during my numerous stays this season have been above and beyond great too.
Sep 22, 2020
I have a wonderful time there
Sep 21, 2020
Even with the pandemic, there were plenty of activities and we felt safe. Grandkids had a great time!!
Sep 21, 2020
We stayed in cabin L216 and the only thing we were unhappy about is there is NO mirror. Also, this was our favorite year camping out of the last 5 years. The activities they had for the kids were awesome and my boys loved them.
Sep 21, 2020
Great camping trip, friendly staff fun for all
Sep 21, 2020
Great park just wish the haunted house would of been open longer
Sep 21, 2020
Grandkids had a great Halloween weekend. Can't wait for next year.
Sep 21, 2020
We have always enjoyed our stay at the KOA, this is the first time we were not happy with our site, our 27ft camper barley fit on the corner site With the trees, and it didnt help that our neighbor had their slide out open on to our site. Besides the space constrictions the first Halloween weekend was awesome! Well be back next Month
Sep 21, 2020
Site was a little tight but was to be expected with aast minute reservation. Everything else was great.
Sep 21, 2020
I love the KOA & been doing Halloween Weekends for years. Things are different due to pandemic - My complaint is I signed a COVID release form, didn't receive a copy of it, was told there was a limit of 6 people per campsite and no outside guests. I feel KOA did not keep their end of the deal. The park got very crowded Saturday - the site next to me had at least 13 guests - many had more guests.
Sep 21, 2020
Nice camping, Halloween was great addition to regular camping.
Sep 21, 2020
Too much dust in the air from stone road ways. Cars driving slowly were kicking it up even people walking would do the same. Need to pave the roads or apply a dust suppressant to them. Not a very healthy environment.
Sep 19, 2020
Great place. Clean well kept park. Lots of amenities
Sep 19, 2020
Monroe County,MI / Toledo North KOA is a great campground. Staff is very helpful and friendly. We enjoyed our stay.
Sep 19, 2020
Cabin L217, slept 4. Much smaller than expected.but we managed. Staff was 100 percent in helping and friendliness. Went out of there way. Can't remember all named , special thanks to Tony, Sean and maintenance man testing my memory is Chris. My three Young Men all have some forms of Handicap. Really appreciate how employees went out of there way for us. God Bless You All.
Sep 18, 2020
I really love this place. My kids enjoy the nature and they really had fun! The only problem was the cabin was very filthy. For the price I paid, the bathroom was very dirty, there was mold on the sink and tub, there was dust everywhere, and the floor was very dirty like no one swept or mopped the floor. I think this place makes enough money to ensure that the guest are sleeping in a CLEAN CABIN!
Sep 17, 2020
Great place for families. The only thing I would change is having someone to call when neighbors are still partying at midnight when quiet time is 11.
Sep 16, 2020
Overall, our stay was good. We felt that where we were located, #64, that the grounds could have been better maintained. The grass was long and it didn't look like the leaves from last fall had been removed. Lots of dry leaves all over the sites. We noticed that the other section that was water and electric, those sites appeared well maintained. Did not use restrooms or other amenities.
Sep 16, 2020
Best showers/bathrooms!
Sep 15, 2020
Everything was great. Clean! And staff was very helpful especially Larry! Very kind and helpful his kind attitude made my gloomy day turn around. Thanks again we will be back soon!!
Sep 14, 2020
The room was too too small
Sep 14, 2020
My husband and 4 kids stayed for the weekend and had a great time. The cabin was clean and fresh for our stay. It was well maintained the entire campground was well maintained. We are already looking forward to going back next summer.
Sep 14, 2020
Our cabin was cozy and all the staff was wonderful. Loved the activities including the glow bike ride!
Sep 14, 2020
Can't believe I haven't stayed here sooner! Everything was wonderful
Sep 14, 2020
Would be nice if this KOA would take you to your site and help with any questions you may have when pulling in. All other KOAs have always taken us to our sites and helped get parked.
Sep 14, 2020
We love coming here. Just wish they had the dj both nights and for it to be longer then an hour. That hour goes way to fast. Just when u start getting into it. Its over
Sep 14, 2020
* It wasn't like the pictures you have on your website, bathrooms need to be clean all the time, the back restrooms were smell so bad. * The wood bundle is smaller than the other KOA, also not to make deliver unless I buy 3 bundles at least was inconvenient for me. * The store is very poor, you will need to fill those shelves with some souvenirs and some other camp supplies.
Sep 14, 2020
Our stay was absolutely fantastic!! So much for kids of ALL ages to do! Very clean!! We liked it so much were coming back in October 11-13 for my daughters 15th birthday!! You are ALL awesome!!
Sep 14, 2020
Overall nice place. Heavily used RV sites have little grass, platforms or slabs (so plan to have a "patio mat"). It gets muddy when rains. Planned activities available throughout the day.
Apr 18, 2021
Every single employee went above and beyond for all of us. Super friendly, super clean! Excellent place to stay!! Numerous things for kids to do.
- Amanda Michael on Google