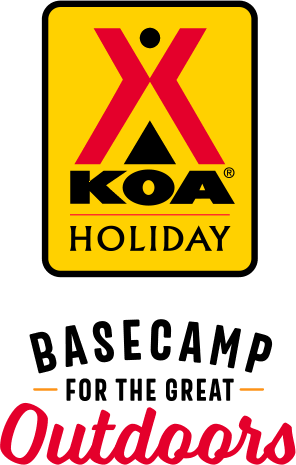 KOA Holiday Campgrounds
Whether you're exploring the local area or hanging out at the campground, KOA Holidays are an ideal place to relax and play. There's plenty to do, with amenities and services to make your stay memorable. Plus, you'll enjoy the outdoor experience with upgraded RV Sites with KOA Patio® and Deluxe Cabins with full baths for camping in comfort. Bring your family, bring your friends, or bring the whole group – there's plenty of ways to stay and explore.
KOA Holidays Feature:
RV Sites with a KOA Patio®
Deluxe Cabins with full baths
Premium Tent Sites
Group meeting facilities
Directions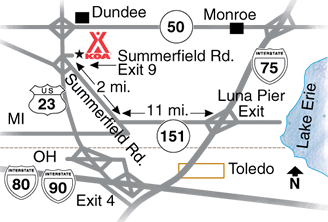 9 miles north of OH/MI line on US 23 at Exit 9 Summerfield Road NE corner. From 75 take Luna Pier Exit 6 West approximately 11 miles, then a right on Summerfield for about 2 miles.
Get Google Directions
Oct 12, 2020
Great corner lot! Very relaxing stay, with plenty of activities to do, if so inclined. Grounds and bathroom facilities were very clean. Beautiful setting with abundance of trees popping with fall colors. Park staff were customer friendly. Jason was especially courteous and welcoming - very kind and helpful!
Oct 09, 2020
We were there for a Halloween weekend. They do a great job with the Halloween activities, etc. Staff is friendly and helpful. That being said, the campground looks run-down and is in need of a lot of work. The interior roads are also in need of a lot of work and the wi-fi is one of the slowest I have encountered. Didn't use any of the facilities so I cannot comment on them.
Oct 09, 2020
everything was clean and staff was friendly sure did miss the pancakes though
Oct 09, 2020
As always, this campground is well maintained and staff, all ages, are super friendly and so willing to accommodate! I ALWAYS recommend this KOA to folks because it is one of our favorites :)
Oct 07, 2020
They have very poor internet service and not enough cable equipment for the entire park.
Oct 06, 2020
Had a great time with family and friends ��� grandkids love Halloween camping here���� Staff is very helpful & friendly. We'll be back next year �
Oct 06, 2020
spooky camping is our favorite. bathrooms are always clean staff is friendly and helpful the activities for the kids are lots of fun keeps them entertained and off devices all and all another successful camping trip
Oct 06, 2020
My kids LOVE camping at this KOA. The staff is always very friendly and helpful!
Oct 05, 2020
Water smell & pressure issues fixed! The only issue we had was on out lot 214A it needs several (at least 3) sink holes where trees were removed near the back of the lot filled in. Our group uses the lot as a "community" lot and some come from the lodges behind the lot.
Oct 05, 2020
Our stay was great!!!
Oct 05, 2020
The wood is way to expensive ...you get 5 sticks per bundle and its so dry and burns quickly!! Your ripping off your campers!! $100 was spent on a supposedly cheap weekend of camping.
Oct 05, 2020
Always do Halloween weekend with a large group was great time as usual. The only thing that was confusing to me was we were around a campfire aronnd midnight talking laughing with a normal tone and was told to keep it down. There were 5 of us at the time.
Oct 05, 2020
We always have a great time at our KOA!
Oct 05, 2020
I am not sure if there is new management, but the activities and use of the grounds was definitely much better this year. We have been coming for years and we really enjoyed the setup for tie dye, golf, and dodgeball for the older kids. The only thing I would recommend is more regularly cleaning and periodic checks of the bathrooms. Some were out of soap for the whole weekend.
Oct 05, 2020
Had a great time for halloween weekend it was awesome to see all the displays
Oct 05, 2020
Amazing experience for our kids. Being their first time it was amazing. I went as a kid growing up and I'm excited to share the tradition with them.
Oct 05, 2020
Loved the socially distanced activities! Always such a good time. Staff courteous and friendly.
Oct 05, 2020
They gave a different space then I pick out the they gave was a lot smaller than the 1 pick out other then that it was good
Oct 05, 2020
Fantastic campground with lots to do. Great tree spots (we prefer being in "woodier areas." Hasn't disappointed. This was our first year camping, we are pretty sure this is our favorite spot. Quiet hours weren't so quiet over Halloween weekend #3 but it wasn't obnoxious. Not a complaint, just an observation.
Oct 04, 2020
We reserved the cabin that slept 6 with no bathroom and were downgraded to a tree house with no notice. The campground was full, so we could not move. The treehouse did not fit my family and we were forced to leave after one night. We have been coming to Halloween camping for 8 years. We are very disappointed.
Oct 03, 2020
It was nice, but not really much privacy. They kept putting campers right by us when the rest of the campground was empty.
Oct 03, 2020
Awesome can't wait to come back
Oct 01, 2020
Need more gravel sites
Sep 29, 2020
Another awesome time. Love Monroe Co/Toledo KOA!
Sep 28, 2020
We brought a group of Cub Scout and we had a blast!!
Sep 28, 2020
Potholes in streets & campsites are a safety concern w/trick or treating at night. Dust control is a must! Unfortunately we will not be returning due to lack of maintenance to roads & campsites. KOA seem to follow our Governor's road advice. Haunted house needs to stay open outside the hrs of trick or treating so that more can enjoy. Time constraints was big issue w/being able to enjoy everything.
Sep 28, 2020
We enjoyed our stay for Halloween Weekends. It would be nice to have more color choices for tie dye. Only black, red, and yellow were available.
Sep 28, 2020
Extremely disappointing that the koa advertised they would have rules in place for protection during Halloween weekends, NONE were enforced. It was disappointing to see several sites w/15 people. People visiting campers for the day who were not staying at the koa. Worst of all 1 of the sites w/15 people had KOA employees at it! Trick or treat was supposed to require masks but maybe 20% wore them.
Sep 28, 2020
This review has been removed by KOA due to profanity.
Sep 28, 2020
Plenty of activities! Camp sites are very close together and are mostly dust/sand.
Sep 28, 2020
Always love Monroe KOA for Halloweekends!
Sep 28, 2020
It was a holiday weekend Halloween. We enjoyed it. Lot of things for kids to do. Light up Halloween decorations and trick trait
Sep 28, 2020
Cabin could have been cleaner. The sink and shower didn't look like it had been cleaned prior to us staying there. Floor was dirty. Community bathrooms smelled gross.
Sep 28, 2020
great time as always
Sep 28, 2020
We were happy with all of the Halloween festivities. Just a little disappointed with how dusty the campground is. Lots for kids to do!
Sep 28, 2020
Been coming here for Halloweekends since I was little. Always a good time! Friendly staff, clean campground, spacious sites, and plenty of things to do!
Apr 18, 2021
Every single employee went above and beyond for all of us. Super friendly, super clean! Excellent place to stay!! Numerous things for kids to do.
- Amanda Michael on Google