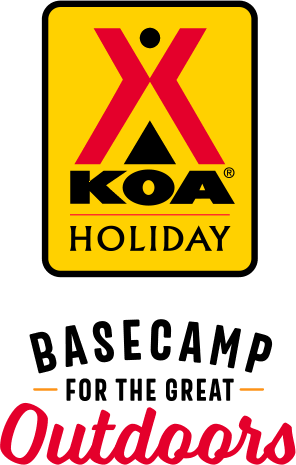 KOA Holiday Campgrounds
Whether you're exploring the local area or hanging out at the campground, KOA Holidays are an ideal place to relax and play. There's plenty to do, with amenities and services to make your stay memorable. Plus, you'll enjoy the outdoor experience with upgraded RV Sites with KOA Patio® and Deluxe Cabins with full baths for camping in comfort. Bring your family, bring your friends, or bring the whole group – there's plenty of ways to stay and explore.
KOA Holidays Feature:
RV Sites with a KOA Patio®
Deluxe Cabins with full baths
Premium Tent Sites
Group meeting facilities
Directions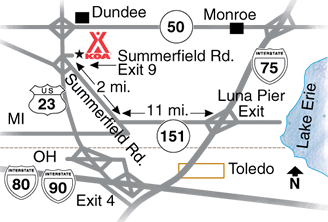 9 miles north of OH/MI line on US 23 at Exit 9 Summerfield Road NE corner. From 75 take Luna Pier Exit 6 West approximately 11 miles, then a right on Summerfield for about 2 miles.
Get Google Directions
Aug 26, 2021
first of all the check in service was exceptional. The cabin was beautiful and very clean. The staff was very nice and helpful. I look forward to next years stay. Keep up the good work.
Aug 26, 2021
we had a great time, everything was clean and the store was wonderful, people were very helpful and kind, lots of fun things to do, we will be back, thankyou
Aug 25, 2021
We stayed in L219. The propane grill was filthy, out of propane, needed a grill brush to clean it. Bedroom door knob was broken. There was no stove-top burners or some pans and dishes. Our lodge didn't have these items. The hot plate was dirty. Area outside was very cramped, especially trailer behind us. The fire pit was close to lodge. Hope to get a better lodge next year.
Aug 25, 2021
It was our first time camping, and it was such a great experience. We can't wait to come back!
Aug 25, 2021
Stephen Mathias was professional and extremely courteous checking me in. The entire weekend was awesome and I received much needed rest and relaxation from an extremely busy and stressful job and life I currently have. It was great to just get away and de-stress for a few days. My family and I had an amazing time. The kids enjoyed all the family focused events especially tie dying shirts! Thanks!
Aug 25, 2021
There's a very amazing time can't wait to come back next month
Aug 25, 2021
We had site 45. The sites in that area are VERY narrow for being large equipment sites (40') the camper next to ours nearly touched ours with their awning. The wood the campground sells was not seasoned and very hard to light, evident by the 4 different firestarter logs/candles they sell in the store. Other than that i would highly recommend the park. Tons of entertainment for kids of all ages!
Aug 25, 2021
We love coming here so much fun for the whole family and so many great activities to keep the kids busy!
Aug 25, 2021
Wonderful time. Sites are clean and big. Lots of activities for kids
Aug 25, 2021
It was wonderful! My son and I had a blast.. Only suggestion, The different types of cabins available is not that user friendly searching online. We tent camped, but wanted a cabin when I made reservations.
Aug 25, 2021
We brought our kids to enjoy the lake,kids activities, and the water slide. Saturday night due to other kids' bad behavior the water slide was shut down. We were riding the slide with our kids who were having fun and following the rules when this happened. When asked why not just ban the kids who were misbehaving we were told this was how they do it. So my kids, and others were punished unfairly
Aug 25, 2021
Very comfortable and pleasant
Aug 25, 2021
NO BODY WEARING MASKS...
Aug 24, 2021
I stayed in the loft, and it was TERRIBLE! You should be ashamed to offer a cabin like that at hotel rates! The window air didn't reach the bedrooms. There was no screens to open the windows in the bedrooms! The whole cabin was DIRTY! Walls, floors, side of the fridge, etc…. and the couch was duct taped! Pitiful! I'm NEVER using the cabins again
Aug 24, 2021
We had a blast kids loved there was so much to do and we loved how pet friendly only complaint I have would be they made us walk back down the slide because there were a handful of kids not listening my opinion is you kick those kids off not the kids and adults that were following the rules my son was heart broken he got courage to go we get to the top for them to say sorry go back down these gro
Aug 24, 2021
There are many great features and activities. The campsites are really tight and the the bathrooms could use more attention for cleanliness and toilet function.
Aug 23, 2021
We love this kOA we have been coming for the last 8/9 years. We have even told our family and they now come. But this last visit had a hiccup. Our smoke detector in our cabin K99C went off at 230am and woke us all up. It took a few minutes to go off and then did it again at 5am and 8am. We told the front desk but they didn't say much. We asked to spray for bees but no one ever showed up. �
Aug 22, 2021
We are two seniors traveling in a motorhome towing a vehicle. The roads and sites in this campground are dirt and dusty, or muddy. The gravel has disappeared. The sites are narrow and bushy, un-limbed trees prevent use of window awnings. There was little grass at our site and our picnic table was 6' from our neighbors sewer hookup. Visitor passes $6/ person. outrageous for such a dumpy place
Aug 21, 2021
I stayed in one of the model campers and unfortunately the AC was not working and portable ones were placed. It helped but in the main bedroom it stayed pretty hot while the people in the living room were cold. The park models definitely need upgraded all together but they are still decent with a nice bathroom and regular size fridge. I will be back next year though! The park was very clean also.
Aug 21, 2021
It had been 10+ years since I had last stayed at KOA as a little girl. This week, my husband and our two kids decided to stay out there. At first we had shower problems, but with the help from Gary and Tobi it was fixed immediately! We had an absolute blast and can't wait to return next year. (Only recommendation is having more bikes fixed at the boat/bike shop) Thank you all for everything
Aug 21, 2021
We had a wonderful stay! Cabin was clean and cozy. The kids loved the waterslide and the free pancakes were a hit! Plenty of beach area, staff was friendly and helpful! Have already recommended this place to friends and can't wait to plan more stays here!
Aug 21, 2021
Very nice campground. Plenty of things to do here. The only downfall is some of the sites are pretty tight.
Aug 21, 2021
Awesome experience staff was friendly
Aug 21, 2021
Had a great time. The bees were especially bad this year though, two of us got stung separately, but not sure how much you can do about that. Only recommendations I'd make is to update the putt-putt area. Can't imagine it would cost much, even a good cleaning. Other than that, we had a great time.
Aug 21, 2021
Very friendly staff..Super clean.. Tons of activities for the whole family! Great food. It was one of the best vacation. We are certainly coming back and telling everyone about our great adventure.. Thank you for making our stay so pleasant.
Aug 21, 2021
Very nice campground. Plenty of things for the kids to do. Staff very helpful and courteous. We enjoyed our stay.
Aug 21, 2021
The best campground ever. Always very clean The manger and the rest of the workers are totally there for the campers. Always a great time
Aug 20, 2021
It was ok. I understand the time we're living in that staff is limited. But was looking forward to the snack shack being available. Longer hours for bikes /boats and slide. I paid $300 for 2 nights just expected a little more.
Aug 17, 2021
Excellent and super friendly.
Aug 17, 2021
The bathrooms and showers were disgusting. They had no planned activities past Saturday, and the snack shack was closed for half of our stay because they didn't want to put anyone back there to run it. They closed the water slide early citing lack of employees. To say we were disappointed as a whole would be an understatement. Would not ever recommend this location.
Aug 17, 2021
Great staff. Nice playground, water slide and swimming pond. Store had everything we needed. Fishing was good in the fishing pond. Only complaint is the condition of the roads and sites. It rained and there were holes, large puddles and muck everywhere, even on the sites. Roads have large dips. Need to be graded regularly to stop this.
Aug 17, 2021
We had a great time with our young kids. The sites were fairly close together & short but we made it work.
Aug 17, 2021
There is no space between sites at all here. It felt more like we were crammed into a battle of dueling festivals, with every group out playing their music, than actually camping. Our kids had a really unenjoyable time. They felt cramped up next to strangers who were drinking heavily at most sites. The smoke from cigarettes and weed were stronger than the aroma of fresh air and campfire.
Aug 17, 2021
We pulled in as the power went out. Kinda made our stay in a deluxe cabin difficult , we had no air , stove , and no way to cook breakfast on a grill , I had to go buy a grill griddle to cook , my husband just got out of the hospital as a covid survivor after 208 days and he wanted to go camping , all in all the next day we had power and made the best of it , we will be back !!!
Aug 16, 2021
Love love love the whole staff!!
Sep 13, 2021
Alot of fun stuff to do
- Teisha keister on Google
Sep 11, 2021
Very nice clean place for camping
- Faygo Guy on Google
Sep 04, 2021
This Is the best campground hands down! So many activities for the kids and great store with everything you need. The snack shack is great too, but the staff is amazing! Toby and Stephen go above and beyond to always make us happy campers. We love all of them!
- Tony Cromwell on Google