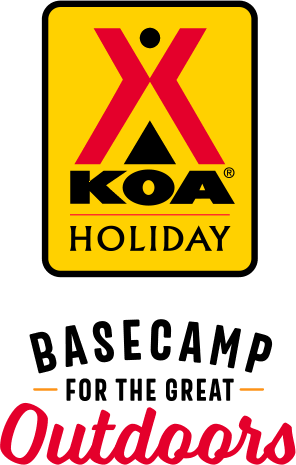 KOA Holiday Campgrounds
Whether you're exploring the local area or hanging out at the campground, KOA Holidays are an ideal place to relax and play. There's plenty to do, with amenities and services to make your stay memorable. Plus, you'll enjoy the outdoor experience with upgraded RV Sites with KOA Patio® and Deluxe Cabins with full baths for camping in comfort. Bring your family, bring your friends, or bring the whole group – there's plenty of ways to stay and explore.
KOA Holidays Feature:
RV Sites with a KOA Patio®
Deluxe Cabins with full baths
Premium Tent Sites
Group meeting facilities
Directions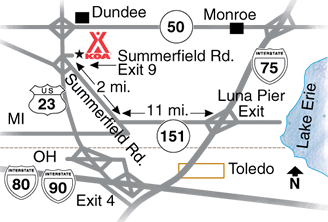 9 miles north of OH/MI line on US 23 at Exit 9 Summerfield Road NE corner. From 75 take Luna Pier Exit 6 West approximately 11 miles, then a right on Summerfield for about 2 miles.
Get Google Directions
Oct 15, 2021
Nice park, easy on and off interstate. Looks like it would be awesome in the summer. A lot of flies and bees but talking to the owners it's bad for 2 weeks a year. Definitely would go back
Oct 14, 2021
Always a pleasure to stay with the accommodating staff. They are always pleasant and go out of there way to make our trip successful. Should they lose the personal touch and we become just a number due to corporate take over, we will go elsewhere with our group. We stay here because of the cleanliness and the personal touch Steven and staff show us. Thank you
Oct 13, 2021
Very few campgrounds have so many fun things available to do as this one does. Decorated for fun for Halloween and well kept.
Oct 12, 2021
Everyone is always so nice staff and fellow campers we always have a great time.
Oct 11, 2021
This is the KOA to beat !!! All staff members are so helpful, courteous, greet you with a smile, and wave every time they go by while they work. We had an issue with our electrical box, and the staff came over immediately to change the box and fixed it, then came back later to follow up.. Assistant Manager, Stephen is always so helpful with our large group .Thanks, for a great Halloween Weekend!
Oct 11, 2021
Staff very pleasant
Oct 11, 2021
was great except for all the bees everywhere the porches on cabins need to be washed and sealed they were VERY slippery With the activities the flyer seemed to have different times then what was being announced on the speaker and that made things a little confusing ie: pumpkins turned in at 3 on flyer 2 on voting slip 2-2:30 on speaker with people already voting before they were even all turned in
Oct 11, 2021
We stay every Halloween and usually they are very good about communicating the events. This year no announcements were made on Friday night. Also when we arrived we went given the sheet with the activities on it.
Oct 11, 2021
The Halloween weekend was very fun but the campground as a whole is overcrowded , sites are super small, over priced and needs upgrades. Would not stay here again other than for halloween
Oct 11, 2021
Love the Halloween weekends at the Monroe Koa. My kids love the experience and will remember great times for years to come.
Oct 11, 2021
They all act like everyone is family I love it here
Oct 11, 2021
I felt the facilities were a little unkept this stay, the game room and restrooms were not as clean as they have been in the past. Someone spit in the coin changer and I brought it to someone's attention, 2 hours later it was still filled with spit. The worker on Saturday in the rentals needs to be a little more trained. He acted as if he had a chip on his shoulder and was rude to children and a
Oct 11, 2021
We had problems with our electric box the entire time. Showers were filthy. Site was tiny.
Oct 11, 2021
Very clean campground and amenities, although the putt putt could use a refresh and the dirt roads were in poor shape I would definitely prefer paved roads and slabs for campers
Oct 11, 2021
Staff was friendly and helpful as usual
Oct 08, 2021
Loved the overnight stay. Enjoyed the fishing.
Oct 07, 2021
Great campground, we used it for an overnight stop, very accessible to the Highway.
Oct 06, 2021
We had a great time & plan on coming back again in the summer and definitely another Halloweekend!
Oct 06, 2021
I just love KOA Monroe. There is always something happening especially for the kids. Staff members are always awesome and friendly and the entire campground and washrooms/showers are always clean. Can't wait to come back!
Oct 05, 2021
Came for Halloween camping. Kids had a blast. Very organized. Party all eve but quiet for sleeping .
Oct 05, 2021
We were there for the Halloween weekend and had a wonderful time!! The staff there is fabulous and so nice and helpful! We will def be back!!
Oct 04, 2021
Halloween weekend ! So much fun something for everyone.
Oct 04, 2021
Had a great time. Everything went great. Staff is very friendly and helpful.
Oct 04, 2021
The park does a nice job for the kids during the Halloween weekends. Unfortunately they do absolutely nothing to enforce the quiet time rule. Two nights in a row I had to go out around 1am to ask the large, loud groups on either side of us to quiet down. The second night I was loudly and vulgarly yelled at by an obviously drunk woman for asking them to quiet down.
Oct 04, 2021
Always have a great time but some sites could use some more care. Our friends across from us were tent camping and their site was totally flooded after raining at night. Be really great to have more full hook up sites. We did have fun and will be back next year creating more memories.
Oct 04, 2021
It was another awesome weekend! Your staff is beyond amazing! Will see you again next year for absolutely sure!
Oct 04, 2021
The experience was fun but the facilities need serious attention. Thank you for the upgrade from 189- which should NOT be rented anymore. 221 was nice, but needs a good cleaning. My daughters socks were black from the floor. Thankfully I travel with cleaning supplies. The bed sunk so bad on one side it was like sleeping in a taco. Please give the facilities some attention.
Oct 04, 2021
This was our first trip here; and it was amazing! My kids had so much fun, and made new friends. They loved all of the activities, and it felt so safe! The morning of checkout our smoke detector started going off, housekeeping/maintenance came out immediately to replace it. We appreciated how kind all of the crew was, and can't wait to stay again next fall! Thanks so much!
Oct 04, 2021
Our cabin was perfect and the scheduled events were so much fun. We keep coming back year after year. Shout out to Steve, such an amazing and helpful staff member!
Oct 04, 2021
We had a great time this weekend camping for Halloween. Some of the camp sites were really cool.
Oct 04, 2021
We love coming here for summer birthdays, Halloween happenings or just to get away for a quick weekend. Any problems that arise are always handled quickly, professionally and in a friendly manner from the staff. If I could offer some constructive criticism, I've stayed at other KOA where staff were very much visibly on patrol keeping the grounds quiet after quiet hours start. This KOA needs that!
Oct 03, 2021
Love Halloween weekends. �
Oct 03, 2021
So much fun...So much to do for the grand kids.
Oct 03, 2021
Love the atmosphere here at Monroe Country KOA. The themed weekends are something the kids look forward to.
Oct 02, 2021
I like this place the people here are nice and friendly
Oct 02, 2021
The staff was very helpful. Great site and grandson had a wonderful time playing. We will be back.
Oct 02, 2021
Very nice place. Extremely clean and well maintained.
Oct 01, 2021
Great weekend camping.Used to come here every Halloween weekend with our boys which are now 29 and 31 .Starting the tradition with grandkids. Staff is very friendly.
Sep 30, 2021
Nice spacious campground, nice amenities and good fishing!
Oct 07, 2021
Second year for Halloween Weekends. We had issues with our cabin that we rented, we made management aware, they quickly addressed the situation and made it right! We LOVE Halloween Weekends! We'll be back, can't wait for next year!
- Christine Linnell on Google
Sep 26, 2021
Love wrestling there it's one of my favorite places to go!
- Justin Nelson on Google
Sep 25, 2021
This place is great. Plenty of this to do for kids. Sites are a little small, but still a great place.
- Douglas Young on Google