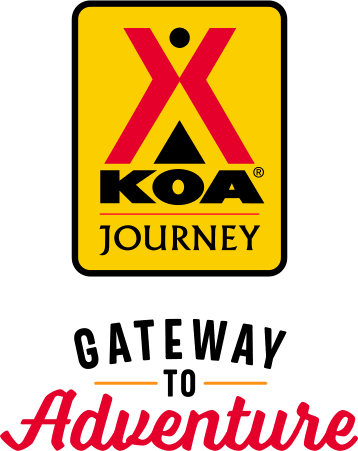 KOA Journey Campgrounds
KOA Journey campgrounds are the perfect oases after a day on the road. Whether it's along the way or a quick getaway, they've got you covered. Located near the highways and byways of North America with long Pull-thru RV Sites, they deliver convenience to the traveling camper. Pull in, ease back and take a load off.
KOA Journeys Feature:
Pull-through RV Sites with 50-amp service
Premium Tent Sites
Well lit after hours check-in service
Directions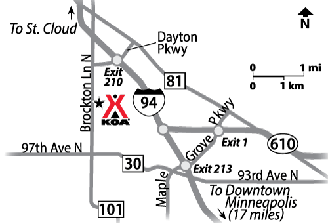 17 miles NW of Minneapolis. I-94, take Exit 213 (CR 30), turn left (from both directions), after McDonald's turn right to CR 30W, 2 miles, turn right to CR 101, 1 mile, on the right side. 
GPS: N45.14474, W93.52097
Get Google Directions
Sep 28, 2021
Very good campground. Easy access and very friendly and welcoming staff. Very good camping nei ghbors too!
Sep 27, 2021
Convenient location and friendly staff. WiFi is still poor and water leaves yellow residue on everything.
Sep 27, 2021
I know they were close to closing up but went in to get ice for the road and everything was pretty well closed down. No ice but there was a week left before they closed.
Sep 27, 2021
This is a good location if you don't want to be in the urban area. Staff was efficient and very friendly. However, the "gravel" site was mostly mud. Some sites are very close to share utility pedestal. Lucky we didn't have anyone on that side. It appeared most campers had 1-3 dogs each and some close to us barked alot.
Sep 27, 2021
Super friendly staff,
Sep 27, 2021
The ladies checking us in were amazing and very helpful for our maiden voyage!
Sep 26, 2021
Great location for needing to be near the twin cities.
Sep 26, 2021
This KOA is staffed with really great people, the grounds and sits are clean, with trees and a spacious feel. What's not to like??
Sep 26, 2021
Clean and quite. Very friendly
Sep 26, 2021
Great place for an overnight!
Sep 26, 2021
Staff was very friendly and accommodating. Bathrooms were very clean. Liked the fenced pet area. Great location. Close to cities but yet quiet somewhat rural setting.
Sep 25, 2021
Friendly staff, clean pool.
Sep 25, 2021
All good except being by the highway and construction across the road. Next time we'll make sure to ask for a site further away from the highway for less noise.
Sep 24, 2021
Would like more space between sites. The surface of our site needed more gravel or grass. Some we have stayed at had a platform for the picnic table to cut down on the dirt being tracked in. Very convenient location.
Sep 24, 2021
Great campground with friendly hosts!
Sep 23, 2021
Sites are hard to back in, small. No handicap bathrooms. No bars to hold on and doors open incorrectly for the handicap.
Sep 22, 2021
Great time, very clean
Sep 22, 2021
Not our first time staying at the campground and it won't be our last...it's a lovely setting with good facilities and very friendly and helpful hosts!
Sep 22, 2021
Very excellent staff and office help. Very accomidating.
Sep 21, 2021
Very nice staff the park is old and hook-ups on the wrong side of the RV and sewer on the correct side, not sure about other spots but i did see this around me Extremely un-level Positives were the location & Dog Park (Very Nice) and Staff
Sep 21, 2021
This is a hidden treasure for the Twin Cities area. Always a great place to stay and they really take of their customers.
Sep 21, 2021
Store didn't have a knife or ice. Office didn't open until 9am, so we has to drive before coffee to find it. Had to spray & wipe the beds & frames. There was a pee smell. Essential oils-based cleaning spray helped. They said they had cleaned the mattresses. That could well be. They looked clean. Wooden bed base is unfinished, though, and would absorb pee. Our cleaner helped. Hard beds, thin matts.
Sep 21, 2021
We liked this campground, only knock against it would be the internet is poor. With remote working being such a big thing now internet is important- even while camping. Great location in regards to the north metro. Clean and quiet. Well maintained.
Sep 21, 2021
It was a pleasant surprise. The grounds were very spacious with lots of trees. It's now on my favorites list.
Sep 20, 2021
Very nice park and the people in the office are very helpful.
Sep 20, 2021
It's clean with a great fenced in area for the dog to be off the leash - and the handy doggie bags and trash recepticle was great!
Sep 20, 2021
Everyone was very helpful and accommodating. Clean grounds and nice open grassy areas to walk the dogs
Sep 20, 2021
We had a very nice and pleasant stay. The staff was very helpful and pleasant to work with. I would stay there again.
Sep 20, 2021
Fantastic stay. FHU one night stay was outstanding. We will stay here again.
Sep 20, 2021
Clean and peaceful. Too many rules regarding the Wi-Fi , we were too far away from the office to be able to get signal. Having weak signal and requesting that people not stream Netflix defeats the whole purpose in having Wi-Fi in your RV. I also wanted to pay for my 2nd night with my KOA points and was told that I could only redeem them in blocks of $10,$25 or $50. Never experienced this before.
Sep 20, 2021
Our third stay and as nice as the first two. Very close to regional parks with amazing trails, and always clean, polite and quiet.
Sep 20, 2021
Short but sweet stay! Thank You!
Sep 19, 2021
Excellent flat grass surface for tents. Great shade from the morning sun. Good showers.
Sep 19, 2021
Nice place. Everything worked.
Sep 19, 2021
We enjoyed our overnight stay. Great dog area and good wifi.
Sep 19, 2021
Overall 2 out of 5. Staff: 5 Friendly staff and help to accommodate our stay. Kid friendly/fun: Not much for kids to do. Pool was closed (after Labor Day) miniature golf was an extra $4 each and only had 5 holes. Arcade but who wants kids on more screens Campground: construction across the street and busy road noise. The back section of the campground for tents was gorgeous and quiet.
Sep 19, 2021
Friendly and accomodating staff. An oasis in the middle of suburbia!
Sep 18, 2021
Super nice staff! Very nice campground!
Sep 17, 2021
Everything was good. We really liked the corner site we were assigned.
Sep 17, 2021
Upon arrival, we were greeted by friendly staff and escorted to our site. Unfortunately it didn't work as the sewer was on one side and water and electric on other. Finally we were suited with an appropriate site for our RV needs. The place is clean and well maintained. I highly recommend!
Oct 14, 2021
Great staff and the park is lovely
- Jon Cook on Google
Oct 11, 2021
Had a great time camping. Beautiful weather and nothing to complain about!
- Lois Christiansen on Google
Oct 04, 2021
Great campground.Good rates. Nice friendly people run it.
- Jim Brown on Google