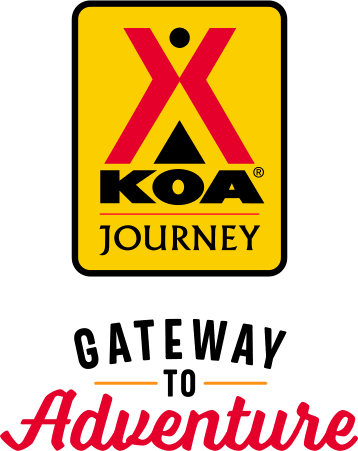 KOA Journey Campgrounds
KOA Journey campgrounds are the perfect oases after a day on the road. Whether it's along the way or a quick getaway, they've got you covered. Located near the highways and byways of North America with long Pull-thru RV Sites, they deliver convenience to the traveling camper. Pull in, ease back and take a load off.
KOA Journeys Feature:
Pull-through RV Sites with 50-amp service
Premium Tent Sites
Well lit after hours check-in service
Directions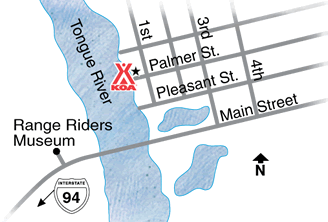 From I-94   Take Exit 135.  Go 2 miles.  Turn left at the CONOCO gas station and follow the street around the lake. Turn right on 1st Street.  Then turn left on Palmer.  The campground is on the right.
Hwy 59 Southbound  Turn right (west) on Palmer Street.  Continue 7 blocks to KOA.  The campground is on the right.
Hwy 59 Northbound  Take I-94 West to Exit 135.  Go 2 miles.  Turn left at the CONOCO gas station and follow the street around the lake. Turn right on 1st Street.  Turn left on Palmer.  The campground is on the right.
LOW CLEARANCE IN TOWN!!!   PLEASE USE EXIT 135 ON I-94!!!
PLEASE FOLLOW OUR DIRECTIONS AND NOT YOUR GPS!!!
WINTER MONTHS (OCT 16- APR 15) WE ARE CLOSED.  WE OPEN ON APR 15TH WEATHER PERMITTING.  PLEASE CALL (406)232-3991 TO CONFIRM OPEN STATUS.
Get Google Directions
Oct 10, 2020
Bare minimum would be the best to describe. The owners were very friendly
Oct 06, 2020
Nice facility! We will stay there again
Oct 05, 2020
Friendly people. Lots of interesting history in the area. Beautiful old trees and walking access to the Yellowstone River.
Oct 05, 2020
fun and relaxing
Oct 04, 2020
Warm welcome, clean restrooms, beautiful spot.
Oct 01, 2020
We visit this campground every summer while visiting Miles City to see relatives. It's not too far from the freeway but be sure to approach it from the west end of town. There is a low underpass if you come in from the east side of town.
Sep 30, 2020
We were having mechanical issues and they were incredibly accommodating and helpful, would definitely stay there again!
Sep 28, 2020
Exceptionally clean.
Sep 28, 2020
Friendly and professional staff made our stay enjoyable!
Sep 28, 2020
It was a lovely private area, wooded and shady. Facilities were excellent. Lots of area to go for walks.
Sep 27, 2020
Friendly and helpful staff. Campground kind of off the beaten path but accessible. Grounds were okay for a one night stay. Loud train came by in middle of night. Not sure how often that happens. We only stayed one night.
Sep 27, 2020
Very friendly & clean park
Sep 26, 2020
Great place and great people.
Sep 26, 2020
Nice sites with privacy shrubs between each site. Need to state on website BOLDLY the way to access KOA due to low bridge height (11'-5") which means use the "Truck Route". But would definitely stay again.
Sep 26, 2020
Very pleasant place to stay
Sep 26, 2020
Level site with full hook ups. Did not use the showers but the wife used the laundry and said it was fine. Close to town and right next to the Yellowstone and Tongue Rivers.
Sep 25, 2020
Very friendly owners. Bathroom and showers were well kept and clean. Wish the scenery was different.
Sep 23, 2020
The trees, so beautiful!!! Well maintained park, internet and cable are awesome. Family who owns park are hard workers and very professional.
Sep 23, 2020
Our stay was at the end of the season. Staff could not have been more helpful. Our site was quiet and comfortable. Location is easy walk to the Main Street of Miles City. History of Miles City is intriguing, don't skip the stay. Only down side to our stay was the Rough Rider Museum was closed due to the Corona Virus. It looks like a very interesting museum showcasing early rough riders.
Sep 23, 2020
Best campground in a very cute town
Sep 22, 2020
The new owner was very very nice and helpful. If this review were only based on our experience with him.... rating would be a 5. However, we were next to a permanent family. In the evening, they were smoking POT, and got extremely loud with vulgar language. At 4:30 am the next morning they (parents) were back out on their picnic table talking with loud voices, until he left for work.
Sep 21, 2020
Awesome campground, friendly staff. we will be staying there again.
Sep 21, 2020
Very nice KOA and well kept, Staff was very friendly and always around to help with any requests.
Sep 21, 2020
No cable sites uneven lots needs to be done
Sep 20, 2020
Great hosts, Nice grounds. Love the huge shade trees!
Sep 20, 2020
Nice people, wireless signal awful
Sep 19, 2020
The new owner was very helpful.
Sep 19, 2020
Friendly staff, large camp site, it is in town so there is traffic and train noise otherwise quiet.
Sep 19, 2020
Camp sites were to close together and trains to loud. Hosts were very friendly
Sep 19, 2020
Very warm and welcoming. Showed us to our site and made sure we had everything we needed. A++++
Sep 18, 2020
We like the wonderful trees and easy access to town. The new owners are nice and and the facilities are clean. I'm sure the will be doing some updating thru the winter.
Sep 17, 2020
We had intended to stay one week and ended up staying for three. The towering giant cottonwood trees provide ample shade. The park is quiet and on the far edge of town. Nice country charm!
Sep 17, 2020
nice setting but some tree trimming is needed to easily exit site
Sep 16, 2020
Great location, friendly staff.
Sep 15, 2020
It was a nice quiet weekend. Never saw or spoke to the owners over the weekend. The last owners made sure they or the workers stopped by each camper to visit and see how things were.
Sep 14, 2020
The campgrounds was decent as far as the services and people working there, The amount of noise from both nights, train traffic, noisy motorcycles and a drunk that roared through the campground at 12:30am, and the couple shouting and arguing at 5:00am. Other than that I guess OK
Sep 14, 2020
Nice place! Lots of shade trees. Great hosts.
Jun 18, 2021
We stayed one night while traveling through. It was incredibly hot that evening, so the shady park was welcome. The park is walking distance from a restaurant and bar. They have a pool, but they are also walking distance from a cute, public swimming pond.
- Christina Martinez-Patterson on Google
Jun 13, 2021
Most peaceful stay ever. Woke up to no car, city or people noises. Just birds.
- Liz Oen on Google
Jun 04, 2021
We are full time RVer's who have seen a lot of campgrounds and we loved this place. It's charming and clean and the staff is so nice. It felt very safe and I liked that i could see the entire campground from our site. There is a pretty loud train nearby and you need to take the truck route to avoid the low clearence railroad crossing to get to the KOA. Overall loved it!
- Paige Dunn on Google