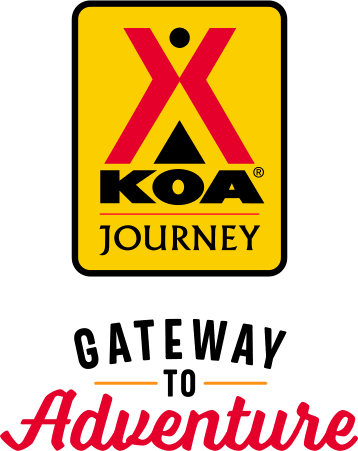 KOA Journey Campgrounds
KOA Journey campgrounds are the perfect oases after a day on the road. Whether it's along the way or a quick getaway, they've got you covered. Located near the highways and byways of North America with long Pull-thru RV Sites, they deliver convenience to the traveling camper. Pull in, ease back and take a load off.
KOA Journeys Feature:
Pull-through RV Sites with 50-amp service
Premium Tent Sites
Well lit after hours check-in service
Directions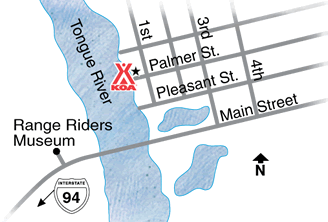 From I-94   Take Exit 135.  Go 2 miles.  Turn left at the CONOCO gas station and follow the street around the lake. Turn right on 1st Street.  Then turn left on Palmer.  The campground is on the right.
Hwy 59 Southbound  Turn right (west) on Palmer Street.  Continue 7 blocks to KOA.  The campground is on the right.
Hwy 59 Northbound  Take I-94 West to Exit 135.  Go 2 miles.  Turn left at the CONOCO gas station and follow the street around the lake. Turn right on 1st Street.  Turn left on Palmer.  The campground is on the right.
LOW CLEARANCE IN TOWN!!!   PLEASE USE EXIT 135 ON I-94!!!
PLEASE FOLLOW OUR DIRECTIONS AND NOT YOUR GPS!!!
WINTER MONTHS (OCT 16- APR 15) WE ARE CLOSED.  WE OPEN ON APR 15TH WEATHER PERMITTING.  PLEASE CALL (406)232-3991 TO CONFIRM OPEN STATUS.
Get Google Directions
May 31, 2021
Wonderful KOA campgrounds. Loved the level gravel space they placed us. It was close to the office & easy access.
May 29, 2021
Beautifully clean RV park! Plenty of crafts to let your dogs roam. Nice gift shop! We will talk to you come back.
May 29, 2021
very quiet, good stay.
May 29, 2021
Perfectly nice overnight stop. A little noise from the trains. Very nice shade trees.
May 29, 2021
Great stay for the night. Great cable with a lot of channel and good Wi-Fi! Highly recommend
May 27, 2021
Great helpful of my needs on a
May 26, 2021
Friendly, and polite at check in.
May 26, 2021
The staff took us in on very short notice and provided extra advice on finding our way to the camp grounds.
May 24, 2021
This campground and bathrooms were very clean. The hosts were helpful and friendly. Will definitely stay again.
May 24, 2021
Beautiful campground. Big shady trees throughout. The staff was incredibly accommodating. First, our trip was delayed due to weather and then when the host suggested another site since our vehicle was just too long for the assigned site. My one and only complaint was that some of the campers didn't keep their dogs on leash. We couldn't walk our dogs around very much due to this.
May 19, 2021
Campground was nice but there were some maintenance items that need to be address. The sewer cap had hole in it and no matter what I tried I could not get the water faucet to stop leaking.
May 19, 2021
We paid for a full hookup pull through spot. When we arrived, we were informed that our spot's 'sewer' was backed up so we weren't able to set up our hose to dump after our stay. We weren't offered any type of comp for this. Disappointed.
May 18, 2021
Very happy with camp ground and facilities and friendly service. Will be back.
May 18, 2021
Clean and Friendly. This is are 4th yr staying here and we have already booked for next year
May 18, 2021
Great lots and hookups- friendly Host and workers!
May 18, 2021
Camped during one of the busiest weekends of the year. Campground was very well kept and employees were very helpful and courteous.
May 18, 2021
The new owners are great. Very friendly and helpful. We've already seen vast improvement in the park, compared to our first visit a couple of years ago.
May 18, 2021
We had a great weekend. The campground was very clean throughout a very busy weekend. We also felt very safe and protected with how busy the campground was. The staff was very nice and helpful. Thank you for a great weekend!
May 17, 2021
Nice shady park. Nice people.
May 17, 2021
Great friendly staff who made sure all of your needs were met. Bathrooms were always clean!
May 15, 2021
Friendly hosts. Nice site.
May 08, 2021
Sites are level and full hookups. Good cable hookup. The CG is very close to town and tourist sites but tucked into the trees. Lots of places to walk the dog plus an enclosed pet area. The river road is well traveled and a little noisey, but quiet at night.
May 08, 2021
Nice improvements made since we last visited.
May 06, 2021
Had a great overnight stay. New owners are working hard to restore this (2nd oldest KOA in the nation) campground and doing a great job. The cottonwood trees are fabulous, the location near downtown (yet quiet) is convenient for walking/biking, and the store is well-stocked with reasonably priced goods. The new owners are very service oriented.
May 05, 2021
Last minute passing through. Very clean bathrooms. One night for me. Very accommodating. New ownership lots of potential. Great spot.
May 04, 2021
It would be a good addition to have heaters in the restrooms for spring and fall campers
May 04, 2021
A very nice long and wide site. Friendly staff and clean campground! We would stay there again, with our 40' montana fifth wheel!
Apr 29, 2021
Great people, nice new gravel in the driveway and pads. Staff was AWESOME!
Apr 27, 2021
Overall clean
Apr 21, 2021
Staff did not wear masks at any point, only a mens bathroom no womens, and no notice that the womens was unavailable. No obvious place for trash. Dish washing area did not have running water.
Apr 20, 2021
Owner was extremely accommodating and friendly. Would definitely recommend this place!
Oct 21, 2020
The reception was unfriendly. We arrived late and their wasn't any late checkin forms or procedures. We were told they were closing the next day for the winter so we could only stay one night.
Oct 15, 2020
Having stayed at this KOA several times previously, I knew what to expect. This visit met my expectations.
Oct 12, 2020
Quick check in. Quiet camp. Next to walking/bike path.Great city downtown to visit within walking distance.
Oct 11, 2020
Charming campground in cowboy country!! New owners are a delight! Glad we adjusted our trip for a night here!
Jun 18, 2021
We stayed one night while traveling through. It was incredibly hot that evening, so the shady park was welcome. The park is walking distance from a restaurant and bar. They have a pool, but they are also walking distance from a cute, public swimming pond.
- Christina Martinez-Patterson on Google
Jun 13, 2021
Most peaceful stay ever. Woke up to no car, city or people noises. Just birds.
- Liz Oen on Google
Jun 04, 2021
We are full time RVer's who have seen a lot of campgrounds and we loved this place. It's charming and clean and the staff is so nice. It felt very safe and I liked that i could see the entire campground from our site. There is a pretty loud train nearby and you need to take the truck route to avoid the low clearence railroad crossing to get to the KOA. Overall loved it!
- Paige Dunn on Google