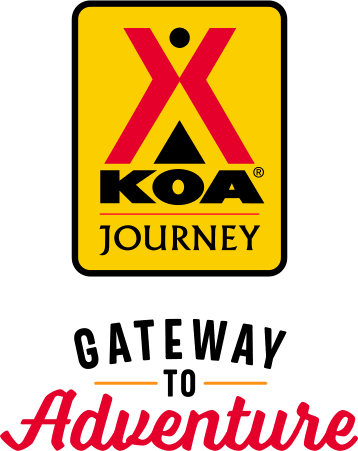 KOA Journey Campgrounds
KOA Journey campgrounds are the perfect oases after a day on the road. Whether it's along the way or a quick getaway, they've got you covered. Located near the highways and byways of North America with long Pull-thru RV Sites, they deliver convenience to the traveling camper. Pull in, ease back and take a load off.
KOA Journeys Feature:
Pull-through RV Sites with 50-amp service
Premium Tent Sites
Well lit after hours check-in service
Directions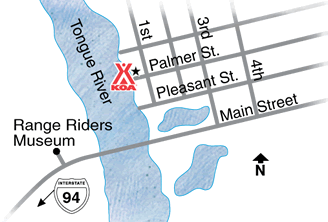 From I-94   Take Exit 135.  Go 2 miles.  Turn left at the CONOCO gas station and follow the street around the lake. Turn right on 1st Street.  Then turn left on Palmer.  The campground is on the right.
Hwy 59 Southbound  Turn right (west) on Palmer Street.  Continue 7 blocks to KOA.  The campground is on the right.
Hwy 59 Northbound  Take I-94 West to Exit 135.  Go 2 miles.  Turn left at the CONOCO gas station and follow the street around the lake. Turn right on 1st Street.  Turn left on Palmer.  The campground is on the right.
LOW CLEARANCE IN TOWN!!!   PLEASE USE EXIT 135 ON I-94!!!
PLEASE FOLLOW OUR DIRECTIONS AND NOT YOUR GPS!!!
WINTER MONTHS (OCT 16- APR 15) WE ARE CLOSED.  WE OPEN ON APR 15TH WEATHER PERMITTING.  PLEASE CALL (406)232-3991 TO CONFIRM OPEN STATUS.
Get Google Directions
Jun 18, 2021
Unlikely to recommend a cabin. Air conditioner terrible. Was loud & while it pushed some cool air, it did nothing to bring down the temp in the cabin. Had ceiling fan on but not enough to move the little cool air around. Very stuffy & uncomfortable. Cancelled rest of KOA cabin reservations & lost all of our deposits. Drove straight home 24 hours as we didn't want another hot, sleepless night.
Jun 18, 2021
great people, lovely setting, good Wifi in nice small town America
Jun 18, 2021
Nice, quiet campground in a small town. Campground is located near two rivers, with easy access to areas to run or walk near the river in the shade. Nice spot for a stopover! Thanks!
Jun 18, 2021
Too much cotton blowing in the air.
Jun 17, 2021
Dead or burnt grass and Cottonwood trees shedding non-stop.
Jun 16, 2021
The site was not accesible for my dish. I told them I wanted to be where I could get out with my portable satellite but my request was ignored.
Jun 16, 2021
This was my first stay in a KOA Journey camp ground and I was very happy with the facility and courteous staff.
Jun 16, 2021
We really enjoyed our stay at the Miles City KOA. The grounds were very beautiful, well maintained, quiet, and clean. Everything was in good working order, and the internet was great. The staff was friendly and helpful. We will definitely return!!
Jun 16, 2021
It was a short overnight, but they were very kind and accommodating
Jun 15, 2021
Pool was great but the rest of the park was nothing special.
Jun 15, 2021
Signage & directions are terrible to find
Jun 15, 2021
We booked this KOA 1 night for the kids to enjoy the pool. Unfortunately the pool was being treated during our stay. Additionally, the WiFi would never connect. By the time we realized it wasn't working, it was too late to speak to KOA staff to fix. There was also a group of kids prank knocking on our RV door at 10pm. The staff was very friendly during check in though, giving tips on local area
Jun 13, 2021
Staff was extremely courteous and professional. The site was clean and well maintained. Great shade trees, and the K-9 park was good. Spent 2 days there and would go back!
Jun 13, 2021
Was glad to see a KOA that was spacious! Where we didn't have to squish our coach around the trees and other campers. Loved the big shade trees. Check-in was easy and quick, led us to our site; easy to hook up, everything worked well. Laundry room was clean, and not busy. Lots of kids in the pool, so didn't use. Would be nice to have adults only swim, either am or pm.
Jun 11, 2021
We really liked the dog run for our little guy who has ridden over 2 thousand miles in our truck the last 2 weeks. The mature cottonwood trees provide a natural setting.
Jun 11, 2021
Nice campground. Lots of trees. Friendly folks at check-in. Would stay again.
Jun 11, 2021
Nice small friendly place.
Jun 11, 2021
very nice, comfortable. Walked to the park everyday! thank you
Jun 11, 2021
Great WiFi, nice reception, really nice people. Great setting among mature trees and lots of shade. Great little town, too!
Jun 11, 2021
Friendly staff, clean, trees, close to town.
Jun 10, 2021
Very cooperative staff, clean.
Jun 09, 2021
Very nice place to stay. Enjoyed the trees
Jun 09, 2021
Nice campground. Lots of trees for shade. Roads and pads are gravel and level. Bathrooms are slightly dated but were clean. Staff were very friendly and helpful.
Jun 09, 2021
Clean bathrooms, camper cabin was spotless. Easy and friendly check-in. I only stayed 1 night and will definitely stay here again when passing thru the area.
Jun 08, 2021
Always love staying there, if you have time walk the trails along the tongue river up to the Yellowstone confluence
Jun 07, 2021
Very slow WiFi. Pool was closed on a 94 degree Saturday. Site was a good size drive thru.
Jun 07, 2021
Great park. Very friendly staff. Clean Clean Clean!
Jun 07, 2021
Great campground, Friendly staff.
Jun 07, 2021
Generally really good. The dump site could be improved. Water pressure low.
Jun 06, 2021
Nice campground. Facilities were clean and the town was quaint. The only issue we found was the quiet time was not enforced.
Jun 06, 2021
It was the usual yucky KOA. I try to avoid KOAs because campers are too on top of each other and KOAs are just not my type of campground; I prefer state parks but often I sadly have no choice. It's just the way KOAs are, sadly.
Jun 05, 2021
It was a very nice quick stop. I was traveling solo from Oregon to Wisconsin because my wife needed to fly home to see her dying mother. It was a very easy site to hook up and I appreciated everything!
Jun 05, 2021
Great park, short walk to restaurants and the charm of downtown. Friendly staff, clean facilities and level site. But close to River and nice walk but plenty of mosquitoes in area. Would definitely recommend staying here again
Jun 04, 2021
This is a nice Campground literally in walking distance of Downtown Miles City and also two great visits - The Waterworks Art Museum and The Tange Riders Museum. The owners are new this year and are very conscientious of having a nice, clean campground. They are doing a lot of work to update and improve it.
Jun 03, 2021
Extremely nice guy and staff! Beautiful and clean campground. Plenty of beautiful green grass and lots of shade! Also clean bathrooms and showers! I absolutely will be staying here in future �
Jun 03, 2021
Nice clean facilities
Jun 02, 2021
Clean and quiet campground, but did not have any doggie waste bags in receptacle box at doggie park
Jun 02, 2021
Nice quiet, clean campground, friendly staff. Clean restrooms and good clean hot showers. Will stay here again.
Jun 01, 2021
Always enjoy staying here. Quiet place and friendly and helpful hosts.
Jun 01, 2021
KOA was almost full.. we had a nice spot and set up and relaxed. The place was very clean and we took a nice walk around with our 4 small dogs. Staff was friendly at check in and we would be sure to stay there again if we are in the area.
Jun 18, 2021
We stayed one night while traveling through. It was incredibly hot that evening, so the shady park was welcome. The park is walking distance from a restaurant and bar. They have a pool, but they are also walking distance from a cute, public swimming pond.
- Christina Martinez-Patterson on Google
Jun 13, 2021
Most peaceful stay ever. Woke up to no car, city or people noises. Just birds.
- Liz Oen on Google
Jun 04, 2021
We are full time RVer's who have seen a lot of campgrounds and we loved this place. It's charming and clean and the staff is so nice. It felt very safe and I liked that i could see the entire campground from our site. There is a pretty loud train nearby and you need to take the truck route to avoid the low clearence railroad crossing to get to the KOA. Overall loved it!
- Paige Dunn on Google