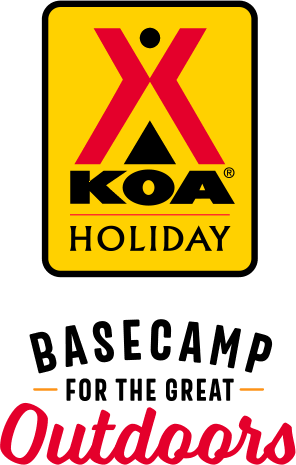 KOA Holiday Campgrounds
Whether you're exploring the local area or hanging out at the campground, KOA Holidays are an ideal place to relax and play. There's plenty to do, with amenities and services to make your stay memorable. Plus, you'll enjoy the outdoor experience with upgraded RV Sites with KOA Patio® and Deluxe Cabins with full baths for camping in comfort. Bring your family, bring your friends, or bring the whole group – there's plenty of ways to stay and explore.
KOA Holidays Feature:
RV Sites with a KOA Patio®
Deluxe Cabins with full baths
Premium Tent Sites
Group meeting facilities
Directions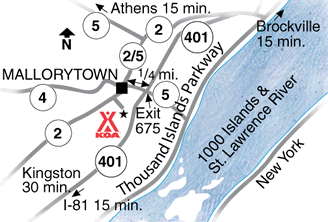 Between Kingston and Brockville, Hwy 401 Exit 675 Mallorytown. N on 5. Left on Hwy 2 for less than 1 minute. GPS Address 1477 Cty Rd 2, Front of Yonge. GPS: Lat. 44.474859, Long. -75.882397
Follow above directions for easier access.  Due to various GPS systems, the address for 1477 "Cty Rd 2" may appear as either County Road 2, County Rd 2, Co 2, Cty 2CR-2, Highway 2, Hwy 2 or Leeds & Grenville 2.  The township of "Front of Yonge" may also appear as "Mallorytown".
Get Google Directions
Aug 11, 2019
nosily because of the hwy near by and train ... but everything was great!
Aug 11, 2019
Wonderful stay! We were there during the week so not overly busy and we had a beautiful campsite. Owners and staff are fantastic!
Aug 10, 2019
The stay was ok this time, our 2ndtime, upon arrival we noticed the fridge was not working. The man who came to check on it, argued that we must have broken it somehow but did eventually give us a new one. The air conditioner was not working, but we did not tell any staff after fridge argument. We cleaned the(very dirty) filters/tubes our selves. Frustrating on our vacation. My kids had fun tho.
Aug 10, 2019

Aug 09, 2019
We love this place! We camp there every summer, it gets better and better. This year, they got new picnic table, it was nice and clean. Wifi was super fast! Thank you!
Aug 09, 2019
Ce fut un très beau séjour. Le personnel est accueillant. Merci!
Aug 09, 2019
We were only in for one night while traveling and we did not use any of the amenities. We therefore found the Camping very overpriced.
Aug 09, 2019
Ce séjour en camping était une première pour toute notre famille et nous avons passé des journées extraordinaires. Tout était parfait (le site, les installations et les gens)! Nous avons tellement aimé notre expérience que je planifie déjà notre prochain séjour au KOA de St Mathieu de Rioux d'ici la fin du mois. Un grand merci à tous!
Aug 08, 2019

Aug 08, 2019
They are clean facilities, staff very friendly. Only not we like is noise of the train, it's hard to sleep at night time.
Aug 08, 2019
Lovely staff, very welcoming and informative. Large spots. Stopped over one night and campground was peaceful. Unfortunately, there is a train that runs all through the night with their horns on. It was really disruptive for sleep. Need to bring a pair of earplugs.
Aug 08, 2019
A very clean and well run campground.
Aug 08, 2019
I like the size of the lots and the facilities. The only thing , I would like to see a more central washroom.
Aug 08, 2019
The staff goes out of there way to help and to be there for everyone. Amazing team.
Aug 08, 2019
Super Clean! Very nice park and very friendly staff! Only stayed as a transient to and from our vacation, but will go back. We don't travel with children but the park has tons to do and a super park fro the whole family!
Aug 08, 2019
We were happy with the size of the sites but very unhappy with the fact that it would cost our family $44 to come in to visit us for dinner and a campfire (2 adults and 3 children). That is a little bit ridiculous! We also enjoyed the pool but were shocked to have to pay another $20 for mini-putt. We will not be back because of the cost for guests but the staff were very pleasant and helpful.
Aug 08, 2019
Civic holiday long weekend stay was excellent. Fireworks, pizza night, and excellent breakfast. Even with a large number of campers, the nights were quiet. We were late resevering a site, so no on site sewer was a negative, but understandable.
Aug 07, 2019
It was amazing! Great band and fireworks on the August long weekend. Staff were very friendly and helpful. Pool is amazing as well. Richard and Susan aim to please!
Aug 06, 2019
Friendly staff and clean restrooms. At the dish washing stations there were two BBQ's for public use . I will plan my meals next visit to utilize them .
Aug 06, 2019

Great staff super friendly. . Facilities super clean overall great stay!!
Aug 06, 2019
Clean facilities, pleasant staff and nice family atmosphere. Owners care and it shows.
Aug 06, 2019
Our favourite KOA!! Can't wait to go back next year. Beautiful camp grounds with a lot of activities for kids! The owners and staff were wonderful, hard working people that take a lot of pride in what they do. See you next summer Mallorytown
Aug 06, 2019
We were in a lovely cabin in front of pond - very tranquil and fun to see the kids finding friends in the pond. Everyone was so friendly and helpful. Pool was refreshing. Plenty of activities to do. Fireworks were wonderful, live band, and breakfast great too. Maybe put a washroom close to the cabins, maybe add a whirlpool/spa close to pool, maybe add an outdoor movie screen. We will return!
Aug 06, 2019
Amazing place, super well maintained, great activities for the kids, super friendly staff - we loved our stay there!!!
Aug 06, 2019
We spent the August long weekend on a renting site! It was a great spot as it was close to all amenities but also tucked away for privacy! I loved how there was always an activity for the kids! We all had a blast and definitely will return!
Aug 06, 2019
The camp site was very clean and the staff were amazing !!! My son has never had so much fun camping !
Aug 06, 2019
Le personnel est super accueillant et gentil. En fait, nous n'étions pas au terrain de camping pour y passer la journée mais plutôt pour y dormir car nous avions d'autres activités de prévues. Nous aurions appréciés un terrain avec plus d'ombre/privacité. Par contre, malgré le coût élevé pour un séjour en camping, nous avons apprécié le fait que les douches n'étaient pas payantes
Aug 06, 2019
Very clean and well maintained. Staff is very polite and helpful.
Aug 06, 2019
Our stay was very enjoyable, the staff was amazing and accommodating very helpful to any needs we had they should be proud. The only downside is not enough washrooms around the camp ground Suggestion putting porta potties would be very helpful.
Aug 05, 2019

awesome time and staff were exceptional
Aug 05, 2019
Staff and owners are fanatic and very friendly. Campground is clean and well maintained.
Aug 05, 2019
Only stayed 1 night, but a very nice campground.
Aug 05, 2019
Wonderful place. Huge lots. So much to do for the kids. Will definitely return.
Aug 04, 2019
KOA @ Mallorytown is the best campground ever! Extremely clean and spacious sites. Washrooms/showers are well stocked and very clean. Friendly and helpful staff. Very nice pool And a large playground for children. Lots of activities. Will definitely go there again
Aug 03, 2019
The train kept us awake during our stay. We had enjoyed the pool but would have liked a heated spa. We had sensed a certain tension among staff or owners even though very courteous. Would have preferred more trees around our stay.
Aug 03, 2019

I've been to the KOA in Mallorytown 8 or 9 times. I've camped at many places and this is my favourite campground! I used to come here as a teenager, and now I'm happy to bring my kids here. The staff is always nice and helpful and the campground is beautiful.
Aug 03, 2019
Had a wonderful relaxing camping experience with children... the entire grounds were very well maintained, down to the fire pits
Aug 03, 2019
Only there one night but decided to return again this month on our way to upper New York state. Love the fact the sites are so level and of a good size. Very happy with this koa
Oct 26, 2020
Great spot! Friendly and clean.
- Joel Exner on Google
Oct 16, 2020
Friendly, welcoming and very helpful staff. Clean and well maintained campground. Highly recommended.
- Dan Maxwell on Google
Sep 29, 2020
We stayed here the last weekend of September, and it was by far my favourite KOA stay so far. The sites are very large and everyone was extremely friendly. Easy to traverse and the location is great as it is not near any major roads etc. We will definitely be back!
- Mike Simpson on Google