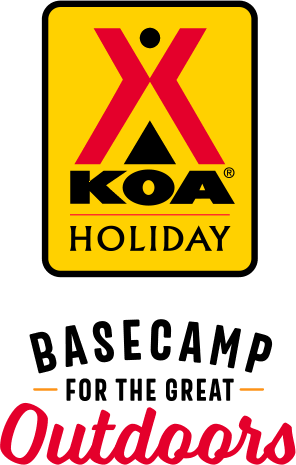 KOA Holiday Campgrounds
Whether you're exploring the local area or hanging out at the campground, KOA Holidays are an ideal place to relax and play. There's plenty to do, with amenities and services to make your stay memorable. Plus, you'll enjoy the outdoor experience with upgraded RV Sites with KOA Patio® and Deluxe Cabins with full baths for camping in comfort. Bring your family, bring your friends, or bring the whole group – there's plenty of ways to stay and explore.
KOA Holidays Feature:
RV Sites with a KOA Patio®
Deluxe Cabins with full baths
Premium Tent Sites
Group meeting facilities
Directions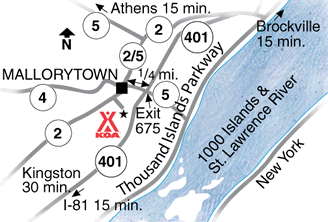 Between Kingston and Brockville, Hwy 401 Exit 675 Mallorytown. N on 5. Left on Hwy 2 for less than 1 minute. GPS Address 1477 Cty Rd 2, Front of Yonge. GPS: Lat. 44.474859, Long. -75.882397
Follow above directions for easier access.  Due to various GPS systems, the address for 1477 "Cty Rd 2" may appear as either County Road 2, County Rd 2, Co 2, Cty 2CR-2, Highway 2, Hwy 2 or Leeds & Grenville 2.  The township of "Front of Yonge" may also appear as "Mallorytown".
Get Google Directions
Aug 19, 2019
The campsite is well maintained with good facilities. The pool is beautiful and the bathrooms are clean. But the sound of the highway and the passing trains is very loud. The day fee for friends and family to enter to visit is too high. The Friday night pizza is also very expensive and I wouldn't buy it again.
Aug 19, 2019
Customer service was amazing! We felt very welcome!
Aug 19, 2019
We loved everything!! The only things that would make it perfect are... 1. A second comfort station closer to the pond cabins. 2. Keep the pool open until 11 pm - the lights are gorgeous!!
Aug 19, 2019
It was our last camping night after a month away in the Atlantic provinces. What a delight Mallorytown KOA is. Very professional staff who made us feel very welcome. Perfect site for our trailer, nice and level, and the whole campground is very clean. The real gem is Jimmy and his delicious pizzas. They were fantastic. We are planning a fall trip to Ottawa and will definitely stay here again.
Aug 19, 2019
Had a great time.
Aug 19, 2019
1 night not using any services . Beautiful park but over $80 for a quick overnight stay is excessive.
Aug 19, 2019
I love the park the pool the arcade the jumping pillow and the activities - and the folks running the site! But your campsites need a few more trees. It was too hot without shade. Also no privacy between tent sites. Other than that, the ground is great (not rocky) the layout is nice and the facilities were very clean!
Aug 18, 2019
We had a special family reunion with all your staff. Awesome memories also
Aug 18, 2019

Aug 18, 2019
Such a nice campgrounds - clean, staff was so friendly and helpful.
Aug 18, 2019
One of the cleanest and best run campgrounds I've ever stayed in. If I had any criticisms at all it would be the lack of shade trees in the pull through sites but we knew that before we booked so all in all a great place to camp
Aug 18, 2019
Enjoy our stay ! Lot 201 is very well situated Showers very clean Will come back for sure
Aug 18, 2019
Wonderful owners and staff. Very clean campground, lots of activities for the kids.
Aug 18, 2019
Very nice staff,helpful with directions to purchase fishing licenses at CanadaTire in Ganaoque .Large sites , very clean used as a base for daily excursions. Accommodated our requests to extend our stay as needed. Would like to see extended pool hours for adults only at end of day.
Aug 18, 2019
We use this KOA as our last day of vacation and stop here on our way home. We love the easy access from the highway, the easy entry / exit, and spacious camping locations. The friendly welcome and excellent organization make this a clean well managed KOA. The pool is designed for children but OK for adults. However, there is no cable TV, they do not have 50AMP and there are no trees.
CAMPGROUND RESPONSE / COMMENTS:
Thank you for your responding to the survey. We hope you enjoyed the hydrotherapy jets in our pool. We are surprised at your comment about us not having 50amp service as you have been here multiple times and have had this service. As discussed at the time you made you made your reservation there were no sites available and we had put you on the waiting list. We do have treed lots. Have a great day
Aug 17, 2019
Our second stay. Nice site . Location is convient for visiting Thousand Island points of interest.
Aug 17, 2019
We loved our stay! We mostly dealt with Susan who was always helpful, friendly and has a great sense of humour. We enjoyed our campsite, the pool, the staff and very clean washrooms. Thank you!!
Aug 16, 2019
Very happy. Nice campground not too busy when we were there. Kids had a great time catching frogs in the pond. Would be nice to have a foam party like other koa my kids really love this activity
Aug 16, 2019
It was a quick in and out for us this time, but the camp ground was very clean, lots of amenities and the lots are huge. Employees were amazing.
Aug 16, 2019
good time, good people
Aug 16, 2019
manque de végétation, trop dry
Aug 16, 2019
Clean, level sites. Helpful staff. Enjoyed our stay.
Aug 15, 2019
The location is kept in an impeccable state, very clean and attractive! The staff are very helpful and friendly. We love this location. Thank you!
Aug 15, 2019
Friendly and helpful staff, nice spacious well kept sites. Clean washrooms, nice showers.
Aug 14, 2019
Many positives; the owners, the great staff and fellow campers. Great family park, the grandkids love the activities, park, bounce pad and pool. We love the environment. Critique: IF you're not going to allow campers to bring in their own firewood, creating a monopoly on it, than at least be reasonable. The cost vs quantity of wood received could be considered gouging your loyal customers.
Aug 14, 2019
The staff,especially Emily were really friendly and helpful. My 11 year old son really enjoyed the planned activities. It was a great weekend getaway.
Aug 14, 2019
The owners are such nice people, the campground is beautiful, clean and they offer nice activities for kids. Just loved the place!
Aug 14, 2019
Workers were friendly and and everything was clean and comfortable . The washroom was a little far .
Aug 13, 2019
too pricey and too many rules.
Aug 12, 2019
the cleanest and the best among the KOA we've been to
Aug 12, 2019
Great for kids.
Aug 12, 2019
We enjoyed our stay at the Mallorytown KOA from the minute we were greeted at the registration desk. We appreciated being guided to our lot, the size of the grassy lot, that the 3 services were trouble free, the cleanliness of the whole park and the friendliness of all the staff. All the facilities were great, specially the pool! We will surely be back!
Aug 12, 2019
We love camping at your KOA. This year we rented the cabin and it was AMAZING! The kids had a great time too. Maybe next year we will do 3 nights. So fun!!!
Aug 12, 2019
It was fun to stay, meeting new people and warm hearted staff. Thank you very much for a good services.
Aug 12, 2019
First time at a KOA. Was very happy with the park and staff. I found the pool to be a little small but other than that it was perfect.
Aug 11, 2019
Staff is very friendly, the campground and the facilities are immaculate and the pool and activities are great. We had a great stay ands will return again soon!
Oct 26, 2020
Great spot! Friendly and clean.
- Joel Exner on Google
Oct 16, 2020
Friendly, welcoming and very helpful staff. Clean and well maintained campground. Highly recommended.
- Dan Maxwell on Google
Sep 29, 2020
We stayed here the last weekend of September, and it was by far my favourite KOA stay so far. The sites are very large and everyone was extremely friendly. Easy to traverse and the location is great as it is not near any major roads etc. We will definitely be back!
- Mike Simpson on Google