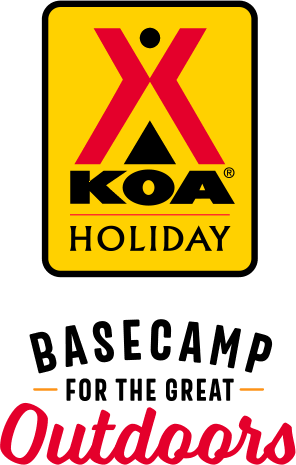 KOA Holiday Campgrounds
Whether you're exploring the local area or hanging out at the campground, KOA Holidays are an ideal place to relax and play. There's plenty to do, with amenities and services to make your stay memorable. Plus, you'll enjoy the outdoor experience with upgraded RV Sites with KOA Patio® and Deluxe Cabins with full baths for camping in comfort. Bring your family, bring your friends, or bring the whole group – there's plenty of ways to stay and explore.
KOA Holidays Feature:
RV Sites with a KOA Patio®
Deluxe Cabins with full baths
Premium Tent Sites
Group meeting facilities
Directions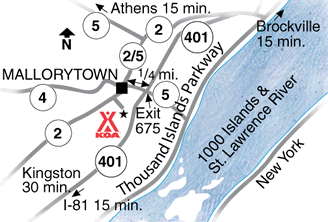 Between Kingston and Brockville, Hwy 401 Exit 675 Mallorytown. N on 5. Left on Hwy 2 for less than 1 minute. GPS Address 1477 Cty Rd 2, Front of Yonge. GPS: Lat. 44.474859, Long. -75.882397
Follow above directions for easier access.  Due to various GPS systems, the address for 1477 "Cty Rd 2" may appear as either County Road 2, County Rd 2, Co 2, Cty 2CR-2, Highway 2, Hwy 2 or Leeds & Grenville 2.  The township of "Front of Yonge" may also appear as "Mallorytown".
Get Google Directions
Aug 30, 2019
We had a wonderful time, Suzan and Richard are fantastic hosts.
Aug 30, 2019
great check-in, good site, fabulous pool and amazing sunset. All the things a camper could want!
Aug 29, 2019
Très propre et pleins d'activités! Bravo belle place
Aug 28, 2019
Originally we had planned on a two night stay, but were having such a great time (and cooperative weather) we extended an additional night. We enjoyed everything about the Mallorytown KOA. The staff were wonderful -- all of our interactions with Susan/Richard and the staff were great. Facilities were as advertised, and very well looked after. Looking forward to returning next year.
Aug 28, 2019
We had alot fun and we will come again soon
Aug 28, 2019
Very quiet location, friendly and spot was super nice!
Aug 28, 2019
Very friendly host. Great cabin! Lots to do for kids
Aug 27, 2019
An overnight stay.
Aug 27, 2019
This was our 4th stay at the Mallorytown KOA - the first with our 5th wheel. Clean, well maintained and friendly, bilingual staff. Lots of full service sites, decent water pressure. We use the bathroom our our trailer so can't comment on campground facilities. They have nice, long level sites for bigger rigs but they really do need to plant some trees to provide shade for your site.
Aug 27, 2019
A very nice campground. The staff is there to help you out, always smiling. Everything is clean and well taken care of. The Friday-Saturday pizza, a must!
Aug 27, 2019
The owners and staff are so friendly and accommodating! Just booked our next stay at KOA Mallorytown
Aug 27, 2019
Another awesome stay.
Aug 27, 2019
NO Problem! for we always love KOA
Aug 27, 2019
I had to clean the fridge when I arrived. There was a melted ice cream bar left in the freezer by a previous guest. I wish there were bike paths. The coarse gravel is hard to ride a bike on. The barbecue was very slow so we didn't use it very much. Otherwise we enjoyed our stay. The staff was friendly and it was quiet other than the trains.
CAMPGROUND RESPONSE / COMMENTS:
We are very sorry that had this experience. This is not how we maintain our cabins. We appreciate you letting us know. If you had you let us know, we would have immediately sent the housekeeping person responsible to remedy the situation. This has been dealt with the person responsible. If there is anything we can do for you in the future, please reach out to us.
Aug 26, 2019
was a multi family get together weekend. Was very good Loved the large patio and table at the cabin. Was perfect size for dinner get together for the 10 of us.
Aug 26, 2019
Camp grounds and amenities were clean. The camp sites are in a field with no tree's. The deluxe cabin was clean but the beds were very uncomfortable. The shower did not have a proper shower head it was like being misted not showered. Not sure why you have to buy their wood only when you can get it right outside the gate cheaper. The kids did have a great time in the pool and play area's.
Aug 26, 2019
Facility was nice and clean, amenities were great, pool was and park were clean! Friendly staff
Aug 26, 2019

We love it there. We love the staff. Very kind and very respecful.
Aug 26, 2019
We loved our stay the staff was fabulous
Aug 26, 2019
Bel accueil et site de camping parfait! Nous y reviendrons!
Aug 25, 2019
As always a great stay Thank You
Aug 25, 2019
Amazing best KOA I have been at going back for sure! Nice big site very clean washroom!
Aug 25, 2019
Clean place, with a super relation ship at the office. The personnal is frendly and smily. The campground is quiet.
Aug 25, 2019
Staff very friendly, exceptional on cleanliness
Aug 25, 2019
Staff were very friendly and helpful. Campsite and amenities in good order and a nice pool. Some of the activities were not as exciting as advertised, such as the bubble blowing activity (just a person with a bottle of bubbles). I would also like to note that the location is an issue with regular freight trains coming by blaring their horns throughout the night.
Aug 24, 2019
The layout is great, the kids activities are awesome. Pool was lovely. Sites are quite open, this location is quite noisy from the train and the highway. We needed propane and unfortunately they were out of tanks so we had to leave the grounds to get it elsewhere. It was a good stay.
Aug 24, 2019
Le personnel est très accueillant et attentif aux demandes de sa clientèle. La seule amélioration que je vois, c'est un accès plus facile à l'eau potable pour les 3 cabines qui sont face à l'étang du côté sans arbre. Autrement, on doit aller sur les terrains des autres cabines pour avoir de l'eau, c'est un peu dérangeant pour les gens qui y sont installés. Sinon, superbe camping, très
Aug 24, 2019
Super Clean and neat campsite include many fun activities . Washroom and showers , Kichen all are very nice. Tent sites are big with fewer mosquito. new swiming pool has one fun slide which my children enjoy so much . This is the Most comfortable campsite so far we had. My children had no complain at all and had a lot of fun.
Aug 24, 2019
Très agréable. Susan parle très bien francais. Beaucoup d'activités pour les enfants. Piste cyclable à proximité. Merci pour l'accueil.
Aug 23, 2019
It is always a pleasure! The kids love all of the activities. I like the conveniences (kamp kitchen, showers, etc). Everything is well maintained and the staff are great.
Aug 23, 2019
Very friendly staff and fellow campers. Lots of activities for grandkids
Aug 22, 2019
Very clean, great dog park, excellent pool and staff was willing to accommodate a special request when it came to a site
Aug 21, 2019
Still cannot believe that an elderly couple was charged $20.00 to come visit for 2 hours after 7pm.
Aug 21, 2019
We have one complaint, we had 2 senior visitors who came in around 6pm and had to pay a full day visitors' fee! Maybe the fees could be adjusted considering the time left to be spent in the park?? Otherwise, the park is clean with fun things for the kids and the staff was great!!!
Aug 20, 2019
Air conditioning stopped working the had someone on it within hours and gave us some wood for the trouble. Very clean and a great dog park. Will be back.
Aug 20, 2019
Propre et personelle incroyable tres bien
Aug 20, 2019
Park is close to everything in area. Well kept, friendly. A lot of amenities for kids.
Aug 20, 2019
Very clean and well run. Had some trouble with the highway noise. The owners and staff were very friendly and efficient!
Aug 20, 2019
First time for the grandkids to stay in a tent 1 is 1 year old the other one is two and a half they had fun
Aug 20, 2019
Very friendly staff and owner Very clean Lots of activities
Aug 20, 2019
Super Koa....clean, wide sites...everything good!
Oct 26, 2020
Great spot! Friendly and clean.
- Joel Exner on Google
Oct 16, 2020
Friendly, welcoming and very helpful staff. Clean and well maintained campground. Highly recommended.
- Dan Maxwell on Google
Sep 29, 2020
We stayed here the last weekend of September, and it was by far my favourite KOA stay so far. The sites are very large and everyone was extremely friendly. Easy to traverse and the location is great as it is not near any major roads etc. We will definitely be back!
- Mike Simpson on Google