Alert
We OPEN for Kamping! Our Office, General Store, Restrooms, Mini-Golf, & Paddle Boats are open with enhanced Covid-19 procedures. Our Playground is open and disinfected daily. You can fish in our lake - no license needed! Our Organized Activities are suspended until further notice. Happy Kamping!!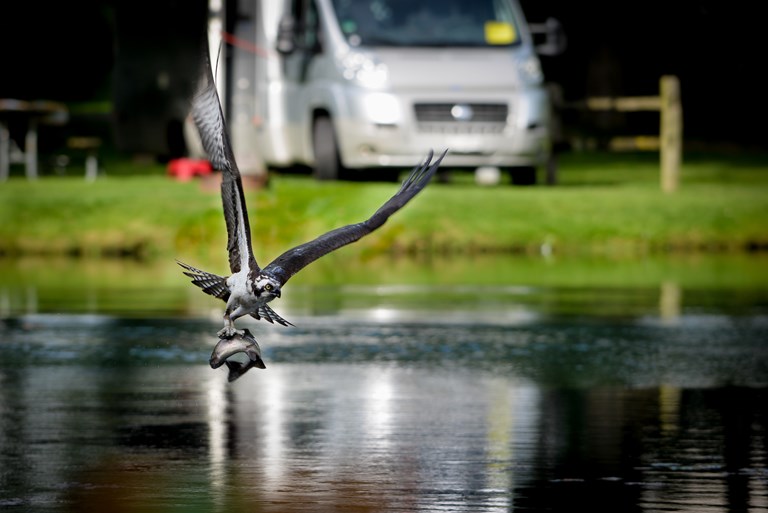 Lynden / Bellingham KOA Reviews
Spring into Summer!
Directions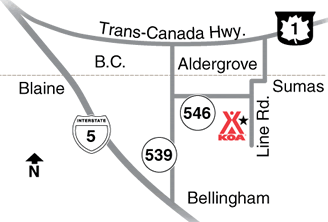 From I-5 N take Exit 256, Hwy 539, Guide Meridian. Travel 15 miles to Hwy 546, E Badger Rd, turn right. Travel 5 miles, turn right on Line Rd.
Get Google Directions
Aug 14, 2019
Sites are too close together.
Aug 14, 2019
I really like Lynden KOA. This visit had a hiccup. Reserved 30/20 amp site. There was only one 30/20 amp pole shared by 2 sites and neighbor already using the 30 amp. I called office, left voicemail explaining problem, asked someone to come to the site to help. No one came, no one said anything. That was unexpected and seemed uncaring. I ended up finding an old adapter for the 20 amp plug.
Aug 13, 2019
Most beautiful KOA I have stayed at!!
Aug 13, 2019
We were camping with another family who had already made reservations. We drove to the KOA to book our site many months ago. With their help we reserved the site directly across from our friends. We planned our menus based on being close and sharing in feeding the 7 children and 5 adults. Without notice our friends reservation was given to someone else and they were way down the road.NOT HAPPY!
Aug 12, 2019
Such a great group of people who make you feel you're part of their family. Can't wait to go back
Aug 12, 2019
Site #21 had 50 amps but when I plugged into the post, it wasn't long before my surge protector tripped out with a low voltage error message. After resetting several times, I flagged down a passing KOA guy, and sure enough the voltage was a dangerously low 103 volts on one side. Switched to 30 amps, and that side went low too. Dangerous site. We had to leave or risk our coach. Shame on KOA!
Aug 12, 2019
There are lots of activitites to do. Pool is great. Trails to walk or ride. Clean campground. Love the adult hours at the pool. they just need to be enforced by staff.
Aug 12, 2019
I had a great time and so did my 7year old. Its was very clean and it had a lot of fun activities for the kids. I will definitely be returning!
Aug 12, 2019
Although it was a little tight getting into and out of the pull-through sites, we enjoyed all the amenities. Grandma and grandson participated in the Mardi Gras parade and had fun. The ice cream was good and very generous.
Aug 12, 2019
Site #141. Very small and difficult to park 19 foot trailer because of size and width of site. We pull with a truck not small SUV Even more difficult to pull trailer out. Dusty and dirty as well. I called in to reserve months in advance and would have appreciated an honest assessment of this site as I was given a choice on spots. Grounds were nice Mens washroom was very dirty on Sunday morning
Aug 12, 2019
It was great as always. And Will always come back. Great place great people.
Aug 12, 2019
Overall KOA and it's staff were very nice. The issue wasn't with KOA itself but the numerous drunks roaming the campground and who blasted music at all hours of night. Everywhere my family and I went we encountered another loud, obnoxious, drunk person.
Aug 12, 2019
This KOA had great scenery and a little of everything to keep my daughter entertained. The peddle boats and mini golf were a welcome bonus to our stay
Aug 12, 2019
Our family had so much fun at the Lynden KOA. I'm not a fan of camping and it was such a great balance of fun things for the family to do and being in the outdoors. Clean facilities, great activities, lots of fun!
Aug 12, 2019
It was great. The staff had multiple activities while we were there and the grounds have so many things for kids to do. It was fantastic and I have already raved to others about this location and am planning to camp there again next summer.
Aug 11, 2019
It was the greatest of all time
Aug 11, 2019
The kids working drive way to fast on the carts almost hitting me multiple times. Kids had to get out of pool at adult time even when no one adults were there to swim. Bathrooms only had the 1 shower and 3 stalls they need to have more showers available. Bathroom ran out of toilet paper and soap multiple times and was. It re stocked for hours.
Aug 10, 2019
Nice place, however we were charged extra cuz we wanted to be placed near friends we were traveling with :( Not told this when I booked - would've gone else where. Bogus fee
Aug 10, 2019
I am disappointed that there are no recycling stations available. Not even for cans.
Aug 09, 2019
Nice getaway for a few days: staff was very friendly and professional. The place was packed but did not feel cramped and the nights were quiet. We will be back. It is one of frequent campgrounds.
Aug 08, 2019
It was awesome as always! I am always impressed with all the events going on for adults and kids, especially how organized they are...the hayride during adult pool time, it's so thought out! They even had to deal with vomit in the pool and closure on the hottest day! They brought out a sprinkler, pool and slip and slide and the pool was back open in a few hours. So great, job well done!
Aug 08, 2019
Your lake was a pond and people were stacked on top of each other.
Aug 07, 2019
Kids had fun and the staff was amazing. The mini golf was a big hit with the family and pool too.however there are a couple improvements I'd recommend: Park power needs to be upgraded. Our site had reverse polarity and our neighbor's breakers kept flipping off and another rv needed to move to another park. Toilets would not flush and got plugged with just toilet paper. Sites are very narr
Aug 07, 2019
Once again...an amazing stay...we love coming here and spending as many weekends as possible...
Aug 07, 2019
really enjoyed it ..1 recommendations would be to remove the horse shoes and replace with soccer nets...really dangerous to leave the rebar (metal posts for the horse shoe) in as kids all play soccer there and someone is going to get serious hurt when they fall on the rebar
Aug 06, 2019
We like the renos that have taken place in the games room, and we were really happy to see that the mini golf green had been replaced. This time around the bathrooms were frequently out of toilet paper and soap. Maybe during the busy weekends, they should be stocked/checked more often. We love the KOA and will continue to stay there.
Aug 06, 2019
We had a wonderful time during our most recent stay and we will keep coming back! My kids love the activities planned for a long weekend but we're very sad that the dance party wasn't a part of the weekend this time! It is always a highlight! It also seemed a little short staffed from years past as you were running out of certain things but we still had a great time!
Aug 06, 2019
Campground sites and activities cant be beat. No wifi in the last year. Sometimes need to check emails and such for work so that's a struggle. Probably shouldn't advertise that the campground had Wifi when it really doesnt
Aug 06, 2019
Our family of 4 had a nice stay in the cabin. It was clean and the area was well kept. There was an instance of running out of toilet paper and soap in the ladies restroom near the cabins. We went with 2 other families. The RV hookup area was quite tight and not much privacy when we set up our group for meals at the site. The kids had fun with the organized activities, mini golf and boats.
Aug 06, 2019
KOA Lynden was awesome! The check-in experience wasn't great (the lady checking us in didn't look at us or say hello...just 'last name please' and then gave us a paper to put on dash and a map of campground. She didn't advise us of any weekend activities or anything. Once set up though, the grounds are awesome, bathrooms are clean and there are special little touches everywhere.
Aug 06, 2019
We felt like our spot was in a car lot, there was always NO SOAP in one of the washroom, as well as no toilet paper in one of the stalls.The adult hour at the pool was full of drunk adults playing degrading sex games with a blow up doll, chatting with my 3 kids watching " muffdive her!" And jumping onto the blow up doll in pool chanting sex position for that person to try and do. not family en
Aug 06, 2019
Very nice and clean. Perfect for kids and families and dogs too!
Aug 06, 2019
Stay was good. The campsite was well taken care of. Lots of activities for the kids Staff was outstanding Recommendations: Install a squeegee at the dish washing stations to clean the mess from the counter after usages
Aug 06, 2019
We arrived late and had trouble finding our site assignment.Focused lighting would have been helpful.Immediately after that we were confronted by a guy on a golf cart for our engine making too much noise.So our first 20 minutes after arriving were quite unpleasant.We felt unwelcome after a long drive.Pool was dangerously crowded.So much staff in clusters talking instead of doing anything productiv
Aug 05, 2019
It was great!
Aug 05, 2019
Disappointed that there wasn't enough power to run one air conditioner on warm afternoons
Jul 06, 2020
Clean, Very Friendly and great customer service 👌
- Kristal Gollihar on Google
Jun 11, 2020
Great place. Friendly stuff. Loved our stay.
- Natalia V on Google
May 19, 2020
Gorgeous campground! We stayed in site #91 on the lake and loved it. Daughter fished from our sight and caught a catfish. Ducks with their ducklings learning to swim. Geese protecting their eggs. Huge frogs along the shore. Owl at night. Very friendly staff. It's nestled in a neighborhood so I was hesitant on booking it but was very satisfied. The lake sites feel very outdoorsy. The grounds are kept very, very well. We will definitely be back.
- L G on Google

Lynden / Bellingham KOA
Open All Year
8717 Line Road
Lynden, WA 98264
Check-In/Check-Out Times
RV Sites, Tent Sites
Check-in: 1:00 pm, Check-out: 12:00 pm
Accommodations, Kabins
Check-in: 2:00 pm, Check-out: 12:00 pm
Get Google Directions

© 2020 Kampgrounds of America, Inc.