Alert
We OPEN for Kamping! Our Office, General Store, Restrooms, Mini-Golf, & Paddle Boats are open with enhanced Covid-19 procedures. Our Playground is open and disinfected daily. You can fish in our lake - no license needed! Our Organized Activities are suspended until further notice. Happy Kamping!!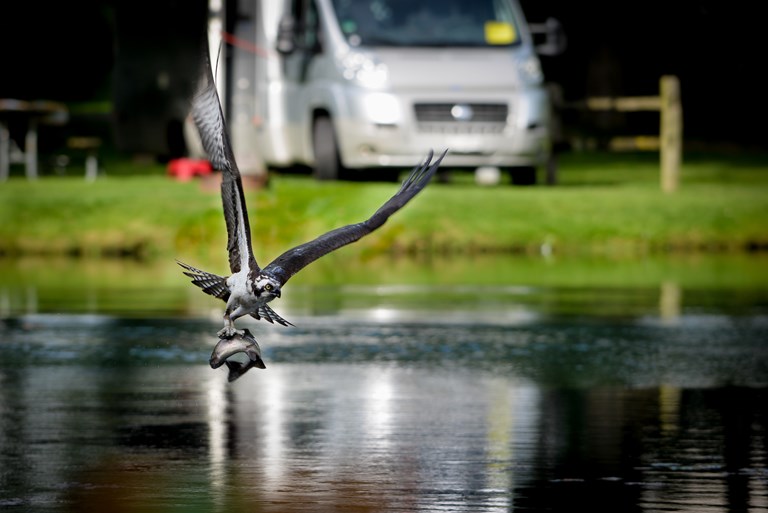 Lynden / Bellingham KOA Reviews
Spring into Summer!
Directions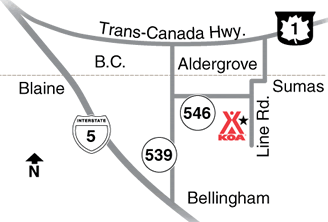 From I-5 N take Exit 256, Hwy 539, Guide Meridian. Travel 15 miles to Hwy 546, E Badger Rd, turn right. Travel 5 miles, turn right on Line Rd.
Get Google Directions
Aug 21, 2019
Super friendly staff, very helpful, clean, lots to do we will be back
Aug 21, 2019
Great people running the place. The atmosphere was fun festive and the weather was great. One of our top camping experiences in this type of campground ever!
Aug 20, 2019
We have a neighbourhood camping trip here every year. This was our 4th year. Yet again the shower handle is almost falling off. One of the taps doesn't work in the women's bathroom. The pool is so cold the kids hate going in it. The facility is very poorly maintained. We go because it is close to home, the kids have fun, but for the price I'll be looking for somewhere new to stay in 2020.
Aug 20, 2019
It was great. Relaxed with plenty to do. One problem with this KOA is the temperature of the pool. It is far too cold. In past years I have requested that they turn up the heat but they don't.
Aug 20, 2019
Stay was good but the pool was a lot smaller than we thought and the site we stayed at was still occupied past 1pm.
Aug 19, 2019
Organized, clean, well run establishment! There were so many fun things for the kids and so many food options and other amenities! The paddle boat races, fishing, mini golf and rock painting were some highlights. We found that we didnt have to leave to buy anything that we may have forgotten as there were so many things available. Thank you for a great time.
Aug 19, 2019
Great staff great location great time
Aug 19, 2019
We were not in the right campsite and we had issues with our power. They fixed our power problem so all was good. Hopefully next time we will be in a better spot more suitable.
Aug 18, 2019
I have always avoided the campground chains preferring a more spacious rustic setting. The Lynden KOA surprised me; from the incredible genuine friendliness of the staff to the spacious campsites, the fun and clean facilities and their flexibility around rules, especially where our dog was concerned, while still respecting the needs of other campers. They have perfected the art of catering to all.
Aug 17, 2019
I always love to stay at the Lynden KOA. It is a super friendly, beautiful, super clean and wonderful campground. The sites are on the narrow side, but are really nicely kept. There are two great ponds, complete with fishing and paddle boating. Nice laundry and great ice cream stand. I'll be back again next year.
Aug 17, 2019
We love Lynden KOA!!! It is a great get away that is close enough to be accessible. We love all the extra activities and amenities; pool, mini golf, paddle boats and playground. Clean and very well cared for with recent renovations around the campground. We've been going for about 15 years. Thank you once again for a wonderful stay. We'll be back!
Aug 17, 2019
Nice place to get away to.
Aug 17, 2019
Nice location.
Aug 16, 2019
Our look forward vacation every year. Your improvements with the entrance are great as well with the lounge. We enjoy the lake and next year we have convinced the rest of the family and relatives to come down from the top row and join us, so we will need 4 pads, but we will confirm later, same time as this year, Wish all the best to Vicki for us, Ciao for now. Larry, Rhonda and the gang.
Aug 16, 2019
Our Stay was one of many for the last 15 years. The reasons why we kept returning to this campground was because it was professional managed, always clean, and the settings has been very well maintained to allow us to enjoy the surrounding, the peace and relaxing atmosphere that prevails through the campground.
Aug 16, 2019
Very nice staff and clean grounds. Ice cream was a great value and delicious
Aug 16, 2019
Had a wonderful time with my family and creating memories. Staff were really friendly and helpful. Highly recommend Lynden KOA.
Aug 16, 2019
Cabins are so comfortable and cozy!
Aug 16, 2019
We stayed 2 nights for annual trip to this KOA. Always clean and tidy, and we noticed upgrades to tenting area and laundry room. We used pool which is a bonus. We will be back next yr.
Aug 16, 2019
Clean, beautiful sites, friendly & courteous staff, nice amenities. Wifi is TERRIBLE!!!!!!!!!!!!!!!!!!!
Aug 15, 2019
Awesome. Love the new look in the clubhouse. And the detail to the gardens and the mini golf course. We enjoyed the renovations.. Thank you!
Aug 14, 2019
Clean, excellent customer service, nice additional activities (mini-golf, paddle boats, coffee shop & games). We very much enjoyed our stay, were treated well and placed close together, and would definitely return!
Aug 14, 2019
We have stayed here since our son was a little guy he is now a dad himself & our grandkids loved it too!! So much for them to do swimming,mini golf,paddle boats many memories made with them they are 10,6,&5 we will be back soon!!!
Aug 14, 2019
Noisy past 10 pm, no internet in RV spaces. I have never encountered an RV campground without internet access in the spaces.
Aug 14, 2019
Sites are too close together.
Aug 14, 2019
I really like Lynden KOA. This visit had a hiccup. Reserved 30/20 amp site. There was only one 30/20 amp pole shared by 2 sites and neighbor already using the 30 amp. I called office, left voicemail explaining problem, asked someone to come to the site to help. No one came, no one said anything. That was unexpected and seemed uncaring. I ended up finding an old adapter for the 20 amp plug.
Aug 13, 2019
Most beautiful KOA I have stayed at!!
Aug 13, 2019
We were camping with another family who had already made reservations. We drove to the KOA to book our site many months ago. With their help we reserved the site directly across from our friends. We planned our menus based on being close and sharing in feeding the 7 children and 5 adults. Without notice our friends reservation was given to someone else and they were way down the road.NOT HAPPY!
Aug 12, 2019
Such a great group of people who make you feel you're part of their family. Can't wait to go back
Aug 12, 2019
Site #21 had 50 amps but when I plugged into the post, it wasn't long before my surge protector tripped out with a low voltage error message. After resetting several times, I flagged down a passing KOA guy, and sure enough the voltage was a dangerously low 103 volts on one side. Switched to 30 amps, and that side went low too. Dangerous site. We had to leave or risk our coach. Shame on KOA!
Aug 12, 2019
There are lots of activitites to do. Pool is great. Trails to walk or ride. Clean campground. Love the adult hours at the pool. they just need to be enforced by staff.
Aug 12, 2019
I had a great time and so did my 7year old. Its was very clean and it had a lot of fun activities for the kids. I will definitely be returning!
Aug 12, 2019
Although it was a little tight getting into and out of the pull-through sites, we enjoyed all the amenities. Grandma and grandson participated in the Mardi Gras parade and had fun. The ice cream was good and very generous.
Aug 12, 2019
Site #141. Very small and difficult to park 19 foot trailer because of size and width of site. We pull with a truck not small SUV Even more difficult to pull trailer out. Dusty and dirty as well. I called in to reserve months in advance and would have appreciated an honest assessment of this site as I was given a choice on spots. Grounds were nice Mens washroom was very dirty on Sunday morning
Aug 12, 2019
It was great as always. And Will always come back. Great place great people.
Aug 12, 2019
Overall KOA and it's staff were very nice. The issue wasn't with KOA itself but the numerous drunks roaming the campground and who blasted music at all hours of night. Everywhere my family and I went we encountered another loud, obnoxious, drunk person.
Aug 12, 2019
This KOA had great scenery and a little of everything to keep my daughter entertained. The peddle boats and mini golf were a welcome bonus to our stay
Aug 12, 2019
Our family had so much fun at the Lynden KOA. I'm not a fan of camping and it was such a great balance of fun things for the family to do and being in the outdoors. Clean facilities, great activities, lots of fun!
Aug 12, 2019
It was great. The staff had multiple activities while we were there and the grounds have so many things for kids to do. It was fantastic and I have already raved to others about this location and am planning to camp there again next summer.
Aug 11, 2019
It was the greatest of all time
Jul 06, 2020
Clean, Very Friendly and great customer service 👌
- Kristal Gollihar on Google
Jun 11, 2020
Great place. Friendly stuff. Loved our stay.
- Natalia V on Google
May 19, 2020
Gorgeous campground! We stayed in site #91 on the lake and loved it. Daughter fished from our sight and caught a catfish. Ducks with their ducklings learning to swim. Geese protecting their eggs. Huge frogs along the shore. Owl at night. Very friendly staff. It's nestled in a neighborhood so I was hesitant on booking it but was very satisfied. The lake sites feel very outdoorsy. The grounds are kept very, very well. We will definitely be back.
- L G on Google

Lynden / Bellingham KOA
Open All Year
8717 Line Road
Lynden, WA 98264
Check-In/Check-Out Times
RV Sites, Tent Sites
Check-in: 1:00 pm, Check-out: 12:00 pm
Accommodations, Kabins
Check-in: 2:00 pm, Check-out: 12:00 pm
Get Google Directions

© 2020 Kampgrounds of America, Inc.