Alert
We OPEN for Kamping! Our Office, General Store, Restrooms, Mini-Golf, & Paddle Boats are open with enhanced Covid-19 procedures. Our Playground is open and disinfected daily. You can fish in our lake - no license needed! Our Organized Activities are suspended until further notice. Happy Kamping!!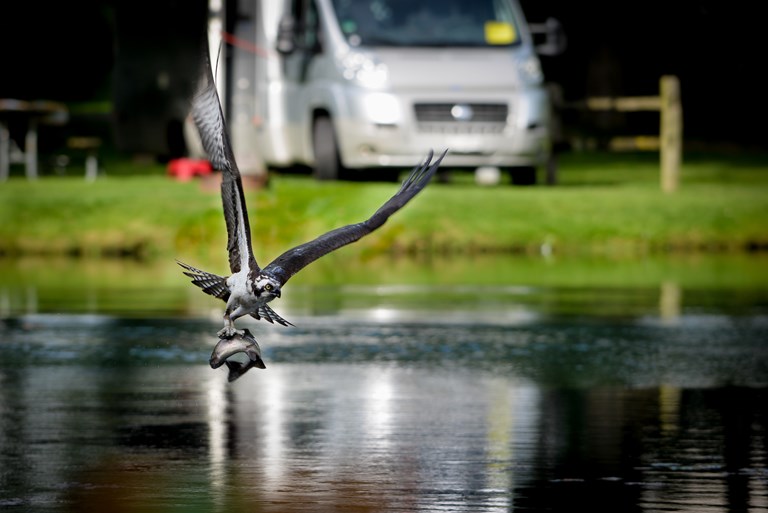 Lynden / Bellingham KOA Reviews
Spring into Summer!
Directions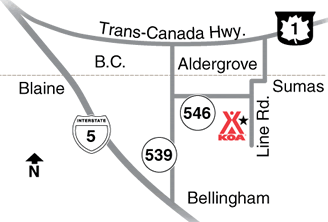 From I-5 N take Exit 256, Hwy 539, Guide Meridian. Travel 15 miles to Hwy 546, E Badger Rd, turn right. Travel 5 miles, turn right on Line Rd.
Get Google Directions
Oct 05, 2019
One of the nicest KOAs we've stayed at! A well maintained park like setting. A wonderful place to recharge and explore from.
Oct 05, 2019
Very nice camp site with two ponds, and nicely treed and maintained. Nicely secluded but only a short drive from the main road.
Oct 02, 2019
Beautiful camp site.Easy and convenient to get to.The lake is very pretty & has ducks.The only thing I would suggest is, it needs free Wi-Fi access for guests. We arrived late (from Canada) and wanted a recommendation for a place to eat out and we also needed a map of the local area. The office was closed and we weren't able to get this info as we didn't have international roaming on our phones.
Oct 01, 2019
A beautiful campground with many activities in a perfect setting ! First time to a KOA ! Thank you
Sep 30, 2019
We were originally booked in site 94 but when we arrived they said it was closed and we would be staying in site 85. That was a little disappointing and not a desired site for us but since the campground was not very busy we managed to move to site 143 which we loved and really enjoyed our stay. Thanks
Sep 28, 2019
Clean bathrooms, Nice staff. Lynden is also Nice to see.
Sep 25, 2019
One of the nicest KOAs I've stayed in. Excellent tent sites, restrooms, and showers. Hosts very pleasant and helpful.
Sep 25, 2019
Arrived late and left early, stayed in tent, but from what we saw it seemed like a campground we might want to spend more time in the future at.
Sep 23, 2019
Nice clean park
Sep 23, 2019
We had a fantastic time! The Kamper's Den was great, and I loved being able to get a good coffee :)
Sep 23, 2019
Beautiful setting
Sep 23, 2019
pretty grounds. Convenient location.
Sep 22, 2019
enjoyable visit setting excellent one of the best restrooms we would go back again only negative the weather was but not their fault.
Sep 21, 2019
Beautiful setting. Clean facilities
Sep 21, 2019
Very friendly staff - grounds were neat and clean. One suggestion -- a drop box for the cabin keys for use by those guests who wish to leave before the office opens. We had to leave before the office opened and my son left his key with another camper to return to you.
Sep 19, 2019
was nice to stay in spots that fit my rig nicely, usually they cram me into 80's spots and this time 90's, i always see tent trailers in 100 ft spots and see huge rigs in tight spots.
Sep 19, 2019
Unfortunately it was raining very hard, but the facility was great, we were in a RV site. I enjoyed the frogs and ducks. Everyone in the office was very welcoming.
Sep 18, 2019
Stormy weekend, but we still had fun.
Sep 18, 2019
The fishing ponds are great. The grounds are beautiful and well laid out. The cabins were nice. The playground was fun for the kids.
Sep 18, 2019
Great place, nice and quiet for a weekend getaway.
Sep 18, 2019
Our only, complaint/concern is that when we purchased an item from the gift shop that had a factory price on the item we were told that the price was incorrect. It was listed at $6.99 and after some stumbling from the cashier we ended up paying over $10 We understand price markup but also feel if it isn't posted it isn't ethical, it honestly made us feel as though your worker had a latte on us!!
Sep 18, 2019
I was sad that they closed at 6 pm, we arrived close to 7 pm and would of liked to buy firewood but were unable. We have camped at this koa many times over the years and I don't remember the office ever being closed so early.
Sep 17, 2019
Sites are small, hard to get bigger rugs in but it is a nice quiet place.
Sep 15, 2019
A little tight pulling into and out of our pull thru. We noticed others having the same problem.
Sep 15, 2019
They were very kind and accommodating. I called to say I was on my way but would be there after office hours and they stayed to wait for me. Very kind! Thank you!!
Sep 14, 2019
Only an overnight stay but would definitely recommend to others for an extended stay. Spacious sites and lovely grounds.
Sep 11, 2019
We thought the location was fantastic. Clean sites and friendly staff.
Sep 11, 2019
Amazing staff and campground! Our new go to camping spot. Great place for kids to be kids!
Sep 11, 2019
our four year old loves it here - playground, kids, ducks, mini golf, etc. we like it too - clean, pretty etc. we;ve stayed here twice - we were disappointed this last time tho - our campsite by the lake (next to the tents) was very small with no privacy. the campsite we had before across the lake (for the same price) was much roomier & private the wifi doesn't work not happy about that
Sep 11, 2019
We had an amazing stay at KOA and will definitely be returning, thank you so much for you kindness, understanding and superb customer service!
Sep 11, 2019
Only there one night but the office staff was very nice, spacious site, and the grounds were well kept. Did not use amenities so cannot comment on that.
Sep 10, 2019
It was understaffed. The bathrooms weren't cleaned the whole time we were there. I felt bad for the 2 women working,but the one had an "oh well"attitude. Very disappointed. Also ,men's urinals were leaking there was water everywhere and no caution sign up. Worst Koa I've ever been at. I feel like I should at least get some kind of a refund.
Sep 10, 2019
Always a great experience at Lynden. That's why we keep coming back. The place is well kept and maintained. Thank you
Sep 09, 2019
Excellent facilities, friendly staff. Quiet campground with fun family activities.
Sep 09, 2019
Pool-awesome (adult). tenting site nice, but VERY close. bathroom (men+women) needed attention. mens had a flood/clog during our stay. Neither had soap available on Fri + most of Sat. Loved the ducks! A credit to one staff member (dont know her name-young girl with long blond hair). She was AWESOME! Fri night party until about 2 am with nobody to tell them to quiet it down
Sep 08, 2019
They do need recycling bins!
Jul 06, 2020
Clean, Very Friendly and great customer service 👌
- Kristal Gollihar on Google
Jun 11, 2020
Great place. Friendly stuff. Loved our stay.
- Natalia V on Google
May 17, 2020
This place is so clean. Beautiful grounds. Customer service is 💯. We will for sure be back!
- Sarah Sonnentag on Google

Lynden / Bellingham KOA
Open All Year
8717 Line Road
Lynden, WA 98264
Check-In/Check-Out Times
RV Sites, Tent Sites
Check-in: 1:00 pm, Check-out: 12:00 pm
Accommodations, Kabins
Check-in: 2:00 pm, Check-out: 12:00 pm
Get Google Directions

© 2020 Kampgrounds of America, Inc.