Alert
We OPEN for Kamping! Our Office, General Store, Restrooms, Mini-Golf, & Paddle Boats are open with enhanced Covid-19 procedures. Our Playground is open and disinfected daily. You can fish in our lake - no license needed! Our Organized Activities are suspended until further notice. Happy Kamping!!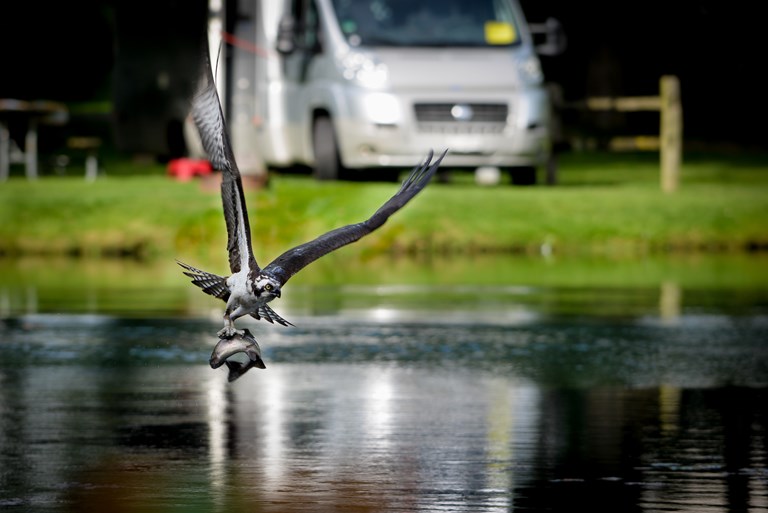 Lynden / Bellingham KOA Reviews
Spring into Summer!
Directions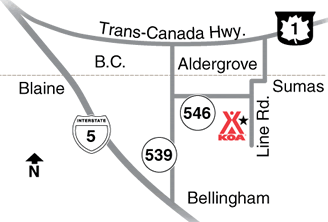 From I-5 N take Exit 256, Hwy 539, Guide Meridian. Travel 15 miles to Hwy 546, E Badger Rd, turn right. Travel 5 miles, turn right on Line Rd.
Get Google Directions
May 11, 2020
First time there and had a wonderful time!! Staff went out of the way to help with anything you needed. Was one of the nicest camp grounds we stayed at. Very clean and family friendly, already booked another weekend.
May 11, 2020
The staff were all so very friendly and helpful! Definitely will be returning soon
May 11, 2020
Very friendly staff- clean environment and quite at night! We enjoyed our time and plan to return!
May 11, 2020
Thanks for opening up the pool and being open for camping during this time!!!
May 11, 2020
The barking dogs was kind of a bummer
May 11, 2020
All staff members were great! Very friendly and helpful. Great amenities and the children loved the pond and fishing in it.
May 09, 2020
The camoground is nice and bathrooms and pool are clean. All the staff were helpful. Looking forward to coming back again.
May 05, 2020
Our stay was great! It was a bit disappointing that the bathrooms closest to our cabin were not in a functioning state and had to be locked, but we made do and had a great and relaxing weekend.
May 02, 2020
Stay was great. Very clean, well maintained camp sites.
Apr 30, 2020
We always have a wonderful time staying here. Thank you Lynden KOA!
Apr 21, 2020
We have been here before and the grounds were immaculate just like the first time we were there. During this difficult time it was nice to enjoy the camp ground and feel some normalcy. Other campers walked by and everybody waved or said hello keeping distance. Obviously the amenities were closed, but we were still able to fish in the little lakes and play putt putt golf.(for free) Thank you!
Apr 09, 2020
It is very clean, quiet and a very great place to get away. The property is very well maintained and looks nice. I had no worries about safety if my property when I left for work. Kudos to all involved with the KOA Lynden camp ground. I rate it a 10+
Apr 01, 2020
Sites were too small for a 42 ft 5th wheel. Park would be fun for families
Apr 01, 2020
Very beautiful place. Sites are pretty tight for rig our size. 39 foot motorhome.
Mar 28, 2020
Only stayed for 2 hours as. It was better to cross the border sooner rather than later as Canada tightened up the rules.
Mar 24, 2020
Everything was wonderful. It's a challenging time and I think it is a wonderful time to get away. This property was relatively clean and although staffing was a little light on day 1(Thursday), Friday a full staff came in to maintain the property. We left early on Saturday and looking forward to coming back again soon.
Mar 24, 2020
Very nice park. Will definitely come back.
Mar 23, 2020
Quiet location. Very pretty. Clean.
Mar 21, 2020
Had to cut our stay down to just one night here after picking up our Escape trailer from Sumas during the CoronaVirus panic. When we discovered that we had the wrong power cord, or thought we did, Ed brought out a new plug and attached it to our cord so that we could connect. He went way above and beyond for us. We will definitely be back when it's safe to travel again.
Mar 10, 2020
Beautiful park. Clean and friendly!
Feb 26, 2020
Off season stay, one night picking up new trailer. Full service site, every thing worked. Lovely place, too bad I could only stay overnight.
Feb 20, 2020
Amazing campground! Even in the off season everything is pristine condition!
Feb 20, 2020
Very nice park, however, because most of it is under winter rules, not much open, including bathrooms. Wifi is in need of upgrading. Would highly recommend during the remainder of the year though, just don't expect much in the winter.
Jan 16, 2020
We stayed through the holidays. Loved the gueese!
Jan 03, 2020
Beautiful Park.
Jan 02, 2020
It was great. The only issue was getting the password to the WiFi because the office was closed for the season. We did manage to get it through email.
Dec 30, 2019
A quiet a comfortable off-season stay allowing us to do our Christmas shopping in the USA!
Dec 06, 2019
Very disappointed with this stay, and the lack of communication that the amenities were closed. When I booked there was no mention of the amenities being closed anywhere on the site. I even stated that we would be arriving late. I didn't want to hook up, just park and sleep. I didn't even get a check-in email until Monday morning, three days later.
Dec 04, 2019
Thank you We didn't get to spend much time at our spot but found the camp to be very well kept and hope to visit again under much better circumstances.
Nov 13, 2019
we love this property and Lynden Wash. is a lovely little town. Just minutes from the Can/USA border
Nov 09, 2019
No Hoist seen the entire time ,sign no door to find a spot and fill out pay stub,
Nov 06, 2019
Was good for the most part. Bathrooms need work, especially shower. Nasty shower curtain and shower head bad
Nov 06, 2019
It was a pleasant looking campground. We unhooked our trailer however, we had to leave it there and find a motel because there were no bathrooms open. KOA campgrounds are my go to place to camp. I reserve online and I have never had a problem. I always go straight to reserve a site, Pick a site and pay. I did not see the notice that the bathrooms were closed for the season. A bummer. �
Nov 05, 2019
It was a late in the season stay. After the Canadian thanksgiving there were few visitors. Would love to stay again in the summer when the facilities are open, garbage is picked regularly and the office was open.
Nov 04, 2019
Lovely place!
Jul 06, 2020
Clean, Very Friendly and great customer service 👌
- Kristal Gollihar on Google
Jun 11, 2020
Great place. Friendly stuff. Loved our stay.
- Natalia V on Google
May 19, 2020
Gorgeous campground! We stayed in site #91 on the lake and loved it. Daughter fished from our sight and caught a catfish. Ducks with their ducklings learning to swim. Geese protecting their eggs. Huge frogs along the shore. Owl at night. Very friendly staff. It's nestled in a neighborhood so I was hesitant on booking it but was very satisfied. The lake sites feel very outdoorsy. The grounds are kept very, very well. We will definitely be back.
- L G on Google

Lynden / Bellingham KOA
Open All Year
8717 Line Road
Lynden, WA 98264
Check-In/Check-Out Times
RV Sites, Tent Sites
Check-in: 1:00 pm, Check-out: 12:00 pm
Accommodations, Kabins
Check-in: 2:00 pm, Check-out: 12:00 pm
Get Google Directions

© 2020 Kampgrounds of America, Inc.