Alert
We OPEN for Kamping! Our Office, General Store, Restrooms, Mini-Golf, & Paddle Boats are open with enhanced Covid-19 procedures. Our Playground is open and disinfected daily. You can fish in our lake - no license needed! Our Organized Activities are suspended until further notice. Happy Kamping!!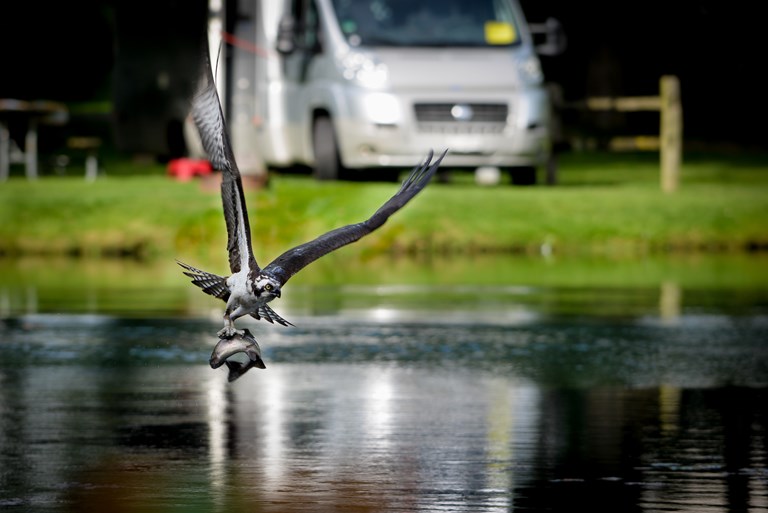 Lynden / Bellingham KOA Reviews
Spring into Summer!
Directions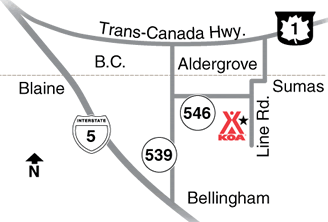 From I-5 N take Exit 256, Hwy 539, Guide Meridian. Travel 15 miles to Hwy 546, E Badger Rd, turn right. Travel 5 miles, turn right on Line Rd.
Get Google Directions
Jun 06, 2020
Had lots of fun on the paddle boats feeding the ducks! Mini putt was fun, beautiful camp site overlooking a pond. Everything was very clean, friendly staff, Great camping experience!
Jun 05, 2020
Park is beautiful, super clean and all staff very nice!
Jun 04, 2020
Have rarely stayed at such a beautiful park! Our 3 spots were on the little lake, all grassy and fairly level. This park is so well maintained-beautiful trees/bushes. Mini golf���Big drawback due to maintenance demand-almost constant noise of golf carts/small tractors running back and forth most of the day each of the 5 days we were there. No privacy, people walking in our spot to access fi
Jun 04, 2020
This is the best KOA I have ever stayed at. The staff was extremely kind and helpful. The cleanliness of the bathroom and the surrounding area was 100%. They were so many activities for the kids to do there was no way for them to become bored, We have already booked another five day stay! I recommend anyone and everyone stay at the Lynden Koa!
Jun 03, 2020
It was excellent. Thank you!
Jun 02, 2020
I was pleasantly surprised at how nice this facility is, clean, well laid out, spots for every type of camping.....a GREAT place for families. We were lakeside, in our trailer, walking the campground I saw many other great spots too! The outdoor kitchens, in a couple of different locations, such a great idea, and convenience for those tent campers that lack a place to clean up the dishes!
Jun 02, 2020
This place is GREAT!!! Clean, friendly staff and they mostly were teenagers, super helpful. This place has a lot to do. I appreciate a place to go when most places are closed. I would go back in a split second if I could. My only con would be - your side by side with your neighbor. This is not much of an issue for us, but FYI. Highly recommend!!!!
Jun 02, 2020
Staff is always super friendly and helpful. Grounds are Beautiful and well maintained. They kept everything sanitized and looking great. So many fun things to do.
Jun 01, 2020
Despite the downpour of rain, we had a good time and will be back again.
Jun 01, 2020
Access to site 16 for our pick-up/Travel-trailer combo VERY difficult. Site spacing too close for comfort. I realize you need to maximize cash flow given a fixed footprint of land, but. . this cheek-by-jowl spacing is a real turn-off.
Jun 01, 2020
The final night was rough. The campsite party near us was up until 4am with loud music and noise. But other than that, our stay was five-star. The staff was excellent. The campgrounds were immaculate. Fun activities like the pool, put-put golf, and paddle boating. We couldn't have had a better time!
Jun 01, 2020
Staff had great customer service, and very prompt, helpful, and friendly. Park was clean and well kept. All ammentites were as described and easily accessible. we enjoyed our stay.
Jun 01, 2020
Awesome campgrounds! The amenities were clean and well maintained, the ground were very beautiful! The staff was helpful and friendly. Lots to do and a perfect place for kiddos to play! We were very happy with our stay and cant wait to come back!
Jun 01, 2020
Ok, we have stayed here before and will come back however, our site pretty much flooded and that to me is not really ok. I think that something needs to be done to the site. I understand that it rain a ton but still. There was so much standing that you could hardly walk to our vehicle. Maybe some updating on site 95A would be good. Jami Rogge
May 31, 2020
Lovely campgrounds. First time staying there. Visited about 9 years ago and pleased to see the place has been well maintained. Will be back.
May 31, 2020
Campground was clean. Staff was friendly. After adult swim there were intoxicated adults who lingered in the pool with open wine bottles at the pools edge. Unattended kids under age 10 in the pool. It just felt a little out of control.
May 31, 2020
Had a great visit!
May 31, 2020
Great place. Peaceful place and friendly stuff.
May 30, 2020
Very well maintained property with friendly staff. Will be back again!
May 30, 2020
Very helpful staff !
May 30, 2020
Great place and people, highly recommend
May 28, 2020
really great place. friendly staff. clean. great amenities. We will definitely be back!
May 28, 2020
Grounds are well maintained. Staff courteous and helpful. Facilities clean. Nice activities for kids, paddle boats and mini golf, playground are nice to have. Our sight was large and almost level. We have reserved for the last week in June.
May 28, 2020
I mentioned to the girls that only 2 sinks were adequately functioning Not allowing enough water to properly hand wash A vital part of our live today
May 27, 2020
We had a great time, you made us feel so comfortable during a crazy time in our world!
May 27, 2020
We had a great stay. The staff is amazingly friendly from check-in to check-out! We parked by the lake and had an amazing setting. The onsite store has plenty of provisions to help when in need, and the no-coin showers were a huge plus. My only comment/suggestion is to somehow get full hook-ups around the lake, AND to get a hose-bib connection at the (1) dump station for full flushing.
May 27, 2020
Super helpful and extremely friendly staff.
May 27, 2020
Only 2 bathrooms for the entire camp ground. Bathroom closest to our site was often dirty and out of Soap / Paper towels / Toilet paper.
May 27, 2020
It was great ! You have a really nice facility , and your staff are friendly and helpful.
May 26, 2020
Beautiful Campground. In the current world situation I was a little taken back by the lack of social distancing. The playground was open and we were told it was disinfected only one time a day. The pool was also open. We did not observe any of the staff wearing any PPE (face masks or gloves). We will stay again in the future but will not make any plans until there is a vaccine available.
May 26, 2020
What a great place to stay!!! Everyone working there makes you feel so welcome!! Will definitely come back soon!
May 26, 2020
Staff and other campers were super friendly! Bathrooms were clean, pool was clean, there is so much to do and overall just a beautiful location. Wish we could've stayed longer!
May 26, 2020
I love this place! We had an amazing time as always! So clean and well taken care of. One of our favorite spots
May 26, 2020
We love it here! All of the staff are amazing! Thank you all!
May 26, 2020
Clean, friendly and helpful staff. My family enjoyed our stay. We will be back.
May 26, 2020
Wonderful staff and excellent park!!!!
May 26, 2020
This was the first time we have ever stayed at a KOA and it was wonderful! My husband and I along with our three children (11,7,3) had a wonderful time! The staff was hands down amazing and the amenities were awesome! We will be back! We stayed in a cabin and it was just what our family needed! THANK YOU!!!
May 26, 2020
Such a great place. Tons for kids to do and just a beautiful camp ground.
May 26, 2020
The owner was very abrasive and rude, we payed ahead of time for 2 sights next to each other and then somone book over one of the sights and the owner wasn't willing to do anything about it luckily the girl at the front counter worked to figure it out. On the last day it rained all morning and our sight had 0 water dispersion and we woke up in deep puddles of water all in all would not recommend
May 24, 2020
Nice place, friendly staff. Only prob was worker ran lawn mower right next to my RV hitting it with rocks. NOT Good. Defacing scratches on decal covering will devalue RV. I had to tell him to stop. He was nice & stopped. This is the only RV park I ever stayed in that did this. All others cut & trim grass only in vacant spots. You might want to consider this in the future.
May 19, 2020
Everyone was very helpful, the park was clean.
May 19, 2020
So refreshing to be out camping! The staff did an incredible job keeping this place clean and sanitized. Outstanding!
Jul 06, 2020
Clean, Very Friendly and great customer service 👌
- Kristal Gollihar on Google
Jun 11, 2020
Great place. Friendly stuff. Loved our stay.
- Natalia V on Google
May 17, 2020
This place is so clean. Beautiful grounds. Customer service is 💯. We will for sure be back!
- Sarah Sonnentag on Google

Lynden / Bellingham KOA
Open All Year
8717 Line Road
Lynden, WA 98264
Check-In/Check-Out Times
RV Sites, Tent Sites
Check-in: 1:00 pm, Check-out: 12:00 pm
Accommodations, Kabins
Check-in: 2:00 pm, Check-out: 12:00 pm
Get Google Directions

© 2020 Kampgrounds of America, Inc.