Alert
We OPEN for Kamping! Our Office, General Store, Restrooms, Mini-Golf, & Paddle Boats are open with enhanced Covid-19 procedures. Our Playground is open and disinfected daily. You can fish in our lake - no license needed! Our Organized Activities are suspended until further notice. Happy Kamping!!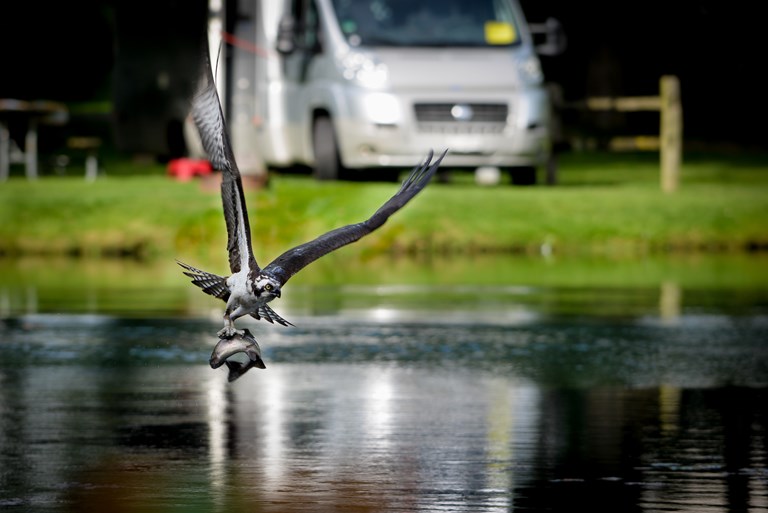 Lynden / Bellingham KOA Reviews
Spring into Summer!
Directions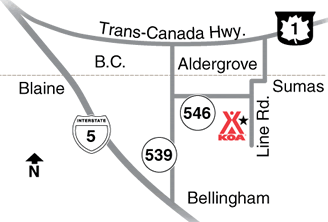 From I-5 N take Exit 256, Hwy 539, Guide Meridian. Travel 15 miles to Hwy 546, E Badger Rd, turn right. Travel 5 miles, turn right on Line Rd.
Get Google Directions
Sep 08, 2018
Great as always. Staff is friendly and capable. Great facilities, everything we need. Nice and quiet in the shoulder seasons. Pretty hectic in the summer as this is very young family oriented.
Sep 08, 2018
Care of grass around pull through sites has suffered obviously since Marty passed. Water and reseeding needed. Why would anyone want to pull in dusty and unswept pad?
Sep 08, 2018
The Lynden KOA is a nice quiet place to stay except for the owls and the coyotes, but who minds the sounds of a a few of natures creatures?
Sep 07, 2018
We really enjoyed our selves friendly staff and customers Only wishes you could have kept the downstairs pool table and coffee shop open on Monday
Sep 07, 2018
We had a good time during our stay, I loved the 80s dance, and ET, The only thing that could of been improved was the wi fi connection, the only time I could get on it was at 5 am. We first stayed here when my kids were young back in the late 80s early 90s. Your campground was our firs introduction to smores, which have becoming a camping tradition ever since that say.
Sep 05, 2018
Everything is great but the wifi...too weak and unreliable.
Sep 05, 2018
Loved the small feel of the campground and all the activities they put on for the campers. Tractor rides, cribbage tournament, dance party and more... lots of fun. The pool and paddle boats are super fun. The putt putt course could use some TLC, cut back the bushes and even a leaf blower through out the day. We had a great time and will be back for more fun!! Thank you!
Sep 05, 2018
Was an amazing long weekend! Tonnes of activities for the whole family! Waiting for reservations to open for 2019, to book again!! All around, great campground!
Sep 05, 2018
Loved it! Will be back for sure!
Sep 04, 2018
We have been spending the Labor Day weekend at the Lynden KOA with our 3 sons ,3 daughters in law and our 6 grand children for many, many years. We have always been treated like honored guests. The grounds are well maintained and clean. The activities are fun and well attended. The staff couldn't be nicer and see to enjoy their jobs. This year we missed Marty. He was a huge presence. Thanks
Sep 04, 2018
We had a fantastic time as always. It has been our 8th years coming here. We love all the upgrades that have been done. One comment is that we wished they had better WIFI. It does work, but only close to the front office and it is VERY slow.
Sep 04, 2018
As always .... an amazing weekend!!! I'm pretty sure this was our 6th year in a row of staying at the Lynden KOA and it never disappoints! From our group of friends to the host family & crew... Thank you for allowing us to make memories with you �ϋ���ϋ�
Sep 04, 2018
We love Lynden KOA and how it feels so safe for our young kids to roam free with their friends, explore and ride around all day! We have been going every year for 5 summers in a row and we look forward to many more...
Sep 04, 2018
Everything and everyone was great. Very clean place for a campground. My only critique is that pool is so cold!
Sep 04, 2018
Nothing but great things. We had a great time & will be back.
Sep 04, 2018
Last year we loved it and this year we were disappointed. Our campsite was pure dirt. Everything had to be washed down when we returned and we expect some of that from camping but this was too much. We left a day early because we were so unhappy with the site. The wasps were really attracted to the dirt so we ended up spending most of our time inside the trailer to escape them.
Sep 04, 2018
We've been here a few times and have many happy memories. This time was less so. Stayed in site 122 which was so dusty. Took day to wash everything including shoes, suitcases, dog, containers, tent hi once home. Just filthy. Pool was freezing, never an issue before. Dance party was dumb - out in nature and music pounding to 11?? Fun idea but over did it. Mini golf greens all ripped. Movie was go
Sep 03, 2018
You guys are great. Thanks for your patience with us newby rvers. Looking fwd to the fall colors here in the park. Thanks to all the staff for your kindness and understanding.
Sep 03, 2018
Probably the best campground that we have ever stayed in! Everything you need to spend a week or two with the family! Sorry we could not stay longer! Staff was super helpful and friendly!
Sep 01, 2018
Amazing stay! Staff and environment was perfect! Will definitely be back and will recommend to all.
Sep 01, 2018
Just a quick stay but staff was friendly bathrooms etc were clean. All in all a good time!
Sep 01, 2018
Great campground. Lots of things to do for kids; swimming, biking, fishing, mini golf and pedal boats! The grounds are clean, the staff are very friendly and there are hot showers!! Lots of fun. Will be back!!
Sep 01, 2018
The Good: This is a great location. Great place if you have kids, with many activities for them to do. Nice place for the dogs. Most of the staff was very friendly. The Bad: The pictures make it look nicer than it is. Late night noise was an issue during our stay, not great if you have to get up and do anything early in the morning. Don't count on WIFI working well or at all in your camp.
Sep 01, 2018
Only there for a few days. The campground and shower facilities were very clean. Staff was very courteous and helpful. Will definitely stay again.
Sep 01, 2018
I'm widowed and loved traveling with my husband.We always did koa's.My dog and I are now trave!ing on our own in a small rv.Will be going to Alabama in a few days.Family and friends concerned for my safety,but happy will be staying at koa's the whole trip.Linda Clark.
Aug 30, 2018
This is our 5th visit to your campsite and we have a wonderful time every year. We are going to try a new Ko next year, but plan to return to this koa in 2020.
Aug 30, 2018
1. We left our new propane bottle to be filled. When we picked it up someone had stolen it and left us an old rusty one. Staff did nothing about it. Washroom facilities are not adequate for number of campers. Had to wait to use bathroom and showers every day.
Aug 29, 2018
Thanks. Great park.
Aug 28, 2018
Stay here a lot, Love the place but this was our most disappointing stay. No Campfires allowed, which may not have been the KOA's fault but should have been communicated to us before we arrived. Also, the Wifi was terrible! Going in and out all the time and very slow, It was extremely frustrating.
Aug 28, 2018
We booked one of the lake front campsites and it was beautiful. Our site was very large and easy to access. The staff were very friendly and helpful and the whole campground was incredibly clean. Only negative I could say anything about was the location of the sanitation dump was a little hard to access and oddly close to the children's playground. Overall we truly enjoyed our stay and will return
Aug 28, 2018
the site was clean and beautifully landscaped. the kids loved the extra activites available to them, (paddle boating, mini golf). i was hoping for more trees between sites for privacy.
Aug 28, 2018
WE HAD A VERY NICE TIME.
Aug 28, 2018
My daughter and I went to the Lynden KOA for a staycation. We felt perfectly safe. We rode our bicycles around, pedaled in the boats on the lake and went for a swim. The park was full and I have a 20' gooseneck RV. The reason for 4 stars-there were nicer camping spots available next to the lake that my trailer would have fit in -I was not given that option at check in. Also limited bathrooms.
Aug 27, 2018
We had so much fun, it's our favourite trip of the summer. Can't wait until next year!! Thank you to Vicki for all your help organizing our 6 groups / 25 people!
Aug 27, 2018
Another fabulous stay! Our favorite camping spot by far!!!
Aug 27, 2018
As always, an amazing visit.
Jul 06, 2020
Clean, Very Friendly and great customer service 👌
- Kristal Gollihar on Google
Jun 11, 2020
Great place. Friendly stuff. Loved our stay.
- Natalia V on Google
May 19, 2020
Gorgeous campground! We stayed in site #91 on the lake and loved it. Daughter fished from our sight and caught a catfish. Ducks with their ducklings learning to swim. Geese protecting their eggs. Huge frogs along the shore. Owl at night. Very friendly staff. It's nestled in a neighborhood so I was hesitant on booking it but was very satisfied. The lake sites feel very outdoorsy. The grounds are kept very, very well. We will definitely be back.
- L G on Google

Lynden / Bellingham KOA
Open All Year
8717 Line Road
Lynden, WA 98264
Check-In/Check-Out Times
RV Sites, Tent Sites
Check-in: 1:00 pm, Check-out: 12:00 pm
Accommodations, Kabins
Check-in: 2:00 pm, Check-out: 12:00 pm
Get Google Directions

© 2020 Kampgrounds of America, Inc.