Alert
We OPEN for Kamping! Our Office, General Store, Restrooms, Mini-Golf, & Paddle Boats are open with enhanced Covid-19 procedures. Our Playground is open and disinfected daily. You can fish in our lake - no license needed! Our Organized Activities are suspended until further notice. Happy Kamping!!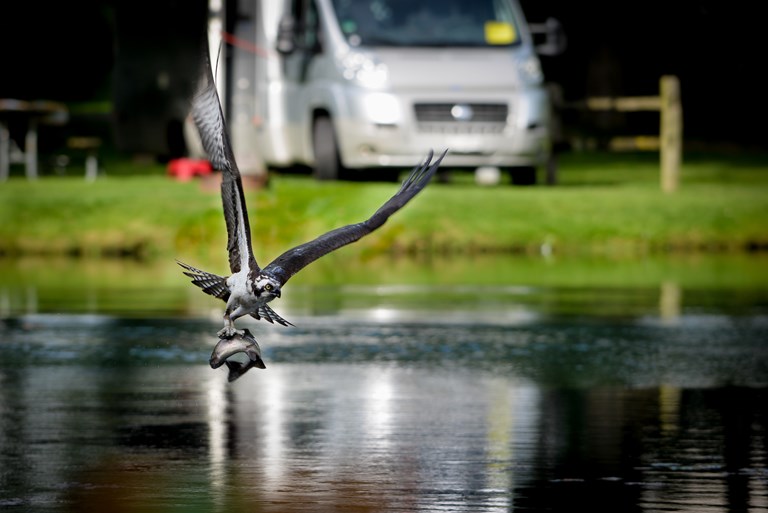 Lynden / Bellingham KOA Reviews
Spring into Summer!
Directions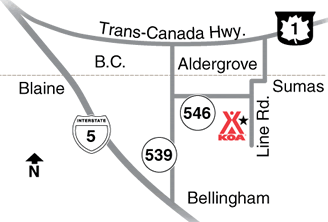 From I-5 N take Exit 256, Hwy 539, Guide Meridian. Travel 15 miles to Hwy 546, E Badger Rd, turn right. Travel 5 miles, turn right on Line Rd.
Get Google Directions
Jun 21, 2020
Beautiful grounds. Nice amenities. Wish the grounds were bigger because it looked way larger on your map. Lots of kids and definitely family friendly.
Jun 21, 2020
Incredible place for kids, awesome and friendly staff, great selection at camp store, gorgeous flowers, beautiful laid out grounds, so clean, loved that the kids were able to catch fish plus thrilled your pool was open. THANK YOU����
Jun 20, 2020
We love the Lynden KOA. Beautiful, peaceful and well maintained. Always greeted by friendly staff!
Jun 18, 2020
Very clean and nicely kept.
Jun 18, 2020
Always love staying with you guys.. feels like home. Thank you for such a beautiful stay.
Jun 17, 2020
We are very disappointed in the lack of enforcement of quiet hours on the campsites. The group of campers who were camped right next to us were partying it up Saturday night until past 11 pm. Puked next to our site. No one from the campground patrolled. Other campers were yelling at the group to shut up. I send an email directly to Lynden KOA with my complaint, yet no response.
Jun 15, 2020
This is an amazing place. Family friendly and the staff is friendly and helpful.
Jun 15, 2020
Very polite employees and very well maintained campground would difinitley recommend
Jun 15, 2020
The staff was wonderful. The kids and I had an amazing time and will be back.
Jun 14, 2020
Thanks for having such a clean campground. Can't wait to get back there. BZ
Jun 13, 2020
Alisha and the young lady that helped me book my return were excellent and clearly took pride in the resort and their jobs! Loved your resort, coming back with a large group this summer.
Jun 09, 2020
Great facility, very clean, lots for the kids to do as well. My only complaint is that there were a number of loud groups of kids running around and being kids late in the evening (after 10PM) over the weekend. Thank you!
Jun 09, 2020
This is by far the nicest KOA we've ever stayed at! The grounds are beautiful and everything is well maintained and kept up. Looking forward to coming back!
Jun 08, 2020
Loved it....grounds, bathrooms everything was clean! Staff working were very friendly and helpful. A lot to do, especially if you have kids �
Jun 08, 2020
We had a fabulous time!
Jun 08, 2020
We had a great time! So much fun stuff for the kids to do... mini golf, swimming pool, paddle boats, fishing, biking. Awesome!
Jun 08, 2020
Liked it. The site we had (95B) only had a 20amp beaker for my 30amp hook up. When we used 2 appliances at one time (microwave, coffee pot, electric heater, etc) it would pop the 20amp breaker. Web site says 30/50 amp site but ours was a 20/40 site.
Jun 08, 2020
It was fun. Family had a blast. There was one camp that was pretty loud til midnight but it definitely didn't ruin our weekend. Olive and Alicia's customer service was pretty dope/awesome. They did great. Appreciate the memories.
Jun 07, 2020
Beautiful clean park. Well maintained. Friendly people. Lots of room to walk around.
Jun 06, 2020
Had lots of fun on the paddle boats feeding the ducks! Mini putt was fun, beautiful camp site overlooking a pond. Everything was very clean, friendly staff, Great camping experience!
Jun 05, 2020
Park is beautiful, super clean and all staff very nice!
Jun 04, 2020
Have rarely stayed at such a beautiful park! Our 3 spots were on the little lake, all grassy and fairly level. This park is so well maintained-beautiful trees/bushes. Mini golf���Big drawback due to maintenance demand-almost constant noise of golf carts/small tractors running back and forth most of the day each of the 5 days we were there. No privacy, people walking in our spot to access fi
Jun 04, 2020
This is the best KOA I have ever stayed at. The staff was extremely kind and helpful. The cleanliness of the bathroom and the surrounding area was 100%. They were so many activities for the kids to do there was no way for them to become bored, We have already booked another five day stay! I recommend anyone and everyone stay at the Lynden Koa!
Jun 03, 2020
It was excellent. Thank you!
Jun 02, 2020
I was pleasantly surprised at how nice this facility is, clean, well laid out, spots for every type of camping.....a GREAT place for families. We were lakeside, in our trailer, walking the campground I saw many other great spots too! The outdoor kitchens, in a couple of different locations, such a great idea, and convenience for those tent campers that lack a place to clean up the dishes!
Jun 02, 2020
This place is GREAT!!! Clean, friendly staff and they mostly were teenagers, super helpful. This place has a lot to do. I appreciate a place to go when most places are closed. I would go back in a split second if I could. My only con would be - your side by side with your neighbor. This is not much of an issue for us, but FYI. Highly recommend!!!!
Jun 02, 2020
Staff is always super friendly and helpful. Grounds are Beautiful and well maintained. They kept everything sanitized and looking great. So many fun things to do.
Jun 01, 2020
Despite the downpour of rain, we had a good time and will be back again.
Jun 01, 2020
Access to site 16 for our pick-up/Travel-trailer combo VERY difficult. Site spacing too close for comfort. I realize you need to maximize cash flow given a fixed footprint of land, but. . this cheek-by-jowl spacing is a real turn-off.
Jun 01, 2020
The final night was rough. The campsite party near us was up until 4am with loud music and noise. But other than that, our stay was five-star. The staff was excellent. The campgrounds were immaculate. Fun activities like the pool, put-put golf, and paddle boating. We couldn't have had a better time!
Jun 01, 2020
Staff had great customer service, and very prompt, helpful, and friendly. Park was clean and well kept. All ammentites were as described and easily accessible. we enjoyed our stay.
Jun 01, 2020
Awesome campgrounds! The amenities were clean and well maintained, the ground were very beautiful! The staff was helpful and friendly. Lots to do and a perfect place for kiddos to play! We were very happy with our stay and cant wait to come back!
Jun 01, 2020
Ok, we have stayed here before and will come back however, our site pretty much flooded and that to me is not really ok. I think that something needs to be done to the site. I understand that it rain a ton but still. There was so much standing that you could hardly walk to our vehicle. Maybe some updating on site 95A would be good. Jami Rogge
May 31, 2020
Lovely campgrounds. First time staying there. Visited about 9 years ago and pleased to see the place has been well maintained. Will be back.
May 31, 2020
Campground was clean. Staff was friendly. After adult swim there were intoxicated adults who lingered in the pool with open wine bottles at the pools edge. Unattended kids under age 10 in the pool. It just felt a little out of control.
May 31, 2020
Had a great visit!
May 31, 2020
Great place. Peaceful place and friendly stuff.
May 30, 2020
Very well maintained property with friendly staff. Will be back again!
May 30, 2020
Very helpful staff !
May 30, 2020
Great place and people, highly recommend
May 28, 2020
really great place. friendly staff. clean. great amenities. We will definitely be back!
May 28, 2020
Grounds are well maintained. Staff courteous and helpful. Facilities clean. Nice activities for kids, paddle boats and mini golf, playground are nice to have. Our sight was large and almost level. We have reserved for the last week in June.
May 28, 2020
I mentioned to the girls that only 2 sinks were adequately functioning Not allowing enough water to properly hand wash A vital part of our live today
Jul 06, 2020
Clean, Very Friendly and great customer service 👌
- Kristal Gollihar on Google
Jun 11, 2020
Great place. Friendly stuff. Loved our stay.
- Natalia V on Google
May 19, 2020
Gorgeous campground! We stayed in site #91 on the lake and loved it. Daughter fished from our sight and caught a catfish. Ducks with their ducklings learning to swim. Geese protecting their eggs. Huge frogs along the shore. Owl at night. Very friendly staff. It's nestled in a neighborhood so I was hesitant on booking it but was very satisfied. The lake sites feel very outdoorsy. The grounds are kept very, very well. We will definitely be back.
- L G on Google

Lynden / Bellingham KOA
Open All Year
8717 Line Road
Lynden, WA 98264
Check-In/Check-Out Times
RV Sites, Tent Sites
Check-in: 1:00 pm, Check-out: 12:00 pm
Accommodations, Kabins
Check-in: 2:00 pm, Check-out: 12:00 pm
Get Google Directions

© 2020 Kampgrounds of America, Inc.