Alert
We OPEN for Kamping! Our Office, General Store, Restrooms, Mini-Golf, & Paddle Boats are open with enhanced Covid-19 procedures. Our Playground is open and disinfected daily. You can fish in our lake - no license needed! Our Organized Activities are suspended until further notice. Happy Kamping!!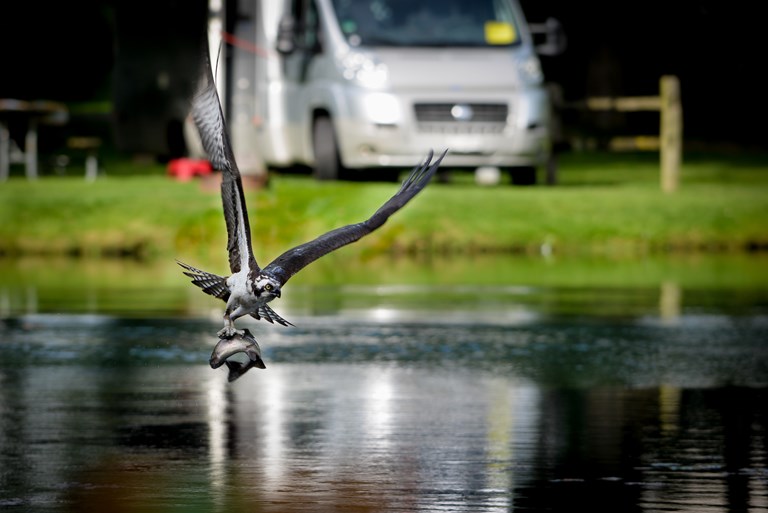 Lynden / Bellingham KOA Reviews
Spring into Summer!
Directions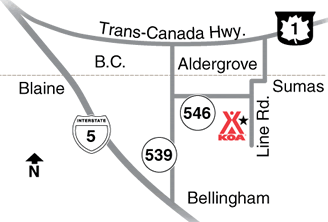 From I-5 N take Exit 256, Hwy 539, Guide Meridian. Travel 15 miles to Hwy 546, E Badger Rd, turn right. Travel 5 miles, turn right on Line Rd.
Get Google Directions
Oct 02, 2018
We had an amazing time. The bathrooms were clean, the girl in the store was wonderful. Can't wait to come back next summer.
Oct 01, 2018
I have come to this KOA since being a kid, and now I'm bringing my own. We always have a great time and would highly recommend this spot. All the staff are friendly and accommodating. Thank you for the great weekend!
Sep 30, 2018
Pool dirty, Pull thru Sites need to be updated and repaired, broken concrete, grass really bad shape if any at all.
Sep 26, 2018
We stayed two nights and had a nice stay. In the spirit of feedback rather than criticism I will just say a couple things. Your lanes are very narrow for RVs, you could use another bathroom or two, and finding you isn't easy. On the positive side you have a lovely spot there. We enjoyed watching the geese and ducks. Good for family camping
Sep 25, 2018
Great for families, bathrooms and showers were clean and nice
Sep 25, 2018
Sites are too small. We had to park our pickup hauling our 37 foot fifth wheel in a remote lot. Saw another identical model trailer have same problem. Park was otherwise nice.
Sep 25, 2018
Not happy that we had an ax stolen while we were away from the campsite for a few hours-an ax we'd hidden under a chair so someone was rifling thru our stuff. Then the next day we were gone for a few hours and came back to find our wood had been stolen too. The campground's response was they never have things get taken from sites. I can't believe we're the only ones. Camp elsewhere
Sep 25, 2018
We came in late and the space we were assigned was flooded with water. We were able to take another space that was on the late check in list so it worked out okay. I have a 37 ft motorhome and was towing an enclosed 12 ft trailer. The turns were very tight and we didn't really fit in the space very well. The trailer was on the grass. I am very glad the park was not full.
Sep 23, 2018
It was a perfectly clean and functional KOA but the owners seem a little clueless when it comes to enforcing quiet time. At 11:15pm we had to call the after hours number about a party going on in the adjacent spot. At other KOA's the owners have made sure to shut things down at 10. These people didn't care.
Sep 21, 2018
Great campground overall and folks were very pleasant who worked there. Love the layout and how beautiful it is. I think they could do a better job of offering organized activities for kids and with the check-in process in general. The concrete KOA has a fantastic check-in experience.
Sep 21, 2018
The spot we were given when we arrived was unsatisfactory. We couldn't get our RV level and we were on all dirt. There was no grass so it was very dirty. We've always had grassy spots so next time I will have to be more clear. Otherwise it was great.
Sep 21, 2018
The camping cabin my husband and Daughter was staying in was infested with bugs, which was disgusting. They saw 40+ bugs in one night. But the lack of response has been worse - my husband had to call multiple times to reach a manager, the manager said she would check it out, and she hasn't called him back. We still don't know -are they bed bugs or not? Such a poor way to treat paying customers!
Sep 21, 2018
Very clean every one was very friendly. We loved it there ��
Sep 21, 2018
Right from the start we were treated by friendly and professional employees. Also, the sites were clean and wide enough so you weren't parked right on top of someone else. The campground is beautiful with ponds, lakes and nice walking areas. Whoever is taking care of the grounds should be given a pat on the back. Way-to-go!
Sep 20, 2018
Very helpful staff but the office was not open for long enough. Wifi reception really needs to be improved
Sep 19, 2018
Amazing place!!! Easy to find, easy to park and very helpful staff. This park is huge and has so many amenities. We met a number of people who said they have been coming here for YEARS (one person had been coming for over 30 years!). We will definitely be coming back!!!
Sep 18, 2018
Lynden KOA is a great campground! We stayed in a water/electric RV site by the lake. No sewer hookup but those sites were definitely nicer than the RV sites above the lake. Fishing in the lake was fun. We caught (and released) a ton. Close to cute downtown Lynden. We will definitely be back!
Sep 18, 2018
The park is beautiful. I enjoyed the lakeside spot. Wifi was unusable. I wish the quiet hours were enforced as there were loud camper voices up to 1am. Otherwise I would give 5 stars.
Sep 18, 2018
Excellent stay. Super friendly staff. Thank you.
Sep 18, 2018
Beautiful areas, quiet and great staff!
Sep 18, 2018
Beautiful park-like setting. We loved it! And grandchildren had a great time catching fish in lake!
Sep 17, 2018
Great staff. Pull through Site quite cramped. 18" between awning and adjacent camper. 50 amp power not working-30 was ok as no ac required, but did pull all 30 amps that was available. Maintenance fellow tried very hard to repair, but it had bigger issues.
Sep 17, 2018
We had an amazing time. Even with all the rain the bathrooms were always clean and not muddy. We will be back!
Sep 17, 2018
We enjoy the cabin and the fire pit but we missed our coffee in the mornings and the boat peddling. The washrooms cleanliness was not the best, specially in the showers. We suggest you keep the coffee shop open all year round.
Sep 17, 2018
Great stay. Unfortunately we were given mis-information when booking for the "appreciation weekend" which cost us about $90 more than we should have paid
Sep 17, 2018
We love the campground however when it rains, it is very muddy.
Sep 17, 2018
It was just what we needed, very relaxing.
Sep 17, 2018
very disappointed with the amenities this time of year, each other time we have stayed there it was wonderful, this time with the weather being terrible we went to use the games room and it was all shut down, this would have been a great opportunity to everyone to use that room and enjoy the games that had been available all year, even if that room was just open on weekends
Sep 17, 2018
We were pleased with the very friendly service in the office, and the first impressions we got when arriving. A very clean, beautiful and well managed KOA, indeed. This is probably the most picture perfect campground we have stayed in. A fish pond, a pool, mini golf, outdoor lounge area, indoor lounge next to office, lots of lovely, private tent and small trailer sites as well as great pull thrus
Sep 17, 2018
As rainy as the weather was we had a wonderful time. Lots to do for kids on the breaks from the rain. Def will be back
Sep 16, 2018
Nice check in. Spots close to each other, had problems with power post, no tremendously redeeming features
Sep 15, 2018
Wonderful, clean campground.
Sep 14, 2018
It was very quiet there, just us and lots of wonderful trees and ponds, and geese. We had been there before and were glad to see it had not changed. One of the loveliest KOA campgrounds we've ever been to, in fact probably is the loveliest.
Sep 12, 2018
I have stayed at this KOA for years and have always enjoyed it. But over the last 3 or 4 years I have found communication very poor. I my family and friends phone for days and no one answers the phone (summer or the rest of the year). My daughter got charged twice for Labor Day weekend. My truck broke down and we could not get our trailer till 2 and we're charged a whole day instead of a late fee
Sep 12, 2018
We checked in late in the day with no reservation for just one night. The front desk was efficient and friendly. It was raining so not able to view the park at check-in. But the next morning we discovered a lovely park in every sense. Old big trees, playground, pond, beautiful setting and very quiet. Next time we will stay longer.
Sep 12, 2018
Very nice site. Nicely landscaped and friendly staff. We thought you were closer to Bellingham though, but meant we just went home via the Sumas border crossing.
Sep 11, 2018
Wonderful as usual. Very clean campground, beautifully landscaped and friendly staff. Too bad it rained all weekend.
Sep 11, 2018
The park has deteriorated over the years. Needs to have the sites cleaned better. Leaves sticks dog hair needs picking up !
Sep 11, 2018
We have stayed here a few times and it is always very good, but it is time for them to fix up the Mini Golf as it is tired. A great place for young and older alike.
Sep 10, 2018
stayed at a Kabin with 4 boys for a birthday party- fun was had by all and the other families that dropped of their kids hadn't been to the Lynden KOA before and each made comments they plan to take their families there. Very clean, friendly staff, great experience!
Sep 10, 2018
We rented a cabin for 2 nights. It was exactly as we'd hoped - clean, rustic, simple. The grounds were beautiful and check-in with our late arrival was easy. My constructive criticism would be that we didn't know what amenities were available (it would have been nice if the person checking us in would have told us; we found out from fellow campers) and the bathroom had a faint urine odor.
Jul 06, 2020
Clean, Very Friendly and great customer service 👌
- Kristal Gollihar on Google
Jun 11, 2020
Great place. Friendly stuff. Loved our stay.
- Natalia V on Google
May 19, 2020
Gorgeous campground! We stayed in site #91 on the lake and loved it. Daughter fished from our sight and caught a catfish. Ducks with their ducklings learning to swim. Geese protecting their eggs. Huge frogs along the shore. Owl at night. Very friendly staff. It's nestled in a neighborhood so I was hesitant on booking it but was very satisfied. The lake sites feel very outdoorsy. The grounds are kept very, very well. We will definitely be back.
- L G on Google

Lynden / Bellingham KOA
Open All Year
8717 Line Road
Lynden, WA 98264
Check-In/Check-Out Times
RV Sites, Tent Sites
Check-in: 1:00 pm, Check-out: 12:00 pm
Accommodations, Kabins
Check-in: 2:00 pm, Check-out: 12:00 pm
Get Google Directions

© 2020 Kampgrounds of America, Inc.