Alert
We OPEN for Kamping! Our Office, General Store, Restrooms, Mini-Golf, & Paddle Boats are open with enhanced Covid-19 procedures. Our Playground is open and disinfected daily. You can fish in our lake - no license needed! Our Organized Activities are suspended until further notice. Happy Kamping!!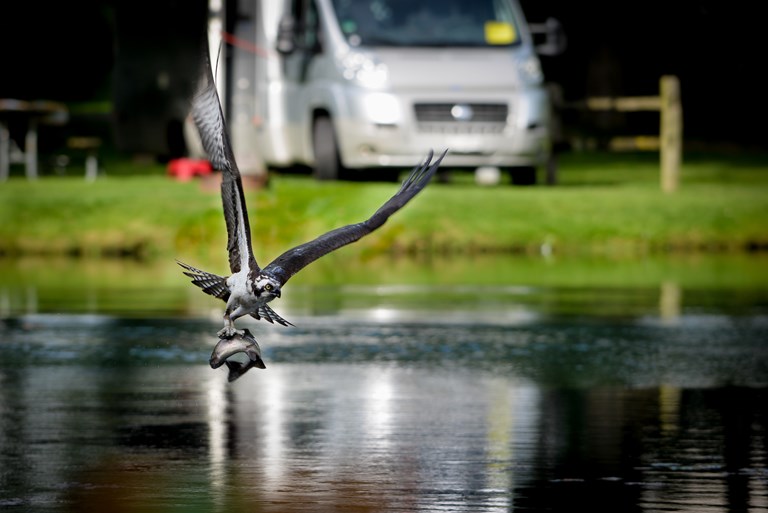 Lynden / Bellingham KOA Reviews
Spring into Summer!
Directions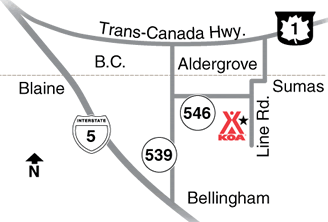 From I-5 N take Exit 256, Hwy 539, Guide Meridian. Travel 15 miles to Hwy 546, E Badger Rd, turn right. Travel 5 miles, turn right on Line Rd.
Get Google Directions
May 21, 2019
Beautiful campground, wonderful people. Cabins were clean and comfortable. Movie night, dance, and bingo night was fun and entertaining as always!! My only wish is that there was a more wheelchair accessible bathroom. We will see you next year!
May 21, 2019
All was perfect. We loved the improvements which have been made to the campsite this past year . A great family campground with lots of activities.
May 21, 2019
Great facilities, vibe, and even weather this past weekend! Thanks KOA!
May 21, 2019
Friendly staff. Super gorgeous place. Just love going there. Thanks for being so nice to my dogs. Just love Vicky Marten. So nice.
May 21, 2019
Always enjoy staying and really like the work and upgrades they are doing to the campground.
May 21, 2019
unfortunately, there was a neighbor on the 109 who was keeping his car turned on, in order to charge his electronics. Also, the same guy was fishing and returning all the hurt fishes to the pond, sad to see. I saw him throwing human food into the pond to feed the Ducks. Same guy who caught a Duck instead of a Fish...too sad. I suggest a frequent patrol and a punishment for this type of behavio
May 21, 2019
We love this place !!! By far the best KOA, we have stayed at or seen. The family show their passion for the business and makes sure to get to know the people staying there feel like they are part of the family. I would reccomend this camp ground in a heart beat.
May 20, 2019
Very Nice and Clean and the staff was very helpful.
May 20, 2019
This was my first time camping at a KOA and I was very impressed with the grounds and activities that they provided. It was easy to get in and out of and a lot of fun staying there!!
May 20, 2019
This camper comment has been removed by KOA due to profanity.
May 18, 2019
It is one of the nicest and quietest Koa 's I have ever stayed at...and very beautiful grounds..very clean washrooms and grounds..
May 17, 2019
Great place to come and chill out.
May 17, 2019
Love the Lynden KOA. A great location and everyone so friendly.
May 17, 2019
The staff was extremely helpful. The grounds were clean and well maintained. We didn't realize prior to getting there that there are not fire pits at every site.
May 17, 2019
Can't wait to come back and play mini golf
May 17, 2019
The park was well laid out, clean and in good order. The office management and office staff lacked in basic customer service skills. Every time I had to interact with staff I was treated very poorly.
May 17, 2019
I was disappointed that none of the amenities were open for our trip and that there was no notice regarding that. I have been to this location many times as a child. I brought my kids to create memories only to find out that everything else didn't open until the following weekend. They were disappointed that they didn't get to play mini golf or go paddle boating.
May 17, 2019
Had a great stay in one of the cabins. Located near the pond and had a pretty view of the water.
May 17, 2019
Very beautiful setting. Surrounded by nature. Nice clean showers. Friendly hosts.
May 17, 2019
Clean, friendly, helpful for a first-time RVer. Exactly what was needed and I look forward to returning.
May 17, 2019
Very courteous staff, clean well groomed site. Great place
May 15, 2019
Great place for families, the wooded tent sites are perfect.
May 14, 2019
We love Lynden KOA! The nicest staff, lots of things to do, clean and well kept. We've been coming to Lynden KOA for years and don't plan on stopping.
May 13, 2019
We always love the Lynden KOA! Beautiful sites, well kept grounds and everyone is friendly �ϋ�
May 13, 2019
Awesome visit, will definitely come back next year!
May 13, 2019
Loved the cabin, it was clean and well kept. Was very disappointed there was no notice that the pool would be closed during stay, some of new staff was fairly unfriendly when asked about it. Mini golf and boats pricing doesn't match signs.
May 13, 2019
Wonderful as usual. Notice that the pool was closed would have been really helpful, though.
May 13, 2019
Sorry the pool was out of order
May 13, 2019
This was our first time at a KOA and the Lynden KOA is exceptional. Our premium site was spacious, well separated from adjacent sites and by the pond. The Campground is clean, quiet and peaceful. Mini-golf, children's park, the store and games room were great. The staff is incredibly friendly. It was great to see ducks, geese, and other birds at the campground. Will surely be back for a longerstay
May 08, 2019
Lovely campground, clean and well maintained facilities, and friendly staff.
Jul 06, 2020
Clean, Very Friendly and great customer service 👌
- Kristal Gollihar on Google
Jun 11, 2020
Great place. Friendly stuff. Loved our stay.
- Natalia V on Google
May 19, 2020
Gorgeous campground! We stayed in site #91 on the lake and loved it. Daughter fished from our sight and caught a catfish. Ducks with their ducklings learning to swim. Geese protecting their eggs. Huge frogs along the shore. Owl at night. Very friendly staff. It's nestled in a neighborhood so I was hesitant on booking it but was very satisfied. The lake sites feel very outdoorsy. The grounds are kept very, very well. We will definitely be back.
- L G on Google

Lynden / Bellingham KOA
Open All Year
8717 Line Road
Lynden, WA 98264
Check-In/Check-Out Times
RV Sites, Tent Sites
Check-in: 1:00 pm, Check-out: 12:00 pm
Accommodations, Kabins
Check-in: 2:00 pm, Check-out: 12:00 pm
Get Google Directions

© 2020 Kampgrounds of America, Inc.