Alert
We OPEN for Kamping! Our Office, General Store, Restrooms, Mini-Golf, & Paddle Boats are open with enhanced Covid-19 procedures. Our Playground is open and disinfected daily. You can fish in our lake - no license needed! Our Organized Activities are suspended until further notice. Happy Kamping!!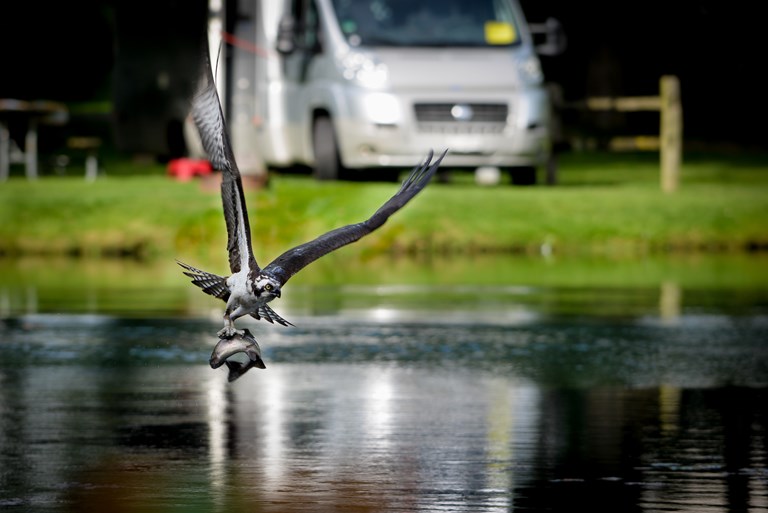 Lynden / Bellingham KOA Reviews
Spring into Summer!
Directions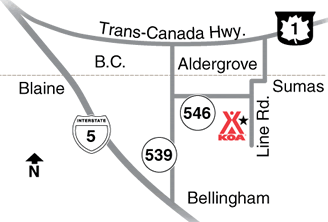 From I-5 N take Exit 256, Hwy 539, Guide Meridian. Travel 15 miles to Hwy 546, E Badger Rd, turn right. Travel 5 miles, turn right on Line Rd.
Get Google Directions
May 31, 2019
We enjoyed our stay. Have to book sooner and get a place on the water. You
May 30, 2019
Thank you Martin family! Campground looks great. Love the improvements you're making. Thank you Vicki and Todd for your pleasant conversations with me this past weekend.
May 29, 2019
Nice campground with a lot of activities. Sites were a bit tight where we stayed near the office. Not much parking for vehicle. Would not recommend sites near the office. People cut through your site. No cable TV.
May 29, 2019
Very nice park with professional service. Heavily treed. Nicest park in the area.
May 29, 2019
They loved fishing and swimming. Arcades games were fun and movie night was just what they liked. Our grandkids are 8&10.
May 28, 2019
This was our 4th memorial day weekend here and we just love it! Clean, fun, safe and everyone is so friendly! See you next year.
May 28, 2019
We had a great stay. Only suggestion is to not charge for every little thing like golf and boats.
May 28, 2019
We really like this campsite. Recommend to cancel or change adult only swim to later in the evening. Sad to see many kids kicked out of the pool, then see it empty.
May 28, 2019
Great spot with full hook ups- Very disappointed that recycling bins weren't offered though. It was a shame that so much plastic & recyclable materials went into the regular garbage cans.
May 28, 2019
The whole campground looked amazing! The staff was all very friendly and courteous! My kids had a blast with all the planned events! We love staying at the Lynden KOA!
May 28, 2019
Lovely KOA.Was bummed to learn that there were no fire pits at the full hook up sites. We didn't know that before hand, don't remember seeing that either when we made the reservations. The staff was able to help us though and found us one to use. Had a great time!
May 28, 2019
Beautiful grounds. Well maintained. Wish it had a hot tub to make it perfect! Loved the snack bar!!!
May 28, 2019
We had a great time and many things to do as a family with all different age children. Very clean and will definitely come back.
May 28, 2019
Love everything about it except the crowds in peak season. Also love the improvements over the past year or two. Staff and owners/management have been consistently great over 20 years.
May 27, 2019
Staff was helpful and polite. Facilities all clean and well maintained. We had a concern about our site that was rectified the same day we reported it. Prices at the store actually reasonable! (We compared prices of fuel canisters, etc in Bellingham stores, KOA cheaper in some cases)
May 27, 2019
Really nice place, just not my cup of tea for camping being SO close to neighboring sites. But the staff was really friendly and the property clean. A side note, the soap in the far bathrooms got refilled when the bathroom was cleaned but by morning it was completely empty until cleaning time came again in the evening.
May 27, 2019
Very helpful girls at the counter, especially Hannah. Beautiful and quiet location.
May 25, 2019
It was amazing. Absolutely fantastic! Never felt so luxury while tenting. Well done.
May 24, 2019
We stayed the long weekend with family and friends and we all had a wonderful time. The weather was fantastic for most of the time and we noticed that there had been so much work done on the grounds and they look beautiful. The staff is always so friendly and helpful. Thank you all so much for a great stay.
May 23, 2019
Great staff and great company all around. Kids loved it.
May 22, 2019
We always have a lovely time:)
May 22, 2019
Always enjoy our stay. We have come the last three years for the dog show and will be back next year.
May 22, 2019
We were assigned the last spot available for our Class C RV. We were fortunate to have power and water. Beautiful location. It was refreshing to watch youngsters playing with new friends and catching their first fish!
May 21, 2019
Great stay, we all really enjoyed it, thank you!
May 21, 2019
An amazing weekend away at KOA Lynden everything there is perfect!
May 21, 2019
Great family run campsite. They did some nice upgrades this past winter.
May 21, 2019
It was awesome!!! The grounds looked great! It's always a beautiful stay, but the improvements that were done made it 100% better ( if that was even possible). Love Lynden KOA and the Martin Family
May 21, 2019
Amazing as always...such a great place to be...we have been coming for many years and will continue :-) safe place for kids:-)
May 21, 2019
We love coming to the Lynden KOA, the people are so friendly and it's an amazing place to get away from it all. The only negative thing would be the Wifi connection as sometimes we need to get online to answer work emails that can't wait until after the weekend to deal with.
May 21, 2019
Always awesome!!!
May 21, 2019
We always love going! The staff are fantastic, the place is clean and the activities are great!
May 21, 2019
We have been coming back for 10 years with a big group of families. KOA Lynden never disappoints, with great friendly service and beautifully kept grounds. See you next year.
May 21, 2019
Love this KOA. Its always super clean and the staff are very friendly. The pool could have been warmer but the kids still played in it.
Jul 06, 2020
Clean, Very Friendly and great customer service 👌
- Kristal Gollihar on Google
Jun 11, 2020
Great place. Friendly stuff. Loved our stay.
- Natalia V on Google
May 19, 2020
Gorgeous campground! We stayed in site #91 on the lake and loved it. Daughter fished from our sight and caught a catfish. Ducks with their ducklings learning to swim. Geese protecting their eggs. Huge frogs along the shore. Owl at night. Very friendly staff. It's nestled in a neighborhood so I was hesitant on booking it but was very satisfied. The lake sites feel very outdoorsy. The grounds are kept very, very well. We will definitely be back.
- L G on Google

Lynden / Bellingham KOA
Open All Year
8717 Line Road
Lynden, WA 98264
Check-In/Check-Out Times
RV Sites, Tent Sites
Check-in: 1:00 pm, Check-out: 12:00 pm
Accommodations, Kabins
Check-in: 2:00 pm, Check-out: 12:00 pm
Get Google Directions

© 2020 Kampgrounds of America, Inc.