Alert
We OPEN for Kamping! Our Office, General Store, Restrooms, Mini-Golf, & Paddle Boats are open with enhanced Covid-19 procedures. Our Playground is open and disinfected daily. You can fish in our lake - no license needed! Our Organized Activities are suspended until further notice. Happy Kamping!!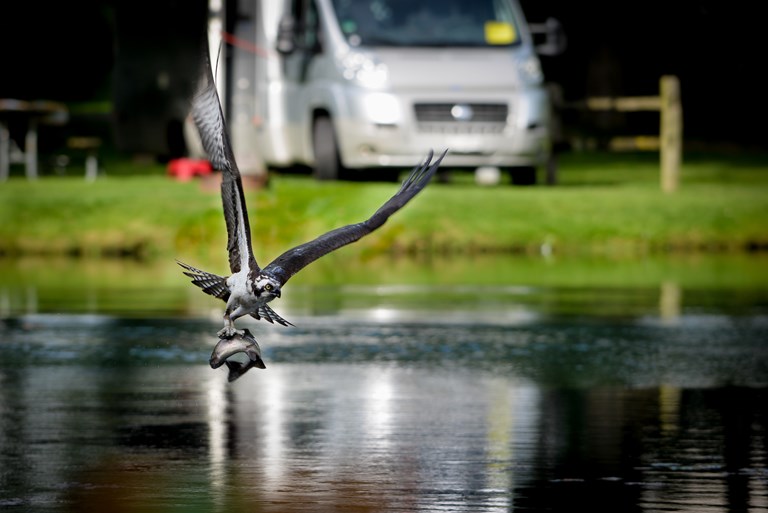 Lynden / Bellingham KOA Reviews
Spring into Summer!
Directions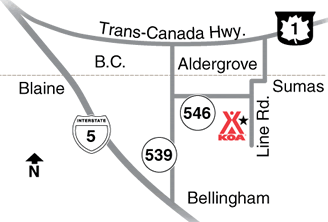 From I-5 N take Exit 256, Hwy 539, Guide Meridian. Travel 15 miles to Hwy 546, E Badger Rd, turn right. Travel 5 miles, turn right on Line Rd.
Get Google Directions
Jun 13, 2019
Pleasant no hassle....just always relaxing.
Jun 13, 2019
Wonderful. Quiet, comfy. Wish it had a fire pit but I brought mine. A couple people didn't think they had to leash their dogs or clean up their dogs messes.
Jun 13, 2019
It was excellent as usual..I love staying ...very clean..and hosts are very friendly an helpful.
Jun 13, 2019
Very well kept, quiet, and good facilities. Highly recommended!
Jun 11, 2019
We come here every year, several times a year and have brought our friends who.now come every year!
Jun 11, 2019
We came for our grandsons high school graduation and the KOA was in a great location from their home and from the high school. We noticed the park employees were always busy getting the park ready for guests. We loved the view of the pond and I managed to get satellite reception with my portable satellite dish.
Jun 11, 2019
Bel endroit. Allée en gravier. Terrain étroit mais adéquat. Toilettes et douches propres. Environnement et paysagement très agréable.
Jun 11, 2019
I really enjoy staying there but this trip was different. I booked a tent site on the pond and when we went to check in we were told that we were getting money back as we had been charged too much online. When I asked more questions it turns out that someone came and paid for another night after check out time and they were able to stay in the site that I had booked. It should've been given to us
Jun 10, 2019
Clean, friendly staff, lots to do
Jun 10, 2019
We had so much fun! There was so much to do with our kids and as a family.
Jun 10, 2019
Really nice place but and drain when camped by pond but overall really nice park.
Jun 10, 2019
Can tell lots has been done to maintain and improve the campground this year. It's even better than ever! Was also thrilled there were no loud events being hosted. We like the campground the way it is! Thanks for having us :)
Jun 10, 2019
We had a great stay! Only complaint is that the wifi didn't work. We will come again- our daughter loved the playground, feeding the ducks, riding her bike, and the mini golf. Thanks for a great time.
Jun 09, 2019
Quiet en beautiful location. Restrooms clean. Easy access to the Canadian border.
Jun 08, 2019
We had a very quiet relaxing time. This KOA is spotlessly clean. The grounds are very well kept. The restrooms & showers were immaculate. We'll definitely return!!
Jun 08, 2019
Just plainly the best KOA around! Love the people and love the setting
Jun 05, 2019
Had a very relaxing and enjoyable stay. Your facility is family friendly, clean and well groomed grounds, and pet friendly. Even our neighbors we great people. The kids had a great time and will love coming back.
Jun 05, 2019
Beautiful rv park. Sites were not on top of one another. Baths were clean. Everything was meticulously care for. Would definitely stay again.
Jun 04, 2019
We rented spot #92 and it was amazing! perfect amount of space and easy to back in the trailer. My one and only negative was that a child came to our site and pulled up a chair and fished from our lake edge even though they were staying across the way on the lake as well. My dogs made a huge ordeal each time they came to our site, maybe some signs posting that each site is private?
Jun 04, 2019
It is ALWAYS great to stay with you. The staff is OUTSTANDING and always there to assist whatever the need.
Jun 04, 2019
My son took us on this trip. This was our first camping trip and I was pleasantly surprised at how friendly and helpful everyone was. the camp sites are beautiful, and all the facilities were clean. it was a lovely experience. Thank you :)
Jun 04, 2019
Nice family owned and managed campground with a very helpful, courteous staff. Lots to do and don't miss movie night.
Jun 04, 2019
KOA campgrounds are always a great place to stay with family and friends. Lots of activities and fun times.
Jun 04, 2019
VERY friendly staff while reserving site over the phone. Flexible when needing to switch sites. Check in when smoothly. Everything was well groomed and clean!
Jun 04, 2019
The Reno or improvements are awesome! Wish we could get the basement opened later for kids to enjoy
Jun 04, 2019
wonderful thank you
Jun 03, 2019
Beautiful setting. Very friendly staff. Only negative is the use of blowers, noisy and dusty.
Jun 03, 2019
KIDS AND ADULTS HAD A GREAT TIME!!!!
Jun 03, 2019
Clean camp ground and very good service! The answering of phone messages could be approved upon. Once contact is made all is excellent. Messages were left without returned calls
Jun 03, 2019
Nice and relaxing
Jun 01, 2019
A very nice RV park, the park was clean. The staff was outstanding
Jun 01, 2019
We stayed at a deluxe site on the pond. It was wonderful. One of the best KOAs we have been to. Definitely will be coming back. Thanks for some great memories!
Jun 01, 2019
This is a very clean and well maintained park. One of the nicest I have stayed at.
Jun 01, 2019
Everything was well kept and laundry and bathrooms very clean. I was a little disappointed that they didn't sell stamps. Had some postcards needed to be mailed.
Jul 06, 2020
Clean, Very Friendly and great customer service 👌
- Kristal Gollihar on Google
Jun 11, 2020
Great place. Friendly stuff. Loved our stay.
- Natalia V on Google
May 19, 2020
Gorgeous campground! We stayed in site #91 on the lake and loved it. Daughter fished from our sight and caught a catfish. Ducks with their ducklings learning to swim. Geese protecting their eggs. Huge frogs along the shore. Owl at night. Very friendly staff. It's nestled in a neighborhood so I was hesitant on booking it but was very satisfied. The lake sites feel very outdoorsy. The grounds are kept very, very well. We will definitely be back.
- L G on Google

Lynden / Bellingham KOA
Open All Year
8717 Line Road
Lynden, WA 98264
Check-In/Check-Out Times
RV Sites, Tent Sites
Check-in: 1:00 pm, Check-out: 12:00 pm
Accommodations, Kabins
Check-in: 2:00 pm, Check-out: 12:00 pm
Get Google Directions

© 2020 Kampgrounds of America, Inc.