Alert
We OPEN for Kamping! Our Office, General Store, Restrooms, Mini-Golf, & Paddle Boats are open with enhanced Covid-19 procedures. Our Playground is open and disinfected daily. You can fish in our lake - no license needed! Our Organized Activities are suspended until further notice. Happy Kamping!!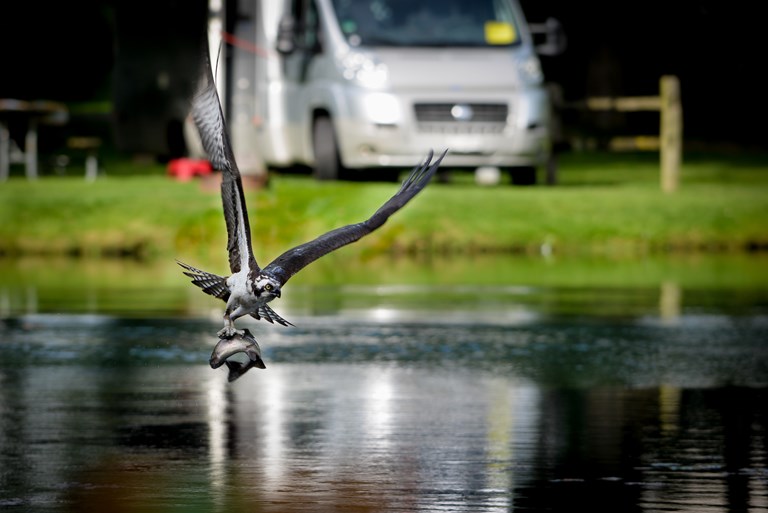 Lynden / Bellingham KOA Reviews
Spring into Summer!
Directions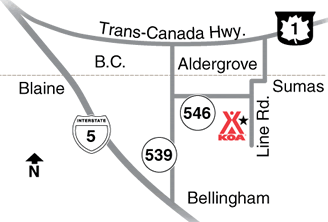 From I-5 N take Exit 256, Hwy 539, Guide Meridian. Travel 15 miles to Hwy 546, E Badger Rd, turn right. Travel 5 miles, turn right on Line Rd.
Get Google Directions
Aug 06, 2019
We like the renos that have taken place in the games room, and we were really happy to see that the mini golf green had been replaced. This time around the bathrooms were frequently out of toilet paper and soap. Maybe during the busy weekends, they should be stocked/checked more often. We love the KOA and will continue to stay there.
Aug 06, 2019
We had a wonderful time during our most recent stay and we will keep coming back! My kids love the activities planned for a long weekend but we're very sad that the dance party wasn't a part of the weekend this time! It is always a highlight! It also seemed a little short staffed from years past as you were running out of certain things but we still had a great time!
Aug 06, 2019
Campground sites and activities cant be beat. No wifi in the last year. Sometimes need to check emails and such for work so that's a struggle. Probably shouldn't advertise that the campground had Wifi when it really doesnt
Aug 06, 2019
Our family of 4 had a nice stay in the cabin. It was clean and the area was well kept. There was an instance of running out of toilet paper and soap in the ladies restroom near the cabins. We went with 2 other families. The RV hookup area was quite tight and not much privacy when we set up our group for meals at the site. The kids had fun with the organized activities, mini golf and boats.
Aug 06, 2019
KOA Lynden was awesome! The check-in experience wasn't great (the lady checking us in didn't look at us or say hello...just 'last name please' and then gave us a paper to put on dash and a map of campground. She didn't advise us of any weekend activities or anything. Once set up though, the grounds are awesome, bathrooms are clean and there are special little touches everywhere.
Aug 06, 2019
We felt like our spot was in a car lot, there was always NO SOAP in one of the washroom, as well as no toilet paper in one of the stalls.The adult hour at the pool was full of drunk adults playing degrading sex games with a blow up doll, chatting with my 3 kids watching " muffdive her!" And jumping onto the blow up doll in pool chanting sex position for that person to try and do. not family en
Aug 06, 2019
Very nice and clean. Perfect for kids and families and dogs too!
Aug 06, 2019
Stay was good. The campsite was well taken care of. Lots of activities for the kids Staff was outstanding Recommendations: Install a squeegee at the dish washing stations to clean the mess from the counter after usages
Aug 06, 2019
We arrived late and had trouble finding our site assignment.Focused lighting would have been helpful.Immediately after that we were confronted by a guy on a golf cart for our engine making too much noise.So our first 20 minutes after arriving were quite unpleasant.We felt unwelcome after a long drive.Pool was dangerously crowded.So much staff in clusters talking instead of doing anything productiv
Aug 05, 2019
It was great!
Aug 05, 2019
Disappointed that there wasn't enough power to run one air conditioner on warm afternoons
Aug 04, 2019
We had a great time at the KOA Lynden. Our kids loved the pool & playground & the campsite was great. We enjoyed the mini golf and the paddle boats. The only issues I would comment on are that the kampers den coffee was awful - cold & took forever to make, which was unfortunate given the cost & the adult only times at the pool are times that we would normally take kids so I suggest a change there.
Aug 04, 2019
It was relaxing, enjoyable, top-notch in every way!
Aug 03, 2019
We had a pleasant spot. But there were to many Dog's Barking and the owner's would NOT stop the Barking, which went on for a long time. We had to go inside and close our Door. Then there was a child that was literally Screaming at the top of her lung's for a very long time and the parent's did not shut her up. Finally I screamed Shut that KID up..The Father heard me a Shut her up.
Aug 03, 2019
So crammed and did not liked the dirt ground. It is so unsafe for the kids or adults to walk around because the driveway was so small. However the staff are fantastic!
Aug 03, 2019
My first night towing and your staff was great. It is a beautiful campground, I cannot wait to come back and stay a few days or a week. Clean park, clean bathrooms, clean pool.
Aug 03, 2019
Fantastic, as always! The grounds are beautiful at this campground. There are lots of activities for kids (mini golf, outdoor pool, indoor games) and my boys always have lots to keep them busy.
Aug 03, 2019
Very clean and well maintained. Only negative was the campers next door up until 2AM with a yapping dog.
Aug 02, 2019
One of the best KOA's around. Love going there. Only complaint is pull thru sites are narrow and many times we have had a limited view from our rig.
Aug 02, 2019
My tent site was only fair. I ask to be moved to the site next to mine since it was much nicer and rain was in the forecast. I was told the site next to mine was reserved and already paid for. No one showed in that site, so it was annoying to be lied to by the office. One bath house to serve the whole campground. Shower was muddy. $60 for a mediocre tent site is a little outrageous.
Aug 02, 2019
Our kids had a lot of fun and the park is dog friendly. We made the most of our time. That being said there was trash all over the playground - I picked it up each day. And the evening quiet rules were not enforced. Campers were up screaming, fighting, and playing around til at least mignight each night and there was no one to contact for help.
Aug 02, 2019
We liked our stay very much- the office staff were five stars!! The only reason it wasn't a perfect stay was the drunk teens who kept us up till 2am! This isn't the campsite's fault- it's just what happened. Also there was a very large 5th wheel next to the dump station that made turning into the station difficult. Again, not a complaint- just an observation :) The kids loved fishing and t
Aug 01, 2019
A lovely campground, so well kept and maintained. Pots of flowers add to the beautiful grounds. Lots for the little ones to do, with the pool and paddle boats and mini golf. Friendly staff. Keep up the good work!
Aug 01, 2019
Lovey place by the lake. Upon arriving we were a little unsure with being so close to the lake re: the likely hood of being eaten by mosquitoes, but that was the furthest from the truth. Beautiful setting at lakeside, with ducks quacking & bullfrogs bellowing. At night sitting fireside and seeing others at their campfires... magical. Very family orientated, welcoming/accommodating staff. CLEAN
Aug 01, 2019
It was peaceful
Jul 31, 2019
Very clean and well maintained. Staff was very friendly and helpful. Will definitely return.
Jul 31, 2019
Emilie in the office was wonderful and the young man running the gator and cleaning up campsite was so nice and took the time to interact with our young grandson. We enjoyed our stay very much.
Jul 30, 2019
We had a fabulous stay! This was our 1st trip camping as one large family group, parents, adult kids, grandkids, Aunties, Uncles, Cousin, sister in laws and bro in laws...fun fun fun!! We will be back next year! I would have given full stats but found pool small for size of resort and wish sites were little bigger with more privacy! We had a large Motorhome on top of us! Tree hedge would be nice:)
Jul 30, 2019
Enjoyed scenic campground spaces along ponds, feeding ducks. Fishing & paddle boats enjoyed. 18 hole mini golf reasonably priced though staff need to blow leaves off course & pick up garbage daily. Pool & playground very clean Restrooms very clean. Kamper's Den with local ice cream delicious. Arcade games reasonably priced. Fun events planned on weekends. Friday movie night too loud & late.
Jul 30, 2019
We had a great time! Was a bit crowded and the pool is small, but there was lots to do, the cabins were cozy, and the staff were friendly. We will come back for sure :-)
Jul 30, 2019
Fun activities. Clean facilities and sites. Just strict enough with rules so that there is some boundaries but doesn't limit the good time.
Jul 30, 2019
Nice park, but it was hard to get our unit in and out of the park. The staff sketched how to get into our slot, but not how to leave the park, which required us to turn a 42' Class A around in a tight area in order to get out. The roundabout for the RV dump is not wide enough for larger rigs to drive around. Not very big rig friendly, though the slots were long enough.
Jul 30, 2019
This was our first time staying at the Lynden/Bellingham KOA and it was a wonderful experience. The staff were all extremely friendly and the grounds were well kept with lots of different activities available. We live two hours away and we will definitely be coming up this way more often for a fun weekend getaway.
Jul 30, 2019
Staff person EMILY was GREAT! Grounds were clean, well organized, welcoming. Highly recommend. Especially for families.
Jul 29, 2019
Great location, stayed in the cabins and they were nice and clean! It would be great if they started to recycle though, but maybe Washington doesn't recycle?
Jul 29, 2019
Lots of activities for the kids to do. We enjoyed the movie night, scavenger hunt and wine tasting. The lynden koa is a yearly tradition for us!
Jul 29, 2019
Such a beautiful campground!
Sep 13, 2020
Just got home from a weekend at this KOA. We had a fantastic time and loved our stay. The grounds are kept very nice and the staff was very friendly. The park was full, but everyone was respectful and friendly. We took our 7 year old daughter and she loved the large playground and pool. Our two dogs had fun walking around the pond and looking at the ducks. We have a 42 foot 5th wheel and had no problem getting in and out of our space. I highly recommend this campground for families with kids and dogs. If I didn't have kids and dogs I may not have enjoyed it as much because they were everywhere. There was also put put golf, fishing and paddle boats that we didn't use, but looked like fun.
- Stephanie Bellon on Google
Sep 07, 2020
It's an extremely nice KOA and I've stayed at several. It may seem odd that a middle school is right down the road but it's not what it seems like. The town of Lynden itself is a small farming town with strong Dutch heritage. The campground is very nicely arranged with the park and, pool, mini golf and other fun stuff to do in the middle. Also fully stocked pond for fishing (no licence required), paddle boating, arcade ect! Lots of fun stuff!
- Sarah Gilbert on Google
Sep 04, 2020
Amazing facility!!
- Mike Gadman on Google

Lynden / Bellingham KOA
Open All Year
8717 Line Road
Lynden, WA 98264
Check-In/Check-Out Times
RV Sites, Tent Sites
Check-in: 1:00 pm, Check-out: 12:00 pm
Accommodations, Kabins
Check-in: 2:00 pm, Check-out: 12:00 pm
Get Google Directions

© 2020 Kampgrounds of America, Inc.