Alert
We OPEN for Kamping! Our Office, General Store, Restrooms, Mini-Golf, & Paddle Boats are open with enhanced Covid-19 procedures. Our Playground is open and disinfected daily. You can fish in our lake - no license needed! Our Organized Activities are suspended until further notice. Happy Kamping!!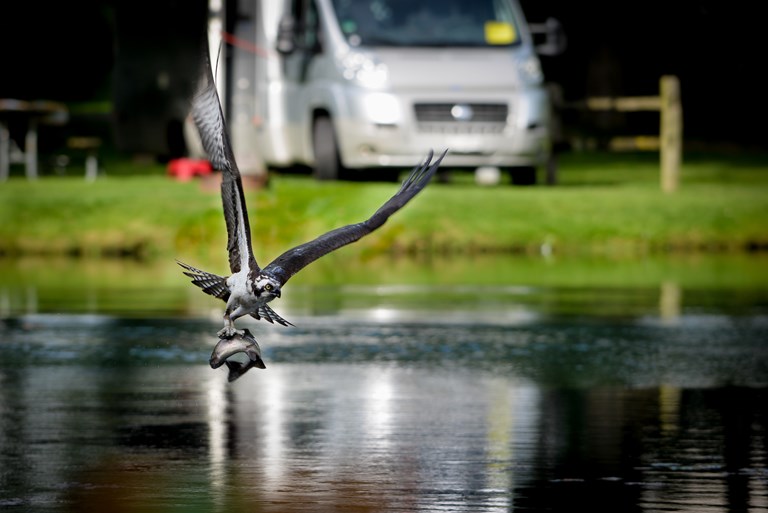 Lynden / Bellingham KOA Reviews
Spring into Summer!
Directions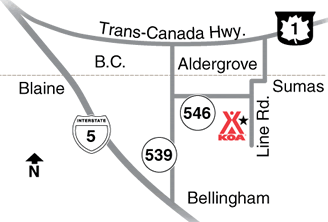 From I-5 N take Exit 256, Hwy 539, Guide Meridian. Travel 15 miles to Hwy 546, E Badger Rd, turn right. Travel 5 miles, turn right on Line Rd.
Get Google Directions
Jul 28, 2019
In the 10 or more years we've been coming to Lynden KOA we've always had a positive experience. Loads of fun activities for young and old. Recent additions of an outdoor shower in the forest tenting area and the overall landscaping of the property have added even more to what was already a beautiful place to relax and enjoy family. To the Martin Family—-Well done!!!!! See you next year.
Jul 28, 2019
very small pull thru.... WI FI Extremely week, even with my Camp-pro booster not enough to use the computer or TV $5.00 parking fee each per day for my friends (Who I came to see...From Canada and around) If you have room to park at $5.00 you have room to park free.... cancelled Sat night dinner with friends ,and left a day early
Jul 28, 2019
We came in for 3 nights. While the site by the lake was fine. We are seniors and having little children screaming and running around was not our ideal. There were other site above the lake more desirable to us and seemed to be available with the same amenities. We also were traveling and had a lot of laundry to do. Most KOA have more machines and are available 24 x7.
Jul 27, 2019
One of my all time favorite koa. Loved the spice garden.
Jul 27, 2019
They had fixed the mini golf since last year and that was nice but the pool water was freezing. I thought they had a heated pool. Since this is one of the reasons I chose this place, I probably won't be coming back.
Jul 27, 2019
The mattress in the cabin where we stayed needs to be updated. It would be nice if there will be additional washroom and shower rooms in the cabin area. Overall we enjoyed our stay. Looking forward to the next KOA adventure.
Jul 27, 2019
Kids loved the playground and pool. I didn't take Advantage of adult swim hours but nice to know they exist. Rented paddle boats - had to rent 2 to accommodate 6 kids, affordable rates. Not very private campsites but nice facilities.
Jul 27, 2019
We love how clean the property is, how friendly and helpful the staff was, but we struggled with an extremely loud group of neighbors every night we stayed (both kids and adults alike). One night we did finally call the after hours number because we were so frustrated. They were so kind to us and they quickly came out and resolved the issue. We do hope when we stay again that it will be better.
Jul 26, 2019
Great place, friendly & clean.
Jul 26, 2019
We camp a LOT and this is one of the nicest campsites we've ever seen - absolutely beautiful!!!
Jul 25, 2019
Clean, well-kept campsites and friendly and efficient staff.
Jul 25, 2019
Clean & well run campground. Staff were friendly. Dog area was the parking lot for additional storage therefore there was no area closed off. Unable to use pool as the size is inadequate for the amount of people at the facility and no hot tub at this location.
Jul 24, 2019
We booked this trip last year with 8 families 4 families arrived on Thurs. Our friends staying in cabin 2 ended up having bed bugs in their cabin which caused the other families to cancel. Unfortunately our Friday was spent on phone and talking manager figuring stuff out.Us and one other family stayed and had a good time just sad about friends. Manager was great to our friends in#2 he handled well
Jul 24, 2019
Excellent services, clean facilities, and the fishing lake was a phenomenal hit with our kids. Friendly staff and great activities - including scavenger hunts, tractor rides and more. We can't wait to come back! Thank you.
Jul 24, 2019
Always beautiful, great staff and beautiful corner of the world (whatcom county). WiFi remains terrible and, because my wife has to work remotely, negatively affects our stay. We have to go to the Lynden library for wifi!!
Jul 24, 2019
Fabulous campsite with great amenities. So much for the kids to do, site is very well kept and staff are pleasant.
Jul 24, 2019
It's becoming a family tradition. Love it here. Have all you need.
Jul 24, 2019
We always enjoy our stay at this campground. The staff are friendly, helpful and hard working. The grounds are well kept and the bathrooms are nice and clean. We will definitely come back here.
Jul 24, 2019
We had an awsome time. The kids had fun. Very relaxing.
Jul 24, 2019
We had a wonderful time! The staff were very friendly and the facilities and cabins were clean. The only issue would have to be the paddle boats, at least the one we were using. The pedals kept sticking and hitting the floor of the boat, making our 30min ride into 10mins as it made it very hard to maneuver. But otherwise we had a great time at KOA Lynden.
Jul 24, 2019
Campsites were too close together.
Jul 23, 2019
Always a pleasure to stay at Lynden KOA . Pleasant staff and overall nice campsite .
Jul 23, 2019
Love this place
Jul 23, 2019
Awesome as usual!
Jul 23, 2019
I had no idea how busy/crowded it would be. Ok place to stay for the kids but I would never recommend a KOA for adults.
Jul 23, 2019
We had a great time, lots to do for the kids... There was some conflict at the pool surrounding the adult only hours... It's important to have an adult time but it seems like it is right during prime time.
Jul 23, 2019
We had a wonderful stay! What a great place for families. Wish the sites were a bit more private, but that's it. Coffee shop, movies, pool, bathrooms—all wonderful! The young lady at the front desk dealt with an angry customer while we were there and I just wanted to say she handled herself with tact and grace. I was very impressed with how she dealt with his concerns and aggression.
Jul 23, 2019
Best Koa I've been to yet!
Jul 23, 2019
Stay here every year, and like always never dessapoints we enjoy our stay every time. That been said there is always room for improvement like internet connection ���� Such a lovely place�ϋ�
Jul 22, 2019
Good looking Campgrounds with nice surrounding and convinced. I'm not use to paying that much to camp but was ready and able to with no problem. I'll probably return for a stay when a special event is in town.
Jul 22, 2019
The weather was beautiful. The staff were all very friendly and helpful. The grandson that we took with us enjoyed all the fun things to do; swim, boat, fish, golf, late night movie outdoors, and we felt save letting him walk to the bathrooms by himself. The only thing I might say negative would be the roads were narrow.
Jul 21, 2019
Enjoy the campground, lake and the trees but the sites are very close to one another. The people in the office are very nice and friendly.
Jul 21, 2019
Your sites are too close together! We brought our Kyaks to use in your so called lakes. They are ponds not lakes. It is very clean just uncomfortable too small of individual sites.
Jul 21, 2019
What a beautiful park...close to a pretty little town and shopping about 15 minutes away Friendly staff and always scurrying around looking to make the park even better Stayed for 3 days...unfortunately it seemed like 1/2 the park had dogs... and usually when another dog walked by they would bark...got a little too much...settled down and was nice and quiet when it got dark
Jul 21, 2019
The best KOA of our travel: Very calm and family orientated campground. The northern wash rooms could be improved.
Jul 20, 2019
Staff were super friendly, the cabin was amazing. We have always dreamed of staying in one and thoroughly enjoyed ourselves and the amenities. We will be back!
Jul 20, 2019
KOA Lynden was a beautiful spot and the management was very helpful. We were able to get a grassy space near a beautiful tree without a reservation. Thank you
Jul 19, 2019
Wow! Friendly staff and hard working too! Observed how much pride staff had at the up-keeping they were doing around the campground after the busy Canada Day and Independence Day holidays. President's Award truly deserved and reflected! A must future return guaranteed! Keep up the pride and outstanding service!
Jul 19, 2019
Awesome. Thank you.
Jul 18, 2019
stay was good. staff was helpful & friendly. They were able to secure us a spot on the water which made our 4 year old super happy. Grounds were fairly clean.
Jul 17, 2019
One of the best in the United States nice and clean people were very friendly
Jul 06, 2020
Clean, Very Friendly and great customer service 👌
- Kristal Gollihar on Google
Jun 11, 2020
Great place. Friendly stuff. Loved our stay.
- Natalia V on Google
May 17, 2020
This place is so clean. Beautiful grounds. Customer service is 💯. We will for sure be back!
- Sarah Sonnentag on Google

Lynden / Bellingham KOA
Open All Year
8717 Line Road
Lynden, WA 98264
Check-In/Check-Out Times
RV Sites, Tent Sites
Check-in: 1:00 pm, Check-out: 12:00 pm
Accommodations, Kabins
Check-in: 2:00 pm, Check-out: 12:00 pm
Get Google Directions

© 2020 Kampgrounds of America, Inc.