Directions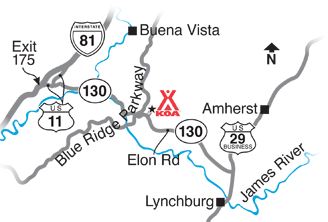 From Blue Ridge Parkway: exit VA130 between mile marker 61 & 62, Turn Left (East), 1 mile to campground on left.
From Lynchburg VA: take US29 Business North, turn left on VA130 (Elon Rd.) 15 miles to campground on the right.
From I-81: Exit 175, take US11 North 1.6 miles, turn right on VA130 (Elon Rd.) 17 miles to campground on left.
GPS: Routing may be inaccurate. N37.573548, W79.325700
Get Google Directions
Oct 19, 2020
Nice campground. very nice showers, Pretty far off the main roads not convenient for over night travel
Oct 19, 2020
Great weekend stay, very easy check-in process. Facilities were very clean. Will visit and stay again!
Oct 19, 2020
Beautiful campground and beautiful weather last week. It was a busy place. The owners are really nice and helpful. We will return!
Oct 19, 2020
This is our second stay its clean kids friendly and amazing quiet at nite great little camp ground
Oct 18, 2020
The campground was 1 of the nicest we've stayed at. Very friendly family owned would definitely go back
Oct 18, 2020
Super nice and friendly. Has everything you need.
Oct 17, 2020
Great place to stay. Location is perfect on the Blue Ridge Parkway. We will visit this campground again.
Oct 17, 2020
Campground is very nice. However there is NO cell service and camground WIFI was sketchy at best. We just do not like being completely cut off from the world. I managed to borrow a Verizon hotspot and that was the only way to get any connectivity. We need connectivity for our business so this was an epic fail for us.
Oct 17, 2020
Great park, great people, great location to enjoy the mountains and the beautify of Gods creation. Also, you have to get some pie from Woodruff's store down the road. Read about the history of Woodruff's.
Oct 17, 2020
Campground and sites were very nice and clean. Enjoyed our stay. Would have rated it a 5 if the internet had worked. Everyone was there was very nice. Looking forward to a return visit.
Oct 17, 2020
All sites are quite large with ample outside living and fire pit time. Staff very helpful and friendly.
Oct 17, 2020
Wonderful camping. Our tent site was very large. Owner's were great. Amenities was good and location at the edge of Blue Ridge Parkway was beautiful. We really enjoyed our stay.
Oct 17, 2020
Beautiful, well maintained campground, we enjoyed our stay. We will definitely visit again.
Oct 17, 2020
Clean bathrooms, hot water, quiet neighbors, nice place to stop. We'll recommend, and stay again our way through this area.
Oct 17, 2020
beautiful site. friendly staff.
Oct 16, 2020
nice people great clean place
Oct 16, 2020
Beautiful location and sites. The owners are Phenomenal people. Will be back every October.
Oct 16, 2020
great campground
Oct 16, 2020
Our second time here! Great facility great service!
Oct 15, 2020
It was an amazing campground. Very friendly staff and great sites and location. The rain was a bummer but still an amazing spot. We will definitely be back next year. Thank you so much.
Oct 15, 2020
We were greeted with a warm welcome and led to our site. The site had all we needed, plus a nice campfire pit and picnic table. The dog park was perfect, everyone was friendly and the stars-amazing, against the clear dark sky. It was also just off the BRP
Oct 15, 2020
The campground was a two night stop on a trip to Tennessee. It is a little remote for a short stopover. Everything about the KOA was more than satisfactory and it would be great for a stay of a week or more.s
Oct 15, 2020
Good stay. Only overnight but good
Oct 12, 2020
Absolutely wonderful week at this beautiful campground. The owners and staff keep the campground spotless, are incredibly helpful, and I never saw a single person without a smile! The only downside is the speed of the Wi-Fi, since my wife and I are both working on school right now - we had to drive to the Food Lion (20 minutes away) to use our phones as hotspots to finish our homework.
Oct 12, 2020
Such a nice campground. We were met by the owners when we arrived and were shown to our site. Plenty of room for our 41' class A and Jeep. It is a smaller campground and very close (1.3 miles) to the Blue Ridge Parkway. They have a nice, fenced in dog run area And everything is very clean and tidy. We will definitely be back!
Oct 12, 2020
Awesome time!
Oct 12, 2020
Clean, quiet, staff is very kind, informative, and helpful. Great place for a getaway stay.
Oct 12, 2020
The hosts were super friendly and very helpful. Our two week stay was so pleasant. Shower houses were kept very clean and all hook ups worked well. We were a super short drive to the Blue Ridge Parkway and close to lots of terrific hikes. Our dog was on her first camping trip and the enclosed dog run and dog friendly campground made this a great first time for her.
Oct 12, 2020
Bath house was too far from tent sites and highway noise was anything but peaceful
Oct 11, 2020
Spacious sites in a beautiful setting, great hosts, practically next to the Blue Ridge Parkway...my wife and I will definitely be back!
Oct 10, 2020
Awesome staff and campground. Stephanie is so nice and helpful. She goes above and beyond to accommodate campers in every way. Love this place every chance I get to camp there.
Oct 10, 2020
I loved the cabin. Everything was awesome, everyone was so nice.
Oct 10, 2020
It was nice to be out in the wilderness yet there was a town close by if needed. It was clean and organized. We had a very nice stay.
Oct 10, 2020
We would give you a full 5 stars if you could fix your Wi-Fi., we couldn't reach our family, and we didn't like that. Other then that, loved the place, very well run and neat and clean.
Oct 10, 2020
We stayed for 3 nights . When we got there we asked about changing our site since it was very close to the bath house and entrance. The owner was more than happy to accommodate us and even moved our camper for us!. The bath houses were very clean and each stall was private with shower , sink and toilet. The grounds are nicely kept and the Blue Ridge parkway is only 1 mile away. We will be back.
Oct 10, 2020
This is a beautiful KOA with friendly staff and well kept landscaping. The playground equipment needed a little TLC, but the jump pad was cleaned daily. Our only complaint is that they charge a visitor fee. Our daughter and son in law came by to pick up our grandson and we were charged a $5 person fee. I can understand this if the pool is open but not In the fall when there is nothing to do.
Oct 10, 2020
Great. Place!!!!
Oct 10, 2020
Great location and real friendly staff. Stayed for 4 nights. Would have been 5 stars if not for the guy with the leaf blower running around for 2 hours blowing up more dust than leaves!
Oct 10, 2020
Lovely campground! Friendly, enthusiastic, and very helpful staff.
Oct 10, 2020
The campground is in a nice location and the sites are good. Taking route 130 from I-81 is a very bad idea if you are in a rig that is greater than 25 feet overall. the turns are very tight and oncoming traffic does not stay on their side and we are from CO. Also they advertise WIFI which is virtually non-existent. Also, cell service is emergency calls only. I would not go here again.
Oct 09, 2020
Kind staff. Great location. And the best part they actually enforced the vappy dog rule.
Oct 09, 2020
Staff was very friendly and helpful.
Oct 08, 2020
Very clean and spread out with plenty of space. We will definitely return to go hiking, as the Appalachian Trail is very close.
Oct 08, 2020
Best campground on this tour. Beautifully laid out, spotlessly clean, everything we needed right there. Wooded, quiet, perfect.
Oct 08, 2020
Wonderful park with wonderful staff. Right around the corner from Blueridge pky
Oct 07, 2020
It was a great little get away for my family and I. The camp was well equipped with everything we needed. Very close to parkway. Very clean and cozy!
Nov 15, 2020
This place is everything you'd want out of a KOA campground. We stayed in cabin #5 and it was great. Everything was very clean, including the bathrooms. Mattress was a little thin, but not bad at all, most importantly, it was clean. The owners were very friendly and take great care of the place. They're very organized, so checking in and out was a breeze. There's lots for the kids to do. They loved fishing at the pond and bouncing on the bounce pad. We had a great weekend trip, thank you!
- 4timj on Trip Advisor
Nov 13, 2020
Great small KOA would recommend. Practically next door to the Blue Ridge Parkway. Spots are long, but a little narrow. Verizon coverage was ok, but not great. I was able to make a zoom call on my phone and using my jetpack and an external antenna.
- Matt Reese on Google
Nov 11, 2020
Very nice and quiet.
- Sheila Nichols on Google