Directions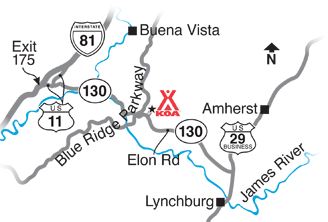 From Blue Ridge Parkway: exit VA130 between mile marker 61 & 62, Turn Left (East), 1 mile to campground on left.
From Lynchburg VA: take US29 Business North, turn left on VA130 (Elon Rd.) 15 miles to campground on the right.
From I-81: Exit 175, take US11 North 1.6 miles, turn right on VA130 (Elon Rd.) 17 miles to campground on left.
GPS: Routing may be inaccurate. N37.573548, W79.325700
Get Google Directions
Oct 29, 2020
Very nice well kelp grounds. The patio pad, table and chair set is a good tought.
Oct 29, 2020
If driving the Blue Ridge parkway this could not be more convenient!! Little distant from restaurants (25 miles) and very curvy, mountainous access of not on Parkway. Dog Park is nice size. Tight curves for large units to exit from park. Very nice generally!
Oct 28, 2020
We love coming to this KOA. They are constantly upgrading their properties and is quiet during the evening. They and their staff are always friendly and courteous. We have one more camping trip left in us this year and it will be here; last weekend they are open. Can't wait.
Oct 27, 2020
This was our first stay. The campground is nice and the premium sites are very long. We did not utilize the facilities and cannot speak to those. The campground appeared to offer a lot for children. We recommend this campground and will revisit when we are back in the area.
Oct 27, 2020
This is a very nice campground. The owners keep it super clean and are very friendly. Makes for a great weekend get away that isn't to far away.
Oct 27, 2020
This campground is very nice. Everything is clean and well kept. The host here are amazing. They are right on anything you should need. We will definitely be back!
Oct 27, 2020
Nice clean campground and helpful staff. As the season is fall we had a lot of leaves on the slide out and no way to get them off. A staff member was blowing leaves out of vacant sites I asked if he could help me out and he was quick to respond. Our first time there and I would go back.
Oct 27, 2020
This campsite was amazing. The property was clean and upkept. Bathhouse were super clean and nice! Staff were awesome, helpful and kind!
Oct 27, 2020
Wonderful campground, level tent site, friendly staff. Thank you
Oct 26, 2020
Disappointed with Halloween weekend turnout but no fault of campground.
Oct 26, 2020
Enjoyed everything about the stay. Great park, great staff. Will try to find a site a little further away from a bath house next time though.
Oct 26, 2020
We always have a Great time at this Koa! For the past 6 years we make reservations in October to visit the Parkway! The cabins are very comfy and clean!! The staff there always makes us feel very welcome! They did a Great Job sanitizing everything during the Covid pandemic!!
Oct 26, 2020
It was a very nice camp. The staff was very helpful and friendly.
Oct 25, 2020
I know people love their campfires but the last night we were there I felt like I was in a smokehouse. Not fun. Don't know how that could be fixed. Otherwise enjoyed our time there.
Oct 25, 2020
Stayed 2 nights while heading to Florida. Nice folks working there. We picked a nail in our truck tire. They brought us a floor jack which made changing the tire so much easier. Would stay again.
Oct 24, 2020
It was a bit of a nail biter getting to the campground.... just a few tight turns..... but totally worth it!!!! Will visit again if in the area!!!!
Oct 24, 2020
Very nice folks, set-up, and clean. Enjoyed it much!
Oct 24, 2020
Very quiet campground with nice trails. Friendly staff. The store was closed due to COVID so I can't say much about it. I was not happy with the 3rd car fee, which is charged even if you park in the parking lot and not at the site. The sites are large, but beware of falling limbs and acorns. The wood I purchased on Friday, before the rain, was wet. All in all it was a good trip, beautiful area!
Oct 23, 2020
Campsite was large and roomy with easy in and out. Campground is clean and well maintained. We stay here twice a year and enjoy the people and campground very much.
Oct 23, 2020
very peaceful. that's what I was looking for.
Oct 23, 2020
My only problem was the lack of high speed internet.
Oct 22, 2020
This campground was clean and quite this time of year. Only had 1 night but located right off the Blueridge Parkway.
Oct 22, 2020
Beautiful a d friendly... a great hidden gem!
Oct 20, 2020
Very clean restrooms and owners remarkably Pleasant!!!
Oct 20, 2020
Nice place to stay. Very pet friendly
Oct 20, 2020
Very nice campground,
Oct 20, 2020
Really looking forward to coming back in the spring
Oct 20, 2020
Nicely wooded, clean and very friendly. Bathrooms were immaculate and I loved that they were unisex so you had complete privacy.
Oct 19, 2020
The Lynchburg/Monroe KOA continues to be my family's favorite KOA! The sites are always well kept, the bath houses are always clean, the staff is awesome! If you enjoy hiking in the mountains, you can't beat it's location! My family has been coming to this KOA for almost 5 years now we look forward to returning soon!
Oct 19, 2020
Nice campground! Enjoyed our stay. Nice spacious spots. Helpful courteous staff
Oct 19, 2020
had a wonderful time. bathrooms are nice and private showers are a plus! fun activities for kids one thing... would be nice to be able to buy fire wood through honor box or something. we were cold in the morning and would have visited with our group longer at night if we had been able to get more wood. we didn't want to over buy, but were stuck if we didn't. :( everyone was very friendly!
Oct 19, 2020
The staff were incredible! Friendly and helpful and always running around. I didn't think the bathrooms were very clean though. Also, the main reason I am not giving you all HIGH marks is because our camp site location was MISERABLE. I am sure this was our fault but we were right next to the bathrooms and it was terrible. I don't even think that site should be offered.
Nov 15, 2020
This place is everything you'd want out of a KOA campground. We stayed in cabin #5 and it was great. Everything was very clean, including the bathrooms. Mattress was a little thin, but not bad at all, most importantly, it was clean. The owners were very friendly and take great care of the place. They're very organized, so checking in and out was a breeze. There's lots for the kids to do. They loved fishing at the pond and bouncing on the bounce pad. We had a great weekend trip, thank you!
- 4timj on Trip Advisor
Nov 13, 2020
Great small KOA would recommend. Practically next door to the Blue Ridge Parkway. Spots are long, but a little narrow. Verizon coverage was ok, but not great. I was able to make a zoom call on my phone and using my jetpack and an external antenna.
- Matt Reese on Google
Nov 11, 2020
Very nice and quiet.
- Sheila Nichols on Google