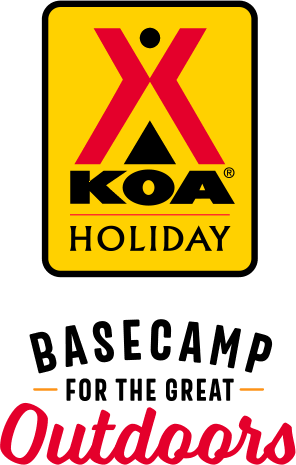 KOA Holiday Campgrounds
Whether you're exploring the local area or hanging out at the campground, KOA Holidays are an ideal place to relax and play. There's plenty to do, with amenities and services to make your stay memorable. Plus, you'll enjoy the outdoor experience with upgraded RV Sites with KOA Patio® and Deluxe Cabins with full baths for camping in comfort. Bring your family, bring your friends, or bring the whole group – there's plenty of ways to stay and explore.
KOA Holidays Feature:
RV Sites with a KOA Patio®
Deluxe Cabins with full baths
Premium Tent Sites
Group meeting facilities
Directions
We are located 2.3 miles north of Luray: Right on Kimball approx. 400 yards 2nd driveway on Left. Please follow signs to KOA off Hwy 211. We prefer arrivals by 8pm. This is to respect all of our guest. Cabins and yurts early check outs are non refundable. Late check out rv's $5, cabins/yurt $10 per hour.
If coming off the Skyline DR on 211 W. (GPS will try to take you on Kimball Road or Whispering Hill Road DO NOT TAKE them not RV friendly). Follow sign to exit for 340 north. Take right off exit go about 2 miles as you start down hill yellow KOA sign just before bridge, immediately after bridge take right on Kimball Road we are 2nd driveway on Left.
Coming from 81 you will need to take New Market Exit 264 going toward downtown (small small town) At second Light take Left on Main St (aka RT11) next light take right onto 211 E. Go over Mountain ( not a bad Mountain) Follow 211 to 340N. follow signs to Kimball road immediately after bridge right on Kimball KOA second driveway on left.   
To AVOID mountain from 81 N. take Harrisonburg (Route 33 E) Exit 247 take 33 to Elkton onto 340 N. to 211/340. Exit onto 340 N to Kimball Road.
From 81 S. take route 66 to Front Royal exit on 340S. Follow that through Front Royal follow signs to outskirts of Luray on your right will be an Exxon Station and store next road on your left will be Kimball road (rt658)and KOA second driveway on Left.
Directions for Northern Virginia take 66 West to Linden Exit 13 Rt79 off exit take left deadend at light take right on Rt55 deadend into Rt340S. take left on 340S bypassing most of Front Royal follow 340S to Kimball Road (Rt658).
Get Google Directions
May 10, 2021
The landscaping and sites are all beautiful. I don't think there is a bad site at the campground. I know we are on the downhill side of COVID, so it would have been nice for a few activities to have been planned. There are still things that can be done while social distancing.
May 10, 2021
This is one of our favorite campgrounds, and this visit was just as delightful and relaxing as always.
May 10, 2021
We thought it was very well laid out . everyone had ample room . Like the dog run. Looked as it was well keep up. Liked the pergalia and fire pit .And the nice chairs provided
May 10, 2021
Clean and beautiful KOA in a great location for access to Shenandoah National Park and local amenities.
May 10, 2021
The KOA was very clean but the wifi was terrible making it a little difficult to order tickets to the activities we wanted to attend.
May 10, 2021
Very well maintained. Beautiful view.
May 10, 2021
What a great place to stay. We had a patio site right next to the cow pasture which we all found fascinating and fun to meet our friendly cows each day. Our site had a great view over the farm to the Shenendoah skyline, but walking around, it seemed every site either had a great view outward, or a great view of wide open common spaces on the inside. We absolutely will return here some day. Thanks!
May 09, 2021
Very nice, Very clean campground. Staff was very friendly and accommodating. Wifi and TV reception was poor but you have to consider we are in a valley. Overall very good campground to stay at. Would stay here again if in the area.
May 09, 2021
Campground was clean, with nicely spaced campsites. Really enjoyed our time there.
May 09, 2021
Terrific facility, great location, friendly staff, very clean
May 08, 2021
Another wonderful stay, priceless views of two mountain ridges and peaceful watching the sheep next door
May 08, 2021
quiet and convenient to where we wanted to be
May 08, 2021
Beautiful campground. Nicely layed out in a peaceful country setting. We stayed in a small cabin and had all the comforts of home that we needed. It's a well maintained place. The staff were friendly. Thet have a huge dog park which was really nice for our German Shepherd to run in. The only complaint we had was the bundle of wood they sell is not seasoned so making a campfire was very hard.
May 08, 2021
We were disappointed no cable and you were not allowed to play a radio .. Who wants to sit by a fire and enjoy your evening with out a little music .. The site had straw around the whole yard even around the campfire ring .. Scary to have a fire ..do like all the new updates .. This will be one we won't be returning to ..
May 08, 2021
I had a nice and pleasant experience. The service was above a 5 star �. The staff was the greatest and with service like I experienced I can't help but tell everyone. I will be back.
May 07, 2021
This campground is so beautiful, peaceful, and clean! We loved our site and found it to be very spacious! Although we traveled during an off peek season and things were closed due to time of year and Covid safety restrictions we still loved our stay here! Perfect location to access skyline drive at the Thornton Gap entrance.
May 07, 2021
We loved the campground, people and the area so much we extended our stay 2 nights.
May 07, 2021
great campground
May 06, 2021
Nicest KOA campground ever visited. Clean, small, beautiful area and extremely well maintained.
May 05, 2021
In over 20 years of camping at KOA campgrounds all over the country this is most likely the best KOA we have ever stayed at while on vacation . The campground is extremely well maintained, the office staff is very friendly (the manager, Jennifer is outstanding), the mountain views are fantastic, and the campground is right next to Shenandoah National Park. We will come back here in the future. mw
May 05, 2021
Beautiful campground staff were very nice.
May 05, 2021
Great weather clean campsite. Only wish I could have picked my campsite myself thru the app
May 05, 2021
Clean and we'll groomed. Sites are great! Really nice campground.
May 05, 2021
Overall stay was very good, lady at check in could improve on her customer service and be a little more friendly.
May 04, 2021
Very quit and relaxing. Just what we were looking for.
May 04, 2021
Nice clean and very peaceful place surrounded by sheep farm and cows with great views of the mountains
May 03, 2021
Peaceful....clean...wonderful place
May 03, 2021
Facility is a SOLID 5.0. Very nicely laid out and very well kept. The views from the campsite are amazing. So 5.0+ for facility but.........1.0 for customer service and hospitality. The management is abrupt and not fully understanding hospitality or customer service. Will put further detail on Google review since there is not enough room on this survey.
May 03, 2021
Loved the setting, up on the ridge with an excellent view of the local hills and farms. Campground was in great shape. Nice touch providing the Adirondack chairs.
May 03, 2021
We had a wonderful weekend. The campground has a beautiful view and my kids had a blast at the playground. We will absolutely be returning for another weekend soon!
May 03, 2021
Very clean, quiet, and just plain relaxing. Some of the sites can be a little tough to get into with a larger rig (40 ft fifth whee) possible. I am an experienced "backer upper" and I struggled. Overall great!
May 02, 2021
Only stayed for 2 nights since we were on our way home from NC, but the campground was very nice. We couldn't enjoy the patio and pergola because the winds were so fierce while we were there, but it was a nice addition to the camp site.
May 02, 2021
Beautiful campground. Very well kept.
May 02, 2021
Beautiful view and beautiful sites!
May 01, 2021
Just stayed for 2 nights but check in was easy, no contact. We had a small situation with water being very brown and enough sediment that it clogged my water pressure gauge and my filter.Good thing I had another filter on hand.called the office and was told they had a water main break & to let the water run a while. It finally did clear up. We liked the set up of this campground with the patios.
Apr 30, 2021
Outstanding campground, well maintained and very clean!!
Apr 30, 2021
Very nice, clean and well maintained campground. Has a variety of campsite options. Loved the Adirondack chairs and fire pits.
Apr 29, 2021
Very well kept campground, everything was very neat and manicured. It is not really big rig friendly. We have a 40ft coach towing a Wrangler. It was very difficult getting into the deluxe sites without hitting the landscape timbers. Also we didn't notice anyone around from the campground.
Apr 29, 2021
A wonderful KOA, very clean, quiet and peaceful in an awesome setting in the Blue Ridge Mtns
Apr 28, 2021
Very clean bathrooms Site was not very nice
Apr 28, 2021
Pros: Sites were nice, level, and were easy to navigate. It was also fairly quiet which was nice. Bathrooms were clean. Cons: Our site faced another site and the fire rings for each site were really close...didn't feel any privacy sitting outside our camper or around the fire. There wasn't any park cable and we lost water pressure twice during our stay.
Apr 28, 2021
One of our favorite KOAs so far! Smaller in park size. Plenty of room around the sites. Location is perfect for us. We have already booked our next stay!
May 06, 2021
This KOA was one of the best so far. The place was clean, roomy, and the service was fantastic
- Bruce Williams on Google
Apr 27, 2021
Smaller than expected but very nice. Enjoy the setup and cabin.
- Justin M on Google
Apr 23, 2021
Very clean and green. Quiet and peaceful. Setting is in between farm fields with wheat and cows. I cant complain about a thing. You do pay for what you get. We got a deluxe lot on a corner spot. Camping sights arent too close. Public rest room/showers had really hot water and were clean our entire 5 day stay. The dog run was huge and spotless. The people who work here are friendly and knowledgeable about the area. Enjoyable. Will come again.
- tracy w on Google