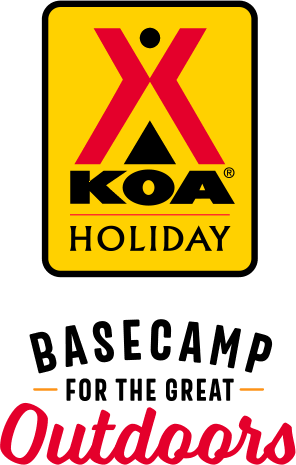 KOA Holiday Campgrounds
Whether you're exploring the local area or hanging out at the campground, KOA Holidays are an ideal place to relax and play. There's plenty to do, with amenities and services to make your stay memorable. Plus, you'll enjoy the outdoor experience with upgraded RV Sites with KOA Patio® and Deluxe Cabins with full baths for camping in comfort. Bring your family, bring your friends, or bring the whole group – there's plenty of ways to stay and explore.
KOA Holidays Feature:
RV Sites with a KOA Patio®
Deluxe Cabins with full baths
Premium Tent Sites
Group meeting facilities
Directions
We are located 2.3 miles north of Luray: Right on Kimball approx. 400 yards 2nd driveway on Left. Please follow signs to KOA off Hwy 211. We prefer arrivals by 8pm. This is to respect all of our guest. Cabins and yurts early check outs are non refundable. Late check out rv's $5, cabins/yurt $10 per hour.
If coming off the Skyline DR on 211 W. (GPS will try to take you on Kimball Road or Whispering Hill Road DO NOT TAKE them not RV friendly). Follow sign to exit for 340 north. Take right off exit go about 2 miles as you start down hill yellow KOA sign just before bridge, immediately after bridge take right on Kimball Road we are 2nd driveway on Left.
Coming from 81 you will need to take New Market Exit 264 going toward downtown (small small town) At second Light take Left on Main St (aka RT11) next light take right onto 211 E. Go over Mountain ( not a bad Mountain) Follow 211 to 340N. follow signs to Kimball road immediately after bridge right on Kimball KOA second driveway on left.   
To AVOID mountain from 81 N. take Harrisonburg (Route 33 E) Exit 247 take 33 to Elkton onto 340 N. to 211/340. Exit onto 340 N to Kimball Road.
From 81 S. take route 66 to Front Royal exit on 340S. Follow that through Front Royal follow signs to outskirts of Luray on your right will be an Exxon Station and store next road on your left will be Kimball road (rt658)and KOA second driveway on Left.
Directions for Northern Virginia take 66 West to Linden Exit 13 Rt79 off exit take left deadend at light take right on Rt55 deadend into Rt340S. take left on 340S bypassing most of Front Royal follow 340S to Kimball Road (Rt658).
Get Google Directions
Nov 19, 2020
We really enjoyed our stay at the campground. The views are spectacular and the sites are nice and spacious and clean. Although we never met the host because of covid, but the check-in process was easy and delivery of wood was nice. The only drawback is that the internet was weak and no cable, which is why I gave the campground a 4.
Nov 18, 2020
The site was ample and level. It contained everything we needed. We were unable to access the internet, however. And due to the Covid-19 pandemic the office and other buildings were closed. Fortunately, we didn't need any of that; and the process for handling arrival without face to face contact was well done.
Nov 18, 2020
Location is beautiful and just a short drive to area attractions like Luray Caverns and Shenandoah National Park. The campground has a great dog park.
Nov 17, 2020
Nice secluded campground and staff accommodating even though they are virtual.
Nov 17, 2020
Had a great time peaceful just like I was hoping, also meet some nice people
Nov 16, 2020
Overall it was fine two takeaways the internet is very weak and there is no cable hookup .
Nov 16, 2020
We enjoyed the scenery, the beautiful and peaceful countryside and cleanliness overall. The lady at the front desk was, however unwelcoming prior to our arrival during a phone interchange she instigated. The manager did apologize, but did not truly acknowledge the issue and behavior of the staff member. I would perhaps stay again because of the area and we are low maintenance, quiet people.
Nov 16, 2020
Very good stay, about 10 to 12 dollars more the I like to pay. Times are difficult. Very clean, neat, Had fire wood waiting for us when we arived. Ranch back drop is nice with cattle, sheep and lots of pasture around campground.
Nov 16, 2020
Nice campground, would like to come back when covid restrictions are over. Wifi didn't work for us.
Nov 16, 2020
I have stayed at numerous KOAs in the state of Virginia during the covid epidemic. they all have been open, just with limited activities for the children which is one of the major reasons why a family chooses a KOA. However upon arrival we quickly found out that everything was closed; the including bathhouses/rooms. There was no notice given that everything was shutdown or we would have canceled
Nov 16, 2020
Awesome place - love the dog park
Nov 16, 2020
Delightful campground. Very safe despite COVID. We really enjoyed the unexpected greeting from the cows in the pasture behind our site.
Nov 15, 2020
Recommended Luray to friend for this trip. Friend even joined KOA. When he got to his site he had no electric. That evening he was told an electrician would be there first thing in the morning. When the young man showed up it was apparent he wasnt an electrician. Two drunk parents playing football in the road with their kids. Football hitting other RVs and cars. Last trip to this KOA
Nov 15, 2020
This site is beautiful. Surrounded by mountains and a farm. The sunsets were lovely. Our site was level which was awesome. All amenities were closed - though why I'm not sure as we have stayed at other KOAs during the pandemic. But they still brought wood and picked up garbage and maintained the site beautifully. Highly recommend!
Nov 15, 2020
Beautiful place... Facilities closed due to Covid but that's unavoidable. Check in and out well organized... Even had pizza delivered to our site. Excellent place.
Nov 15, 2020
It was great.
Nov 13, 2020
We were disappointed with the WiFi service and no cable availability. We requested side by side sites and reservations were altered that prevented that from happening. We never requested a pull thru or a back in site which could have hindered our request.
Nov 12, 2020
Jennifer is amazing!! She always took care of everything - she is absolutely wonderful!
Nov 12, 2020
What a lovely campground! We enjoyed our stay and the only negative was the flies!
Nov 12, 2020
Very clean and well kept friendly staff.
Nov 12, 2020
It was great! Campground was clean and beautiful and super quiet. We also loved camping next to the cows!
Nov 12, 2020
Back in site was a bit tight and narrow as were the roads. Driving in and up the hill there isn't room for 2 rigs. We had to pull in to the site in front of us to be able to shimmy back in. We had a great view of the center field until other rigs pulled in and blocked our view. Great location though and clean grounds, site fairly level. Dog park was one of the best we've seen. We'd stay again!
Nov 12, 2020
Spacious sites with patios, furniture, fire ring, and awesome views of the mountains and working farms. Very well maintained. Bring your binoculars!
Nov 11, 2020
We always enjoy our stays here. The only issue we had this time was the number of dogs off lead.
Nov 11, 2020
Always a pleasure. We love the setting and the friendliness of the owners!
Nov 10, 2020
We have decided that this campground is a must stay location in the mid fall timeframe. This was our 4th year! We love the location and the campground is beautiful. The staff is VERY friendly and accommodating.
Nov 10, 2020
Love this campground!
Nov 10, 2020
Beautifully maintained!!!
Nov 10, 2020
Unfortunately we had Motorhome problems and had to have it towed back home and didn't get to stay. But they were very good about returning our money.
Nov 10, 2020
We liked the campground. It is clean, small, and has fantastic views! Everything was closed (including bathrooms) due to COVID-19; it would have been nice having the bathrooms open.
Nov 10, 2020
Very nice campground, with unusually large sites. Beautiful views of the Blue Ridge and surrounding farmlands. Convenient to the National Park and all that is has to offer. Enjoyed our stay and will return.
Nov 10, 2020
Way too expensive for what you get, I would never of booked it if I had known the bath houses or not open.
Nov 09, 2020
Our entire group stayed at sites 28-31 and it was perfect for children and dogs. The sites were well groomed and prepared for our arrival. We will certainly return! Thank you for a wonderful time.
Nov 09, 2020
Beautiful, clean campground with enormous sites. We had a wonderful view of the mountains. My son even said it looked like the view outside our RV windows had been photoshopped. November was the perfect time to go, with the changing leaves and the crisp morning air. We hope to be back again next year!
Nov 09, 2020
Absolutely amazing, quiet. Great view
Nov 09, 2020
Considering COVID-19 closings and being off season, the resort was clean and well-maintained.
Nov 09, 2020
Nice distance between campers in spot 78. Nice grounds and view. Wished we had more time to chill at campground
Nov 09, 2020
Beautiful campground. Well maintained
Nov 08, 2020
Great place - love the wide open space!!! Some trees need to be trimmed.
Nov 06, 2020
Very nice site surrounded by mountains. Great maintenance. Location near Shenandoah National Park is convenient.
Nov 06, 2020
Very nice place and well maintained
Nov 05, 2020
A very clean and nice campground.
Nov 05, 2020
Campground was clean and in good shape. Wood was delivered and ready to be burned. We were surprised the restrooms/bathhouse was locked. Other KOA's in Virginia had open bathhouses and restrooms.
Nov 05, 2020
Very nice RV Park! Very close to Luray Caverns, Shenandoah National Park and Skyline Drive. We'll be back!
Nov 15, 2020
Great campground
- skinswillwinbowl on Google
Nov 11, 2020
This is a beautiful KOA, maybe the nicest we have stayed in. The location is beautiful, mountains all around and the sites are spacious and laid out properly to enjoy the scenery. There are cows in the adjacent farm land that are adorable and don't smell. Very quite, can see so many stars at night. This is now our go too spot in the Shenandoah's. Cons - no cable and wifi didn't work. But with everything around you (and ipads) it wasn't missed.
- Danielle Weinrich on Google
Nov 08, 2020
Beautiful campground, not a bad spot. Look forward to coming back.
- Bob Myers on Google