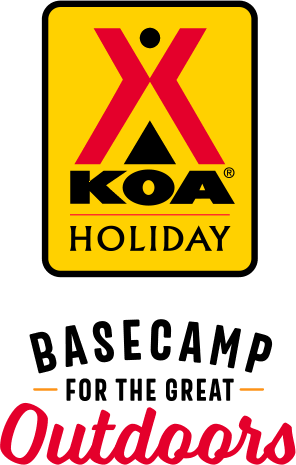 KOA Holiday Campgrounds
Whether you're exploring the local area or hanging out at the campground, KOA Holidays are an ideal place to relax and play. There's plenty to do, with amenities and services to make your stay memorable. Plus, you'll enjoy the outdoor experience with upgraded RV Sites with KOA Patio® and Deluxe Cabins with full baths for camping in comfort. Bring your family, bring your friends, or bring the whole group – there's plenty of ways to stay and explore.
KOA Holidays Feature:
RV Sites with a KOA Patio®
Deluxe Cabins with full baths
Premium Tent Sites
Group meeting facilities
Directions
From SR 33: Take SR 664 south 6.5 miles, left on Pattor Road, 0.2 mile to KOA. From SR 56: Take SR 664 north 8.5 miles, right on Pattor Road, 0.2 mile to KOA.
Get Google Directions
Dec 20, 2020
a relaxing time here quite friendly
Nov 29, 2020
The campground is lovely; the grounds are well-maintained and the facilities are very clean. I would like to recommend that the information for those who stay in cabins note that the towels provided are one set per person, and they are expected to last three days (!). When we asked for replacement towels, this is what we were told. We could easily have brought extra towels, if we had known.
Nov 05, 2020
Everything was great! This was my first time booking a KOA campsite and we were very pleased with our campsite and the accommodations. I look forward to staying at this KOA again.
Nov 04, 2020
We had a very good time. Having firewood, pizza and wings delivered to campsite an added bonus.
Nov 04, 2020
Had lots of space for the kids to play. The grounds were clean. Staff was very nice and helpful.
Nov 03, 2020
The best camp ground in the area quite friendly an all around nice place to camp Will return next year Thank you
Nov 03, 2020
Our favorite campground in hocking hills area clean bathrooms and showers and friendly staff and management
Nov 02, 2020
This was the first time we ever stayed at a KOA and we will definitely be back. Clean park, very close to the highway, extremely helpful and friendly staff. We were minutes from all of the main attractions in the area.
Nov 02, 2020
It was a pleasant stay. The staff was friendly. The bathrooms and showers. I recommend this KOA. The cabin came with bedding and towels. There's a fridge, the only thing missing was a microwave for us.
Nov 02, 2020
Very nice and clean place. We will return in the future. Thanks for everything!
Nov 01, 2020
The Camp Grounds were great, the road up the hill is in need of leveling out, lots of pot holes, rough on trailer hitch and truck.
Nov 01, 2020
The campground was very nice, as were the people working there. Restrooms were super clean. Pizza & wings were really good as was the service. They were able to accommodate an extra nights stay at a late notice. Would love to come back again next year in the Spring or Fall.
Oct 31, 2020
Everyone on staff was friendly and helpful. The bathrooms were clean, modern and well maintained. However, I wish there was a faucet hookup at the dump station so I could flush my black tank
Oct 31, 2020
Fantastic campground with very wide sites and easy access to all the hikes in Hocking hills. The 1 mile Birding trail was quite a pleasant surprise.
Oct 31, 2020
Wasn't too crazy about the spot (18). Fire pit is in an awkward location. Tripped over it already the first night and badly scraped one leg. Also not a location where one can place chairs comfortably. Many roots and sloped. The same as with many other KOAs I'm not crazy about the abundant use of gravel. Throws up a lot of dust when driving in. The toad needed an instant wash!
Oct 31, 2020
super fantastic all STAFF in so many ways; like home see u in April
Oct 31, 2020
Friendly staff
Oct 29, 2020
Just a absolute great weekend..this campground has everything you could want. Great location..Large sites..Clean rest rooms..Awesome staff..We will be back next year.
Oct 29, 2020
Very quiet back in the corner. We had a very relaxing long weekend ���
Oct 29, 2020
Fairly level spot but others were pretty sloped, iffy internet - don't count on it. Didn't appreciate the hard up-sale on sites, pricy store. Would stay there again, but will look hard for options first.
Oct 28, 2020
Great time again this year!
Oct 28, 2020
Best campground we have ever been to!
Oct 28, 2020
Fantastic facilities. We stayed in a cabin and it had lots of nice little touches that I don't normally see at KOAs--multiple electrical outlets (including one for USB), a reading light over the double bed, plenty of wall hooks to hang stuff, and a porch swing. Bathrooms were pristine with plenty of hot water and pressure. Only complaint was bathrooms were overly cold.
Oct 27, 2020
Absolutely love this place! Our family's favorite annual tradition and it feels like "home" every time we stay! Absolutely beautiful grounds and scenery, fun activities, clean and well-maintained facilities, and friendly staff. Always 5 stars in my book!
Oct 27, 2020
We had great time and thought everything was very nice and clean
Oct 27, 2020
Seeya next year hope to get full hook up, not site 37 been there 2x now.
Oct 27, 2020
Overall a very nice and well kept campground. I stayed in the primitive area and our site was very nice. I would definitely return to this campground. The amenities are fantastic as well. Camp shower houses and registration store were also very convenient.
Oct 27, 2020
I was disappointed when we were leaving on Sunday morning I asked if it was possible to do a late checkout at 1 o clock instead of noon and they said no
Oct 26, 2020
Great place to stay. Staff does excellent job and are friendly and courteous
Oct 26, 2020
Really liked the trick or treating you had set up for the kids, great fun!
Oct 26, 2020
Always a lovely stay with great people; both staff and fellow guests! Love the Trick-or-Treat and other seasonal events you provide.
Oct 26, 2020
Absolutely the best KOA we stay at. The cleanliness, the service, and the overall experience is by far the best that we continue to enjoy.
Oct 26, 2020
Clean facilities (the bathrooms are above par even for many restaurants and hotels), friendly staff, and very nicely kept campgrounds. Also great proximity to Old Man's Cave!
Oct 26, 2020
We were very pleased with the camping sites that provided space and were not stacked in like cord wood. We had two sites, one back in and one pull through, that were quite level for the rigs given the hilly terrain of the park. The kids had so much fun with the Halloween activities and the area hikes were close in proximity. Staff was extremely helpful and pleasant.
Oct 26, 2020
A Very pleasant stay in Hocking Hills.
Oct 25, 2020
This is a beautiful campground and my only complaint was extra charges. My daughter and grandson decided to join us for 3 nights. So that made 4 adults. We were charged $10 extra each night for each of them plus $10 for their vehicle. So a total of $90 extra. I was never made aware of the charge it was just put on my credit card. Iam not sure why 4 adults are more than a family of 6?
Oct 25, 2020
Pleasantly surprised by the courteous and friendly staff. The facilities were wonderful! Campsites were laid out great with plenty of space for each camper and family. The drive up to the campground was a little aggressive, but that is to be expected in Hocking Hills area. Love the location and ease of access to the Hocking Hills State Park and attractions. We will definitely be back again!
Oct 25, 2020
Everyone was helpful and friendly. Bathrooms and showers were very clean. The entire campground was well kept. Will stay here again!
Oct 25, 2020
It was Perfect! Couldn't have had a better experience!! We'll definitely be back.
Oct 24, 2020
Beautiful and clean. Had a wonderful weekend in the area. Best campground yet!
Oct 24, 2020
Beautiful, in the midst of the Hocking Hills region! Roomy, well-managed sites. Immaculate bathrooms--an important feature, especially in these COVID days--but our one complaint was that the showers had no accommodations for those with disabilities. We were told there was a special shower available upon request but it could not be accessed after hours. Otherwise I'd give this place five stars.
Oct 23, 2020
Very expensive, could not even sit around fire pit was so uneven, to crowded, all views of all camp sites, no privacy at all...will not be back.
Oct 23, 2020
Ok stay. I tried to use the bathrooms one day but one was locked and I was admonished at the other that they were going to power wash that one even though it was only noon and the sign stated cleaning was from 1-2 pm.