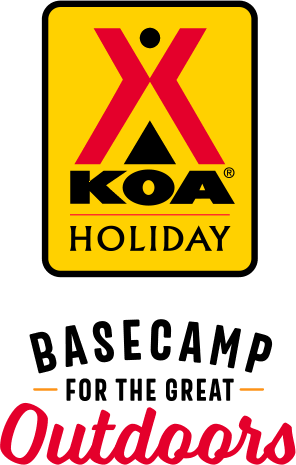 KOA Holiday Campgrounds
Whether you're exploring the local area or hanging out at the campground, KOA Holidays are an ideal place to relax and play. There's plenty to do, with amenities and services to make your stay memorable. Plus, you'll enjoy the outdoor experience with upgraded RV Sites with KOA Patio® and Deluxe Cabins with full baths for camping in comfort. Bring your family, bring your friends, or bring the whole group – there's plenty of ways to stay and explore.
KOA Holidays Feature:
RV Sites with a KOA Patio®
Deluxe Cabins with full baths
Premium Tent Sites
Group meeting facilities
Directions
From SR 33: Take SR 664 south 6.5 miles, left on Pattor Road, 0.2 mile to KOA. From SR 56: Take SR 664 north 8.5 miles, right on Pattor Road, 0.2 mile to KOA.
Get Google Directions
May 04, 2021
We loved your campground and would stay with you again. Very well taken care of and friendly.
May 04, 2021
Campground was very clean all staff were friendly and helpful, great location. The driveway is a little rough though.
May 04, 2021
Nice place- family oriented. The spots were nice but a little crammed and hard to get into. We didn't know that we would be locked into the campground- we planned to go hiking early but the gates were locked at 6am.
May 03, 2021
Amazing staff all around!!! Carolyn is always always so helpful kind and a joy to see ...or hear on phone when I have request or questions.
May 03, 2021
I love the lady name Caroline. I think that is her name. She is great and helpful. The staff is great. The older ones that have been there awhile are the best. The younger ones will get better about how they communicate with others. But for the most part we really enjoy coming there.
May 03, 2021
Very clean, very friendly staff. Will camp there again.
May 03, 2021
Wonderful!! Clean with friendly staff. They thought of everything
May 03, 2021
Loved everything about our stay. Our only suggestion is to mark the turn to get to the dump station. We went one road too far and it was hard to get back to the dump station. We will be back! :)
May 03, 2021
Awesome campground, awesome people running it, can't wait to come back!!
May 03, 2021
The bathrooms were very clean! Our campsite, #92, was extremely exposed to wind and had zero tree coverage and we weren't told about that. It would have been nice to know. Other than that, a great stay!
May 03, 2021
Great campground, friendly staff, great service, awesome location!
May 03, 2021
We had a maintenance issue that was fixed lightning mcqueen fast. The bathrooms are cleaner than the opry, the store had everything I forgot, and the staff suggested the itinerary I hadn't planned. Would stay again.
May 01, 2021
IT was great! Everything was very clean and organized. We loved it.
Apr 30, 2021
The best part was the staff. Very friendly and the park was clean and maintained well.
Apr 29, 2021
Neat, CLEAN, well-maintained, friendly, helpful, scenic, could not not been better!
Apr 29, 2021
Wood was wet
Apr 29, 2021
This KOA is awesome! Camp hosts & staff all extremely friendly & knowledgeable about the local area. Camp store is large and well stocked with variety of necessities & souvenirs. Ice and firewood can be delivered to your site, as well at hot pizza! (although check ahead on this, as the pizza shop was closed on the Mon & Tues I was there). Very clean HOT showers, and pretty birding trail in camp :)
Apr 29, 2021
We only stayed one night so we're probably not the best to ask but - staff was extremely friendly and the park appeared to be very clean. The only potential negatives are the extremely steep and long incline (possible that some can't climb with attached equipment) and the road that the KOA is on - narrow and very windy. Yes, I would and probably will go back.
Apr 28, 2021
What a beautiful campground!! It is well maintained and the sites are well spaced. We enjoyed looking at the sunset, the super moon, and the rolling hills.
Apr 28, 2021
Hocking Hills is beautiful and KOA is also
Apr 27, 2021
Great campground with clean facilities. Will definitely be back.
Apr 27, 2021
We liked our site. The only thing was when we went to reserve on your website it said there was only 2 sites available. We noticed all the sites were not filled and we were not offered a different site at the time. I guess next time we will have to ask. We really liked the campground.
CAMPGROUND RESPONSE / COMMENTS:
Glad to hear you enjoyed your stay! Because of the size of your camper there are many sites in the campground that we would not place you due ease of getting on those sites. When you are ready to return please give us a call and we would be more than happy to help you get the site your hoping for!
Apr 26, 2021
We enjoyed the the campground and the surrounding area. Hocking Hills was amazing.
Apr 26, 2021
Staff was very friendly and helpful. Campground was very well maintained. Restroom/shower facilities were exceptionally clean. Really enjoyed my stay!
Apr 26, 2021
Beautiful campground, bath/showers were always spotless and staff were the friendliest ever! Would come back in a heartbeat! Thank you for such an enjoyable stay!!
Apr 26, 2021
Very helpful and easy check in and out. Restrooms showers were vary clean and well maintained awesome time and thankful to be there
Apr 26, 2021
To many little experiences. I loved the bathroom and delivery of food and wood. Didn't like that I had to pay for an extra car and had to park it on the other side of the campground. Didn't like that I had to pay extra to put up two tents on the same sight. I should be able to put up as many tents as I want on a sight that I paid for. The staff was very pleasant and helpful.
CAMPGROUND RESPONSE / COMMENTS:
Due to our terrain and trees, tent sites have a mulch pad for tents to go on. We allow one large tent and, when requested, a small kids tent. For the same reasons theres only room for 1 car at most of our sites. Pricing includes 1 tent, 1 car and 2 people, with any extras at additional cost.
Apr 24, 2021
Very clean and well maintained. Friendly staff to assist with your needs. Nice little store on site with basic necessities. Everything we needed or wanted within 15 minutes of campsite. Our 2nd visit of what will be more to come.
Apr 24, 2021
The campground hosts work from sunrise to sunset and beyond to make campers stay comfortable. The camp is beautiful, immaculate,and well appointed. We will be back frequently! One of our top favorite KOAs.
Apr 23, 2021
furnace was quite noisy,fan speed for heat was too high.Needs bigger water heater.Cable tv left a lot to be desired.
Apr 20, 2021
Everything and everyone was great. We will definitely be back to enjoy this wonderful campground again.
Apr 20, 2021
Super friendly staff. Well maintained and beautiful!
Apr 19, 2021
We had a great stay - your services go above and beyond… We were greeted instantly at the front gate and led to our site. It was our first time there and we were told about the rules and other campground offerings. It was nice to see the staff out so often! It was fun to have dinner delivered to our camper and so convenient to have firewood brought as well. The grounds so well maintained! Thank
Apr 19, 2021
Always a clean place to stay and the staff is super friendly. We've been going for years.
Apr 19, 2021
Very clean, nice layout, with plenty of trees for shade. The sites aren't right on too of each other which is nice. Some of the premium sites come with a patio that has a table, chairs and a grill. Nice camp store with some food options and not too far from Old Mans Cave.
Apr 19, 2021
It was awesome, and we got lucky with the weather - will definitely visit another KOA :)
Apr 19, 2021
We really like this campground! Everyone is so friendly and the campground is so clean and up to date! One suggestion - Pattor Road is horrible. Please re-pave or work with the city-county to repair it and -or re-pave it. Thank you!
Apr 19, 2021
We had a wonderful time. The campgrounds are beautiful and thank you for being so kind. We will be back soon
Apr 19, 2021
worst koa ever! was lied to at reservation time being told only 3 sites left, stayed 3 nights and campground was NO WHERE NEAR FULL1 At least 15 other way nicer sites un occupied the entire stay, asked to be moved as I was given a site which was on a very steep slope and in the middle of a bunch of large rv,s, was told we are booked solid! Fie wood we bought wouldnt burn, bathrooms were dirty
CAMPGROUND RESPONSE / COMMENTS:
We're sorry to hear that your stay was not what you expected. There were 3 site type options that were available for your stay and you chose our budget site, which compared to patio sites would be less desirable, but much cheaper. For RV camping our patio sites are a great choice when available.
Apr 18, 2021
It was great! Little cold, but the bathrooms were very clean and easily accessible. The staff was very friendly and I can't wait to come back when it's a little warmer!! My kids had the best time being disconnected from their devices!