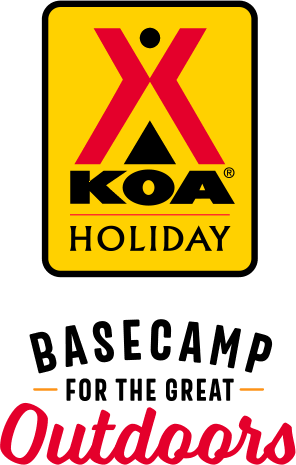 KOA Holiday Campgrounds
Whether you're exploring the local area or hanging out at the campground, KOA Holidays are an ideal place to relax and play. There's plenty to do, with amenities and services to make your stay memorable. Plus, you'll enjoy the outdoor experience with upgraded RV Sites with KOA Patio® and Deluxe Cabins with full baths for camping in comfort. Bring your family, bring your friends, or bring the whole group – there's plenty of ways to stay and explore.
KOA Holidays Feature:
RV Sites with a KOA Patio®
Deluxe Cabins with full baths
Premium Tent Sites
Group meeting facilities
Directions
From SR 33: Take SR 664 south 6.5 miles, left on Pattor Road, 0.2 mile to KOA. From SR 56: Take SR 664 north 8.5 miles, right on Pattor Road, 0.2 mile to KOA.
Get Google Directions
Sep 25, 2021
Park was spotless. Staff very helpful and nice. Pool was beautiful and impeccably clean. Great walking trails. You have to try the fudge�ϋ�
Sep 25, 2021
It was beautiful and we had a premium sites so everything was there but it is very difficult to get into the KOA.
Sep 25, 2021
The cabin was clean and comfortable. Everything you might need was provided. Friendly staff.
Sep 25, 2021
Charming staff, clean & orderly, no place to sit around the fire-pit because it was on a hill, unpaved hill at entrance.
Sep 24, 2021
the only thing bad was having to leave.
Sep 24, 2021
The cabin was nice. We enjoyed exploring Hocking Hills state park caves and the surrounding towns.
Sep 24, 2021
We Loved the camp site It was beautiful. Also the facilities and store are very nice. The staff ...None Better
Sep 23, 2021
One of the best KOAs we have ever camped at! Our pull-through site was great and the restrooms/shower were consistently clean and well-kept.
Sep 23, 2021
Only negative is road coming in. It is very nerve wrecking trying to go up the hill esp with the uneveness. Fudge and people are amazing though!
Sep 23, 2021
Staff was very welcoming, very clean showers. Great communications via text and staff. The dog Park was disappointing. I travel with 2 Labrador Retrievers. The dogs had more room to run in my travel trailer.
Sep 22, 2021
We stayed at a campgrounds in KY the night before that was not a KOA. It was not a good experience!! So glad to come back to a KOA and the Hocking Hills campgrounds we had visited several times many years ago. Clean restrooms, nice tent sites, quiet, great pool, friendly and helpful employees, all made for a pleasant stay. We will be back again.
Sep 21, 2021
We had a wonderful site, friendly staff and a great time. Thank you. The fudge was really good too.
Sep 21, 2021
Great Campground-rivals any! Generous, shaded sites. Low lamp lights make campground look like a lit up little village at night. Meticulous grounds & bathroom/shower house. Pool was still open and HEATED in mid-Sept.-Thank You! Store well stocked (needed an extension for our sanitary line) and has pizza shop! Noticed there's lots for children-mining/panning for treasure, race track for remotes.
Sep 21, 2021
Super clean campground, bathrooms were absolutely spotless!!! The pool was perfect after hiking 8 miles!!! Firewood and pizza delivery, great too!!!!
Sep 21, 2021
The grounds were clean and well managed. The hosts were awesome, they helped us with all our needs. They even delivered pizza and firewood to our campsite. I was short a pad for my stabilizer leg and our hosts let us borrow one. We had a leaking water regulator on the city water spigot and they put a new regulator on immediately. Couldn't ask for a warmer welcome and a pleasant stay. Thank you!!
Sep 20, 2021
One of the best KOA's we have stayed at. The campground is well maintained and the sites are very large. The staff was extremely kind and offered lots of things to do for families of all ages. Will definitely be back!
Sep 20, 2021
This was our first KOA stay and we had a WONDERFUL experience.
Sep 20, 2021
It was a nice campground and we would definitely stay there again.
Sep 20, 2021
Very clean, and well kept sites and amenities. Having said that, the place is also run very militant. Due to check in times at campsite and a wedding we were attending, we weren't able to check in the same day, and were woken up to banging on our RV door the following morning. Told to immediately go check in, to find out our card had already been processed the night before. Nice, but off putting
Sep 20, 2021
We have stayed at this KOA many times with our camper. This was the first time we rented a cabin and we were not disappointed! Also loved that the pool was still open after Labor Day
Sep 20, 2021
CLEAN, GREEN AND FRIENDLY. IN SEPTEMBER, AFTER A BUSY SEASON, STAFF STILL SMILED AND TREATED ME WITH COURTESY. LORI, MANAGER, MADE MY STAY PARTICULARLY NICE BY HER FRIENDLY MANNER.
Sep 20, 2021
We loved the campground! The kids loved the activities!
Sep 19, 2021
nice clean park. Nicest koa we've stayed in. pools actually heated not with a blanket
Sep 18, 2021
Very enjoyable
Sep 17, 2021
Very clean nice campground, very nice staff, many activities. FYI- If you are looking for more tent privacy- the very far spots in back are no more private than the spots near the front. Bathrooms are a very very far uphill hike. Our spot back there had 0 privacy but there were maybe 2 spots in the back that are more wooded. Showers are clean but very limited. This KOA does not pick up trash.
Sep 16, 2021
Always friendly staff and willing to make stay great. Make changes when needed to make your stay more comfortable
Sep 16, 2021
I cannot say enough good about this campground. From the friendly staff, beautiful campground, heated pool, general store, & pizza. I never got the young mans name who delivered our pizza, but he is a top notch employee. He was always busy cleaning and helping out where needed. Highly recommend this KOA!!!
Sep 16, 2021
The sites were somewhat challenging but we enjoyed our stay. Lots of great acitivities and very friendly and helpful staff.
Sep 15, 2021
This was our first visit to Hocking Hills. The staff there are all friendly and helpful. The property is well maintained. We loved the rolling hills and all the trees. We appreciated the text messages providing us with pertinent information before and during our stay. My husband and I will definitely be back!
Sep 14, 2021
The CG is very clean and sites are large..Owners and crew are friendly and knowledgeable of area. In the middle of all attractions and trails..This is a must stay CG. Will be back soon.
Sep 14, 2021
Very clean , friendly staff ! Had some off season activities for the kiddos that is always nice and heated pool was still open yea �
Sep 14, 2021
Very nice location, beautiful scenery and all locations and facilities were clean and well maintained. Staff was very helpful and friendly Enjoyed the Hunts Brothers pizza and wings having the option of delivering right to your site We will come back next 8
Sep 14, 2021
The sites were all spacious with lots of mature trees and grass. The staff was friendly and helpful when needed. The option to receive text related to events and things around the campground was nice. We absolutely loved our stay and will be back when time allows.
Sep 14, 2021
The trails on the property were nice. Employees were nice. No covid safety protocols. no mask requirements in the store where you have to check in. The 10 pm quiet time was not enforced without having to call and complain. Neighbors were loud and let to carry on through 1am. The dump site does not have a spigot for a tank flush. If we return, our expectations will be very different.
Sep 14, 2021
Really nice facility in a very pretty location. This is top of the line KOA stuff. Very well organized, efficient and friendly. Facilities in excellent shape. Greatly exceeded our expectations and stands head and shoulders above the very fine and reliable KOA standards we've come to enjoy. Very impressed.
Sep 13, 2021
The sites are nice sized but I wished there was grass for the patio. The stones were sharp and cut our dogs paws
Sep 13, 2021
Awesome experience. Lots of activities for the kids (but also lots of time just to run around and be crazy). The store was great & I loved having pizza delivered to our campsite one night. Will have to come back again!
Aug 29, 2021
Love it. Can't wait to be back. So much todo, so many unique experiences. Kids had an absolute blast. Respelling highly highly recommended. Stayed at KOA and rate it 5 stars as well. Only thing I didn't like about our trip was leaving. Can't wait to go back.
- chrisbauerwrat on Trip Advisor
Jul 22, 2021
Warning to dog owners: this KOA has breed restrictions. It's not listed anywhere on their website, but pit bulls and Rottweilers, or any mixed breed that contains one of those, are prohibited. Because I didn't know this until I arrived with my pit/boxer puppy, I had to decide if I was going to be honest and be forced to find another place to stay, or lie and know that my puppy is very well-behaved, and breed restrictions are ridiculous.
- I1624NDkarenh on Trip Advisor