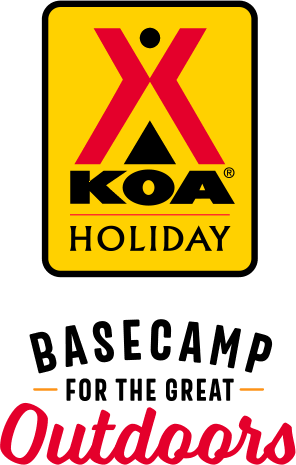 KOA Holiday Campgrounds
Whether you're exploring the local area or hanging out at the campground, KOA Holidays are an ideal place to relax and play. There's plenty to do, with amenities and services to make your stay memorable. Plus, you'll enjoy the outdoor experience with upgraded RV Sites with KOA Patio® and Deluxe Cabins with full baths for camping in comfort. Bring your family, bring your friends, or bring the whole group – there's plenty of ways to stay and explore.
KOA Holidays Feature:
RV Sites with a KOA Patio®
Deluxe Cabins with full baths
Premium Tent Sites
Group meeting facilities
Directions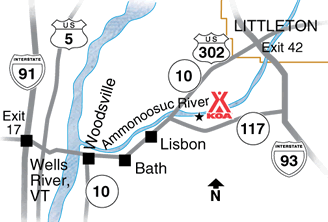 Exit 42 from I-93: Go west on US 302 5 miles.
Exit 17 from I-91: Go east on US 302 18 miles.
Use GPS system at your own risk! Please refer to a road map or call the campground.
Get Google Directions
Sep 14, 2021
Nice park on a stream. Close to Franconia Notch SP. Friendly and helpful staff. Clean restrooms and showers.
Sep 14, 2021
The campground was super clean, the sites were spacious, the view on the river was wonderful, the staff was very friendly, and there was a ton of activities for kids! We will definitely be back!
Sep 14, 2021
2nd time staying in L/F KOA. Very much enjoy the campground and exploring the area. Quiet and clean describes this KOA. Best bathrooms of any KOA locations we've stayed at. Only knock is the internet connection….spotty….but then most campgrounds don't do a very good job in this area. This was a mid- September stay so it was less crowded which accounts for the super quiet nights ; )
Sep 13, 2021
We liked this campground a lot! Right on the river with large, shady sites, it was a great base from which to explore the area. A short drive in any direction took us to hiking trails, lakes, great restaurants and charming little towns. The KOA itself has nice amenities and lots of family activities too.
Sep 13, 2021
it was great, staff were very friendly, park was very well kept. was a bit noisy being close to the rd out front but all in all it was great.
Sep 13, 2021
Very nice staff, clean campground.
Sep 13, 2021
Road noise was loud and took away from the stay. Hosts we great .clean bathrooms and overall nice. We would be back but only if we had a site down by the river.
Sep 13, 2021
Fantastic Staff, clean facilities, great riverside sites. However the proximity of Route 302 really spoils the opportunity for a tranquil atmosphere.
Sep 13, 2021
We biked in and stayed at a tent site...beautiful site right be the river. The bathrooms were immaculate and showers were hot with great pressure. The owners were very nice and diligent about service...I ordered wood when I checked in and it was delivered to our site before we could ride our bikes around the short curve to get there! All good and highly recommend!
Sep 12, 2021
Very nice campground. Would stay there again. Recommend the sites that back up to the river. Friendly and helpful staff.
Sep 11, 2021
One of very best KOA's we've ever visited. We had a great site that backed up to the river which was plenty long and really good spacing between sites. Staff was great. Laundry facilities and WiFi were good. Only issue would be the showers are really small and could use updating. Would definitely stay here again if in the area.
Sep 11, 2021
Loved it, beautiful camp ground and lovely cabins
Sep 11, 2021
Very friendly people. Clean and comfortable.
Sep 11, 2021
Very pleasant stay, second time this year. Facilities are top notch and wonderful staff. We are planning to return next year.
Sep 10, 2021
Clean campground with lots of weekend activities. Camp site was not level. Bathrooms, showers and laundry very clean and well maintained. Very pleasant staff.
Sep 09, 2021
Campers are too close together and parking in either direction is allowed which caused me to be completely surrounded by smokers with a total lack of privacy. I could not leave my camper to sit outside and enjoy the fresh air.
Sep 08, 2021
Great little campground, sites were small but if we had kids we would have been busy doing all the activities they put on and not at our site! Only thing I noticed that could use improvement is some much needed tree clean-up, I noticed a lot of low branches and deadwood. I would definitely stay again! Just have to be extra watchful with the roof & branches.
Sep 08, 2021
We had a wonderful time in this beautiful campground. The family activities were so fun and thoughtful. We will definitely be coming back!
Sep 07, 2021
This is a beautiful campground!!! The hosts are amazing. If you can pay the money get a patio site. We had a view of the river, so peaceful!
Sep 07, 2021
The KOA is the smallest we have ever stayed at. But it was a wonderful experience. Everything was so clean and friendly. I absolutely loved staying there.
Sep 07, 2021
My friends and I stayed for Labor Day weekend and were pleasantly surprised by how well managed the camp ground was, the helpfulness and kindness of the staff and, the close proximity to town.
Sep 07, 2021
Awesome spot on the Ammonoosuc River. Did some hiking which is everywhere near by and Polly's pancake Parlor in Sugar Hill is a must... Enjoyed our stay very much
Sep 07, 2021
we have now stayed at this particular KOA twice and it is definitely a favorite. The location is beatiful, the campground is always very clean, and the staff are SO friendly each year. We love staying at this location and can't wait to come back.
Sep 07, 2021
Great campground that is very clean. Love the sites right next to the river.
Sep 07, 2021
The staff was so friendly. I can't say enough great things about this campground. I can't wait to go back with my family!
Sep 07, 2021
Great sites, awesome location, brand new bathrooms! The only things I would say are that the wi-fi and calling signal were not great, likely because of the mountains, and there were no shelves in the shower to put soap and shampoo on. Can't wait to come back!
CAMPGROUND RESPONSE / COMMENTS:
Thank you for staying with us. This year each shower stall had a rack that hung over the shower head for storage for you soaps and shampoo's. I'm sorry your shower didn't have one. I will make sure that is corrected. We look forward to have you come back and stay with us.
Sep 05, 2021
We really liked the camp ground. We had a site on the river. Very clean. Staff were very nice, helpful and friendly. I will recommend this camp site to my friends and family.
Sep 05, 2021
This KOA is probably the best one in the KOA family. If the other KOA Kampgrounds are at least 30% this one, I will only stay at KOA's.
Sep 04, 2021
Very nice park along the river. Need to update online information to show that many of the activities are only on specified weekends.
Sep 03, 2021
Very clean. Nice and helpful staff and the river sites are beautiful. I would go back and recommend this campground.
Sep 02, 2021
Very friendly and pleasant staff. Felt right at home. Many upgrades since last visit 11 years ago. Very clean grounds and facilities. Highly recommend.
Sep 01, 2021
Everyone was so very pleasant and the campground and facilities were well kept and beautiful!
Sep 01, 2021
Very friendly staff! The grounds were well taken care of and the facilities were clean. All and all a very enjoyable stay in a beautiful area! We will be back.
Sep 01, 2021
Everything at this campground is very clean and well maintained. Every staff member we interacted with was very pleasant and helpful and we will definitely come back.
Aug 31, 2021
We enjoyed being by the river. Campground was clean, staff was very friendly. Plenty of things to do in the area.
Aug 31, 2021
The place was clean and functional. The staff was delightful. The only (main) downfall was the painful WiFi during our stay and phone service in that area was non existent. We had to drive down to Lowe's to check or make a phone call.
CAMPGROUND RESPONSE / COMMENTS:
When you are in the mountains of New Hampshire, cell service is very spotty! Perhaps next time you are in the mountains you should put your phone on wifi to make calls. As for the wifi maybe you should check your privacy settings no one else had issues.
Aug 31, 2021
Would have given the park a 5 if they did not allow tents on RV sites. Rules state "NO TENTS ON RV SITES". And yet there was three sits with tents. Just follow the rules.
CAMPGROUND RESPONSE / COMMENTS:
Thank you for staying with us. That rule applies to tents and RV on the same site. If a guest want to place a tent on an RV site at the RV rate they are allowed, as our tent sites have no water or electric, or to be next to family members in RV's that is allowed.
Aug 30, 2021
One of the best campgrounds we have stayed at. The people that run it were very accommodating and friendly. It was nice that they delivered wood and had activities for the children to do. The whole place was neat and clean and at an excellent location. We would definitely stay there or happily recommend this koa again.
Aug 30, 2021
the karaoke person should stay until 10pm and supply music if no one is singing. a fence along the highway would be a great addition to cut down on highway. otherwise we love this campground
Aug 30, 2021
Nice place, close to shopping areas and tourist destinations. The staff are friendly and accommodating. Not enough bathrooms but is always clean.
Aug 30, 2021
It was great! The facilities were kept impeccable and they had a well oiled machine! We will definitely be returning :)
Oct 13, 2021
Stayed for Columbus Day weekend, three nights, tent site 9, by the river. Spacious, grassy, wonderful river views, good picnic table and fire pit and shade. Immaculate campground, excellent bathrooms, dishwashing area. Friendly and helpful staff, fun little activities - bingo, Halloween tick or treating for kids. Quiet neighbors. Camped with three people: two adults, one 11 year-old. Good location, a few miles from grocery, walmart, home depot, fast food, gas. but the campground is quiet and serene and natural, no hint of commerce.
- rickl395 on Trip Advisor
Oct 08, 2021
We were lucky to have 3 nights stay there during the peak foliage of White Mountain National Forest. With fall colors everywhere, the campground was very beautiful. The site overall was very clean and well managed. The staffs were friendly. The only concern I would say was the missing of the cell signal. Lucky that the campground provided WiFi was working just fine, even though it was sometime on and off. It will be appreciated if the host can improve the WiFi signal strength a little bit.
- A L on Google
Oct 07, 2021
Very nice only 5 miles off I-93 on rt-302 and close to Littleton and many services close by Very nice sites
- Richard Smith on Google