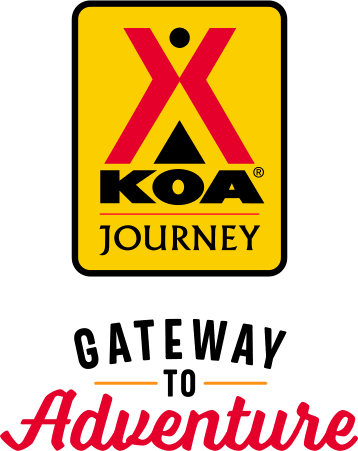 KOA Journey Campgrounds
KOA Journey campgrounds are the perfect oases after a day on the road. Whether it's along the way or a quick getaway, they've got you covered. Located near the highways and byways of North America with long Pull-thru RV Sites, they deliver convenience to the traveling camper. Pull in, ease back and take a load off.
KOA Journeys Feature:
Pull-through RV Sites with 50-amp service
Premium Tent Sites
Well lit after hours check-in service
Directions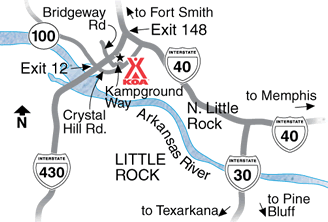 From I-40: Exit 148 (Crystal Hill Rd), SW 1 mile then right on Kampground Way to KOA.
From I-30: Take I-430 to Exit 12, then right on E Hwy 100. Left at second street (Kampground Way).
Get Google Directions
Jun 17, 2021
Great site for my tent and Harley! Wonderful staff, went out of there way! The Only thing is I wish they had a stool in the shower, because I where a Prosthetic. 3 of the other KOA's I stayed at had stools. I still rate it a 10!
Jun 17, 2021
Very quiet and clean place. They have a ice cream parlor!.
Jun 17, 2021
Will definitely be back to Nashville this KOA is amazing
Jun 16, 2021
This KOA is ok. Just ok. Easy in and out however the campground is very worn and needs lots of maintenance and repairs. The full time campers are strung out all over and have very messy lots. The pool was not open and no cable. It's good for a overnight stay only.
Jun 15, 2021
Great spot! Personal bar-b-que's at every site along with wrought iron table and chairs....Concrete pads. Only down? The pool was closed and it was 95 degrees.
Jun 15, 2021
We had a nice overnight stay enroute to Nashville.
Jun 15, 2021
Almost too small for us but nice campground
Jun 15, 2021
People very nice and helpful. Definitely would stay there again.
Jun 15, 2021
Very friendly and accommodating!
Jun 15, 2021
Great KOA. Clean and great staff. We are repeat campers here
Jun 14, 2021
The staff were extremely friendly and check in was very smooth. The campground itself was poorly maintained. It met basic needs for a one night stay but if given the option, I would likely find somewhere else to stay next time we are in the area.
Jun 14, 2021
Linda is a friendly, gracious, and accommodating hostess. Due to an unexpected sewer issue, literally last minute adjustments were made to allow us requested full hookup/50 amp. Kampground is easily accessible from the interstate. All pull thru sites. Our overnight stay was restful. Thank you KOA Little Rock!
Jun 14, 2021
I was a very basic RV stop, not much to do. Pool was closed (even though the website said otherwise), icecream shop closed early. Only bright spot was maintenance was on top of the issue of bad electrical.
Jun 14, 2021
No path to the restroom at all unless you are a premium member. The ground was soaking wet and get ready to step in mud. The ice cream was ok but nothing great.
Jun 13, 2021
This KOA's pool was "not operational", the cable was out and cell service was better than WiFi. We asked for a discount as nothing they offered beside 50 AMP was available or functional and they offered us $2 off a night. We let them have their greedy $2 a night. KOAs are going downhill fast, and this one was expensive for nothing.
Jun 13, 2021
Place is Dirty, worse KOA I have stayed in. People traveling with us had to drive 3 more hours because their site had no electric or sewage. Our dog rolled in the grass and we had to bath her right away, she smelt like sewage. Cut our stay short and was refunded for the day we did not stay
Jun 13, 2021
Friendly greeting from the desk staff. The campground is scenic, with all of the trees. However, the trees are a challenge for big rigs and I don't think the staff understands the challenges of maneuvering or parking a 43' fifth wheel. I think the campground is good for smaller RVs, but I would not recommend it for larger ones.
Jun 13, 2021
Nice park. Level spot. No longer have cable..We were worried about the weather and were having problems with our phones. Over air TV was not the best!! Did get out of there before weather moved in. Very friendly people working there
Jun 12, 2021
Dirty!! So happy we only stayed one day!
Jun 12, 2021
In need of tender loving care!!
Jun 12, 2021
We had to pull over as it was lightening so bad, we wanted to miss the storm. We pulled in after hours and it was easy to figure out what to do. It is well shaded and nice.
Jun 11, 2021
I BOOKED A "KOA PATIO" SITE BACK IN APRIL 2021 AND YOU GUYS PUT ME IN A TIGHT/POORLY FURNISHED 30/50 AMP SITE (G-4) - UNACCEPTABLE FOR THE MONEY. I HAVE STAYED AT A MANY "KOA PATIO" SITES ACROSS THE COUNTRY INCLUDING YOURS ON JUNE 3rd, WHICH WAS NICE (R-1); BUT THE ONE YOUR GAVE ME ON JUNE 9th WAS NOT A "KOA PATIO" SITE. YOUR POOL WAS NOT OPEN; NO TRASH PICK-UP; NO CABLE TV. WHAT'S UP?
Jun 11, 2021
The worst campground we have stayed at in 5 years of travel. Open sewer hole on site. Paid for full hookups for two nights. Would not refund money. Stuck for work or would have left. Dirty. Disgusting. Laundry locked randomly with no codes given. No one in the office for two days. Stay clear of this place. Open sewer. Need I say more.
Jun 11, 2021
Camping space was fine, the staff very friendly. The wifi didn't work at all except for a few minutes.The cable was out.
Jun 11, 2021
The spots were packed tightly in the area we stayed. My neighbors sewer dump was just a few feet from our picnic table. No room to extend our awning. It was the highest rate we paid in our 7 state journey. We were only there for one night so we made do.
Jun 10, 2021
Very nice park. This was not our first stay at this park. That says it all repeat customer.
Jun 10, 2021
Campground needs a lot of maintenance
Jun 09, 2021
Y008 is not a great site for my size of truck and trailer. There is no possible way to exit to the left with the two large trees. Luckily no one was behind me so I could reverse out of spot. I would not call this spot a pull through.
Jun 09, 2021
PERFECT! I had an easy jog up to LRAFB to remember the "old" times there in the 70s! :) GSH
Jun 09, 2021
Awesome park. We enjoyed our stay!
Jun 08, 2021
Pool broken and empty, sewer system down, horribly maintained, sites a mess, picnic tables falling apart. Would NEVER go there again. On a positive note, they were friendly.
Jun 07, 2021
Friendly and helpful staff. Easy pull through and easy exit. One of our favorites as we cross I40 over the last couple of years.
Jun 07, 2021
Nice place and nice rv spots
Jun 07, 2021
This campground has not been kept up. The property is overgrown with cabins that could not be in use. The bathhouses were too dirty to use. Sadly this is the worst KOA we've stayed in.
Jun 07, 2021
Very much below the standards we have come to enjoy when staying with KOA. Maintenance, manicuring were well before par. Too many obvious long-term transient workers that gave the park an aire of "trailer park."
Jun 07, 2021
The park is well kept and most of the staff are courteous. The two ladies in the office are quite abrupt and seem to resent questions from the guests. When I was trying to understand why the WiFi was not working, the one younger lady got very rude, showed me her smart phone, and said "See! It's working!" (As if I was stupid.) The gentleman did mention the routers needed to be rebooted.
Jun 07, 2021
The employees were great. The woman who let us in late at night was very friendly and super helpful and helping us find the supplies we needed. The shop is well stocked too!
Jun 06, 2021
Pool was empty. No mention on the website about the pool being closed. Nasty reception when I mentioned this to her. Dirty facilities. No security. We could have stayed somewhere else.
Sep 19, 2021
I loved this campground...quant and Christian music playing the bathrooms. We only stayed 1 night but will definitely go back.
- Jenny Reeder on Google
Sep 09, 2021
Enjoyed our short time there.
- margie asher on Google
Sep 08, 2021
Very friendly staff, easy access to rv park from highway. Showers were very clean and nice. 2 dog parks and nice level pull through spots. Would recommend and go again if we were passing through
- kcswany 19 on Google