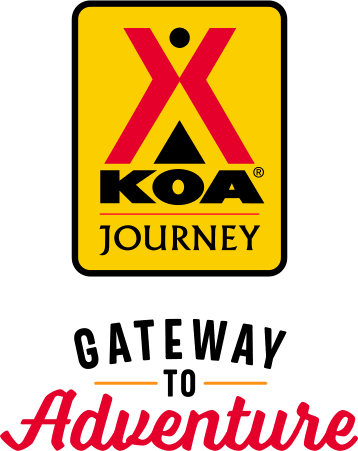 KOA Journey Campgrounds
KOA Journey campgrounds are the perfect oases after a day on the road. Whether it's along the way or a quick getaway, they've got you covered. Located near the highways and byways of North America with long Pull-thru RV Sites, they deliver convenience to the traveling camper. Pull in, ease back and take a load off.
KOA Journeys Feature:
Pull-through RV Sites with 50-amp service
Premium Tent Sites
Well lit after hours check-in service
Directions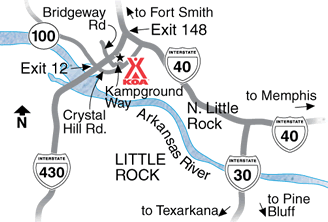 From I-40: Exit 148 (Crystal Hill Rd), SW 1 mile then right on Kampground Way to KOA.
From I-30: Take I-430 to Exit 12, then right on E Hwy 100. Left at second street (Kampground Way).
Get Google Directions
Jul 03, 2021
This review has been removed by KOA due to profanity.
Jul 03, 2021
Just an overnight for us but the grounds are very clean. The site was level. The staff was extremely friendly and helpful! Noise from the highway was minimal. Great place!
Jul 03, 2021
Don't be fooled with description of the sites with patios. The ones in front of the A-frame are very nice, but there are more behind the building and there view is not so well. Apparently most or at least some of them are long term. The sites in front are well kept and quite clean while the ones in back are not. The pool, playground, restrooms and such are nice. It was okay for a 1 night stay.
Jul 03, 2021
camp host was the most unproffesional nasty lady I have met in a long time! We actually setup and had a visit from her and packed up and left an hour after getting there.
Jul 03, 2021
Friendly, helpful staff, quiet location.
Jul 02, 2021
friendly, clean, well laid out
Jul 01, 2021
Very tight to maneuver a big rig within this KOA. Only sites appropriate would have been R1-R5, but we were not in one of them. Even for a KOA Journey, the sites were closer together than any other KOA where I've stayed. Don't remember how many I've visited, but I've been KOA VIP for a few years.
Jul 01, 2021
Really enjoyed our stay real friendly staff very helpful highly recommend if you are thinking about traveling to the area
Jul 01, 2021
We had a great time and met some interesting folks.
Jul 01, 2021
Some of the staff were very rude. I think this was the worst KOA I've stayed at. My recommendation - keep moving and don't stop here.
Jul 01, 2021
No pool, no wifi, spots were not level. Thankful for the running water and operational toilets.
Jun 30, 2021
We stayed just overnight as we were traveling. I had reserved our site earlier so check-in was a breeze. They escorted us to our site and helped line us up. Everyone in the office was super friendly. Will stop here again.
Jun 30, 2021
Everyone was pleasant and helpful. The registration desk people were very helpful and friendly. The campground could use some sprucing up. Campsites are very close and one area was full time dwellers and a bit rundown. Our stay was quiet and comfortable so I would definitely stay again.
Jun 29, 2021
Old campground that needs a LOT of care. The pool was not open there were discarded and broken tables and fire pits stacked at the back of the property. But it was clean and very easy to get to.
Jun 29, 2021
FRIENDLY STAFF, THE ONLY DRAW BACK WAS THE POOL WAS NOT OPENED. WE WILL VISIT AGAIN .
Jun 29, 2021
I love this KOA. It's one we will drive longer to get to.
Jun 28, 2021
Would have been nice to know we couldn't have fires. Would have brought our grill.
Jun 28, 2021
Easy checking in. Helpful staff. The bathrooms were always clean with nice AC. I really enjoyed the inspirational music playing in bathrooms �
Jun 25, 2021
Very friendly and helpful staff
Jun 24, 2021
We stayed one night on our way home from Colorado. We new the pool was closed from the website. The checkin was efficient and the lady was very nice. When I asked about the pool, she said that the hard winter had caused damage. I'm just saying that this was towards the end of June so We believe that more could have been done to repair the pool And have it running by now. The shade was terrific.
Jun 24, 2021
Very nice facility. Quiet and relaxing. I gave it 4 stars because the pool was not available to use for our children. I would like to come back to the Little Rock area and enjoy its sites. This KOA would be an ideal location to do this.
Jun 23, 2021
Too many full time. Don't mind that but junk around their camp site not good. Interstate noise is bad. Sites are tight. Swimming pool not open.
Jun 23, 2021
Enjoyed our stay. Was just there overnight but was easy access to interstate.
Jun 22, 2021
Very run down. Staff is nice and bathrooms are decent.
Jun 22, 2021
Very nice and quietl
Jun 22, 2021
We were traveling fast, trying to make as many miles as possible. We got in around 7pm and left about 7am. It was a shame we were in such a rush! It's a nice clean quiet place (not far from the interstate) that shouldn't be rushed through. On our way home we will likely take our time and enjoy our stay.
Jun 21, 2021
My Stay was great other than not receiving my $75.00 deposit back. It's been a month, I've called several times and left messages. Unless I get it back I will not recommend.
Jun 21, 2021
This was just an overnight stay. It is convenient to I-40 and relatively quiet.
Jun 20, 2021
Very helpful/friendly staff.
Jun 20, 2021
Very nice park. Clean restrooms. Friendly staff. Only negative is the pool closed. Sites were a little close together, but was not bad if staying one or two nights. Close to many attentions. Will stay again if close by.
Jun 19, 2021
The employees were very friendly. We stayed on 06/07/21 and 06/16/21 going to and from Branson from Wiggins, MS. We had 2 camper trailer tires to blowout. Changed the first one. Second one blew about 7 miles from KOA,. Helped us find a tire place and said we could do what needed to be done to get the tires fixed in the park.. Local tire guy came and changed the tires for us at the campsite.
Jun 19, 2021
We stayed here for a quick overnight stay on our way back to Oklahoma. Grandkids were disappointed that the pool was not in working order. It was pricey compared to other KOA's.
Jun 18, 2021
Easy check in and great stay.
Jun 18, 2021
Decent park with nice shade trees in a good location. Disappointed that both the cable system snd swimming pool were inoperative.
Jun 18, 2021
It sucked no internet and tv
Jun 18, 2021
We loved it.
Jun 17, 2021
This KOA Site is so run down and unkept. I think KOA should remove their name for this place. It looks like a run rundown trailer park. The elderly Lady at the front desk seem to be either rundown or just angry. On the plus side it is located in a good spot to get on and off the interstate. To bad there are too many permanent residents that trash the place. I'm going to look for a different KOA.
Sep 19, 2021
I loved this campground...quant and Christian music playing the bathrooms. We only stayed 1 night but will definitely go back.
- Jenny Reeder on Google
Sep 09, 2021
Enjoyed our short time there.
- margie asher on Google
Sep 08, 2021
Very friendly staff, easy access to rv park from highway. Showers were very clean and nice. 2 dog parks and nice level pull through spots. Would recommend and go again if we were passing through
- kcswany 19 on Google