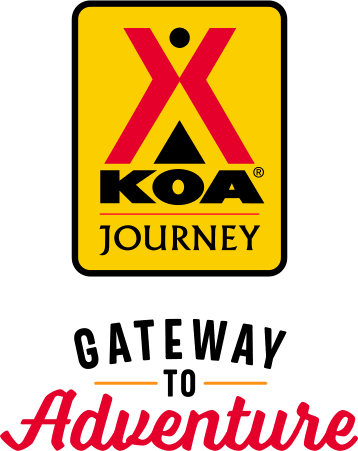 KOA Journey Campgrounds
KOA Journey campgrounds are the perfect oases after a day on the road. Whether it's along the way or a quick getaway, they've got you covered. Located near the highways and byways of North America with long Pull-thru RV Sites, they deliver convenience to the traveling camper. Pull in, ease back and take a load off.
KOA Journeys Feature:
Pull-through RV Sites with 50-amp service
Premium Tent Sites
Well lit after hours check-in service
Directions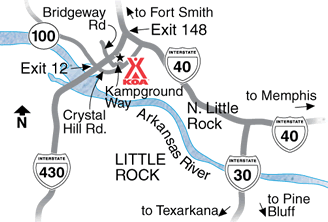 From I-40: Exit 148 (Crystal Hill Rd), SW 1 mile then right on Kampground Way to KOA.
From I-30: Take I-430 to Exit 12, then right on E Hwy 100. Left at second street (Kampground Way).
Get Google Directions
Sep 01, 2021
Sites extremely close together. Restrooms clean.
Sep 01, 2021
Good location for LR area, but lots of traffic noise. Internet is only so-so and no cable TV. Utilities OK, but sewer hookup high. Lots of people living there, very busy place, the owners are working hard. OK at $50/night, but would not be at higher rates. Premium sites, if any, would not be worth more. Nice shade but pine needles everywhere. Ice cream in office!
Sep 01, 2021
Clean restrooms and shower was a real plus. Ice cream to order was impressive. The park itself is showing it's age, the the sites were level and well maintained.
Aug 31, 2021
Very old campsite, staff great site needs work.
Aug 31, 2021
Nice park, friendly staff. Not to difficult in and out from I40. Spot was level
Aug 31, 2021
Needs a little TLC but not too had
Aug 31, 2021
The hosts were friendly, however there were many camp sites that appear to be long term units and have not been maintained. Those sites were junky looking with lots of crap and weeds growing around their campers. Our pull through site was very uneven to the point we almost ran out of travel to level our trailer.
Aug 30, 2021
Great for stopover in pull-thru. Very nice personnel and well kept campground.
Aug 30, 2021
We booked a premium site and were not disappointed. It was easy in and easy out. The patio area was very nice with a chimanea already loaded with wood. The people who checked us in were very nice and the gentleman even came out to help with parking if we needed it. The restrooms are very clean and homey. My favorite thing was the ice cream cones they sell at the office.
Aug 29, 2021
Quiet, level sites,lovely bathrooms
Aug 29, 2021
Short stay, overall needs some maintenance and updates. Pool was dirty and missing some tiles. People were friendly and helpful.
Aug 29, 2021
Very convenient to I-40, very clean and orderly property Helpful staff. Made our reservations while traveling by phone with no problem.
Aug 29, 2021
Just an overnight stay. Park was clean, pool looked great, and restrooms clean. Had a pull through for our 5th wheel.
Aug 28, 2021
Very friendly staff, especially the store manager. Pool warm, ice cream cold.
Aug 27, 2021
There was some confusion when we got there They were nice enough to squeeze us in. they straighten everything out. IT was a nice little campground
Aug 26, 2021
Clean and friendly. Nice pool and Ice Cream parlor.
Aug 26, 2021
It was ok for just one nite. We would have liked to have a shaded place. But, we really like a pull through.
Aug 25, 2021
Spent one night on our way home. Easy access off of I40. Side pad was cement and Pull through was long enough for TOAD. Staff was very friendly.
Aug 25, 2021
It was nice, the older couple in the office were great need to really do something about the washer and dryer set up, half of them were out order some of the dryers wouldn't even dry the clothes and we were only there one night so hard to have a real good opinion.
Aug 25, 2021
the staff were very nice. Restrooms , store, pool, sites were clean and neat. The campground is definitely showing it"s age. It needs paint, tent area non existent should be closed off
Aug 24, 2021
Check in went well showers clean as well as bathrooms and pool. Back from pool and had towels laying on car while changed and camp person came by on golf cart and asked very rudely ,do you have copy of rules you better read them, as if we were hanging towels there to dry. This doesn't fit with the Christian music being played in bath house. This destroyed the whole experience.by her jumping to co
Aug 24, 2021
Stayed going to Utah and again on the 19th of Aug 2021 on our return. Very quiet, clean and easy access off I-40. Wide pull thru with full service. Will probably stay again next time traveling this way. Steven W.
Aug 23, 2021
staff friendly and campsites clean
Aug 23, 2021
Front office guy was not very good. Couldn't find my reservation or papers then when the other person finished on the phone she walked right over and grabbed it. Lots of road noise. Ok for one night stay
Aug 23, 2021
The owner/manager was delightful. However, the campground itself was a disappointment. The sites were not level and were very close together. Also it seemed that there were many permanent residents. This was just not our type of campground.
Aug 22, 2021
Just one night but met our needs
Aug 21, 2021
Worst KOA experience ever. On top of that the traffic noise is insane.
Aug 21, 2021
Too much traffic noise, excessive slope on site, no internet which staff failed to explain....
Aug 20, 2021
Very run down. Not well maintained or up to KOA standards. Very disappointed.
Aug 20, 2021
Staff was very helpful � enjoyed our stay
Aug 19, 2021
The campsite was ok. Kind of tight in and out. It was shady there though. We enjoyed the pool but it could have been kept cleaner as well. I skimmed it before we got in it. The people that were running the campground were really nice people.
Aug 19, 2021
The grounds are full of trash and needs work. Does not have everything listed in the amenities on the site. Very hard to get in and out of due to small spots and tight roads. The pool was depressing and no hot tub, fitness room was a shed but "under renovation" (for 2 years)...
Aug 18, 2021
Loved staying here and hopefully will be able to come back again
Aug 18, 2021
Quiet, good wifi, nice night
Aug 17, 2021
One of our favorites for an overnight stay. Always friendly and helpful staff.
Aug 16, 2021
Very friendly folks !!