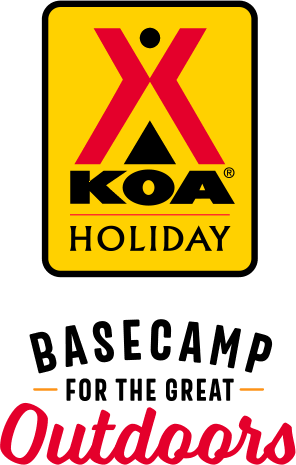 KOA Holiday Campgrounds
Whether you're exploring the local area or hanging out at the campground, KOA Holidays are an ideal place to relax and play. There's plenty to do, with amenities and services to make your stay memorable. Plus, you'll enjoy the outdoor experience with upgraded RV Sites with KOA Patio® and Deluxe Cabins with full baths for camping in comfort. Bring your family, bring your friends, or bring the whole group – there's plenty of ways to stay and explore.
KOA Holidays Feature:
RV Sites with a KOA Patio®
Deluxe Cabins with full baths
Premium Tent Sites
Group meeting facilities
Directions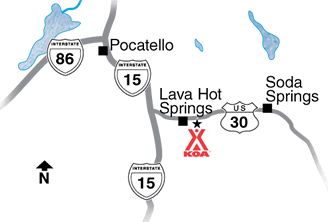 Take exit 47 off of I-15.

Turn East onto US-30

12.7 miles turn right onto Bristol Park Lane. Watch for big yellow KOA  Holiday sign.

There are two KOA Holidays in Lava Hot Springs; East and West. To save frustration do not exit under the speed slides, as this is the exit for Lava Hot Springs West KOA. Lava Hot Springs East KOA is located 1/2 mile east of the speed slides.

Get Google Directions
Aug 17, 2020
we found the park nice and cleanle and we kept! with that said we wont be staying with you again. too much hiway noise and way to much train noise not to mention the last day we were there was a septic nightmare with the other side of the river which had to be fixed on your side of the river and was not a pleasing odor. we understand that problems like that arise and have to be dealt with.
Aug 17, 2020
We loved it there. The bathrooms were so nice. The campsite was large. The campgrounds were very clean. We just wish there was a pool or beach access to the river somewhere on the campgrounds. You really don't have river access unless your campsite does. Maybe take out a campsite on the river and make that beach access for all other campsites who don't have beach access. Overall it was wonderf
Aug 17, 2020
Nice little cabin that was clean and ready.
Aug 17, 2020
My family and I rented two deluxe cabins and had an outstanding experience. We will certainly be coming back. Thank you!
Aug 17, 2020
It was great except we were next to the highway and the train. So it was very noisy all night long. Maybe construct a sound barrier?
Aug 16, 2020
The new portion is fantastic! Give the trees a couple of years and those spots will be AMAZING!! The space and the grounds were the best! Too bad you can't relocate the train and the road traffic because it's the only downfall
Aug 16, 2020
We enjoyed the campsite, and the area. Clean shower facilities.
Aug 16, 2020
Very clean and pleasant
Aug 15, 2020
The cabins are new and nice.
Aug 15, 2020
The facility is clean and well maintained which is great. The noise from the trains and night traffic is terrible (which isn't your fault). Our spot next to the office was also crowded and so not peaceful as you would enjoy in nature. A different spot might have helped. The help extended when the electric didn't work was much appreciated.
Aug 14, 2020
Only problem was the noise from the trains. Something that cant be fixed. Campgrounds are excellent and kept in very good shape. Staff very helpful and couteous.
Aug 14, 2020
Very nice and clean campground!
Aug 14, 2020
Love it nice friendly and awesome area. Definitely staying another time.
Aug 13, 2020
Great time. Booked our next stay for next June. Can't wait to see you again soon!!
Aug 13, 2020
Cabin was nice. View from deck was nice. Need to cover top triangle window. The light in the morning woke us up before we were ready both days. Wish we would have stayed at KOA West because it's location was literally next door to the huge pool/aqua fun zone and the town market and main strip where hot springs are. But employee on phone said this property was better.
Aug 13, 2020
Everything was clean and organized, employees were friendly and helpful. The only thing That disappointed us was the number of trains going by all night long and how loud they were. Not your fault I know.
Aug 12, 2020
Quit clean. Nice cabin, friendly staff
Aug 12, 2020
Perfect campsite. Loved the sound of the running water and the train.Very peaceful time spent .
Aug 12, 2020
We had a great time staying in the deluxe cabin at Lava Hot Springs East. It was very clean and nice and a wonderful place for our family to stay. We loved the back patio with the table, chairs and fire feature. The bathroom was nice and clean and the shower was great. We would definitely recommend this place and would love to stay there again!
Aug 12, 2020
The staff was friendly and very helpful. My campsite was clean and well taken care of. The only problem was the train and traffic could be load and distracting at times but the waterfall and rive behind our trailer made the campsite awesome.
Aug 11, 2020
Love the new deluxe sites. Thank you for a great weekend!
Aug 11, 2020
It's always enjoyable
Aug 11, 2020
We have been coming for years , and its better every time, staff is top notch , Michael , and Emily , Awsum , they were very dedicated to this campground
Aug 11, 2020
Nice place great trees�
Aug 10, 2020
It's in s beautiful area and it is well maintained. We had a patio site up against the river and it was amazing
Aug 10, 2020
We have been going to Lava KOA for the past 5 years and love how close everything is (walking distance).
Aug 10, 2020
Was great experience beautiful campground and will definitely being going back
Aug 10, 2020
Great location and lovely cabins. Clean and modern bathrooms.
Aug 10, 2020
Our campsite was awesome. The staff was awesome. They helped us out to when we needed things. It was nice and clean. I would recommend Lava Hot Spring's to all my friends and family.
Aug 10, 2020
The staff were very polite, friendly, and helpful. They keep the grounds very clean. Also family friendly. I have recommended this KOA already and will stay here again!
Aug 09, 2020
The train tracks and the highway are 300 yrds away from our trailer causing it to shake. 5 trains went through thursday night. 2 nights of no sleep. Glad to leave for a more quite place!
Aug 09, 2020
Love the upgrades! Wish all employees would wear masks in the office.
Aug 08, 2020
This is our second time staying at this location. The train and highway noise takes away from the relaxing setting. Sites are not very level and unable to get tv connection due to all the trees. Expensive but your paying for the proximity to the hot tubs and tubing. All camping locations in Lava would have the noise since the tracks and highway run thru town. Tubing and hot tubs make it fun!
Aug 08, 2020
Nice clean facility. In comparison to other places in this price range I would call this somewhat overpriced. Even with the 1st night KOA discount it averaged 65+tax per night. I've stayed in Resort style parks with wider spaces and much nicer grounds etc for that price. Overall it was average in every way, nothing extra and nothing negative.
Aug 08, 2020
We loved it.
Aug 07, 2020
Stayed one night in pull thru site in motorhome. Well maintained park near city attractions
Aug 07, 2020
It was great I forgot my pills and had them over night to the KOA. They called me when it arrived. The VA also sent my pain pills to the KOA after we had left. The Manager and staff of the KOA called me,I asked if they would over night them to me. They followed through and I received them the next day. Thank you !!!!
Aug 07, 2020
This place had all the entertainment we needed for our stay. The cabins were very comfortable and equipped with all necessities. We are definitely returning to this place!
Jan 05, 2021
Location, cleanliness, and comfort are the main reasons for staying here. We were in a deluxe cabin. They're right by the hot springs. We were able to take a couple minute walk to go soak. Also, right behind the cabin is the river. There's a wonderful deck with chairs, picnic table, grill and gas fire. The cabin was warm (has AC for the summer). The kitchen has dining ware, grilling utensils, cutting board, microwave, fridge and a hot plate. The shower had great pressure. I can't think of a rental where I've had a better bed. It was great! The staff was really nice and had great suggestions on where to eat.
- Aaron Rogers on Google
Nov 18, 2020
Extremely comfy and cozy little cabin. Temperature dropped into the 20's both night's we were there. The cabin was toasty warm. Within walking distance to hot Springs and restaurants. Staff was great to work with, even answering several calls prior to arrival through check out.
- BRENDA SOMERS on Google
Nov 14, 2020
We stayed in a cabin. It was clean and comfortable. Has a fridge, great water pressure in the shower. Thank you koa for a wonderful stay.
- Jackie Lewis on Google