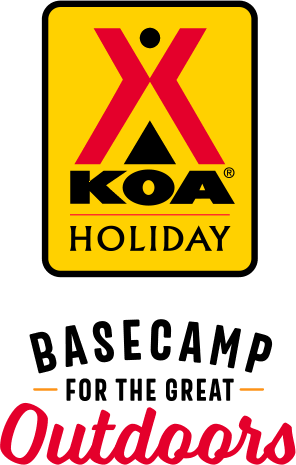 KOA Holiday Campgrounds
Whether you're exploring the local area or hanging out at the campground, KOA Holidays are an ideal place to relax and play. There's plenty to do, with amenities and services to make your stay memorable. Plus, you'll enjoy the outdoor experience with upgraded RV Sites with KOA Patio® and Deluxe Cabins with full baths for camping in comfort. Bring your family, bring your friends, or bring the whole group – there's plenty of ways to stay and explore.
KOA Holidays Feature:
RV Sites with a KOA Patio®
Deluxe Cabins with full baths
Premium Tent Sites
Group meeting facilities
Directions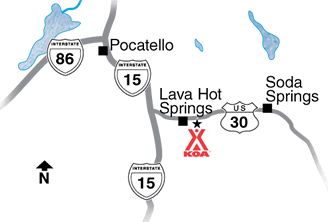 Take exit 47 off of I-15.

Turn East onto US-30

12.7 miles turn right onto Bristol Park Lane. Watch for big yellow KOA  Holiday sign.

There are two KOA Holidays in Lava Hot Springs; East and West. To save frustration do not exit under the speed slides, as this is the exit for Lava Hot Springs West KOA. Lava Hot Springs East KOA is located 1/2 mile east of the speed slides.

Get Google Directions
Jul 01, 2019
Nice spacious sites. A bit pricey and lots of road and train noise during the day. Good showers and laundry facilities.
Jul 01, 2019
The camp was so clean. We loved all the shade trees. We we're running a bit late checking out, it was so nice to not be rudely approached approached about it. Thumbs Up!
Jul 01, 2019
Loved the Lava Hot Springs KOA. Clean, friendly people, will go again many times.
Jul 01, 2019
Beautiful campground, well maintained, with wonderful staff. Kids loved the playground. I even played a game of tetherball.
Jun 30, 2019

Facility was nice and clean. Sites are very close together and prices seemed a little high for camping
Jun 29, 2019
The campground was very nice. Good shade, clean. The proximity to the hot springs/pool and river was great. The staff was very nice and helpful. Unfortunately, the highway road noise (semi trucks & air brakes) and train noise all day and night long was horrible. We had to use ear plugs and still got very little sleep. Beyond their control, yes, but we'll stay elsewhere next time.
Jun 29, 2019
Great location, beautiful scenery and great staff.
Jun 29, 2019
Spots are very nice and maintained! Staff was very accommodating. We had to cancel our reservations at our next destination and the staff here found us new diggs at KOA City Center. You can tell they've done a lot of upgrading here. I'll be back.
Jun 29, 2019
Assigned site very unlevel. After 1hr+ trying to level (with auto level system) we moved to different site. Then discovered it was a partial hookup but, had to ask for a refund of the difference. Rest of the stay was ok.
Jun 28, 2019
We love the cabins! Very clean and nice.
Jun 28, 2019
The staff is very very friendly and helpful. It's just a touch pricey but we keep coming back.
Jun 28, 2019
Beautiful campground especially by the river. Playground left alot to be desired. Get rid of rings and swinging bar no one can reach. Put baby swing and toddler swings. Lower regular swings to a kids level. Way too high. Had lift my 10 year old up to get on. Need activities and hot food to purchase on site. Not sure how this KOA a Holiday. Really basic campground no frills.
Jun 27, 2019
Been camping there for 15 years....love it!
Jun 26, 2019
We really liked the camp ground and the staff was very friendly, we were in site 33 and did not get any sleep due to the traffic and trains all night. Very nice place just would choose a different site.
Jun 25, 2019
I enjoyed every minute of it. Bathrooms were always clean which is a huge plus!! Like that it is pet friendly and it was nice to see a small fenced dog area. Thank you,
Jun 25, 2019
Staff was great. Would like to seer campers be responsible pet owners and pick up pet waste. Watched several dog owners walk their dog to another site or near the river and let their dog poop without picking it up. KOA staff cleaned up sites everyday and did a great job. Maybe signs and dog bags are needed. Staff should not have to pick up after pet owners.
Jun 25, 2019
KOA was very clean, shade trees, level site, manicured grass, lovely Host & Hostess
Jun 25, 2019
Fabulous location. Clean facilities. One of my favorite places.
Jun 25, 2019
Well kept clean campground, only hick up was our electrical pole was not working but we were able to hook up to the sight next to ours.
Jun 24, 2019
Stayed just one night. There were loud crazy parties. The quiet hours were not enforced. Clean bathrooms but not enough for when the campground is full. Good location. Walking distance to town and restaurants.
Jun 24, 2019

Very impressed with how clean you folks keep everything.
Jun 24, 2019
Very nice clean campground. Kip was great
Jun 24, 2019

It was nice stay, the group next to us were noisier than they should have been after 11 pm, but once I fell off to sleep I couldn't hear them anymore. Other then that all was good.
Jun 24, 2019
Wish the train tracks were not so close. The camp was very clean. Nice place.
Jun 24, 2019
Great place. Great time. Very crowded, but a nice facility. I highly recommend.
Jun 23, 2019
Excellent area, close to all the activities for the family
Jun 23, 2019

It was a great time. The facility was very nice and well maintained. The only thing I would have changed is our beds in the cabin were not that comfortable but everything else was great including the staff.
Jun 23, 2019

Our cabin smelled terribly like smoke. Not fun when you have little kids.
Jun 23, 2019
Beautiful and clean place
Jun 22, 2019
Great little KOA. Wonderful river view and sounds. Very nice people in office. Hot springs are a short walk away. Train does come by often but we didn't hear it throughout the night.
Jun 22, 2019
I know you cant do anything about the traffic and the trains, but would not have made site #33 a supersite/premium. Other than that it was a great stay. Thanks
Jun 22, 2019
It was clean, well organised, helpful people working there.
Jun 21, 2019
The only complaint we have was the maintenance/groundskeeper. He had an attitude. Anytime he stopped to talk he would always have a smart alek comment. Even laughing when we were getting rained on saying. "I knew I would get that spot watered" He was very arrogant and unprofessional. A couple times while he was driving through on his golf cart we thought he would tip it over going too fast.
Nov 18, 2020
Extremely comfy and cozy little cabin. Temperature dropped into the 20's both night's we were there. The cabin was toasty warm. Within walking distance to hot Springs and restaurants. Staff was great to work with, even answering several calls prior to arrival through check out.
- BRENDA SOMERS on Google
Nov 14, 2020
We stayed in a cabin. It was clean and comfortable. Has a fridge, great water pressure in the shower. Thank you koa for a wonderful stay.
- Jackie Lewis on Google
Nov 07, 2020
Great campground very clean. Friendly knowledgeable staff
- terry newman on Google