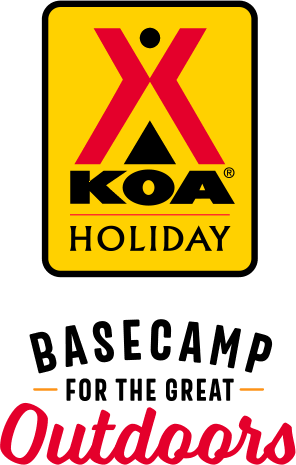 KOA Holiday Campgrounds
Whether you're exploring the local area or hanging out at the campground, KOA Holidays are an ideal place to relax and play. There's plenty to do, with amenities and services to make your stay memorable. Plus, you'll enjoy the outdoor experience with upgraded RV Sites with KOA Patio® and Deluxe Cabins with full baths for camping in comfort. Bring your family, bring your friends, or bring the whole group – there's plenty of ways to stay and explore.
KOA Holidays Feature:
RV Sites with a KOA Patio®
Deluxe Cabins with full baths
Premium Tent Sites
Group meeting facilities
Directions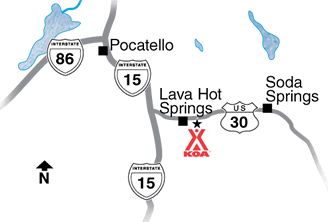 Take exit 47 off of I-15.

Turn East onto US-30

12.7 miles turn right onto Bristol Park Lane. Watch for big yellow KOA  Holiday sign.

There are two KOA Holidays in Lava Hot Springs; East and West. To save frustration do not exit under the speed slides, as this is the exit for Lava Hot Springs West KOA. Lava Hot Springs East KOA is located 1/2 mile east of the speed slides.

Get Google Directions
Jul 31, 2019
It was clean bathrooms were clean, a bit on the crowded side like really crowded our table was right next to the next RV. The dog park was great showers on upper level were clean and all.
Jul 31, 2019
Had a great time. Close to everything. Scenery was amazing!
Jul 31, 2019
One of our all time favorite campgrounds! Clean, well maintained, courteous staff!
Jul 30, 2019
Wonderful tent site with quick access to town and always a very clean campground and one of friendliest places around.
Jul 29, 2019
KOA has really stepped up their game. I have already referred people to this camp ground. We will be back soon. Michael
Jul 29, 2019
The campground is great as far as cleanliness and are well kept. I wouldn't stay here again due to the noisy trains that rain all night only about 100 feet away.
Jul 29, 2019
It was a nice campground. Our space I felt was overpriced. It was a nice space but I don't think it was worth $120 per night. The other space #15 had their pull out halfway on our patio. We have stayed at this campground before and always stay there when we visit Lava.
Jul 29, 2019
Tent site 27 very loud because of trains and hiway so close other than that great
Jul 29, 2019
The staff was terrific! The campground was clean and everything was easily accessible. Will definitely go back again.
Jul 29, 2019
They campground people are so friendly, and the place was very clean well organized and lots of shade. My family and I will be returning for sure
Jul 28, 2019
it is a great place. However the train and road noise is a little annoying at night.
Jul 28, 2019
Always professional and friendly
Jul 27, 2019

Jul 27, 2019
A friend was in her RV at your KoA and suggested a cabin when our other accommodations fell thru. Wow, what a nice surprise! The Deluxe Cabin was wonderful! We spent many good times at KoAs during our 18 years of full-time RV living, but did not think of it now that we no longer travel in our motorhome. We will definitely do this again! Thank you for a terrific experience.
Jul 27, 2019

Beautiful KOA! Excellent service and gorgeous scenery! There is so much to do in this area which is very family oriented! * Note the one room cabins are next to the highway which is a little loud for sleeping!.
Jul 26, 2019

Awesome place. Great to walk over and soak in the hot pools after a long day on the road.
Jul 25, 2019
We have made it a tradition the 4 years to come and play in July. We just love the location of our trailer spot which is great for the kids because they have unlimited access to the water that leisurely floats by. It is something that I myself look so forward to every year.
Jul 25, 2019
Loved it WiFi sucked we had to pay to get better WiFi???????�
Jul 24, 2019

Dirty bathrooms, need cleanings more often-either porno or sex in stalls by other kampers. The train/traffic noise was not mentioned when booking, and was incredibly loud. Least furnished KOA cabin we have ever stayed in. AC was very nice. Bathroom layout was very nice towards back of camp. Fire pits were great, but unlevel ground made it difficult to gather camping chairs around fire.
Jul 24, 2019
Had a great time! Close to town...easy walk to everything. Restrooms/showers were very clean. Staff was very friendly and helpful...even in the middle of the night when another party was creating lots of noise well after the 10:00 p.m. quiet time had started. Thanks for a great experience!
Jul 23, 2019
Great place! Have enjoyed spending time there two summers in a row!
Jul 23, 2019
I loved the grass area between each campsite. I loved the cooking area. I loved the bathrooms and laundry room, very clean. My only concern was the hallway was very steamy in the afternoon/early evening and someone propped open the doors to air it out. However, all the bugs then came in. It would be great if there were screen doors to let the air flow through, but kept the bugs out.
Jul 23, 2019
Friendly Employees, Great campsite with great bathrooms and very clean. We love this campground
Jul 23, 2019
Very peaceful just what we wanted
Jul 23, 2019

Great location. The Kamping Cabin was great.
Jul 22, 2019
The prices are outrageous to stay in your own RV! Clearly power and water are not that much.
Jul 22, 2019
We had a great time. The kids enjoyed so much playing in the river next to our camp site, it made our stay so fun. We had 6 camp sites for our family and it was a great stay. The restrooms were clean and the showers were great.
Jul 22, 2019

Loved you KOA, but the road and train noise was very hard.
Jul 22, 2019
We were only able to be there for 1night as we were on our way to a family reunion. We really enjoyed the area & would definitely plan to come back for a longer stay.
Jul 22, 2019

We love this place! Last week was the first time we rented a cabin without a bathroom and we were surprised by the amenities provided. The shared bathroom area was SO nice. Each bathroom had its own door and shower. Nothing like you see in a locker room. The town and hot springs are also a fav! We stay at this KOA about 2 to 3 times a year and we love it. Summer or winter always fun!
Jul 22, 2019
IT was amazing.. Like always.
Jul 22, 2019
The folks are so friendly and helpful. Campgrounds are great. Value is in question because of the trains and road. Hard to sleep at night. 6 trains on Friday night until 3 in the morning, maybe later. They are inescapable anywhere in town. If I went back to Lava Hot Springs, I would stay here again but there are tons of quieter towns in Idaho.
Jul 22, 2019
Nice clean sites a little tight could have used more full service hookups
Jul 21, 2019
Nice friendly, knowledgeable staff. Very clean facility. Staff can be still constantly cleaning up after people.
Jul 21, 2019
Nice campground
Jul 21, 2019
Is was a nice smaller campground. Very clean and the bathrooms were well kept. The only thing I would say that was a little bit of a drag was that we parked under the trees (which was nice) and the sap from the trees got all over the outside of our camper and the bikes we had on the back. But I would recommend this to anyone.
Jul 20, 2019

Jul 20, 2019
Nice location. Family friendly. Awesome bathrooms. While we love trains, you might want to mention the many trains that pass through the night.
Jul 20, 2019
The campgrounds and facilities were wonderful. The only problem was the trains and the traffic. Very, very noisy.
Jul 19, 2019
Lovely camp ground. To much road and train noise. Maybe a privacy fence in front would help. Very nice people.
CAMPGROUND RESPONSE / COMMENTS:
We sure wish there was a reasonable way to dampen the noise of the train and highway 30 noise. Unfortunately, the whole town of Lava Hot Springs was built along those means of transportation. However; it is still a lovely place and the hot springs are a "one of kind". We strive to provide a clean and beautiful KOA Campground. Thank you for staying with us.
Jul 18, 2019
I would definitely stay there again the staff was great and super friendly the bathrooms and showers were always clean, the only thing that happened was that one of the neighboring camps was involved in a domestic and my husband had to go break it up and keep them separated until the cops arrived
Jul 18, 2019

Nov 18, 2020
Extremely comfy and cozy little cabin. Temperature dropped into the 20's both night's we were there. The cabin was toasty warm. Within walking distance to hot Springs and restaurants. Staff was great to work with, even answering several calls prior to arrival through check out.
- BRENDA SOMERS on Google
Nov 14, 2020
We stayed in a cabin. It was clean and comfortable. Has a fridge, great water pressure in the shower. Thank you koa for a wonderful stay.
- Jackie Lewis on Google
Nov 07, 2020
Great campground very clean. Friendly knowledgeable staff
- terry newman on Google