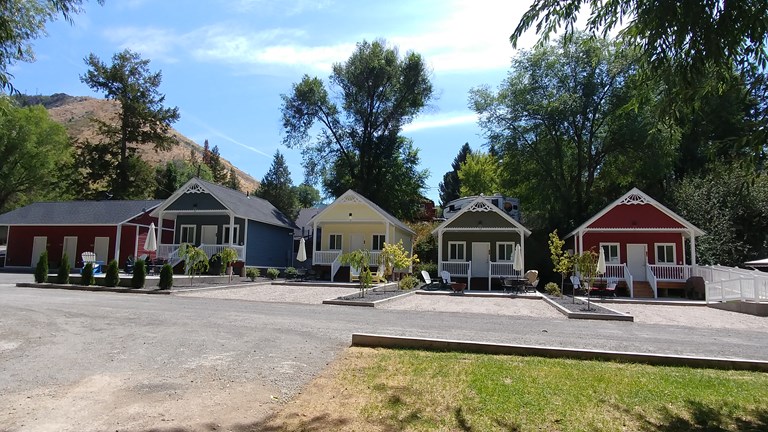 Lava Hot Springs West KOA Reviews
Directions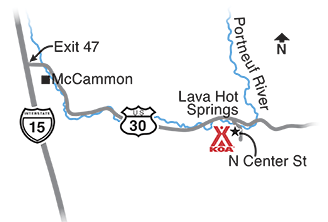 Take Exit 47 off I-15, travel 12 miles east on Hwy 30. Exit Hwy 30 under the Lava Hot Springs speed slides. Turn right at the KOA sign just after the bridge before you get to main street. GPS: N42.619869, W112.012389
Get Google Directions
Jul 04, 2020
The campsite was very clean- you always saw a staff member walking around cleaning or maintaining the grounds. Our site was along the river (#46- a bigger site) and it was really nice- worth the extra cost. The park is close to everything and the front desk staff was very helpful. The laundry was clean & easy to access with a code. Very family friendly. Speed limits would help. We loved our stay!
Jul 04, 2020
It's always a fun time here
Jul 04, 2020
The tent site was very well kept. The restrooms were nice and the water was refreshing.
Jul 03, 2020
So the one think that bothered me the most is that I asked for a 1 hour extended checkout for a campsite and they said straight no. That could not have felt more corporate as no one was even staying there that night. Otherwise the location was great and the second set of bathrooms aren't nearly as nice as the ones attached to the store. I would visit again but I wish they were more personable...
Jul 02, 2020
We LOVED this KOA! So close to everything and such a pretty atmosphere. If you have kids this is a wonderful spot because it's so close to that big pool and we also enjoyed being walking distance to different hot springs. We found the older, blonde woman at the front counter a bit unfriendly but I'm sure that things get crazy during the busy season.
Jul 02, 2020
We had a great time other than it started to rain on Saturday night. I don't think that I would recommend staying there though. the campsites are too close together and the prices are ridiculous. $200.00 to put up a tent??? entrance to the pool should be included in that price, maybe even a free rental for the river
Jul 01, 2020
I was unimpressed with the clerk that checked me in. We have never been in the area and didn't know what all was available. I knew the water park next door, and that was it. I let her know about our 3 yr old and she didn't seem very interested to give us information, or that she even seemed slightly excited about her job or the activities she was "forced" to share with me.
Jun 30, 2020
We had a great time! We will definitely stay again!
Jun 30, 2020
We have come every year for the at least 10 years. I Love the improvements, very nice and clean showers and bathrooms. Location is the very best in Lava Hot Springs area.
Jun 30, 2020
Cabin definitely does NOT sleep 4. The futon bed was too small for my 9 year old and 8 year old. The cabin wasn't clean-there were used soda bottles under the bed :(
Jun 29, 2020
The sites were too close to each other. The sites fire pit next to us was so close we worried their fire was going to melt our trailer and cause damage. We could hear the neighbors until 2 in the morning who were sitting around their fire pit too.
Jun 28, 2020
one nite only but very clean & quiet. Great location in town close to restaurants & stores.
Jun 27, 2020
We were only going to be there for one night but we loved it so much, we stayed a 2nd night. Great KOA. Loved our spot backing up to the river.
Jun 26, 2020
It was a wonderful stay. The front office staff were very friendly and helpful. The upgrades they are doing to the property are amazing. We love staying here!
Jun 25, 2020
Great site. Friendly, helpful staff. We stayed in an RV, but had questions about the cabins. One of the staff took the time to show us a cabin and answer all of our questions.
Jun 22, 2020
The facility is great - I appreciated the space and the amenities- the large amount of construction and dust was a bummer but overall we enjoyed our stay.
Jun 22, 2020
It's was great! And great improvement have been made, It is definitely over priced but well worth it for the location! only thing I had a problem with is the camp host/ owner? Came by and told us we were talking loud!! Along with other camp goers throughout the campground for talking after 10 it's quite time not silence time! There is a difference in drunk loud and normal voice talking ease
Jun 22, 2020
this is a great campground. very well taken care of. we loved our stay here and will be returning again for sure
Jun 22, 2020
Camping spot was dirty with debris from the trees. Another camper had a rake and raked up a huge pile. I would have done the same but no take. For $89 a night I would have expected this to have already have been done.
Jun 20, 2020
We had a great stay! It is a little pricey but all of the RV parks there are.
Jun 19, 2020
Be nice if there was more grass. 2 solid days of rain = mud bath at the campsite. The staff in the front office (Devin, Damon???) was unhelpful & unfriendly. We reported drugs being used next to our campsite. His reply? Notify the security guard that night (it was 10am), no way to contact guard, just watch for him. No toilet roll in the women's bathroom. Ducks in our campsite frustrating.
Jun 18, 2020
We had a great time. However the camp site we had, the ground wasn't very flat for our tent. It was pretty uneven. And the charcoal grill was old and outdated. I saw other sites that had much nicer and newer grills. Other than that We can't complain. It was a lot of fun! Thanks!
Jun 17, 2020
Very nice and a very nice place - price was a little high compared to Campgrounds on our trip but was good for 1 night
Jun 17, 2020
Beautiful park, convenient to town! We will be back!
Jun 16, 2020
Great spot on the river but spaces too close together for complete enjoyment.
Jun 15, 2020
They have made so many improvements. This is a lovely park
Jun 15, 2020
One of the best camping experiences I've ever had! Can't wait to go back!
Jun 11, 2020
The river sites are very special!
Jun 10, 2020
Very clean and we'll kept KOA. New level pull through sites. New cottages and cabins. Great showers and bathrooms. Excellent Mexican food! What else could you want? Come stay!
Jun 09, 2020
Great sites on river. Clean. Well maintained. Close to town. But that TRAIN....
Jun 06, 2020
it was nice but the trees with the cotton were all over everywhere and in our motorhome and the train woke us up twice a night with that loud horn. other than that it was nice.
Jun 05, 2020
Very nice and very clean. Only had one night there this time and we will be back!
Jun 02, 2020
Only bad thing was an explosion of bugs during our stay with the trees blossoming. Talked to some locals, they said it's that way every year for about 2 weeks and then gone. Property was great, staff were great. Mexican food truck on property was nice diversion from cooking.
May 29, 2020
Beautiful clean park.
May 26, 2020
Your camp hosts are amazing they are very accommodating on everything you need and the camp was very clean and well taken care of
May 26, 2020
Located right as you enter Lava, but you wouldn't know you were so close to town. Right next to the river so we had duck visitors constantly. The kids absolutely loved it. Given our weather was rainy & cold, I wish they had a few more grassy areas but all in all, we had an amazing time & would go back.
May 26, 2020
Great spot next to the river, everything was clean and the staff was very friendly.
May 26, 2020
So nice to see the improvements!
May 24, 2020
I had an excellent one night stay. Right by the river, perfect.
Jul 07, 2020
Very nice and quite clean koa!!!!
- Lindsey Bedingfield on Google
Jul 05, 2020
It was such a great experience for me and my family for our first time here for 4th of july
- Not-A Memer on Google
Jun 24, 2020
Loved it here! The space was extremely clean and very well maintained. We did not stay in the cottages however we happened to walk by as they were cleaning them and they looked extremely cozy and very up to date.
- Anthony Perez on Google

Lava Hot Springs West KOA
Open All Year
89 North Center Street
PO Box 779
Lava Hot Springs, ID 83246
Check-In/Check-Out Times
RV Sites, Tent Sites, Pavilion and Cabins
Check-in: 3:00 pm, Check-out: 11:00 am
Operating Hours
Sunday: Open 9:00 AM to 10:00 PM
Monday: Open 9:00 AM to 10:00 PM
Tuesday: Open 9:00 AM to 10:00 PM
Wednesday: Open 9:00 AM to 10:00 PM
Thursday: Open 9:00 AM to 10:00 PM
Friday: Open 9:00 AM to 10:00 PM
Saturday: Open 9:00 AM to 10:00 PM
Lava Hot Springs West KOA
Get Google Directions

© 2020 Kampgrounds of America, Inc.