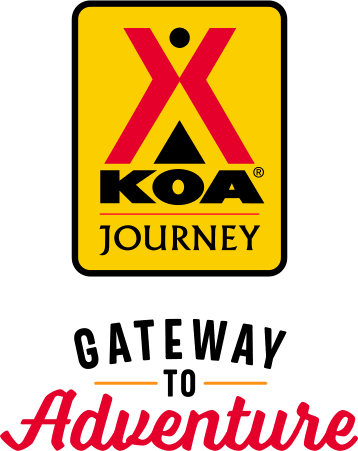 KOA Journey Campgrounds
KOA Journey campgrounds are the perfect oases after a day on the road. Whether it's along the way or a quick getaway, they've got you covered. Located near the highways and byways of North America with long Pull-thru RV Sites, they deliver convenience to the traveling camper. Pull in, ease back and take a load off.
KOA Journeys Feature:
Pull-through RV Sites with 50-amp service
Premium Tent Sites
Well lit after hours check-in service
Directions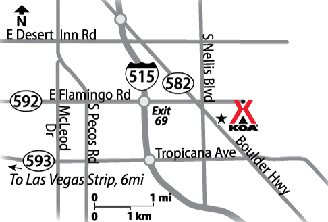 From Interstate 515: Exit 69 Turn East (away from the strip) onto Flamingo, Turn Right onto Boulder Highway South, Watch for left turn lane into campground just past (south) Sam's Town Hotel and Gambling Hall.
Located near many RV rental depots, including Apollo, Road Bear, El Monte, Best Time, Cruise America, Escape and JUCY, also close are several grocery stores and restaurants both dine in and take out, making Las Vegas KOA at Sam's Town the perfect place to start your RV Journey.
Get Google Directions
Jun 25, 2020
Hot hot hot....the temperature, that is! Nice park and wonderful staff. Always stay here passing through.
Jun 25, 2020
Nice, clean level spaces... Very close to everything...( walking distance to the Beautiful Sams Town Casino) Paved roads which is nice. No picnic tables. Would reccomend this camp for an overnight stay or 2...
Jun 25, 2020
First of all you put us near people that live there and they were fighting and yelling second could not put out or on and it was a 70 foot pull through supposedly there was no table it was trashy and other people have nicer pull in spots but we got that first one it was horrible Would never ever go back and at 6 am there was some I'm going in the door of the trailer next-door to us like homeless
CAMPGROUND RESPONSE / COMMENTS:
Again very sorry for the neighbors. We talked to them every day. They will not be back.
Jun 24, 2020
Concrete jungle... not anyone's fault, but it was so hot on the campsite, and our rig never cooled down so we went and got a room!!
Jun 24, 2020
Other than several things closed due to Covid and the weather being extremely hot, our KOA experience was awesome. The folks working in the store are so friendly and knowledgeable. The maintenance man "Bey" was great and very pleasant. The grounds are well taken care of.
Jun 24, 2020
It was ok. The staff was accommodating while we tried to find a spot with shade, which didn't happen. Our dogs couldn't really go outside because it was 110 degrees, so a lack of shade was our only real issue. Otherwise the facilities and staff were just fine.
Jun 24, 2020
Non resident gang bangers visiting the "permanent" next door neighbor. Parked and sat in a vehicle on my lot for over 2 hours. They finally left and soon after someone sitting on my curb on a phone. Finally called the after hour security (at 9:10 pm), got voice mail and asked for a check, never showed up to my knowledge.
CAMPGROUND RESPONSE / COMMENTS:
We do not have permanent visitors on pull-thru sites, sorry for the neighbors and the experience. We talked to them every day.
Jun 23, 2020
Staty was ok but the sites are smaller than advertised A bit noises from road traffic and local music dog park is dirty and smelly not maintained.
Jun 23, 2020
The KOA was very nice, but the fireworks or whatever that went off nightly (loud booms) into the wee hrs really disturbed our sleep and especially our dogs. Not the fault of the KOA, but it would have been nice to have known before choosing the location.
Jun 23, 2020
Thank you for being open!!!
Jun 23, 2020
This review has been removed by KOA due to profanity.
Jun 22, 2020
It was a nice place to stay for a few nights. We felt safe staying here. We wish our camper was not so close to our neighbors. We appreciate the lots, etc. being so clean.
Jun 21, 2020
Great place. Staff is super nice. Clean and comfortable
Jun 21, 2020
Nice place to stay great staff clean facilities a joy
Jun 21, 2020
An overnight stay only. Park is clean, no dumpy equipment, did not have time to use pool or park restrooms.
Jun 21, 2020
Wish they had fire pits at the sites. Staff was nice, grounds were very clean.
CAMPGROUND RESPONSE / COMMENTS:
We wish we could. City ordinance says no open fires, but propane is okay. Sorry!
Jun 20, 2020
We were very happy with this location
Jun 20, 2020
Really appreciated location request was honored at check in!
Jun 20, 2020
The state was great everything was clean and kept up. The pricing was very reasonable.
Jun 20, 2020
Quick check in. Very clean and quiet.
Jun 20, 2020
We were only there one night, but everything was super clean, staff was nice, and the pool was beautiful.
Jun 19, 2020
Great location in Las Vegas! So glad we chose to stay here. Excellent security and clean grounds. We will be back!
Jun 19, 2020
Staff was knowledgeable and quite helpful.. the grounds were clean.
Jun 18, 2020
Very friendly staff. Sam's Town casino is one of my favorite casinos with a large atrium and old west theme.
Jun 17, 2020
We needed an overnight stay between stops. Your staff was friendly and informative, no wait as there was plenty of staff. Facility was clean and inviting. We were walking distance to several restaurants and chose the Angry Butcher where we enjoyed an excellent gourmet meal with friends. Park was quiet and we got a good nights rest.
Jun 17, 2020
no picnic tables, ants, not level RV sites had jack up the front 1 foot high , they pack you in like sardines and the camp is 1/2 full no social distancing
Jun 17, 2020
The staff are always very nice and help anyway they can. This is one of my favorite campgrounds that we stay at.
Jun 17, 2020
We always enjoy our stay. It's clean, everyone is helpful and friendly.
Jun 17, 2020
Our family had a great time and will definitely go again!!
Jun 16, 2020
Absolutely a wonderful stay beautiful park great staff ,Duane Sammy ,Bev, Gary, Cheri and the housekeeping staff keepers everything so tidy24 7 then the managers madelyn and Chris they are just the greatest what ever we needed they were Very accommodatingt. We seen bay and Matt out picking up plam leaves continuously working to really hard keeping the park clean Great stay
Jun 16, 2020
Nice and quiet
Jun 16, 2020
Pleasant and relaxing.
Jun 16, 2020
Second time staying here. Staff is friendly and accommodating. Grounds and bathrooms are clean, and the pool always inviting. This is our go to place when we find ourselves in the area.
Jun 15, 2020
No surprises and helpful staff made my stay comfortable and relaxing.
Jun 15, 2020
Stayed for two nights and enjoyed immensely. Good location.
Jun 14, 2020
Stopped for an overnighter... staff was friendly, grounds were clean, nice grassy area for our dogs. The only thing I didn't enjoy was the neighborhood. We were told to lock up our bikes if we brought any. The Walmart across the street was sketchy (lots of supplies- like laundry detergent were in locked cases if that tells you anything). Great KOA, just not in a great neighborhood.
Jun 14, 2020
The laundry ruined some clothes, but overall it was an okay stop. There are nicer rv stops near by with more shade trees and cheaper.
Nov 26, 2020
Nice clean park. The pool was warm even in November. Staff was friendly and even moved us to a new site because we couldn't fit into the one they had for us.
- Katie Miles on Google
Nov 23, 2020
This place is really nice, most of the staff is super friendly. The bathroms are clean with handicap friendly restrooms and showers. nice pool & jacuzzi. And also lundry costs $3.00 per load..( if you have your own soap)
- William Wilkinson on Google
Nov 22, 2020
This KOA is especially well managed, comfortable and safe during these tough times. They manage the sites to be as socially distant as possible and offer a sense of safety. We will always return to this KOA
- David Porter on Google