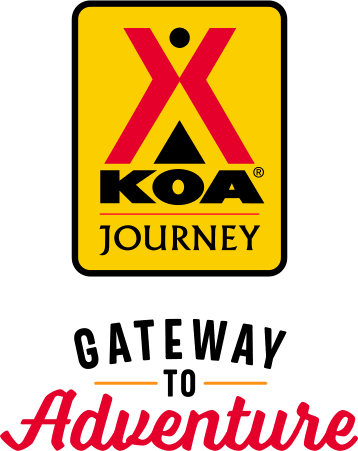 KOA Journey Campgrounds
KOA Journey campgrounds are the perfect oases after a day on the road. Whether it's along the way or a quick getaway, they've got you covered. Located near the highways and byways of North America with long Pull-thru RV Sites, they deliver convenience to the traveling camper. Pull in, ease back and take a load off.
KOA Journeys Feature:
Pull-through RV Sites with 50-amp service
Premium Tent Sites
Well lit after hours check-in service
Directions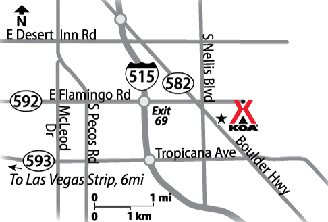 From Interstate 515: Exit 69 Turn East (away from the strip) onto Flamingo, Turn Right onto Boulder Highway South, Watch for left turn lane into campground just past (south) Sam's Town Hotel and Gambling Hall.
Located near many RV rental depots, including Apollo, Road Bear, El Monte, Best Time, Cruise America, Escape and JUCY, also close are several grocery stores and restaurants both dine in and take out, making Las Vegas KOA at Sam's Town the perfect place to start your RV Journey.
Get Google Directions
Aug 16, 2020
Easy access, restrooms and laundry room were very clean.
Aug 15, 2020
Very clean facility. Friendly staff. Easy access.
Aug 15, 2020
Heat being the only negative factor which KOA cannot do anything about.
Aug 15, 2020
Sites were very crammed and we paid for a patio site and the patio furniture was rusted and in very poor condition. I didn't even sit on it.
Aug 15, 2020
All KOA's are not alike. Had a bad experience in Idaho, but this KOA at Sam's Town is very nice. It's super clean and the staff is great. Simply asked if they had propane/LP gas and the attendant practically beat us to the pump. Good size dog park. I'm comparing this Park to Oasis RV Resort and Sam's Town beats them for sure and about half the price.
Aug 13, 2020
It was nice, glad they had bathrooms and showers. Would've been nice for a bigger campsite and a firepit or to be able to use my bbq
Aug 12, 2020
Great one night stay. Super friendly staff. Nice level sites. Clean bathrooms and showers and pool. Minus one star for no shade but it is the desert so it's to be expected. We'd stay again.
Aug 12, 2020
Great hosts. Helpful, cheerful.
Aug 12, 2020
It was very hot when we arrived. The guys were great in letting us pick out another site that was in the shade. They were very friendly. The park was clean. We would stay there again, but in cooler weather.
Aug 11, 2020
We love to be in this park and feel secure. The hosts are helpful and gracious! Thank you! Jason & Judy !
Aug 11, 2020
nice park, friendly staff, pool area looked nice, laundry room clean as well as very clean restrooms and showers; however, no shade - not fun in 100 degree temps.
Aug 11, 2020
Very quiet RV Park. Good layout, well maintained surroundings and level spaces. Electric power was great. Staff was helpful and courteous. WiFi was a bit slow but reliable and easy to access.
Aug 10, 2020
Bathrooms were clean, laundry room was amazing, pool was nice, and everything was tidy. We arrived late and someone was waiting for us. Appreciated. We saw security patrolling regularly and that was really important to us and very appreciated. It made us comfortable and helped us enjoy the stay. Thank you.
Aug 10, 2020
Enjoyed our stay, it was quiet, and very clean.
Aug 09, 2020
Nice KOA in the heart of Las Vegas, good pool/jacuzzi
Aug 09, 2020
Been traveling about 4k miles on this trip and best KOA yet. Clean and well managed. Changed our itinerary and when we called, the nice person let us know they had a special and offered another night free. Since it was summer, RVs were spaced apart nicely. Walked next door to Sams casino. Easy 5 mile drive to the strip as well as a short drive to Fremont Street. Will definitely stay again!
Aug 08, 2020
It's really about the casino. No patios and limited amenities. Staff extremely friendly.
Aug 08, 2020
Very convenient location and still not too close to highway noise. Facilities and staff were great, especially all the washers and dryers in the laundry room. My only complaint is the lack of shade. When the temperature reaches close to 110 in summer, shady trees would be nice to cool the sites more. Having the pool open was a big plus! We only spent 1 night, but would stay here again in Spring.
Aug 08, 2020
Park is nice but to dam noise, all night all you hear is trucks
Aug 08, 2020
Very nice park! Two very minor complaints: 1. We were given a spot right next to another trailer when there were plenty of open spots to give us more space to ourselves. 2. The site wasn't as clean as I like. It needed raking and little tiny pieces of trash picked up.
Aug 07, 2020
We stayed only one night so they graciously put us into a pull through spot. Great service and friendly staff.
Aug 07, 2020
Great place. Nice people very helpful and friendly.
Aug 06, 2020
Chris (the manager) was very accommodating as we were in the midst of overhaul. Thanks for everything! I'll send whoever we can your way! You are awesome! Thank you!
Aug 06, 2020
We were there just one night, but the park is great and the service of the employees is excellent!!
Aug 06, 2020
Clean and convenient for an overnight stay.
Aug 05, 2020
The KOA was clean and the staff were friendly. We enjoyed our stay and the kids loved playing in the pool.
Aug 05, 2020
Staff and facilities were great. I would have given higher marks but the weather was unbearable. I've decided you cannot go to Las Vegas in the summer unless you never leave the inside of an air conditioned hotel or casino. It was so hot it actually melted my new, 30-amp power chord. It was 117 degrees.
Aug 05, 2020
Was not pleased with your pool n hot tub was filthy n when I complained she passed the buck it was cleaned that day but hot tub was was not filled enough for jets to even work she refunded my 1st night stay but second night was no better I will stay at AZ Charlie's next month. I can't remember her name but she said she was in charge Franklin
CAMPGROUND RESPONSE / COMMENTS:
Sorry your stay wasn't what you thought it should have been, the pool company cleans and refill the hot tub every morning as the bubbles make the water evaporate every day. the hot tub and pool area was cleaned and hot tub refilled to the top for your second days stay. thanks for staying with us.
Aug 05, 2020
I requested for a spot with shade and didn't get it. I asked that my trailer door would be to the northern skies didn't get it. The camp ground was with maybe 15 campers and yet I was put right next to another. And the palm trees where trimmed so no shade at all. But I will say one good thing it was quiet for being next to a street.
CAMPGROUND RESPONSE / COMMENTS:
we are very sorry , we missed the note and will do better next time. if there are any errors in what we are doing we would ask that you return to or call the office before you set up and allow us to fix it for you so your stay is what you and we expect it to be.
Aug 04, 2020
I was a long timer (4 years). I loved calling Sams Town KOA home. However, because of one person that was told to leave because his home RV was over 10 years old (more like 30 years old) and he didn't want to leave so he sued the KOA for discrimination. SO every RV now has to move...thanks a lot!!! I left a lot of good people and they are going to lose a lot of money because of the full timers.
Aug 04, 2020
enjoyed...only there overnight
Aug 04, 2020
We had two nice stays. Our only criticism is that the men's showers by the pool were all scalding hot even when set to cold and weren't useable.
Aug 04, 2020
Nothing special. Just a spot to stay along the way. Needs shade badly. Sitting in the heat of the direct sun is terrible.
Aug 03, 2020
Always clean and fast check in.
Aug 03, 2020
Although it was just a one night stop on our way through Vegas we liked what we seen. Check in was fast and Friendly.
Jan 18, 2021
Awesome staff great place to stay. I enjoy my stay one of the best koa I've stayed at.
- Ismael Luna on Google
Jan 12, 2021
Great place to stay. Friendly staff, fast check-in.
- Gale Gourley on Google
Jan 01, 2021
Nice RV park, service is wonderful. Bathrooms and showers are clean (although a little chilly). Hot tub closed. Laundry room clean.
- Ed N. on Google