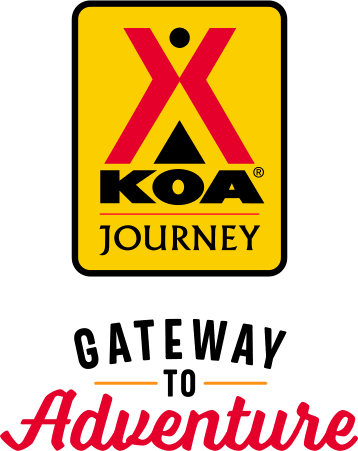 KOA Journey Campgrounds
KOA Journey campgrounds are the perfect oases after a day on the road. Whether it's along the way or a quick getaway, they've got you covered. Located near the highways and byways of North America with long Pull-thru RV Sites, they deliver convenience to the traveling camper. Pull in, ease back and take a load off.
KOA Journeys Feature:
Pull-through RV Sites with 50-amp service
Premium Tent Sites
Well lit after hours check-in service
Directions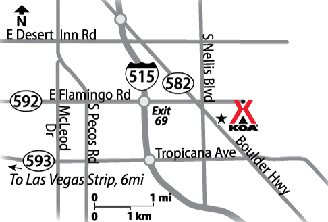 From Interstate 515: Exit 69 Turn East (away from the strip) onto Flamingo, Turn Right onto Boulder Highway South, Watch for left turn lane into campground just past (south) Sam's Town Hotel and Gambling Hall.
Located near many RV rental depots, including Apollo, Road Bear, El Monte, Best Time, Cruise America, Escape and JUCY, also close are several grocery stores and restaurants both dine in and take out, making Las Vegas KOA at Sam's Town the perfect place to start your RV Journey.
Get Google Directions
Aug 04, 2020
We had two nice stays. Our only criticism is that the men's showers by the pool were all scalding hot even when set to cold and weren't useable.
Aug 04, 2020
Nothing special. Just a spot to stay along the way. Needs shade badly. Sitting in the heat of the direct sun is terrible.
Aug 03, 2020
Always clean and fast check in.
Aug 03, 2020
Although it was just a one night stop on our way through Vegas we liked what we seen. Check in was fast and Friendly.
Aug 03, 2020
We had a short stay, worked out well.
Aug 03, 2020
Enjoyed the pool. Casino was great and employees were very hospitable and knowledgeable. Park was clean and well kept.
Aug 03, 2020
The facilities are very clean and easy to get to. The spaces are a bit lacking in shade, but it is the the middle of the dessert. I would stay with you all again.
Aug 03, 2020
Staff was very helpful and courteous!!
Aug 02, 2020
We were right across from the pool, which was handy. I always want more shade, and the greenery that is around really helps. I'm not a desert person, so that colors my whole experience.
Aug 02, 2020
The sewer hose from our RV (standard Cruise America 25 footer) did not fit down the sewer pipe. The sewer pipe was too narrow. We stayed at 6 different KOA's on our trip and this was the only one where the sewer pipe was too narrow.
Aug 02, 2020
No trees out in the sun no grass just rocks
Aug 01, 2020
We were only offered a golf cart ride to the casino, but no return trip after the office closed at 9 pm. It's very unnerving to walk through that very dark parking garage to the RV park. When several months of the year have high heat during the day and night, older guests (the majority of renters) have a difficult time.
Aug 01, 2020
Good clean park and facilities. Kind of dry and not much shade but good overall. Just what we needed for this "maiden voyage" of our new RV.
Aug 01, 2020
The gentleman who check us in was very helpful and FAST a checking us in. He is truly an asset to KOA!
Aug 01, 2020
All good, welcoming and clean. Great staff.
Aug 01, 2020
Very much getto neighborhood. One camper.had the lock cut off his bike and stolen. Don't think we'll be back.
Aug 01, 2020
We stayed 2 nights. We enjoyed our stay because how close the Sams Town Casino was. Also, we truly liked the atmosphere at the casino. It was large and had plenty of machines to enjoy. The restaurants were open except for the buffet. The atrium area was very nice. We used the showers, laundry and restrooms at the RV resort and found them clean and plentiful.
Aug 01, 2020
super friendly and helpful staff. they wee able to find us a windshield repair person who came the very next day. Good wifi..Thanks!
Jul 31, 2020
Great time just too hot outside to do anything
Jul 30, 2020
Clean, level pull through site.
Jul 30, 2020
It was great from check in to the time we left. Very friendly staff . Clean restrooms, perfect size pool and clean grounds . I would definitely recommend this place and I will be going back to stay.
Jul 30, 2020
Great stay. All areas keep clean and maintained. Bathrooms are clean, stocked and plenty of hot water for showers. The employees are super friendly and knowledgeable. We will definitely return. Security is also very good
Jul 30, 2020
We have stayed here many times and the only real complaint we have is the dust. We know it's desert country, but the terrible gravel at the sites is almost pure dust. How about putting down some heavier gravel so our RV's aren't filthy inside when we leave there. Hoping for this to happen.
Jul 30, 2020
Very nice, helpful people. Not a lot of rv's so they kept everyone we'll spread out. Laundry, showers, & restrooms were nice & very clean. We will stay here again, just not in July. They could use a few more shade trees, is the only downfall.
Jul 30, 2020
Great value. Clean and well maintained. Very nice staff.
Jul 30, 2020
We stopped just overnight as we were passing through but the office was ready for our late arrival and the hookups were easy. Very clean campground. Thank You
Jul 29, 2020
Well organized, clean and well patrolled. Very pleasant stay. Many thanks.
Jul 29, 2020
It was ok stayed over night. Spaces were narrow couldn't open our slide all the way.
Jul 29, 2020
Pool and restrooms were a little dirty.
Jul 29, 2020
Great service
Jul 28, 2020
Nice place. Very quiet considering it is on the Boulder Highway. Area surrounding the KOA/Sam's Town is seedy; lots of street people walking around, But KOA employees patrol the park regularly. Bathrooms/Showers are very clean/nice. The pull-thru spaces are narrow. Opening your slideouts leaves about 2 ft. from your neighbor's slideouts. Awnings hit the trees. Some abandoned RVs present in park.
Jul 28, 2020
Disappointing. The sites were far from advertised. Super small sites, (we paid for best) no landscaping, office was delegated to 1 person who knew little about Vegas and RVs. Low value. We won't go back.
Jul 28, 2020
got location in the park I requested, clean bathrooms, friendly staff
Jul 27, 2020
One night stop on the way to Utah. Very clean park and no problems with anything. Stayed again on the way back home a week later. Will definitely stay again.
Jul 27, 2020
Clean, friendly and flat
Jul 27, 2020
A little barren, but clean and neat
Jul 27, 2020
Staff was very friendly and helpful, we just travel to Utah to purchase our travel Trailer. Our first time camping and it was a blast!
Jul 27, 2020
WiFi was not reliable
Jul 27, 2020
Everything was perfect with zero complaints. Thanks
Nov 26, 2020
Nice clean park. The pool was warm even in November. Staff was friendly and even moved us to a new site because we couldn't fit into the one they had for us.
- Katie Miles on Google
Nov 23, 2020
This place is really nice, most of the staff is super friendly. The bathroms are clean with handicap friendly restrooms and showers. nice pool & jacuzzi. And also lundry costs $3.00 per load..( if you have your own soap)
- William Wilkinson on Google
Nov 22, 2020
This KOA is especially well managed, comfortable and safe during these tough times. They manage the sites to be as socially distant as possible and offer a sense of safety. We will always return to this KOA
- David Porter on Google