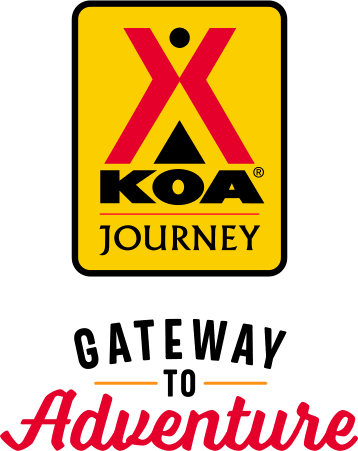 KOA Journey Campgrounds
KOA Journey campgrounds are the perfect oases after a day on the road. Whether it's along the way or a quick getaway, they've got you covered. Located near the highways and byways of North America with long Pull-thru RV Sites, they deliver convenience to the traveling camper. Pull in, ease back and take a load off.
KOA Journeys Feature:
Pull-through RV Sites with 50-amp service
Premium Tent Sites
Well lit after hours check-in service
Directions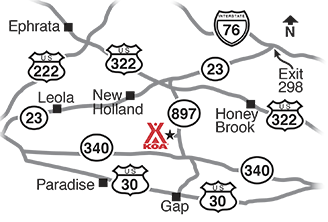 Check In Time: 2:00 PM - 6:00 PM. (Cabin Check-In at 4:00 PM.) Early arrivals are not encouraged. If you'll be arriving after 6pm look for YOUR site map on the office porch.
From PA Turnpike: Exit 298 then take Exit B, then right on Route 23/10. At traffic light go straight on Route 23. At Route 897 go South. KOA is 4 1/2 miles on the right side of the road. From Harrisburg: Take 283 East to 30 East to 340 East
From Route 340: Stay on Route 340 until Springville Rd (897) then go north on 897. At the stop sign, go right. KOA is on the left 3/4 of a mile. DO NOT TAKE SNAKE LANE!!
Get Google Directions
Sep 20, 2021
Beautiful countryside views across from delicious freshly home made doughnuts!
Sep 20, 2021
Clean well kept campground with a beautiful view of the Amish farms and landscape below
Sep 20, 2021
Internet was lousy but otherwise stay was pleasant and quiet. It was a very crooked road to get there and the campground is on a hilltop.
Sep 20, 2021
When getting ready to leave everybody lost water pressure was unable to do proper dump office was closed at departure spot 92 my neighbors lost theirs too
Sep 20, 2021
We love this KOA!!!
Sep 20, 2021
Beautiful campground on a sloping hill overlooking farmland. Very nice experience. Would definitely recommend this KOA
Sep 19, 2021
Beautiful scenery, friendly people, very enjoyable site
Sep 19, 2021
Very pleasant campground in Lancaster county. Far enough away from all the major traffic, but close enough to handy to many things. Nice, shady spots, easy to navigate. The office staff has been very helpful. Special props to handyman, Paul, who came out at 9 pm to help diagnose and repair our "no power" situation. Can't thank him enough. Visit here for a nice stay.
Sep 19, 2021
It's beautiful. The staff is friendly and everything was spotless. But I would not recommend it to a friend with pets. If you are going to have a camp k nine and make a real big issue about keeping dogs on a leash then make it bigger than a postage stamp with NO SHADE. I was not nearly as afraid of dogs as I was being taken out by a kid on a bike. Yet no warning about kids
Sep 18, 2021
Close to Shady Maple but a ride to other attractions. The park is very clean and well managed. We did enjoy our stay.
Sep 18, 2021
impressed by the changes and improvements made since my last visit
Sep 18, 2021
Clean, level sites. Wonderful views of countryside.
Sep 18, 2021
Very clean Great spaces and pretty views
Sep 17, 2021
Enjoyed our stay. Will be returning.
Sep 17, 2021
This review has been removed by KOA due to profanity.
Sep 17, 2021
Beautiful place! Quiet and peaceful. The park is well kept and the park staff are very kind and helpful. We will be staying here again.
Sep 16, 2021
We had an amazing time camping! The view is beautiful, and the people are very friendly. The campsites are extremely clean and very roomy. We will definitely be coming back!
Sep 16, 2021
The best place to stay in New Holland! The view is outstanding!
Sep 16, 2021
Very quiet. Very clean. Level spots. Staff very nice and helpful
Sep 16, 2021
Well maintained park
Sep 16, 2021
We were looking for an overnight stay near the Amish. We couldn't have chosen a better place. Overlooking the farms in such a peaceful setting was a blessing. We enjoyed watching the men building a new level on the house just below us and a woman working in her garden. It was extremely clean, quiet, and peaceful. We would definitely love to visit again�ϋ�
Sep 15, 2021
Everything was wonderful.... Many new improvements to the camp ground,.... Showers, and new camping sites, very friendly and accommodating managers. We will be returning on the spring of 2022... Already have reservations.
Sep 15, 2021
We absolutely love it here! It's close to family and quiet! Scenery is just as amazing as the staff! We will be back! - Kathryn H.
Sep 15, 2021
We had a great stay but the only negative comment we would have is that there is no local TV station. Local weather and news is very important if you're planning all day outside activities.
Sep 15, 2021
People were Awesome! Park was clean, well maintained. Laundry was easy. Location was so easy to access things we came to see. We will return!
Sep 15, 2021
This was the most beautiful KOA !! Everything was clean and well cared for. But the view of the Amish farms was beyond gorgeous. Please don't hesitate to book a space here. You will be glad you did !!
Sep 15, 2021
Quiet, friendly, and scenic view.
Sep 14, 2021
Love this campground. Best in the Lancaster area. Already made reservations for next year.
Sep 14, 2021
Everything was perfect from the staff to the view
Sep 14, 2021
It was a nice clean campground and the staff was very friendly. Sites where spread out and my family and I all enjoyed our stay
Sep 14, 2021
We are new to camping this year and this trip was our 9 th so far this summer and we are proud to say that this is our favorite campground. The view and the serenity is Fabulous and the staff is polite and extremely helpful. We are back again in October and are already looking forward to it!!!
Sep 14, 2021
We enjoyed every minute of the New Holland KIA. Living in NH the trip is just a day and we certainly will be back. Location is great, near all the places you want to go or see! Also very quiet and clean!!!
Sep 14, 2021
We were greeted very pleasantly even though it was a busy time of arrivals. We felt most welcome! We loved our site , and the quietness and view of the campground. It is our new favorite spot and we will return again...hopefully soon! The grounds are so clean and cared for, quietness is refreshing. We love it here!
Sep 13, 2021
Quiet campground but very clean and well kept. The staff was very friendly and easy to deal with. We already booked for next year.
Sep 13, 2021
Buddy site in executive row was very nice and spacious. Quiet campground. Loved our stay! Coming back again.
Sep 13, 2021
beautiful view out across the amish farms when on the tiered levels
Sep 13, 2021
Enjoyed our time there. Was concerned abut washer/dryer prices
Sep 13, 2021
Very quiet. Wooded sites. Super friendly. Overall really nice place to stay. GREAT if you want to relax and shop at your leisure in Amish country!
Sep 13, 2021
Very nice will stay there again. Sites are big and the facilities were very clean. Quiet and great local views.
Sep 13, 2021
We were on new site #134 great location. Staff very helpful. Booked for Thanksgiving while we were there.
Sep 13, 2021
This campground is very clean and well kept. We have been going here for years and we love the location. We will definitely be back.
Oct 17, 2021
Quiet, peaceful camping experience
- Patricia Kura on Google
Oct 16, 2021
We had a countryside view for our stay and it was beautiful! We had a "countryside" RV site. What a great campground. It's quiet - not a ton of kids activities, but it's a Journey - not a Holiday. Oh - don't forget to walk across the street and get some fresh made donuts!! We will definitely be going back!
- Rick P on Google
Oct 14, 2021
Quiet, beautiful views, well maintained property. New owners have taken this property to the next level.
- Melanie Weiler on Google