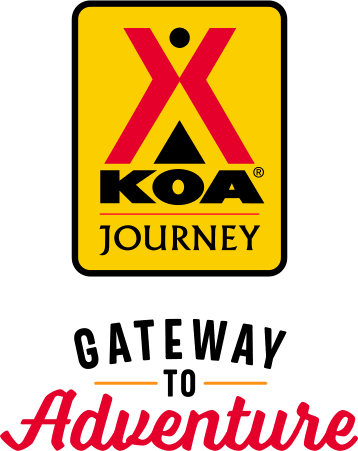 KOA Journey Campgrounds
KOA Journey campgrounds are the perfect oases after a day on the road. Whether it's along the way or a quick getaway, they've got you covered. Located near the highways and byways of North America with long Pull-thru RV Sites, they deliver convenience to the traveling camper. Pull in, ease back and take a load off.
KOA Journeys Feature:
Pull-through RV Sites with 50-amp service
Premium Tent Sites
Well lit after hours check-in service
Directions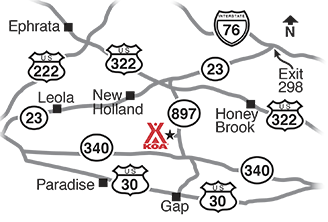 Check In Time: 2:00 PM - 6:00 PM. (Cabin Check-In at 4:00 PM.) Early arrivals are not encouraged. If you'll be arriving after 6pm look for YOUR site map on the office porch.
From PA Turnpike: Exit 298 then take Exit B, then right on Route 23/10. At traffic light go straight on Route 23. At Route 897 go South. KOA is 4 1/2 miles on the right side of the road. From Harrisburg: Take 283 East to 30 East to 340 East
From Route 340: Stay on Route 340 until Springville Rd (897) then go north on 897. At the stop sign, go right. KOA is on the left 3/4 of a mile. DO NOT TAKE SNAKE LANE!!
Get Google Directions
Aug 22, 2021
Very nice view.
Aug 22, 2021
Very quiet and serene campground, located right in the heart of Amish country! We were surrounded by beautiful scenery! There was no swimming pool and few amenities which is why I would rate this a four instead of a five.
Aug 22, 2021
Excellent, as always.
Aug 21, 2021
Beautiful site with a view. Very clean, and everyone very friendly. Planning to come back again.
Aug 21, 2021
Very quite, great view of nearby farm land.....
Aug 20, 2021
Beautiful clean campground with beautiful views and friendly staff !
Aug 20, 2021
Love it, and hope to do it again soon, thanks for the hospitality Ron..
Aug 20, 2021
Quiet, clean, beautiful view.
Aug 20, 2021
courteous staff, favorite KOA. No views can compare to this location.
Aug 20, 2021
Very peaceful and quiet surroundings. Clean. I would suggest a second Bathhouse. The WIFI needs to be a little better. Doesn't work well far from the office.
Aug 19, 2021
our stay was perfect. the campground is very well keep, the staff is pleasant and very helpful. its very quiet, which we really enjoyed. we will be back.
Aug 19, 2021
Well maintained and pleasant KOA. Pride of ownership shines through and we enjoyed our 3-day stay. We will definitely be back and will recommend to others.
Aug 18, 2021
We had a gorgeous site as the view was amazing. The hookups were great and they all worked well. I was a bit disappointed in the wifi signal as my Verizon connection was poor at best. We will be back as the campground was just what we were looking for.
Aug 18, 2021
Absolutely beautiful view from our campsite (number 33). Excellent service, amazing clean facilities. Will be coming back again. Wish they had a pool, but really it was awesome just as it is.
Aug 18, 2021
I loved everything about it. The bathrooms were so clean and shower area perfect. It would be nice to have a pool available. Our patio site was lovely but would have been nice to have a grill on the site. Most of the patio sites did have a grill and all of the sites are very nice.
Aug 18, 2021
Very nice sites with the patios. Best KOA of our 2 week trip.
Aug 18, 2021
Nice and quiet just what we were looking for!!
Aug 18, 2021
Great campsite, friendly staff, good view.
Aug 18, 2021
Excellent and very relaxing. Booked for October
Aug 18, 2021
The campground was clean, friendly staff and the views from our campsite were awesome! Would definitely recommend this place to everyone.
Aug 18, 2021
Although it was only an overnighter, I would like to return for a longer stay. I like the area and the location of the campground.
Aug 17, 2021
very peaceful. A great place to relax and enjoy the view
Aug 17, 2021
Loved the campground, staff was friendly and helpful. A beautiful area to visit!
Aug 16, 2021
We love staying here. It's quiet with beautiful views!
Aug 16, 2021
This campground is clean and nice. The reason for only three stars is I had asked for a private site and ended up being so close to the neighbor I could see through the windows. I called and left a message to the office and nobody called me back. My other issue was the Wi-Fi was so weak it was unusable. I ended up upgrading my wife's cell phone service to AT&t the remedy the situation.
Aug 16, 2021
Great views.
Aug 16, 2021
Very nice and helpful staff
Aug 16, 2021
We love this campground! Very clean and quiet. Staff is extremely courteous. Would highly recommend it.
Aug 16, 2021
Very relaxing. Clean campground. Very nice dog park for our dogs to run around in
Aug 16, 2021
I traveled to campground to meet family who had camped at this KOA for years. The campground was VERY clean and the restrooms were always in great condition.
Aug 16, 2021
Yet another fantastic stay! Relaxing, quiet and friendly. Other campers and owners make this the absolute best campground around!
Aug 16, 2021
This campground was very nice the area I stayed in was the newer section which all the utilities for full hook up camping were terrific great water pressure no issues with the power sewer was perfect no problems. The site I had was level and easy to backup in and couldn't say enough this was my first time camping here and definitely will come back also located in a great location.
Aug 16, 2021
Beautiful quiet campground in the heart of the Amish community. Although Our site was a bit on the small side, it was private, shaded, and level. We will stay here again but I will request a little bigger site.
Aug 16, 2021
Great location and Quiet and a gorgeous view of the Lancaster valley!
Aug 16, 2021
Our site was great! We were tucked back with wood on all three sides. Very nice. The Bath house was clean and the staff was very friendly. The view of the farm was great!
Sep 12, 2021
GREAT PLACE TO CAMP! Camp sites are clean, has great views, it was very quiet (and campground was full), the sites are spacious and are not real close to one another, so, you don't feel smushed in like sardines! I highly recommend!
- Jilline Garges on Google
Sep 04, 2021
Probably the best KOA experience I've had. We lucked out with the best camp site. We had a very secluded site that was but a short walk to the center of camp and showers. The showers themselves are noteworthy. Individual, exceptionally clean shower rooms. Lots of hot water with good water pressure. There is beautiful view of the valley. Everything is very tidy and well kept. As you can see in the attached photos, we had some charming inhabitants who let us share their site.
- andreaw401 on Trip Advisor
Sep 01, 2021
Beautiful, peaceful, clean, quiet, pet friendly, and very welcoming campground! We very much enjoyed our stay, just wish we could have stayed a few more days. The views of the lush hills of Amish country at sunrise were the best! We were very comfortable with the size and set up of our site, even our dogs loved it! Lots of little shops close by, and even more to do a little more into town. Just driving around the beautiful area was so enjoyable with tons to look at! If it were closer than 6 hours away, this would be our regular little get away spot!
- Pamela Brown on Google