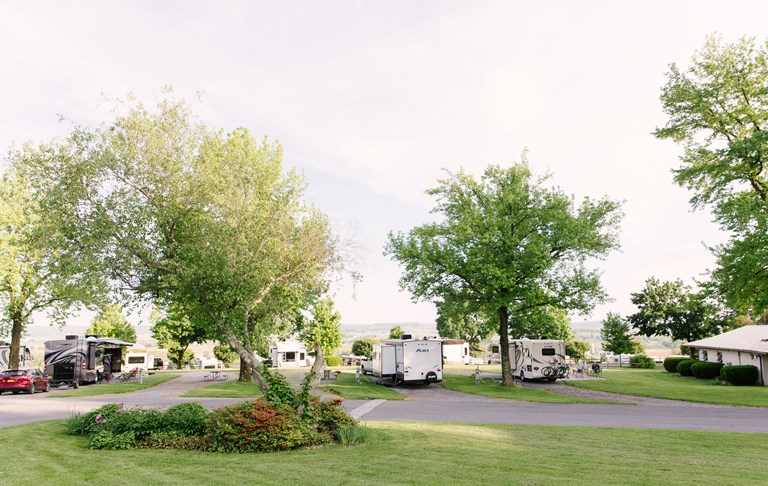 Lancaster / New Holland KOA Reviews
Directions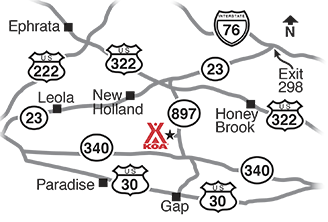 Check In Time: 2:00 PM - 6:00 PM early arrivals are not encouraged. If you'll be arriving after 6pm look for YOUR site map on the office porch.
From PA Turnpike: Exit 298 then take Exit B, then right on Route 23/10. At traffic light go straight on Route 23. At Route 897 go South. KOA is 4 1/2 miles on the right side of the road. From Harrisburg: Take 283 East to 30 East to 340 East
From Route 340: Stay on Route 340 until Springville Rd (897) then go north on 897. At the stop sign, go right. KOA is on the left 3/4 of a mile. DO NOT TAKE SNAKE LANE!!
Get Google Directions
Aug 03, 2020
Frist time with new owners, I'll be back in a couple of weeks . Stayed on site87, would like to have that site again. Friendly, Clean, A-1 campground.
Aug 03, 2020
Great view, Very clean, Very safe, good management, very close to Shady Maple Farm Market.
Aug 03, 2020
Nice level site, easy entry beautiful view of Amish countryside.
Aug 03, 2020
Awesome FRIENDLY staff! We have stayed 3 times in 2 months and Emily has always been so welcoming. Campground is immaculately kept. We will be back!
Aug 01, 2020
It was very nice
Aug 01, 2020
Outstanding Stay / Outstanding Staff / Outstanding Campground
Aug 01, 2020
Terrific view
Jul 31, 2020
We are retired, no kids or pets. This Campground was clean, well kept, and the one staff member we had conversation with was friendly. There is no pool or mini golf or entertainment but they have a small playground for children and some were riding bicycles around the parks for fun. It was pricey and I am no so sure they gave me a discount for my koa membership. But all in all I would stay again
Jul 31, 2020
Very friendly, clean and well kept campground. This will be one of our regular stops
Jul 31, 2020
Everything about this campground is first-rate! The staff, the campsites and best of all, the views! We will come back again and again!
Jul 31, 2020
Always a great visit to this beautiful countryside! �
Jul 30, 2020
A beautiful, welcoming oasis overlooking gorgeous farmland and hills.
Jul 30, 2020
very quiet and family oriented. Great escape for touring the Amish Country. The Bake Shop directly across the road has great items. Only opened Friday and Saturday. Options are limited of course for activities on Sundays!
Jul 30, 2020
Perfect campground for a relaxing extended getaway or an overnight stay. Clean, quaint and quiet with a beautiful view of a lush farming valley. Check in staff was friendly, polite and charming. Bring a good book, comfortable chair, food, drink and enjoy some rest. Our dog loved this campground as well.
Jul 29, 2020
Overall, this is a very nice campground. Very friendly, level site, some shade, very clean and for the most part quiet. That is until the "neighbor" moved in. They brought with them 3 big long haired dogs. That would have been fine, but they brushed them and just threw handful's of hair down on the ground. And never picked it up!!! They just let it blow all around...Seriously? Who does that?
Jul 29, 2020
This is THE MOST RELAXING campground we have ever stayed in and what a view!! No golf carts, almost no car traffic, extra friendly fellow campers, very pleasant staff and close enough to all the Amish tourist attractions. Not our first visit and not our last
Jul 29, 2020
Beautiful view. Very friendly people with an Amish market within an easy walk
Jul 28, 2020
We really enjoy your camp ground. Very quiet and peaceful but still close to many things.
Jul 28, 2020
Staff was very accommodating and pleasant. Sites were clean and spacious. Very quiet campground and enjoyed our stay there. Will definitely be back next time we are in the area.
Jul 28, 2020
Because the standards vary so much among KOA's only stay at their parks when nothing else available in area. In a two week trip this was the most expensive park we stayed in. Typically KOA with all sites shoe-horned in next to each other. Not too bad, but only one rest room facility for the size of the park is ridiculous. From our site was a long uphill hike. Doubt if will stay here again.
Jul 28, 2020
It was our first time out with our new camper and this couldn't have been a better place to pick. The staff was so friendly and helpful. We had the perfect site for beginners like us. Campground is very well maintained and clean.
Jul 27, 2020
Beautiful campsight. Clean, not noisy
Jul 27, 2020
Beautiful surroundings. The staff/ owners were very friendly and took the time to arrange it so a group of us could be near each other. Only downfall is there is not enough shade in super hot weather at the front row sites where the most amazing view s
Jul 27, 2020
We have been there twice this year. Great camp ground. Only issue is the wifi needs to be better. If lancaster new Holland camp ground had a better wifi I personally think it would be the best camp ground in the area.
Jul 27, 2020
Great KOA. We will be back!
Jul 27, 2020
Beautiful location! Nice clean restrooms
Jul 27, 2020
Wonderful stay. Great hostess, Emily. Friendly guests. Clean. Loved it.
Jul 26, 2020
This is our fourth stay at New Holland KOA. We love the beautiful views and surrounding countryside. The campground is clean, neat and well kept. As it is largely adult occupied the campground is peaceful and quiet. We will be back for sure.
Jul 25, 2020
Almost everything about this campground was outstanding! It was beautifully groomed, the sites were level, easy "in and out" for bigger rigs, and very clean. The staff was very accommodating, friendly, and knowledgeable. It was just unfortunate that we picked the hottest week of the summer for our vacation and there was no pool. Spectacular views and reasonable price, so all good!
Jul 25, 2020
Your campground was very clean and quiet. We liked the easy accessibility to site seeing and other activities. Thank you for the welcome cookies...very yummy!!
Jul 25, 2020
Great and quiet as always these last couple of years. Great views. Can't wait until this fall to go back.
Jul 25, 2020
Nice check in very polite . Clean campground , quiet little tight on the curves but manageable . I have been in the hospitality business for 40 years and wished I had employees like the ones I encountered during our last two visits. You can tell when people fake it , and you can tell when it's genuine . They are the real deal. I will be back hopefully when the virus stuff is over.
Jul 24, 2020
The campground grounds were clean and well maintained. Reservation 3 motorhomes & 1 travel trailer, requested a shady spots. We have a large NEW motorhome (38 ft) with slides and were assured it would fit. We were squeezed into poorly maintained site in a hole, firept unusable filled with cig butts. Work going on next site, dust, noise. Unfortunately, made our stay quite unpleasant
Jul 24, 2020
We had a really nice time. The camp ground is in very nice location over looking the valley. The only thing they needed was a pool and maybe a few more things for people to do.
Jul 24, 2020
They were very helpful when I had to extend stay.
Jul 24, 2020
Nice people, clean, well kept grounds. We will be back.
Jul 23, 2020
Very relaxing and peaceful nice shady site appeared to be recently renovated look forward to returning in the future
Jul 22, 2020
We had a wonderful stay at Lancaster KOA and can't wait to return. The sites and grounds are kept immaculate and the hookups were very easy to use. Bathrooms were spotless! Loved spending time in the Adirondack chairs with the nice breeze keeping us a little cooler in the 90 degree weather. Very quiet and relaxing campground. Enjoyed walking across the street for some fresh Amish baked goods too
Jul 22, 2020
Very quiet, beautiful views
Jul 22, 2020
Great patio site and the view was amazing.
Jul 21, 2020
I have stayed at this campground many times prior to the new owners. It is a very nice campground. But this is the first time I have had an issue. If you are going to put campers in sites that face each other you should be asked prior to arrival. If I had known that I would have picked another time when I could have gotten a different site.
Jul 21, 2020
It is a wonderful campground to stay. Very peaceful with beautiful view. The staff were very friendly and accommodating. Unfortunately, the campground didn't have certain amenities such as a pool but regardless this will not prevent us from returning. The campground was quite close to all of the tourist activities. Will definitely return to this campground.
Jul 21, 2020
Beautiful campground. Awesome views! They should keep the office open past 6 pm for convenience. I highly recommend.
Aug 13, 2020
Great quiet place. Beautiful views of the valley
- Roger Pike Jr on Google
Aug 10, 2020
Scenic campground, very clean. The bakery across the road is excellent.
- James Anderson on Google
Aug 09, 2020
Amazing views. Super clean spot.
- Roberta Attalla on Google

Lancaster / New Holland KOA
Open April 1 - November 30
354 Springville Road
New Holland, PA 17557
Check-In/Check-Out Times
RV Sites, Tent Sites
Check-in: 2:00 pm, Check-out: 1:00 pm
Accommodations, Deluxe Cabins
Check-in: 2:00 pm, Check-out: 11:00 am
Lancaster / New Holland KOA
Get Google Directions

© 2020 Kampgrounds of America, Inc.