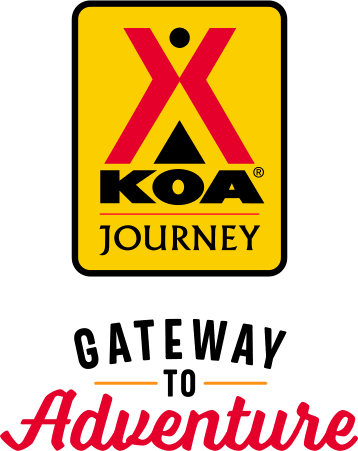 KOA Journey Campgrounds
KOA Journey campgrounds are the perfect oases after a day on the road. Whether it's along the way or a quick getaway, they've got you covered. Located near the highways and byways of North America with long Pull-thru RV Sites, they deliver convenience to the traveling camper. Pull in, ease back and take a load off.
KOA Journeys Feature:
Pull-through RV Sites with 50-amp service
Premium Tent Sites
Well lit after hours check-in service
Directions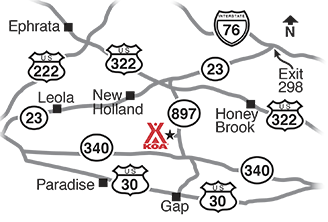 Check In Time: 2:00 PM - 6:00 PM. (Cabin Check-In at 4:00 PM.) Early arrivals are not encouraged. If you'll be arriving after 6pm look for YOUR site map on the office porch.
From PA Turnpike: Exit 298 then take Exit B, then right on Route 23/10. At traffic light go straight on Route 23. At Route 897 go South. KOA is 4 1/2 miles on the right side of the road. From Harrisburg: Take 283 East to 30 East to 340 East
From Route 340: Stay on Route 340 until Springville Rd (897) then go north on 897. At the stop sign, go right. KOA is on the left 3/4 of a mile. DO NOT TAKE SNAKE LANE!!
Get Google Directions
May 28, 2021
We just got home and can't wait to go back.. The campground is quiet, the staff is very professional and accommodating, and the area surrounding the campground is beautiful. We had an issue with power and the staff helped find a workable solution. They are expanding so we had machine noise for a couple days. While we weren't bothered by it, we were pleased with the owners proactive response.
May 28, 2021
Our first time at a KOA. Very well run, and staff VERY helpful. Effortless stay.
May 27, 2021
This KOA is one of our Favorite places to stay ,always so clean and the views from X Row are Sensational...BUT.. THIS VISIT had a DOG in the trailer in the row above is that BARKED ALL DAY LONG WHEN THE OWNERS WERE GONE..NON STOP Hope this is not the new norm Would have been a 5
May 27, 2021
Beautiful views of the Amish countryside! Everything is clean and fairly spacious but if you have kids, there isn't a whole lot to do....
May 26, 2021
One of the nicest KOA Campgrounds that we've stayed in. Beautiful Amish farm valley setting. It is so peaceful here. The owners and staff are truly great people!
May 26, 2021
Beautiful place with stunning views. Extremely clean.
May 26, 2021
2nd stay for us. So clean and several improvements since last visit. New owners are doing a great job! Beautiful grounds and loved the new K9 park. Owners are so friendly and close to Lancaster attractions. Plan to spend a weekend here every year.
May 25, 2021
We love it here! So peaceful and beautiful views!
May 25, 2021
This is our absolute favorite campground. Is always so beautiful and well taken care of. The owners and staff are just so friendly, helpful and super nice folks. Can't wait to come back in July
May 25, 2021
Beautiful campground Emily was so nice Bathrooms very clean our site was great but other Sites could use new fire pits Can't wait for the new sites to be finished! Esp ones in the shade. If you have a camper with ac you will need it as alot of the sites are in the direct sun. Just an fyi no pool but we had a great time!
May 25, 2021
We really enjoyed our stay here and will certainly be staying here again. It was very accommodating and a beautiful location.
May 25, 2021
We were very pleased with the site we had and the campground. it was clean, pleasant to walk around in and quiet hours were maintained. The staff in the office were very pleasant and helpful and the home made cookies a very nice touch. we plan on staying there again.
May 24, 2021
One of our top five campgrounds! The views are amazing.
May 24, 2021
This was an absolutely beautiful, well maintained, well manicured and spotless campground. The staff was very friendly and helpful, and were able to accommodate the fact that we had upgraded our camper and didn't quite fit in our original site. The site we ended up with was tricky to back into, but the staff helped us get in flawlessly.
May 24, 2021
Beautiful park - loved our stay - so quiet. We will be back!
May 24, 2021
We stayed on a wooded site that was was large and secluded . We toured the camp ground as we always do and there are site types for everyone . The views from the campground are beautiful. We love the area and will definitely be back . We have already recommended this camp ground to some of our friends who camp .
May 24, 2021
Absolutely perfect as usual
May 24, 2021
other than the sites being too close together, the views were phenomenal and the campground was clean.
May 24, 2021
I had very limited staff interactions, but they were super friendly during them. Beautiful campground. Well maintained and meticulously manicured. Some sites are close, but I suppose it's all in what you're used to and what you're looking for.
May 24, 2021
A great place to stay as always. Well maintained and great views.
May 24, 2021
We had a lovely spot with good water pressure and efficient utilities. The faucet needs a screw to hold the valve turner on but it didn't cause us any problem to use. Didn't have one the right size along or we would have put one on for you. We love staying here and look forward to our next visit. Always clean bathrooms and pleasant office staff.
May 24, 2021
Our second time staying and it was a very peaceful, relaxing place to stay. Back again in June.
May 24, 2021
We were so happy with the new owners of KOA. The place is very nice and the staff was very friendly! We will be back.
May 23, 2021
Excellent time. Looking for another stay there
May 23, 2021
Wonderful view! Very friendly office personnel. Easy check in. Good campground for the more "mature" camper. Doesn't seem to be good for kids, nothing for them to do. No playground to speak of, just a couple pieces of equipment, no pool and didn't see anything about scheduled activities. Great base for sight seeing.
May 23, 2021
Great peaceful place to camp
May 23, 2021
We were looking for a quiet, secluded, and relaxing campsite. And that's exactly what we found at the Lancaster/New Holland KOA! We'll be back again.
May 22, 2021
Great campground! The owners and their staff are very friendly and it is very apparent that they are focused on satisfying their customers. We have already made reservations for several future stays at this campground.
May 22, 2021
The grounds were clean and neat. We were very happy with our site. The view was beautiful! We will be back.
May 22, 2021
Perfect size park for our maiden voyage.
May 22, 2021
Needs a better wifi. Suggest the option to pay as you go. Other camp grounds offer an upgrade .
May 22, 2021
Beautiful, quiet setting. Many upgrades the past several years. Keeps improving.
May 22, 2021
Staff very friendly - beautiful view - lacking amenities of most campgrounds.
May 21, 2021
It was very pleasant and quiet
May 21, 2021
Beautiful views and nice people
May 20, 2021
Best view anywhere and management and staff were very nice. Love this place.
May 20, 2021
We were only at the campground for sleeping, but it was nice and quiet even on a busy weekend. Extremely clean and awesome views of Lancaster county farmland. We have friends in the area so we will be back! The only reason I didn't give a 5 star rating was because sites are so close together.
May 20, 2021
Nice, clean, and quiet campground.
May 20, 2021
The grounds were amazing! The view was amazing!
May 19, 2021
We had a wonderful relaxing stay with a gorgeous view of the countryside. The staff was very helpful and accommodating to our family for which we were very appreciative. I especially like to thank Emily for her many courtesies that made our weekend with family so special. I encourage you to give this KOA an opportunity to make one of your weekends as great.
May 19, 2021
The campground was very well kept and the bathrooms were pristine. We enjoyed our stay very much and will be back!
May 19, 2021
Nice size lot, did not feel like we were crammed together with other campers. The campground is very quiet and peaceful!! Will definitely stay there again.
Jul 26, 2021
Excellent KOA , New owner is very friendly and the campground was immaculate, we had No complaints at all. Great location with amazing views and minutes from all activities. We were in the new section site 96 , sites are roomy not packed ontop of each other like some KOA's we have been to. Office staff was very accommodating and nice and took us to our site. They do have a few things for sale in the office , eggs , milk a few essentials. There is a big checker board to play with across from the office that my husband and I used while we were there. We had no problems with the wifi in the back it connected well and we had television with just our antenna , which for us we never watch anyway but wanted to include for others. Would visit again if we head down that way.
- Bonnie Garwood on Google
Jul 25, 2021
Last stop on our 62 day trip. Clean park great views full hookups easy in and out clean rest rooms. Glad we found it.
- Anthony Allen on Google
Jul 24, 2021
We claim Section 106.. our home away from home!!! It's so very tranquil and beautiful ❤️
- Kam-Marie Seghit on Google