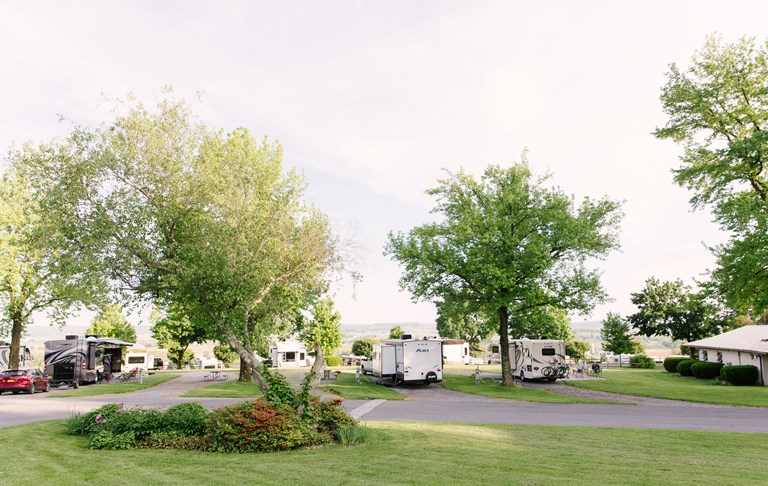 Lancaster / New Holland KOA Reviews
Directions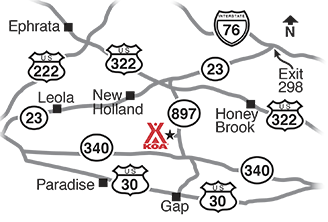 Check In Time: 2:00 PM - 6:00 PM early arrivals are not encouraged. If you'll be arriving after 6pm look for YOUR site map on the office porch.
From PA Turnpike: Exit 298 then take Exit B, then right on Route 23/10. At traffic light go straight on Route 23. At Route 897 go South. KOA is 4 1/2 miles on the right side of the road. From Harrisburg: Take 283 East to 30 East to 340 East
From Route 340: Stay on Route 340 until Springville Rd (897) then go north on 897. At the stop sign, go right. KOA is on the left 3/4 of a mile. DO NOT TAKE SNAKE LANE!!
Get Google Directions
May 04, 2020
Great staff. Excellent camping
May 04, 2020
Nice campgrounds however not big rig friendly. Campground roads are very steep with extremely tight turns. The pull throughs are spacious if you can get to them. I had to cut through another site and across the grass to get out. That's why it's very unlikely I would return or recommend. I'll never understand why campgrounds have this obsession with decorative rocks and fence posts.
May 04, 2020
Quiet, nice relaxing weekend away - thank you so much!
May 04, 2020
We had a very good weekend to celebrate 1 May. The campground was bustling which was nice to see for a change. We had an opportunity to meet Chad, and his family, (the new owners of this KOA),I think they're going to be fantastic! Our stay could not have been better, and the hospitality couldn't have been more welcoming. We look forward to many wonderful summer weekends at KOA of Lancaster.
May 04, 2020
The sites are perfectly place to overlook the Amish fields. Staff is pleasant with very clean facility's.
May 04, 2020
Very friendly staff. Very accommodating. Meticulously kept getting
May 04, 2020
No water pressure. WiFi was bad. Only 23 cable channels.
May 04, 2020
The campground is very nice, owners were helpful and friendly our site was perfect and the views from the campground are spectacular! I will definitely be back.
May 04, 2020
Nice to see new owners. The woman that owned it before was nasty and unpleasant. I have stayed away because of her, as many have. I will be back
May 04, 2020
This is a wonderful campground, it's clean, neat and quiet. Some sites are very tight but offer a beautiful view. However the campground doesn't offer anything else for amenities, so its not a go to place for kids.
May 04, 2020
Sites were fine but water pressure was awful- especially Sunday. Couldn't finish taking a shower it was so bad. If it wasn't for that I would have given a higher rating
May 04, 2020
Very clean property. Helpful staff/owners. Safe for kids to bike on the property. Great location and close to Lancaster. Would recommend to friends
May 04, 2020
It was nice but our bed was dirty like the sheet weren't changed at all. We paid for the cabin but the cable for the tv didn't work. Alot of ants came out of the window when we opened them.
May 04, 2020
clean, nice campground. Nice professional staff..Great location...going back this weekend !
May 04, 2020
Very relaxing week-end.
May 04, 2020
Stayed May 1 weekend. Customer service was great for checking in. Beautiful view from most of the sites. No pool but the sites were mostly level. Very quiet campground. Would highly recommend.
May 04, 2020
Friendly and very helpful hosts. Clean and well planned sites. Immaculate bathroom facilities. We will be back soon!
May 04, 2020
We loved our stay, especially as a little retreat during the quarantine. The staff was very accommodating and helped switch our sites so that we could be next to friends. It was quiet but everyone was friendly. The dog park was a nice area for our pups to run around. We camped in a tent so we needed to use the facilities, and they were in great condition, especially the showers.
Apr 28, 2020
Very relaxing
Apr 28, 2020
Emily called to confirm we were still coming and to tell what amenities would not be available due COVID19 restrictions. We appreciated the call. We arrived a little after 6 pm so we went to our site and paid the remainder of our weekend on Saturday. This is a beautiful park. You can see that a lot of time and work goes into this resort.
Apr 27, 2020
Beautiful view. Calm and quiet. Friendly staff.
Apr 21, 2020
New owners are awesome. Beautiful campground, well maintained and managed. SO happy to be coming back.
Apr 21, 2020
Very friendly campground with great owners.
Apr 18, 2020
Great location, very friendly folks.
Apr 17, 2020
This is our favorite KOA. The setting is beautiful and very peaceful. The new owners are great!
Apr 15, 2020
Nice campground, first night there was very cold cabin didn't have much heat. Did have plenty of blankets to get through the night. Cabin was nice and very clean.
Apr 14, 2020
A pool would make this campground a rating of 10.
Apr 13, 2020
Always a great stay at Lancaster/New Holland KOA. This is our "HOME" campground. We rty to start and end every camping season with a stay here. We love it and the new owner are the best.
Apr 06, 2020
Wonderful stay. Very clean and quiet Campground.
Apr 06, 2020
We are from Germany and were at the Holland Campground for 2 days. Very friendly check in. Very nice and clean pitches with a great view. Keep it up. Thank you.
Apr 05, 2020
To short but one of the most beautiful places in America
Dec 05, 2019
Very nice campground in a beautiful setting.
Dec 03, 2019
Thought we were one of the last campers here for the season, everything was still working. Clean restrooms, well kept grounds and this is a great location.
Dec 03, 2019
Nice clean , very nice views
Dec 03, 2019
Friendly people and perfect for the weekend!
Dec 03, 2019
Very nice campground! Can't wait for spring to schedule another stay!
Nov 22, 2019
Very enjoyable stay to relax.
Nov 20, 2019
Have been staying at KOA's since I started tent camping in 1973. Yes, 1973 when there were I think 2000 of them, now I think its down to 500+. Been actually RVing since my first one in 1974. Been to 43 states so far and this one is one of my top two nationwide. Plus its just 3 hours from my home. Don't need to say any more.
Nov 20, 2019
Had a great stay. Amanda was very helpful and extremely pleasant. The views of the valley below are very relaxing
Nov 19, 2019
Only stayed one night ,but you can't beat the scenery and location. Customer service was A+
Nov 19, 2019
Ownership was very hospitable and the campground was very well maintained.
Nov 16, 2019
We enjoyed the wooded lots and the views of the Amish Farmland. We enjoyed going to the bakery across the street Saturday morning. Campground is nice and clean and staff were very friendly. Very convenient to lots of Amish owned stores. Bathrooms/showers were a little chilly in November. We enjoyed our stay and will definitely be back!
Nov 16, 2019
Great stay, lots to do around the town but not so much at the park itself
Jul 03, 2020
Nice and quiet campground with beautiful scenery.
- Denise Milburne on Google
Jul 03, 2020
very nice campground nice owners and very welcomeing
- Curtis b on Google
Jun 27, 2020
Loved my cabin and bicycling in the area.
- Kimmie Kilpatrick on Google

Lancaster / New Holland KOA
Open April 1 - November 30
354 Springville Road
New Holland, PA 17557
Check-In/Check-Out Times
RV Sites, Tent Sites
Check-in: 2:00 pm, Check-out: 1:00 pm
Accommodations, Deluxe Cabins
Check-in: 2:00 pm, Check-out: 11:00 am
Lancaster / New Holland KOA
Get Google Directions

© 2020 Kampgrounds of America, Inc.