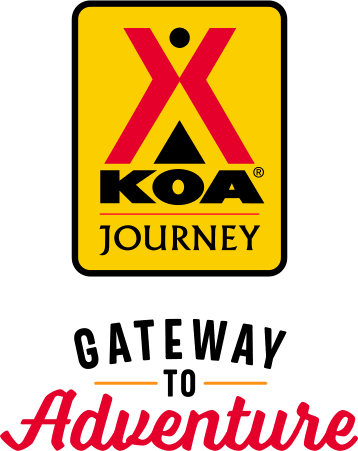 KOA Journey Campgrounds
KOA Journey campgrounds are the perfect oases after a day on the road. Whether it's along the way or a quick getaway, they've got you covered. Located near the highways and byways of North America with long Pull-thru RV Sites, they deliver convenience to the traveling camper. Pull in, ease back and take a load off.
KOA Journeys Feature:
Pull-through RV Sites with 50-amp service
Premium Tent Sites
Well lit after hours check-in service
Directions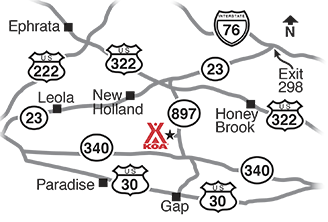 Check In Time: 2:00 PM - 6:00 PM early arrivals are not encouraged. If you'll be arriving after 6pm look for YOUR site map on the office porch.
From PA Turnpike: Exit 298 then take Exit B, then right on Route 23/10. At traffic light go straight on Route 23. At Route 897 go South. KOA is 4 1/2 miles on the right side of the road. From Harrisburg: Take 283 East to 30 East to 340 East
From Route 340: Stay on Route 340 until Springville Rd (897) then go north on 897. At the stop sign, go right. KOA is on the left 3/4 of a mile. DO NOT TAKE SNAKE LANE!!
Get Google Directions
Oct 06, 2020
We enjoyed our stay but probably would not recommend this campground as a first choice. The absence of things for kids to do is an obstacle for families. You need a pool and other activities for children (a better playground, a basket ball court, giant checkers, mini bikes, the things other KOA campgrounds offer.) You are also quite out of the way for local amusements.
Oct 06, 2020
We love staying here. It is so relaxing and it has beautiful views. We also aren't far from many things to do which makes it an enjoyable getaway! We look forward to staying any time we can get a reservation!
Oct 06, 2020
Great weekend get away! Beautiful view. Clean grounds. Friendly! Area activities are abundant and the local neighbors even paid a visit! Will be back for sure!!�
Oct 06, 2020
Very peaceful stay. Very kind and courteous reception girl.
Oct 05, 2020
People were very nice and helpful. Sites were nice. Bathrooms need to upgraded. Showers were very small, no place to place travel bag off the floor.
Oct 05, 2020
Very nice park. On quiet road with amish as the closest neighbors. Wish we could have stayed longer.
Oct 03, 2020
very nice campground, was very clean and loved the view. Would stay here again.
Oct 03, 2020
We were in the wooded area. I would love to come back and get a campsite with the nice view of the farms
Oct 03, 2020
Beautiful view, close by to town and historic sites, Very authentic! Loved the stay here. Very clean and Amish folks friendly and hospitable.
Oct 02, 2020
Clean and quiet, wooded sites are very nice.
Oct 01, 2020
With such great campground owners this is one of our favorite campgrounds.We have already booked for next year.
Oct 01, 2020
Comfortable, quiet, clean campground. Friendly staff. Already booked for next year.
Oct 01, 2020
Campground is always immaculate. Staff members are very friendly and helpful. We enjoyed our stay.
Oct 01, 2020
cows, corn and quiet. we're not about the pool or game room, this place fits our needs to a tee. clean, well maintained, and did i say quiet.
Sep 30, 2020
Great location and view from campsite.
Sep 30, 2020
This is the second time we stayed there and enjoyed it both times.
Sep 30, 2020
cabin with great loved it
Sep 30, 2020
Very disappointed when I walked into the office to check in and found to customers and Camp host without masks.
Sep 30, 2020
I'm in my 50s and not camping with kids these days. So, for me, a campground that is smaller, quieter, has a great view, isn't crowded, has full hook-ups, but no pools, water slides, putt-putt golf, nor laser-tag is perfect. The location was great for my needs. The stay was relaxing. I only talked to the staff when I checked in, but it was a pleasant exchange. I recommend to like-minded campers.
Sep 29, 2020
Awesome view. Nice quiet campground. Friendly staff.
Sep 29, 2020
Very nice campground, well maintained, excellent staff. View unbelievable!! Lillian was patient with me when I changed my site location for 2021.
Sep 29, 2020
Very friendly staff at check in. Helpful with all our needs. Clean well maintained facilities. Always a joy staying here.
Sep 29, 2020
Great little campground with a beautiful view!
Sep 29, 2020
Very nice, very clean. Extremely POOR wi-fi.
Sep 29, 2020
The sites were nice and wooded. The campground needs more amenities- even a putt putt golf course and a nicer playground would be nice. The camp store needs some more options, maybe an ice cream parlor, heck even ice cream sandwiches would be something. When we stay at a new campground we like to grab stickers and look for memoirs at the store and there weren't many options.
Sep 29, 2020
Nice and quiet very restful.
Sep 29, 2020
We had an awesome stay..There was a group of 5 campers and we were able to hang out over the campfire for cooking and relaxing. We already booked for next year, Thank you
Sep 29, 2020
We had a wonderfully relaxing long weekend! We appreciated the quiet and peaceful atmosphere of this well-maintained campground. Staff was most accommodating when we wanted to modify our reservation and late check-in was not a problem. We'll be back for sure! Bonus: Amish bakery across the street�
Sep 29, 2020
We really like the quiet back area. It's a bit tight for parking, but once in it is quiet and beautiful. This KOA is clean, well-kept and conveniently located.
Sep 29, 2020
Beautiful views. I love the open countryside view campsites.
Sep 29, 2020
We just love this campground! It's clean, quiet and sites have room to move. Can't wait to go back!!!
Sep 29, 2020
Lancaster KOA is first class. The staff is wonderful and the grounds and campsites are immaculate. The property is terraced to take full advantage of the valley view. We travel with a fifth wheel and they even have sites with the hookups reversed so we can pull in and have the view out the back. Someone really thought it through when designing the campground. Best of the Best Ken
Sep 29, 2020
We had a wonderful long weekend. Would have loved to stay longer.
Sep 29, 2020
It was a very clean well groomed campground. Staff was very friendly and helpful.
Sep 28, 2020
Pleasant, quiet and staff very ocomodating. This was our 6th yr there and we are already booked for next yr
Sep 28, 2020
Very quiet and relaxing. Clean facilities and awesome scenery
Sep 28, 2020
The campground was really nice and clean. We are self-contained so we didn't visit the bathrooms or the laundry. The sites were pretty big and we were down on the front row (X9) overlooking the Amish farms...great site. The only reason I didn't give 5 stars is because the WiFi is basically nonexistent. Don't advertise it if it's that poor. Also need to provide better directions for RVs ove
Sep 28, 2020
Our favorite place to stay. Quiet, peaceful, and in a great location. Staff is great, especially Emily. We have been staying here for over 20 years.
Sep 28, 2020
Great place to stay clean bathrooms quiet area we had a great time
Sep 28, 2020
This is one of our favorite campgrounds. Sits on a hill above the Amish country with a nice breeze blowing. Very nice people, but the flies are quite bad.
Sep 28, 2020
We stayed 3 nights. The campground was quiet and beautiful! Bath house was clean!! Very nice!!!
Sep 28, 2020
We always enjoyed staying at this campground but it was our first visit since it became a KOA. The staff were very friendly and accommodating. Emily and Nicki were able to upgrade us to a better site due to a last minute cancellation. The site provided an awesome view of the countryside. We look forward to returning there next year. Oh, and the sand tarts were great! Such a nice treat!
Sep 28, 2020
This was our first stay at this campground and found the staff friendly, the grounds well tended and overall it is a quiet place to stay. We happen to have a shady site which was enjoyable. We will definite camp here again.
Nov 22, 2020
Great RV park. Great views of the Amish country side.
- Robine Reese on Google
Nov 14, 2020
Good place, small but nice view
- thefresh fruitman on Google
Nov 13, 2020
Just tented there and it was absolutely beautiful. This campground is simply relaxing. So quiet you can hear leaves falling. Also, $5 fire wood.
- Jeannette Smith on Google