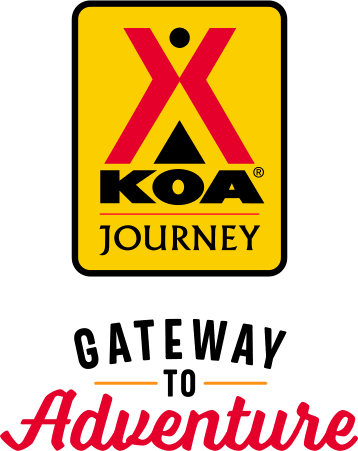 KOA Journey Campgrounds
KOA Journey campgrounds are the perfect oases after a day on the road. Whether it's along the way or a quick getaway, they've got you covered. Located near the highways and byways of North America with long Pull-thru RV Sites, they deliver convenience to the traveling camper. Pull in, ease back and take a load off.
KOA Journeys Feature:
Pull-through RV Sites with 50-amp service
Premium Tent Sites
Well lit after hours check-in service
Directions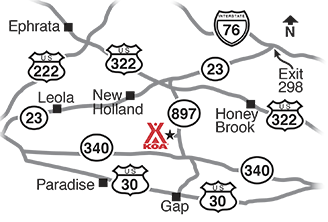 Check In Time: 2:00 PM - 6:00 PM early arrivals are not encouraged. If you'll be arriving after 6pm look for YOUR site map on the office porch.
From PA Turnpike: Exit 298 then take Exit B, then right on Route 23/10. At traffic light go straight on Route 23. At Route 897 go South. KOA is 4 1/2 miles on the right side of the road. From Harrisburg: Take 283 East to 30 East to 340 East
From Route 340: Stay on Route 340 until Springville Rd (897) then go north on 897. At the stop sign, go right. KOA is on the left 3/4 of a mile. DO NOT TAKE SNAKE LANE!!
Get Google Directions
Oct 13, 2020
We loved the campground and the local area. Our site was really nice and private. Our cable didn't work but we didn't really watch much tv. The local area is beautiful and we enjoyed hiking nearby at Welsh Mountain Preserve and Money Rock Park. Also, the bike trail was really nice and not very far from the campground.
Oct 13, 2020
Just a suggestion. You could make a lot of money for early arrivals. The line on Sunday was 7 campers waiting. The firepit needed to be cleaned out too.
Oct 13, 2020
Lovely and peaceful campground, will definitely book again next year!
Oct 13, 2020
The campground staff was extremely friendly, the campground and bathrooms were clean. The view from our pull thru site was breathtaking. This is a great campground for fall/spring camping as there is no pool. Lots of things to see and do in the area. We had a very pleasent stay and will most likely return.
Oct 13, 2020
It was just fine. We were out with our fifth wheel RV for the first time. The manager (with his 3 young children) was so kind and helpful. He pointed out things that we would have over looked. Thanks, saved our trip.
Oct 13, 2020
Beautiful view of Lancaster farmland. Very quiet well kept park, would definitely recommend. Owners called me to give details since we would be arriving after office hours. Excellent location.
Oct 11, 2020
VERY NICE PLACE GOOD OWNERS LOVE IT, WE KEEP GOING BACK.
Oct 11, 2020
My only complaint is that they don't pick up garbage on the site and I would like to see them get propane so you can fill your RV
Oct 11, 2020
Pretty area, nice people and a clean & spacious campsite. Thanks for a great stay!
Oct 11, 2020
Very nice... Way too expensive.
Oct 10, 2020
We had such a great stay and the staff was so friendly!! The campground was VERY CLEAN!!
Oct 10, 2020
Beautiful place to stay.
Oct 09, 2020
Beautiful surroundings, spotless facilities.
Oct 09, 2020
It was a pleasure staying at this KOA! The office staff is very kind and helpful. The Kampground is spotless and has a beautiful view.
Oct 09, 2020
First time there and will come back! Quite and beautifully maintained! The Dickinson's
Oct 09, 2020
this was our first stay at a KOA camp ground. Very clean Can't wait to come back next year
Oct 09, 2020
Very nice Quiet Great view of the valley Staff was more helpful the most koa,s Will defiantly return
Oct 09, 2020
My wife and I stayed here several times this year, and this is one of our favorite campground's.
Oct 08, 2020
Very clean Campground with beautiful views
Oct 08, 2020
Very nice n clean Quiet Staff friendly face us info about koa rewards we did not know Will definitely return Awesome view of the valley Great place to stop for a night a week
Oct 08, 2020
Other than the very loud noise on Saturday night from 11-2:00am (that was not coming from this campground) this was a very relaxing weekend
Oct 08, 2020
Very nice 2 couples and it worked out great.
Oct 08, 2020
Fantastic campground. Very friendly staff and owners. Great views. We had a quiet site that was very level. Will definitely stay here again.
Oct 07, 2020
Very peaceful stay. We left our retractable dog leash behind. Emily called right away and shipped it to us very quickly. Thanks Emily!!
Oct 07, 2020
very nice quite and clean.staff was really good.would definetly come back
Oct 07, 2020
Recently spent 3 days camping here it was beautiful! It is not a huge campground - good handful of the sites have drop dead beautiful views of the landscape. It has 3 tent sites the tent sites aren't big but if you have #55 they were so kind and let us spread out onto the grassy area next to it. They have a small but clean and They have 1 separate bathroom overall they were clean. Had wipes ou
Oct 07, 2020
Quiet, clean, and relaxing campground. (Our stay was not on the weekend.)
Oct 07, 2020
Bathrooms were nice, friendly staff. Nice campground.
Oct 06, 2020
Wonderful, friendly owners. We stay here several times a year.
Oct 06, 2020
Always clean, and love the big field out front for games with kids.
Oct 06, 2020
The campground was very clean and everyone was very friendly. The view was amazing.
Oct 06, 2020
We love New Holland KOA!! It's a beautiful quiet campground with a spectacular view. We can't wait to go back.
Oct 06, 2020
We love our annual trip to Lancaster and would not stay any place else!! Thank You New Holland KOA for 4 great trips!
Oct 06, 2020
Nice campground. Beautiful countryside. Would stay here again.
Oct 06, 2020
2 nights in early October.
Oct 06, 2020
Very nice and well kept. Beautiful views. Grounds and bathrooms clean. We will go back.
Oct 06, 2020
Perfect views for a perfect weekend stay!
Oct 06, 2020
We enjoyed our stay but probably would not recommend this campground as a first choice. The absence of things for kids to do is an obstacle for families. You need a pool and other activities for children (a better playground, a basket ball court, giant checkers, mini bikes, the things other KOA campgrounds offer.) You are also quite out of the way for local amusements.
Oct 06, 2020
We love staying here. It is so relaxing and it has beautiful views. We also aren't far from many things to do which makes it an enjoyable getaway! We look forward to staying any time we can get a reservation!
Nov 22, 2020
Great RV park. Great views of the Amish country side.
- Robine Reese on Google
Nov 14, 2020
Good place, small but nice view
- thefresh fruitman on Google
Nov 13, 2020
Just tented there and it was absolutely beautiful. This campground is simply relaxing. So quiet you can hear leaves falling. Also, $5 fire wood.
- Jeannette Smith on Google